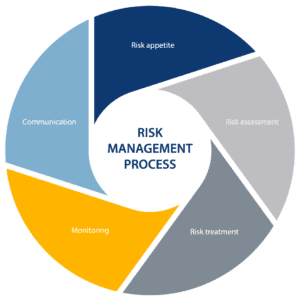 Project Management Institute (PMI) is an association for the Project Management Professional (PMP) certification that qualifies a person for managing projects. It is located in Pennsylvania, USA, with branches across the globe. PMP is a standard credential recognized by all kinds of industries and it opens new possibilities for project managers. As a PMP, you assess potential risks in projects and optimize any opportunity in favor of the organization. In order to attain the title, you need to clear a PMP exam of 200 multiple choice questions, or a PMI-RMP exam specific to Risk Management containing 170 questions. The exam will assess your knowledge on various topics such as Human Resource, Time, Quality, Cost, Integration, Scope, Risk, Procurement, and Communication. This article explores some core examinable areas within Risk Management that appear as questions during the assessment.
You can expect to be asked about the tools, techniques and correct sequences of Project Risk Management. You need to be aware of the risk management plan document and how risks are analyzed and broken down into manageable components. There are questions that test your understanding of risk tolerance and risk prioritization based on probabilities and effects, along with planning stages and relevant modeling techniques employed to get a glimpse of the overall impact. The exam generally covers five process groups that are known as Initiation, Planning, Executing, Monitoring and Controlling, and Closing. You need to know which processes within Risk Management adhere to these categories. Once a risk has been identified, there are several responses taken to address it. Based on the given scenario in the exam, you should be able to deduce the correct applicable risk response. Similarly, while analyzing the mentioned estimates, you will be asked to determine which option would generate the least risk or the maximum risk for the project. If a risk has a certain chance of arising, you must figure out its probability of occurring at the specified stage. As you prepare for the exam, make sure that you understand the inputs to Risk Management, along with the outputs of the process.
In general, for any Risk Management assessment, the following domains will be evaluated: risk strategy and planning, stakeholder engagement, risk process facilitation, risk monitoring and reporting, and performing specialized risk analyses. For questions with scenarios, you will have to assess the situation as though you are a project manager. For example, you will identify risk events and appropriate responses to those events. As a manager, you should know which process group to use in order to implement that particular response. Your risks can fall into different combinations of probability and impact, like high probability and high impact. How do you plan to address such a threat and eliminate its adverse effect upon the company? Some questions will be based on risk diagramming techniques to assess your choice of communication method to your project's stakeholders.
Some examples of PMP Risk Management questions are:
With the identified risks, how much capital do you think, as a project manager, should the project set aside for the risk contingency reserve?
Which one is the only output for the qualitative risk analysis process?
What risk response can a project manager employ in this scenario? Transference, Avoidance,  Contractual, or Mitigation?
You decide that you will identify risk events through an anonymous process. Which risk event will allow you to collect and distribute the risk information without letting the stakeholders be aware of each other's responses?
What risk identification method can you use in the given scenario? Delphi technique, Isolated pilot groups, SWOT analysis, or Root cause analysis?