Image credits: Shingobee Builders, Inc.
Commercial renovations primarily focus on improving the layout, functionality, décor, and value of a business. You might want to expand your existing floor space, enhance the employee/customer experience, or revamp the brand image, so it all depends on the specific goals for your commercial property. Within the commercial landscape, the retail footprint alone is made up of various new construction and renovation projects based on the type of retail business in question. Whether you own a grocery store, a clothing line, a boutique, a shopping mall, or an art gallery, understanding how to renovate retail buildings is important before picking up the hammer and the nail. Your retail brick-and-mortar does not just build your brand identity. It also defines the overall customer experience associated with shopping in your store – and this forms the nucleus of every retail pursuit. So, in this article, we will share some advice on how to get the best out of your retail renovation project.
Tips for renovating your retail building
Review The Certificate Of Occupancy
The Certificate of Occupancy is a document that clearly states the intended purpose for a commercial property, which means that you can find out exactly how to use the building safely and credibly by reading this certificate.
For example, the document will tell you if the building is suitable for a retail business, including details for the acceptable activities you can carry out after leasing and renovating the space. It is generally not easy to override the terms of your occupancy certificate and introduce your own changes if you are planning to renovate your retail building. This is because the document already states which commercial environments are compatible with the building type, so if your intended retail conversion falls outside the scope, you cannot carry out the renovation process.
The certificate might mention that you are not allowed to build an alfresco seating arrangement – for example – in which case you will have to either renew the certificate terms or consider a different, approved renovation area. For all of these reasons, it is important to go through your Certificate of Occupancy early on so that you can clarify the subsequent permitting stage. Otherwise, you run the risk of costly reworks after learning – when it is too late – that the renovation completed so far does not match the building codes.
Find Out Your Applicable Permits
Following a thorough Certificate of Occupancy review, the next step will be to get to know all the applicable permits that apply to your retail space in order to confirm your renovation scope. This entirely depends on why you are planning to renovate your retail building, so – for example – if you want to expand the existing store and add a dressing room, you will first have to find out what the permits say about such a change. Getting all the required permits gives you the green light to begin the actual renovation process, as you now own the evidence to prove that you have checked all the boxes for code compliance, safety, and compatibility. It is also an excellent opportunity to unearth and address existing code violations on your retail building, so this gives you a chance to start your project with a clean slate and free yourself from potential legal setbacks down the road.
Hire A Licensed Retail Contractor
This brings us to hiring the right contractor who specializes in retail renovation projects. You want to work with someone licensed and professional so that you can trust your project to be in good hands. The benefit of working with experienced commercial retail contractors is that they can take care of everything from getting the required permits to closing out the project – so your primary contribution as the retail owner will be to convey your ideas and watch them come to life.
You can browse the portfolios of potential contractors, visit their social media pages, and view client feedback to find out whether they have the relevant expertise for your specific retail project. Another benefit of hiring retail contractors is that they can help you organize your renovation team to include interior designers, engineers, architects, vendors, and so on. The contracting company also plays a huge role in keeping all of these stakeholders on the same page, so this is a smart way of giving your retail renovation project the visibility and synchronization it deserves to stay on track.
Identify Your Reasons For Renovating
Once you decide which contractor you will work with, you can sit with them and make a list of all the reasons you have for renovating your retail building. This will help you work out your renovation scope, and by having a clear list of goals, your commercial team will know exactly what to deliver. Here are some examples of why retail owners choose to renovate their spaces:
To improve the look and feel of the store.
To add minor facelifts or cosmetic improvements.
To introduce structural changes.
For rebranding purposes.
For ADA-compliance.
To update the technological framework.
To renew the interior design.
For architectural compatibility.
For improved shelving and storage.
To update the flooring.
To refresh the paintwork.
For space optimization.
For enhanced curb appeal.
Based on your identified reasons to renovate your retail property, your contractors can narrow down permit-friendly renovation aspects and help you decide your timeline and budgets accordingly. This also includes scheduling procurement and setting all the prerequisites in action so that everything remains streamlined and no delays occur.
Evaluate Your Existing Infrastructure
The mechanical, electrical, and plumbing (MEP) aspects make up the key utility frameworks for your retail store. If your purpose of renovation is retail conversion for a new business type, you have to make sure that the existing utilities are compatible with the new commercial context. This is particularly important if you are planning to increase the load on your MEP units and HVAC systems. Quite often, the wiring and plumbing need to be updated to handle the extra load. Otherwise, your retail establishment becomes vulnerable to fire and other hazards. In addition, it is also important to assess your walls and flooring to determine whether they are suitable for the new business setting. If not, you will have to incorporate major overhauls within your retail renovation project.
Invest In Visual Merchandising
Retail renovations offer the best time to rethink the visual merchandising scope for your brand, especially if your store already lacks a good display. This is where you will plan millwork aspects for creating impactful displays, adding storage or shelving options, and making clever use of the available space. By understanding your floor plan, overall ambiance, and supported technologies, you can use features like custom lighting and paintwork to design creative focal points that catch attention. This will help you showcase your key products better and give them the spotlight they deserve – which is an important retail standpoint for any owner hoping to convert customer interests into sales.
Consider Your Retail Sustainability
Your retail renovation project is also the perfect time to consider possible ways to go green as a business. You can choose eco-friendly materials and sustainable construction strategies to cut down as much waste as possible. Installing solar panels is one example. It is also recommended to adopt building designs that welcome more natural light into the store, as this helps with managing your utility bills. Another key utility consideration is the overall energy efficiency of your retail building, which is determined by features like the building's envelope. It is not only important to have a smart HVAC system that checks the boxes for energy efficiency. You also need to make sure that your retail store includes the right barrier to trap in the useful energy – and this is where the building's envelope takes over.
You might want to look into your building's façade and identify the scope for façade restoration for improved energy efficiency. By adding this to your retail renovation specifications, you can give your retail store better exterior insulation that harmonizes well with your HVAC systems. The result is that less energy is wasted to the surroundings, and your retail property regulates your desired temperatures more efficiently – which reduces bills and allows your units to last longer. A bonus benefit is the enhanced curb appeal your retail store garners for those valuable first impressions on passers-by.
Plan An Inclusive Budget
Finally, considering ALL of the above advice, you should plan a reasonable budget that covers everything you have identified for your project. It is important to consult your designers and contractor regarding your available options so that you can work out a more realistic number. Retail building renovations can always go over or under budget depending on project complexities, unexpected delays, and potential reworks. For this reason, having a bulletproof budget will help you account for any surprises down the road. On average, it can cost you around $40 – $200 per square foot or even more to renovate your retail building. With all of the project details clarified, you can now ask your contractor for an itemized cost breakdown to understand your budget allocations better. Here is a good example of a cost breakdown for a New York beauty salon renovation from Sweeten.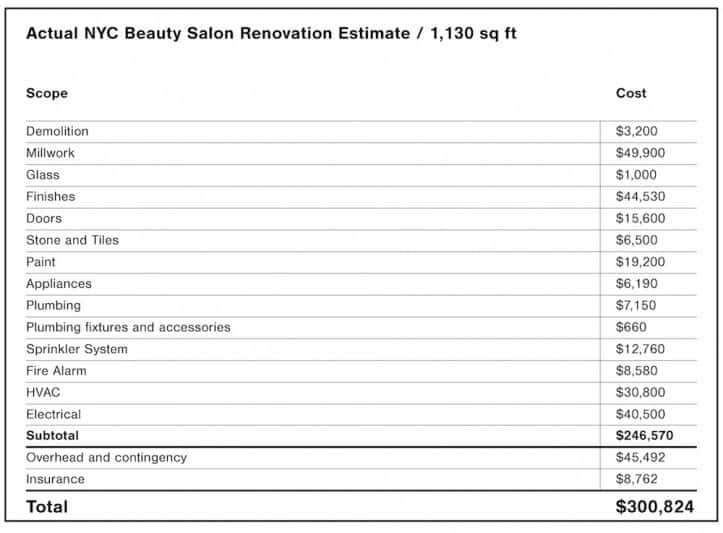 Image credits: Sweeten
Conclusion
That was the end of our advice on how to renovate retail buildings efficiently and confidently. Renovation projects offer numerous opportunities to touch up both functional and aesthetic aspects of your retail store. It is the perfect time to create an amenity-rich interior that celebrates your brand image, highlights your product line, and inspires customers to stop by. Planning an impactful makeover can increase your retail property's value and build a curb appeal that is simply hard to ignore – so as a retail owner, this is everything you need to turn the odds in your favor!