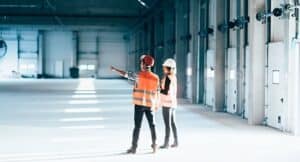 Commercial maintenance is important for owners to manage the functionality and efficiency of their buildings and assets. It is divided into two main aspects: facility management and property management. Although there can be some overlaps between the two, each type of management has specific, distinct features that make it valuable for commercial establishments. Both types of management are important for keeping a property in good shape and improving its occupancy strengths. They offer comprehensive maintenance programs for business owners to use and help their properties recover from seasonal setbacks and unforeseen events. You might not always require both services at the same time, so it really depends on your building's current needs and goals. This article compares facility management vs property management details to help you choose the right service as an owner.
Facility Management
Definition
In commercial contexts, facility management focuses on issues related to the workplace, so this includes everything that improves workplace efficiency, ergonomics, sustainability, safety, and employee satisfaction. It can be applied to different commercial settings like offices, malls, hospitals, stadiums, airports, and so on. A facility manager takes care of the work environment and keeps it well-equipped for the business.
In general, facility management involves the following tasks:
Interior supervision
Furniture and equipment placement
Lease management
Energy management
Space optimization
Occupancy comforts
Asset management and maintenance
Workplace ergonomics
Technological integrations
Safety compliance
Risk assessment and prevention
MEP and HVAC maintenance
Preventive maintenance
Resource management
Importance
Good facility management practices help businesses achieve both short-term and long-term goals in terms of sustainability aspects, workplace efficiency, equipment management, and overall comfort for employees. They create an engaging and productive environment that people love to work in. With proper facility management, you can improve the layout and foot traffic in your commercial space and boost the operability and efficiency of your assets. This increases the value of your property and builds an overall thoughtful and well-equipped workplace. Companies often use artificial intelligence (both as software systems and devices) to optimize their facility management programs and set preventive maintenance schedules for different needs of the business.
Scenarios
You will hire a facility manager when you need help with your workplace aspects. A facility manager has several responsibilities to take care of, and they are all related to scenarios that directly affect your workplace. Some examples include:
Optimizing the available space for better layout and storage.
Placing furniture and equipment for better access and ergonomics.
Planning efficient desk layouts to accommodate more employees in the same space.
Managing and coordinating office equipment.
Troubleshooting to fix equipment/computer malfunctions.
Arranging temporary relocations during workplace emergencies, renovations, etc.
Ensuring a smooth transition for employees and assets while relocating.
Assigning desks to new employees by utilizing unoccupied office spaces.
Property Management
Definition
In comparison, property management focuses on issues related to the building or the property itself, so this includes various day-to-day supervision, housekeeping, maintenance, and repairs required by a business. It is not restricted to commercial contexts alone – residential and industrial owners also rely on the services of property managers to keep their buildings in good shape. So, you will find different building types in such a portfolio, including single-family homes, apartments, hotels, restaurants, gas stations, offices, theaters, industrial plants, and warehouses. You can expect the following services as part of your building's property management:
Maintenance budgeting
Window cleaning
Property sanitization
Fixes and repairs
Pest control
Snow removal
Landscaping
Daily clean-ups
Tenant screening and management
Rent collection
Importance
Good property management ensures regular upkeep and improvement for buildings. This takes care of both functional and aesthetic elements of your property – which also boosts the safety of your residence or workplace by addressing its immediate concerns.
Property managers handle repairs and renovations that are necessary for a building, so this gives your infrastructure, amenities, and aesthetics all the undivided attention they need to look great and perform greater. Property management, therefore, boosts your property's value and adds to its curb appeal.
Another important reason to invest in property management is to have someone keep an eye on your property if you live far away or need to travel. This is also very helpful for owners with multiple properties in different locations, as they can hire property managers to take care of rents, building maintenance, and other aspects.
Scenarios
You can hire a property manager for miscellaneous reasons that are linked to your building's upkeep and renovation purposes. Property managers have several responsibilities such as :
Screening tenants before finalizing them.
Collecting rents from tenants.
Renewing leases.
Scheduling regular/seasonal maintenance.
Reporting to the property owner.
Managing the building's interior and exterior components.
Supervising and coordinating renovations.
Arranging help to fix roof leaks, broken faucets, cracked windows, faulty fixtures, etc.
A stitch in time saves nine
To sum up the difference between facility management and property management, here is a simple scenario. Imagine that your office needs emergency renovation after a storm. The lighting and computers are out of order, and the roof is leaking in different rooms.
Your property manager will be in charge of calling relevant contractors to fix leaks, reboot technical aspects, repair damaged infrastructure, and clean the area, while your facility manager will help your employees relocate temporarily until your office is back in action. For this reason, it is important to have one team assigned to the physical building itself and another team in charge of workplace aspects.
This allows owners to manage their homes or establishments more efficiently and enlist the right services for their needs. It also takes away property headaches from those who do not want to deal with them on their own!
Investing in a timely facility and property management program will prevent unexpected failures that might cause business downtime and costly follow-ups. By hiring the right facility and property managers, you can focus on running your business while these professionals take care of things behind the scenes. With a tailored program, you can build a space that resonates well with your employees and keeps your business on track despite the challenges you face as an owner.