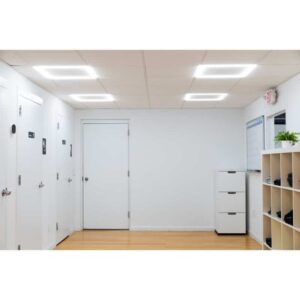 Image credit: PROLIGHTING
Commercial spaces must be well-lit using a combination of different interior and exterior lights. Offices, hospitals, schools, restaurants, cafés, retail stores, and recreational buildings rely on good lighting for productivity and aesthetics – including safety during nocturnal hours. As a business owner, you want to invest in proper, relevant lighting solutions that deliver optimum illumination for your employees to work comfortably. Your choice of lighting also represents your brand identity because it sets the workplace ambiance that your employees and visitors come to recognize and enjoy. The most important consideration here is the cost to buy and install the right lighting systems in your building, and you can expect the average commercial lighting cost per square foot to vary with customizations and project complexities. Here is how you can go about it.
Commercial lighting cost per square foot
Strategically installed commercial lights can enhance the architectural details of your building and create effortless focal points – especially in retail settings – to build visually stunning workplaces. This inspires people to look forward to their day at work simply because it feels nice and refreshing to be there.
You can choose from different commercial LEDs to achieve productivity and creativity within your building. LEDs are popular in commercial settings because of their conveniently long lifespans, energy-saving benefits, flexibility, and automation features. The most popular options for commercial LED lighting include:
Bay lights for interiors with high ceilings.
Panel lights or drop ceiling lights.
Recessed and pendant lights for indoors.
Integrated lighting with acoustics.
Floodlights for outdoor illumination.
Parking lot lights.
Wall packs for outdoor perimeter lighting.
Canopy lights for outdoor, overhang lighting.
Brand signage and emergency lights.
Wet location lighting.
Smart lighting.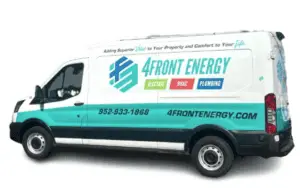 Licensed commercial lighting solutions from 4Front Energy
Average costs
On average, the commercial lighting cost per square foot can be around $3 to $4 per square foot for new construction projects. It is an important element of interior and exterior finishes for a commercial property and can go up or down based on different factors that apply to your specific project – as we shall see below!
The average fixture and installation costs can also vary depending on what kind of indoor or outdoor lighting you require, so the typical breakdown can be the following total cost ranges, give or take a few:
LED strips: between $50 to $500
Standard ceiling lights: up to $1000
Pendant lights: anywhere from $50 to $5000
Track lights: up to $1000
For basic remodeling and repairs, you will pay around $2 to $3 per square foot because the building has already been outfitted with the required electrical connections, so most of the infrastructural work is already done, and your commercial lighting team can simply replace target fixtures. Unless your remodeling plan requires demolitions and rewiring, the cost per square foot is generally low for replacing commercial lights.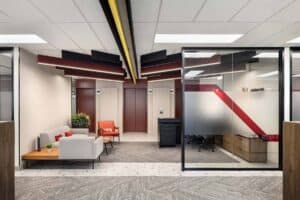 Commercial acoustic lighting by Focal Point
Associated factors
Square footage
Larger commercial properties endure higher electrical costs because of the increased coverage and added labor.
Some commercial lighting contractors may charge lower rates per square foot if the project is large-scale to incentivize clients with service packages, so depending on your chosen team, you can get lucky and receive discounts to light up your large building or end up paying extra per square foot if there are more architectural and infrastructural complexities. Do be careful about suspiciously low project quotes because this often indicates low-quality results from inexperienced contractors. It is best to consult multiple lighting experts to get quotes for the given property size so that you can set a realistic bar for comparing prices.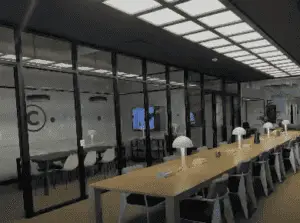 Commercial lighting contractors at Facility Solutions Group
Location
Midwest and Southern regions usually have lower-end commercial lighting costs because they also have lower total construction expenses compared to Western areas for example. This means that the relevant labor, material, and permit charges can differ according to location, even more so when you consider geographical challenges and resource availability. So, you can expect to pay a few extra dollars per square foot for uptown projects.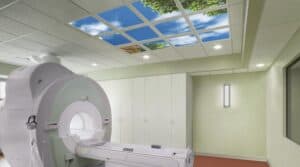 Healthcare lighting services by Kenall
Choice of fixtures
Indoor and outdoor lighting fixtures come with different material and installation costs. Offices and hospitals with a mid-range focus only require basic finishes, so the project will not be as costly as high-end retail stores and restaurants where luxury lighting is an aesthetic priority. Commercial lighting costs per square foot can be affected by the number of fixtures you want to replace during renovation projects – as commercial buildings can have hundreds to thousands of individual lighting fixtures and hardware that should be removed and updated. So, your choice of high-end luminaires will also impact future replacements.
Ease of access
Repairing and remodeling projects are affected by the ease of access to the required fixtures and wiring. If this gets more labor-intensive due to infrastructural obstacles, your costs per square foot will increase for replacing outdated fixtures and installing new technologies because both labor and material costs bump up in this case. Add in demolition and structural upgrades, and there will be another rise in costs because of the time and effort it takes to actually reach the lighting aspects. Lighting retrofits rely heavily on ease of access and navigation considering the size of commercial buildings, so they are hit more strongly by other factors like square footage and labor fees compared to new construction where technicians can easily install frameworks and fixtures for the first time.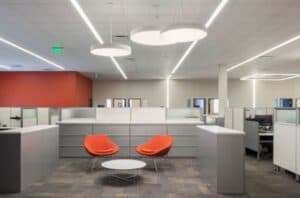 Commercial lighting by Pinnacle Architectural Lighting via Legrand
Keep your corporate beacon alight
While LED commercial lighting costs high upfront, it ensures maximum returns on investment. Under and over-lighting can affect commercial productivity and even cause your business to slow down because of the added strain your employees feel in their eyes while working. The retail world can suffer even more due to improper lighting, as its visual merchandising element can be compromised without sufficient lighting – resulting in a loss of interest among customers. Whether it is brand signage, interior bulbs, or parking lot lighting, investing in the correct solutions can go a long way for a business. Good lighting also improves the curb appeal of a property which is great for businesses to stand out.
For new construction projects, you need a tailored commercial lighting solution that checks major boxes like proper indoor illumination, décor, and outdoor lighting. For lighting retrofits, it is equally important to get a customized lighting program that addresses each faulty luminaire, creates minimum disruption, and allows you to get back on track in no time. Get in touch with professional, licensed commercial lighting contractors – like those we met above – to discuss your available options and light up your business in a way that leaves a blazing trail in its wake!