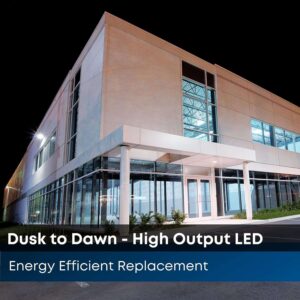 Image credit: Feit Electric
Commercial buildings have valuable assets and resources that need protection, especially when it gets dark. It is important to ensure the safety of your employees as well as your property once the sun goes down. The first step you can take is to optimize what every nocturnal creature hates – lights. With proper commercial security lights, you can illuminate key areas like entrances and parking lots to make it difficult for robbers to sneak in. This requires planning strategic spots for your lighting fixtures so that they can illuminate the target areas well and let the intruder be seen on camera or set off an alarm accordingly. For this reason, commercial lights are often paired with motion sensors to enable better security, and we will explore more of that in this article.
Types of commercial security lights
Commercial properties use different types of security lights depending on the size of the building, its surrounding landscape, the scope of danger in the area, the number of entrance/exit points, the presence of security cameras, and so on.
It is absolutely crucial to plan a compatible lighting and camera system to allow these two key security aspects to do their jobs well. Good lighting placement will help your cameras detect intruders easily, whereas insufficient lighting or too much glare will affect the footage. Adding security lights to your parking lot, storefront, entrance, fire exit, landscape, and other areas that get quite dark can ensure a well-lit property that makes it easy for intruders to be seen – which will prevent them from trespassing on your property. Similarly, illuminating various building signage using spotlights increases security while also allowing your building to be located quickly in case of emergencies at night.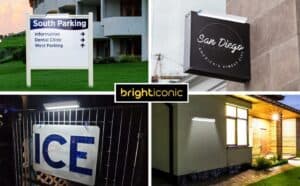 Solar-powered sign lights by Brighticonic
In commercial contexts, security lighting is mostly exterior lighting designed to illuminate the area effectively to fend off robbers and eliminate thefts. Most security lighting systems employ motion detection because it offers benefits like automatic on/off functions and improved energy efficiency with limited use. You will also find solar-powered options for maximum efficiency in exterior commercial lighting. Some commonly used commercial security lights include:
Floodlights
Spotlights
Canopy lights
Wall packs
Lamp posts
Streetlights
Top-rated commercial security lights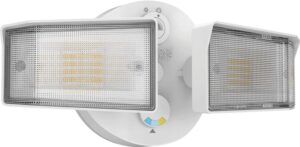 This is an LED outdoor security floodlight from Lithonia Lighting. It includes 2 individually operated luminaires. You can switch between 3000K warm white, 4000K cool white, and 5000K daylight color temperatures, so this helps you customize how yellow or blue the lighting is. The unit's dusk-to-dawn LEDs enable automatic dimming throughout the night until the sun rises and offer adjustable lumen outputs of 1700 and 2700 lumens – which is very energy efficient. You can adjust the position of each light for maximum targeted illumination. We found this product to be ideal for commercial usage because it comes with integrated visors that eliminate glares and can help the lights work well with security cameras.
Top features:
Dusk-to-dawn dimming
Energy efficiency
Easy installation
Wet location rating
ENERGY STAR certification
Includes mounting hardware
Major drawback: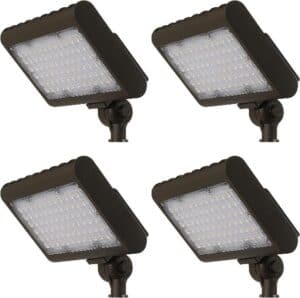 Feit Electric has a pack of 4 commercial security lights providing 6000 lumens of 5000K daylight color which is perfect for security applications. The fixture has a UV-resistant bronze powder coating, and the shatter-resistant polycarbonate lens comes with a weatherproof gasket, giving the unit overall excellent durability. Dusk-to-dawn sensors are included, which is great in terms of automatically turning on the lights when it gets dark and turning them off once the sun rises. You can point each fixture to the desired spot by turning its adjustable head. These lights are commonly used to illuminate entrances, parking lots, walkways, landscapes, etc.
Top features:
No flickering
Dusk-to-dawn sensing
A lifespan of 50,000 hours
IP65 wet location rating
UL-listed
Wall mountable
Major drawback: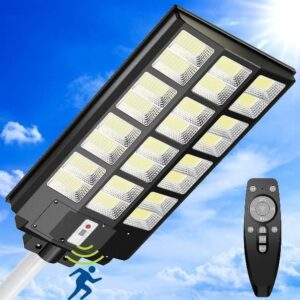 If you are serious about energy efficiency, you should switch to solar-powered lighting units like this 1200W commercial security streetlight from JACKYLED. It is mostly used in parking lots and basketball courts, but you can install it for multiple other commercial applications thanks to its flexible pole/wall/tree mountable options. The light can illuminate 1080 square feet and uses an EV-grade 30,000 mAh battery that takes just 4 hours to charge fully and allows up to 15 hours of continuous lighting. In fact, if you turn on the motion sensor mode, the runtime can extend to 60 hours or above! JACKYLED streetlights have 2 other modes you can choose from: dusk-to-dawn mode and timing mode.
If you set the light to activate once it detects movement, it will turn to full brightness if there is anyone around and then automatically dim back to save energy. At dusk-to-dawn setting, the streetlight automatically moves from 70% brightness to 50% to 20%, which is also quite energy-conscious. For shorter durations, you can simply set a timer for the lights to work and turn off automatically. These modes make the JACKYLED streetlight a great choice for commercial security lights.
Top features:
Motion detection
Solar-powered
Waterproofing
Dusk-to-dawn convenience
Multiple operation modes
A battery life of 80,000 hours (nearly 8 years!)
Fewer or no battery replacements
Zero electric bills
All mounts included
Major drawback:
Improper placement can affect camera footage.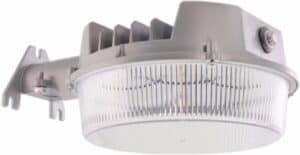 HALO commercial security wall lights are ideal for parking lots, warehouses, pathways, and other outdoor applications. Featuring 4000 lumens, this light provides glare-free results which is great for commercial security aspects. It also includes dusk-to-dawn photocells for improved energy efficiency. Combined with durable aluminum housing and waterproofing finishes, HALO commercial wall lights make some of the best maintenance-free options for commercial owners looking to secure their premises with proper lighting.
Top features:
Perfect dusk-to-dawn sensing
Easy installation (wall/pole)
LEDs with a 50,000-hour lifespan
Zero maintenance
Wet location rating
Motion detection
Energy efficiency
Mounting accessories included
 Major drawback:
Issues with durability among reviewers.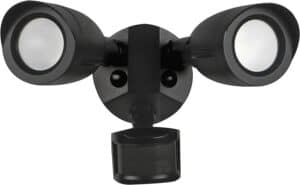 Last but not least, Satco dual bullet-head floodlight is a popular commercial security light with motion detection and flexible mounting options. It delivers a color temperature of 3000K (warm white). At the motion detection mode, your light will detect movement between 10 feet to 60 feet and activate for 10 seconds to 10 minutes accordingly. It also supports dusk-to-dawn convenience. Each luminaire head can be adjusted to suit the desired angle.
Top features:
IP65 rating
ENERGY STAR certification
Title 20 compliance
Durable construction
50,000 hours lifespan
Installation mounts included
Motion detection
Dusk-to-dawn sensing
Major drawback:
Conclusion
Proper exterior lighting is essential for protecting your commercial property by illuminating key areas like storefronts and landscapes. It also helps employees who work at night stay safe by navigating the area under good lighting. You want to light up target areas without showing too much of the building's interior, so make sure to talk to commercial lighting experts and place the right fixtures at the right spots without going overboard. Remember, the lights are there to fend off thieves – not to guide their way into your property!