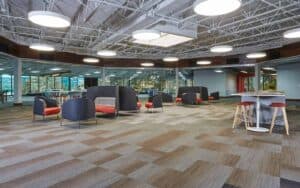 Image credit: Mohawk Group
Commercial flooring projects are important in both new construction applications and interior makeovers. New businesses require flooring options that are compatible with their commercial use, and this includes functionality and aesthetics to suit the brand image. Older establishments need to plan the necessary repairs and replacements to keep their interior spaces well-maintained, so this calls for flooring upgrades to enhance the look and feel of your building. Costs may differ massively between different commercial spaces, and in order to understand your specific commercial flooring cost per square foot, you have to decide what type of flooring you need for your building, including the features it must offer to ensure commercial productivity. In this article, we will talk about all of these details to help you plan a realistic commercial flooring budget.
Commercial flooring cost per square foot
Your total costs per square foot will vary depending on the flooring material you choose. This is also determined by the type of business you run – for example, medical properties require flooring that is equipped to meet the technical and safety requirements of such a building, whereas retail and office spaces use more flexible options. Here are some popular commercial flooring materials along with their associated costs per square foot.
Vinyl
Vinyl flooring is available in multiple styles and finishes including vinyl sheet, vinyl composition tile (VCT), and luxury vinyl tile (LVT). It is mostly found in commercial buildings like schools, offices, and hospitals. Vinyl offers great versatility and affordability if you want your commercial floors to look expensive without actually buying costly materials. This is because vinyl tiles are available in both functional and decorative options and are generally super easy to clean/maintain. They have moisture-resistant features and are adequately durable for high foot traffic areas. Depending on the actual foot traffic and load requirements of your building, you can install vinyl flooring by gluing it down or layering it above your existing floors.
On average, it will cost you around $2 to $9 per square foot to install vinyl flooring. The low upfront costs are offset by frequent maintenance expenses because vinyl tiles wear out faster and need regular upkeep. So, you will have to consider business downtimes as well.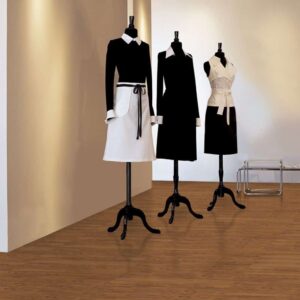 Armstrong LVT commercial flooring by Floor City
Hardwood
Hardwood is one of the high-end flooring materials in construction – and for good reason! It is quite durable and easy to maintain, which is a plus for aesthetic-conscious commercial spaces like high-end retail and hospitality buildings. The major downside to hardwood flooring is its vulnerability to moisture, as the material is not waterproof and cannot withstand leaks.
Your choice of hardwood finishes will affect your commercial flooring costs, which can range from $10 to $20 per square foot. Polyurethane and oil finishes are quite common with hardwood flooring.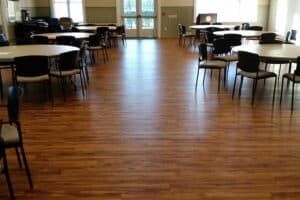 Hardwood commercial flooring by Floor Décor Design Center
Rubber
Rubber is a functional and safety-related flooring choice for dance studios, play areas, schools, gyms, commercial kitchens, and hospitals. The material provides good friction for applications where it can be easy to slip and fall. Apart from slip resistance, rubber flooring also ensures soundproofing which is great for isolating sounds in these commercial applications. That said, rubber can stain, fade, and get damaged more easily than other flooring materials, so while it checks major boxes for safety, it is not the best choice aesthetic-wise. On average, rubber flooring can cost you $12 per square foot.
Concrete
Concrete is hands down the most durable and versatile flooring material you can use for your commercial facility. Retail spaces, warehouses, offices, and restaurants often have concrete flooring with different finishes like epoxy coating, polishing, and staining to act as surface sealers and preserve the integrity of concrete even more. Concrete has an effortless, industrial look that stands out as an excellent design element – both on its own as well as by mimicking other materials. There are endless pattern/color customizations that you can opt for.
You can expect to pay around $4 to $20 per square foot to install concrete commercial flooring. In terms of survival of the fittest, concrete is the clear winner as it can outlast most other flooring materials without needing replacements down the road.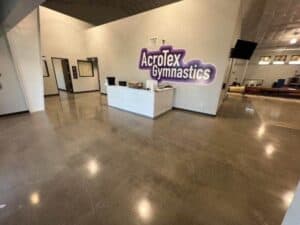 Polished concrete flooring by ALLSTAR Concrete Coatings
Cost-influencing factors
Several factors can add to your total commercial flooring cost per square foot, including:
Prep work elements like removing existing flooring, leveling, etc.
Installation accessories like adhesives, wall bases, rises, trims, etc.
Foot traffic demands.
The expected furniture, vehicle, or machinery movement.
High-end finishes and luxury designs.
The size of your building.
Maintenance needs.
Special treatments like slip resistance, heat resistance, waterproofing, etc.
Therefore, your budget should include not only the installation costs for flooring but also additional expenses to cover prep work and surface treatments. Remodeling projects can be quite challenging for a business if they call for extended downtimes.
So, if you really cannot do anything but wait it out, you might as well plan ahead and incorporate other renovations like window repairs or technical upgrades within the same timeline – if your budget allows it, of course!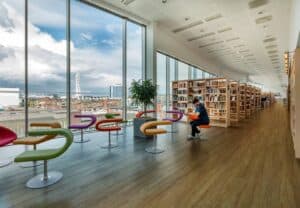 Waterproof commercial flooring by Hallmark Floors
Get floored every time you walk in
Durable commercial flooring should support heavy foot traffic and create high-performance interiors. Your choice of material will set the tone for interior design aspects as well as functionality, so it is important to weigh your options with a professional flooring expert to ensure durability and budget-friendliness. While looking for design consultants, make sure to browse their websites and social media pages for reviews, past projects, service range, and consultation options.
Some websites offer visualizer tools to help you customize your flooring on the editor and request a sample for delivery – which is great for getting the look and feel of the tile before you order the complete product online. This should help you pick materials that make the most sense for your commercial design and vision. Lastly, keep an eye out for companies that provide free estimates and post-flooring services. After all, it is not just about the floor. It is the steps you take on it as a business owner – and that has got to go the extra mile!