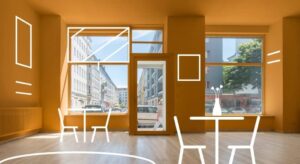 Image credits: MMD Construction
For restaurant owners, the look and feel of their restaurant are as important as the food they serve. Busy commercial establishments like restaurants need an update every few years to refresh their style and functionality. This is important because the success of a restaurant is strongly tied to its flow of customers who (1) love to dine in there and (2) come back for the food. So, the vibe of your restaurant has everything to do with what goes on in there, and this is why you need to plan a restaurant remodel to make the necessary changes without having to relocate. Such a project can range from small improvements like repainting to major kitchen upgrades, layout changes, and parking lot additions. The main goal is to keep your restaurant welcoming and relevant, and creating a restaurant remodel checklist is a good way to begin.
Restaurant remodel checklist
The scope of a restaurant remodel will differ based on the type of updates needed, but the general steps to follow are usually the same. A checklist helps keep a track of all the important to-do tasks you should take care of during the project, and it lists everything chronologically for easier tracking. Here are some of the key elements to include in your checklist to ensure a well-executed restaurant remodel.
1. Do Thorough Research
Evaluate Feasibility Aspects
To begin with, first understand your restaurant's financial status to determine whether or not it is feasible to invest in such a project. This will include finding out your financing options, estimating the impact of a remodel on your business, and planning future expenses. A lot of forecasting will be done here, so you will typically sit with your finance team and discuss your available numbers before planning the actual remodel.
Take Customer Feedback
Restaurant remodeling is a great opportunity to take your customers' feedback on both décor and functional aspects. This will help you plan a more tailored remodel scope that meets the expectations of your valued customers – they are the ones who will visit your restaurant after all, so their opinion makes all the difference! By gathering customer feedback and ideas on improvements, you can start creating an initial list of renovation areas to work on (such as dining ambiance, wall color, seating layout, etc.). To collect maximum feedback, you can create polls on your social media pages, browse through your customer review section, create feedback emails, hand out comment cards, and so on. You can also have a quick chat with your customers to learn about their dining experience at your restaurant – and ask for their suggestions on areas they think need to be remodeled.
Look For Potential Contractors
During your research, you will also build a pool of potential restaurant remodel contractors in your area. This is important to tackle early on so that you will know exactly which company to hire once your project scope is defined. Based on the customer feedback you gathered earlier, you can narrow down your pool of contractors according to their service compatibility for your proposed changes.
2. Plan The Project
Set A Budget
The second element on your restaurant remodel checklist is all about planning. So, first things first, set a realistic budget based on the research you have done so far. This will give you one initial number to use during negotiations with potential contractors, and you can revise your budget accordingly. Do keep in mind the fact that restaurant remodels can easily go over budget for different reasons that only emerge later on. At this early stage, it is better to set a budget with enough buffer to accommodate unexpected costs down the road. Your remodel scope will generally extend to utilities, commercial kitchen upgrades, and dining aesthetics, so you want to ensure relevant cost breakdowns for these key areas.
Set A Timeline
You have to pick suitable start and end dates for your restaurant remodel based on the current status of your business. Most restaurant owners plan renovations during their slow seasons to minimize business downtimes, so this depends entirely on how busy your restaurant is right now. You want to start remodeling the space as efficiently as possible in the best interests of your employees, customers, and neighbors too. Most importantly, you want the remodel to finish just in time for the peak season to hit, so make sure you have a compatible timeline planned out in advance.
Identify And Prioritize Project Goals
This is where you confirm and finalize all the aspects to be remodeled within your restaurant, so it will be a mix of your own ideas as well as your customers' feedback. What are your goals for remodeling your restaurant? Do you want to update the utilities? Can the dining area be improved? Can the foot traffic be improved? Do you want to create a more maneuverable kitchen + seating layout? Do the walls need a fresh coat of paint? Is everything ADA-compliant? Do you want to target wider audiences? These are some questions you can work on to prioritize exactly what your restaurant needs in terms of the budget you have at hand and the value you can add to your business with all these changes.
The following are some common remodeling aims for restaurants:
ADA compliance
Improved, more spacious layouts
Sufficient seating space for peak hours
Alfresco dining areas
Easier navigability for servers
Well-equipped commercial kitchens
Better ventilation through hoods and exhaust fans
Better food storage
Functional and adequate workstations
Creative design themes
Improved waste management and disposal
Updated signage
Exterior facelifts and landscaping
Futureproofing
Select A Contractor
Time for hiring the right team for the job! Early on in your restaurant remodel checklist, you gathered all potential contractors you might want to work with. Now that you have a budget and clear goals for the remodel, you can select the best contractor who specializes in restaurant remodeling AND can offer relevant services. Reliable and licensed contractors can help you build your team of interior designers, architects, installers, etc., so this stage will tick off the hunt for professionals from your checklist.
Get Permits And Approvals
Once you have a professional team ready, you can dive right into the next major stage of permits and approvals for your restaurant remodel. Your contractor will know all about the applicable permits for your project, and this is crucial to cover before any work begins to ensure code compliance. Your proposed changes first need to be approved by the local authorities, which requires submitting your plans and conducting inspections.
If you get the green light for all of your planned renovations, the contractor will start working on your restaurant. Otherwise, you will have to drop the non-approved aspects and revise your plan and budget to reflect the rules.
3. Connect With Followers
The remodeling process itself will make great marketing content that you can use to let people know that you are renovating at the moment. You can share images on Facebook and Instagram to help your followers know about the progress – so they remember to come back once you reopen your doors. Since your business will most likely be off during renovation, you do not want things to go out of sight, out of mind, which is why staying in touch with your followers is important. Documenting the remodel also gives you a chance to create before-and-after images that you can share on your Instagram stories. This will encourage your repeat customers to look forward to going back as soon as you reopen and will also pique the interest of curious passers-by who visit your pages.
The Checklist At A Glance
Here is what our restaurant remodel checklist looks like with only the key elements. Feel free to add and remove based on your specific project scope!
1. Do thorough research.
Evaluate feasibility aspects
Take customer feedback
Look for potential contractors
2. Plan the project.
Set a budget
Set a timeline
Identify and prioritize project goals
Select a contractor
Get permits and approvals
3. Connect with followers.
Conclusion
Restaurant remodeling is a great way to attract more customers through visually appealing décor, authentic vibes, and a mutual love of food. This is your opportunity to reinvent your business and paint a brand new image of your restaurant. When done right, remodeling projects can help you address most if not all of your concerns within the space. Whether it is a lack of storage, proper lighting, or general space, remodeling allows you to make essential improvements within a reasonable budget – so you always focus on priorities first and then reallocate funds as needed.
The updated space gives your restaurant a new personality. If you do want to keep the original vibes while still adding some new design elements, you can work on the technical aspects instead and avoid introducing too many spatial changes. This is important if you want your customers to reconnect with your restaurant's already successful dining atmosphere. Sometimes, change can be more damaging than productive to your business, so make sure to retain the key positives that make your restaurant stand out and only add those upgrades that will increase your business's value down the road.