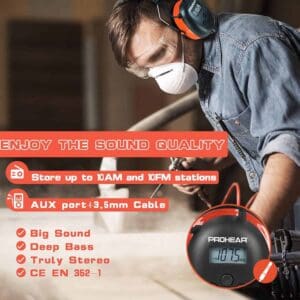 Image credit: PROHEAR
Construction sites have equipment, tools, and activities that create a lot of sound and together cause high levels of noise for construction workers and equipment operators. Continuous exposure to loud sound can affect hearing, interfere with communication, and make it difficult to focus on the task at hand, which is why we need proper headphones for construction workers. These headphones are equipped with features like noise cancellation and are designed specifically for construction environments. In this article, we will talk about the best headphone options you can use for drowning out construction noises and having a more peaceful, productive time at work.
Construction Headphone Features
You can pick a pair of headphones based on the type of work you do and how noisy it can get every day. The right type of headphones must ensure sufficient hearing protection in loud environments. Power tools, hammers, jackhammers, bulldozers, excavators, cranes, forklifts, and other machinery contribute to most of the sounds on a jobsite, so headphones are included as part of the safety gear that construction workers should always wear.
Noises that go beyond 85 decibels are dangerous for our ears, and most construction sounds cross this threshold because of all the high-performance machinery and work involved. For context, the loudness of a crane is around 90 decibels, whereas a jackhammer can go up to 130 decibels – and that is a lot of noise to endure on a daily basis! In fact, prolonged exposure to sounds above 85 decibels can lead to permanent hearing loss, so hearing protection is a key OSHA priority in construction. Different headphones offer different levels of protection and special features, and you should buy headphones that are compatible with your specific job requirements. Here are the key features you should look for when buying a pair of headphones for construction.
Noise Reduction Rating (NRR)
This is the most important feature of construction headphones. NRR refers to the extent to which headphones can reduce noise levels, ideally up to 30 decibels for construction applications. Higher NRR delivers higher noise reduction. All headphones for construction workers should buffer out noise as efficiently as possible to help workers and equipment operators concentrate on the task at hand without getting distracted by all the background noise. Using the correct headphones can reduce noise levels by 15 to 30 decibels, which is great for hearing protection in most loud settings. Note that it is important to suppress – not cancel out completely – any construction sound that can be damaging and distracting, so you want to use headphones that filter out the chaos while still allowing you to hear emergency alarms or announcements.
Look for OSHA-approved headphones that limit audible volumes to 85 decibels. For instance, you can use headphones that reduce loud machinery noise to 10% of the original sound but still let you hear voices at their normal volume. This allows people to speak to each other without yelling – so selective noise filtering is the key!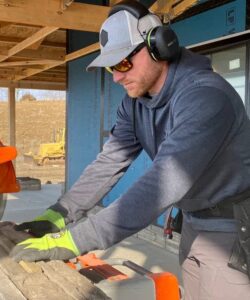 Construction headphones by ISOtunes
Bluetooth For Communication
While you do need to keep your ears protected with adequate noise suppression, it is also important to be able to communicate with other people around you. Bluetooth technology is the best solution here, and it lets you attend calls without using your smartphone – which is as hands-free as it gets! Construction headphones with Bluetooth features are available as 2-way communication headsets that can be worn by vehicle operators and other workers around the site. These headphones are designed to cancel out background noise and allow you to clearly hear what the other person is saying via Bluetooth – which is crucial in tasks like vehicle operation.
Only voice is transmitted through the connected noise-canceling microphone that is designed to filter out unwanted background sound. Noise-canceling and Bluetooth-enabled headsets support easy communication because they do not require you to talk loudly over all the noise, which improves workflow, boosts communication in hazardous environments, and builds better situational awareness for each worker.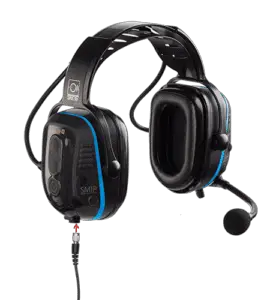 Sensear SM1P smart communication headset for construction
Communication Modes
Communication headphones for construction workers can be operated in different ways to initiate voice transmission on the mic:
Via push-to-talk buttons.
Through voice activation (VOX) – so you can simply begin speaking and the mic will turn on and off by itself.
Through a live mic that stays on all the time.
You can choose a headset that includes your required mode of operation depending on the environment you are working in and the urgency of real-time communication you might need.
Durability
Like all construction-friendly gear, headphones for construction workers should also be durable, and this includes features like resistance to water and dust. Depending on your trade, you should look for durable headphones that you can wear to work every day, as they will last longer than basic headphones and require fewer replacements.
Ergonomics
In general, headphones for construction workers are equipped with various construction-friendly ergonomics to ensure a comfortable fit that is both lightweight and reliable for noise suppression. Good ergonomics can be very user-specific and should offer compatibility with other accessories like:
Rechargeable batteries
Construction hard hats
Earmuffs for winters
Goggles
Hearing aids
Earplugs
The more comfortable they are to wear, the easier it will be to wear them throughout your shift, so keep an eye out for headphones that deliver on-the-go convenience without slowing you down. Look for adjustable and vented headbands that are easy on your head and do not add pressure – which can result in headaches after prolonged use.
Best Headphones For Construction Workers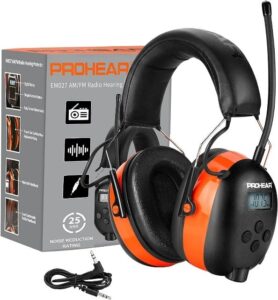 PROHEAR's construction headphones are packed with remarkable features at the given price. This headset is a digital radio unit, so it supports both hearing protection and AM/FM reception. A small, built-in LCD screen makes a convenient display while you scan for stations or scroll through your playlist via the AUX-connected audio device. The headphones have an audible limit of 85 decibels, so they are equipped to automatically reduce sounds that cross this threshold.
Construction-friendly features:
Can be used as safety earmuffs for hearing protection.
10 AM/FM digital radio support with channel customization.
NRR of 25 decibels is ideal for effective noise reduction.
MP3 plus AUX port available.
Adjustable headphone lever.
Snug ear cushions and padded headband ensure comfort.
Durable and lightweight headphone shell is easy to wear.
Major complaints:
Does not include AA batteries.
LCD screen lacks a battery indicator. There is a loud noise instead when the batteries run out.
Batteries do not fit properly and may require frequent readjustments – so while the overall hearing protection is great, the battery aspects are pretty flawed if you want to use it for radio reception as well.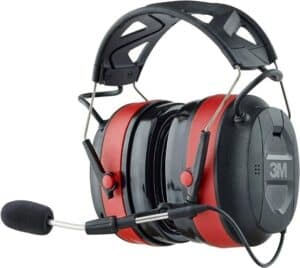 This pair of construction headphones from 3M is a Bluetooth-enabled electronic hearing protector that is built for onsite communication and better situational awareness. It keeps your hearing safe by reducing unwanted background noise effectively, which also assists in group communication as you can talk easily without yelling over the noise.
Construction-friendly features:
Adjustable, vented headband adds comfort.
Bluetooth connectivity supports hands-free communication – ideal for equipment operators.
NRR of 26 decibels is great for noise reduction and hearing protection.
Push-to-talk button supports headset-to-headset communication.
Built-in external microphones enable situational awareness by letting you hear key sounds like alarms – so you are still aware of what goes on around you.
Excellent noise-cancelling mic enables clear communication.
Improved situational awareness with all these technologies.
Premium gel cushions ensure padded comfort.
Compatibility with hard hats is a huge plus.
Major complaints:
Quite expensive.
Need a third-party communication app – which has poor syncing and renders the communication aspects useless if it fails to connect, so this can be improved with VOX or integrated radio features instead.
Boom mic is not very durable.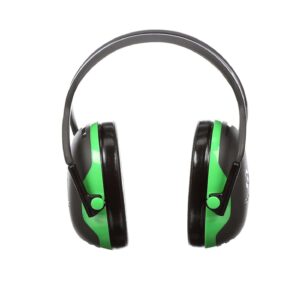 These construction headphones from 3M are very cost-effective and simple to use if you are looking for hearing protection alone and do not require communication features. It is a great choice for those who prefer lightweight headphones without any technical, bulky designs. 3M Peltor X1A earmuffs have a slim design that is packed with key jobsite ergonomics.
Construction-friendly features:
NRR of 22 decibels is sufficient for low to moderate noisy environments.
Durable, over-the-head design is easy to wear for a prolonged duration.
ABS plastic cups are padded and heat-resistant for maximum comfort.
Tiltable cups can be adjusted for the right fit.
Compatibility with earplugs is another plus.
Cup cushions and inserts can be replaced easily.
Electrically insulated headband ensures protection from electrical hazards.
Slim profile and lightweight benefits increase wearability.
Major complaints:
Full-ear coverage can be an issue due to smaller cups.
Sizing incompatibility can cause headaches after prolonged use.
Keep Calm, And Let The Results Make The Noise!
Construction headphones are part of key safety gear for jobsite workers. They promote hearing protection, help with situational awareness, and facilitate easy communication in the middle of all the chaos. However, you should not rely solely on headphones when it comes to instant communication because there is always a chance for technology to stop working at the wrong time, malfunction for no apparent reason, or cause delays in transmission. Always remember to use standard hand signals or gestures that everyone recognizes at work to alert people quickly in case of emergencies. That said, with the right pair of headphones, you can drown out unwanted sounds and do your job better. It's like standing in the eye of the storm and saying: I can finally hear myself think!