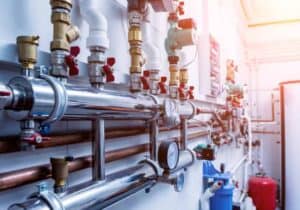 Commercial buildings require specialized plumbing services that differ vastly from residential plumbing in terms of size, equipment, building codes, and project scope. You will hire a commercial plumber to handle minor fixes, major repairs, kitchen/bathroom renovations, preventive maintenance, regular inspections, and new installation projects. This applies to all commercial kitchens, bathrooms, and HVAC from offices and hospitals to malls, restaurants, and recreational parks. Plumbers also design commercial boiler systems and sewage systems, including pipework layout and installation depending on the building's infrastructure. In general, commercial plumbing systems are more heavy-duty and prone to wear and tear compared to residential plumbing, which is why you will find your commercial plumbing cost per square foot to be a lot higher for the given area. This article takes a look at some of these average numbers to help you plan a realistic budget before hiring a professional.
Commercial Plumbing Cost Per Square Foot
If you notice signs like leaky faucets, clogs, damaged pipes, reduced water flow, suspicious sounds in fixtures, etc., it is time to call a commercial plumbing contractor for timely repairs. The main  plumbing services you can enlist from such an expert include:
Drain cleaning
Preventative checks
HVAC-related upgrades
Replumbing
New installation/rough-in
Water heater installation/replacement
Leak detection and repair
Pipe replacement
Routine maintenance
Toilet installation/repair
Touchless fixture upgrades
Inspections
Before any work begins, your plumber will conduct a comprehensive assessment to determine the condition of your existing systems and understand the challenges up ahead. Once the list of problems is clear, it will be easier to tell which services your building requires – which also clarifies your initial estimates for the project. Here is a simple breakdown of costs associated with such a project, including factors that can influence them to go up or down.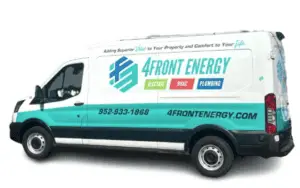 4Front Energy commercial plumbing contractor
Average Costs
The average commercial plumbing cost per square foot for rough-in plumbing during new construction is around $4 to $6 per square foot. This is where the main plumbing framework and lines are planned and installed for the first time, ready for fixtures and equipment to connect down the road.
For replacement projects, services like pipe replacement can cost $20 to $200 per square foot, whereas larger-scale services like sewage repair can cost up to $5,000 in total. Replacement costs tend to be higher than new construction costs because there is always some demolition and navigation required to safely access the old hardware without damaging the nearby utilities – which increases the project complexity compared to new construction where things are installed easily without anything in the way.
Costs By Factors
Commercial plumbing costs largely depend on the total square footage of your building, the number of plumbing fixtures required, the level of finishes you need, the amount of prep work to be done, the ease of access to existing systems, local codes, and the overall complexity of the project. Cost estimations usually account for 3 key elements that can drive up costs (as we will see below), including any unforeseen factors that can cause delays and reworks once the work begins. This can happen when there is a change in the initial scope of work, so the revised scope might call for different materials or increased numbers which naturally bumps up your original budget. Quite often, a change of scope may necessitate rework if the project was partially finished when revisions were made – again, the repeated work demands more labor and new materials that together add to your plumbing expenses.
The following are 3 major cost contributors in commercial plumbing services.
1. Permits. New rough-ins, replacements, and renovations need various permits before any work can begin. This ensures safety and infrastructural compatibility, which allows plumbers to deliver their services to code and prevent reworks. To get the right permits, you can expect to pay as little as $50 up to $500 in total.
2. Labor. Commercial labor comes with certifications and specialized skills that demand hourly wages for plumbing projects, and they focus on applicable codes, fixture compatibility, and durable installation. Most plumbers will pick a specialization like office or retail plumbing, so the labor fees might differ accordingly – also based on your location. In general, commercial plumbers charge around $50 to $85 per hour and go up to $100 or more per hour for extensive projects.
3. Materials. You can choose to buy plumbing materials and rent the necessary installation tools and equipment depending on your budget.
Plumbing materials include pipes, pumps, valves, fittings, fixtures, and appliances that need a water supply. For commercial uses, PEX pipes are more affordable and flexible for basic plumbing needs inside the building, whereas copper pipes can be very costly (often $5000+ costlier than PEX) and are built to tackle heavy-duty applications. If you opt for high-end options like touchless fixtures, premium showers/tubs, and custom water heaters, you can expect to pay higher per square foot for installing them – and this will be separate from unit costs! This is important in high-end hospitality buildings and retail stores where aesthetics and design are a huge priority, so the commercial plumbing costs per square foot for such properties are usually higher than basic offices with mid-level finishes.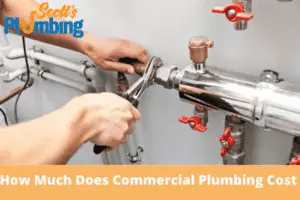 Commercial plumbing services by Scott's Plumbing
Conclusion
Commercial plumbers have larger-scale projects to work on compared to residential plumbers. This is because commercial properties are generally larger and more complex than residential houses, which calls for heavy-duty fixtures, routine maintenance, and code compliance. It is common for these plumbers to specialize in one type of commercial context – for example, office plumbing or medical plumbing – so that they can excel at relevant services for such buildings and cater to the needs of specific audiences. For this reason, do check for service compatibility before hiring your plumbing team to make sure that you get the right services for your property – with the least downtime, as plumbing work can interrupt business hours.
Commercial plumbing is a very ongoing service because there is always a need to schedule maintenance or plan renovations down the road, so you want to hire someone with long-term potential to keep your building's plumbing goals in check – and at a good price. With proper preventive checks, you can reduce the number of repairs your business needs altogether and increase your savings.