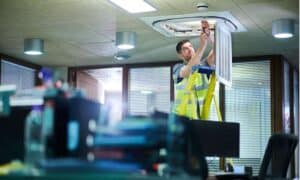 Managing building maintenance aspects is important for the safety and efficiency of commercial properties. Both small and large commercial establishments rely on various day-to-day, seasonal, and annual services to ensure good workplace productivity. A maintenance service allows a building to become better equipped for its intended commercial activity, whether it is a simple fixture replacement, a technical reboot, optimized parking, or a major design overhaul. You will require the help of commercial service providers who specialize in building maintenance services and can deliver customized support for your building – as all commercial buildings differ from one another in terms of their size, commercial use, and audience.
With proper maintenance, you can enhance the functional and aesthetic features of your building and make sure that both the interior and exterior aspects receive the right attention. This allows your commercial building to look great all year long using services that are tailored to fit its needs. Here are some of the main services you can expect to work with as a commercial building owner.
Commercial Building Maintenance Services
Janitorial Services
Commercial buildings require various janitorial services for day-to-day upkeep and cleanliness. This includes a range of tasks like cleaning floors and windows, restocking supplies, disinfecting surfaces, and so on. Most disinfection specialists are asked to conform to different CDC, OSHA, and WHO guidelines to ensure thorough workplace hygiene and personnel safety, so this usually involves wearing the right PPE before using disinfectants and other cleaning equipment. Good janitorial focus allows buildings to look and feel fresher with improved indoor air quality and an overall welcoming environment. Other key janitorial services may include carpet care, upholstery cleaning, event cleanup, and LEED-compliant indoor maintenance – depending on the specific needs of your commercial space.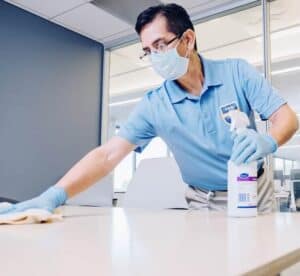 Commercial building disinfection by ABM Industries
Mold Remediation
Commercial building maintenance also includes mold remediation services in the wake of storms, leaks, and other causes of water accumulation within buildings. If your commercial property develops visible symptoms like mold growth, you should immediately contact mold removal experts who can reverse the damage before it is too late. Mold thrives on moisture, so the underlying problem – water leakage – must be addressed thoroughly to make sure that there will be no more leaks in the future.
Common sources of water leakage include leaky faucets, rainwater buildup, and damaged pipes. Your mold removal experts will look into these problems and fix them first. This type of building maintenance has a more safety and functional element to it and is important for employee health as well. At the same time, getting rid of all the unsightly mold improves the look and feel of your commercial building and allows for a fresh coat of paint once everything is dry and ready to use.
MEP and HVAC maintenance
Maintaining the mechanical/electrical/plumbing and HVAC aspects of your commercial building is all about improving its productivity, especially for automated work environments. Everything you require for your commercial activities relies on MEP systems, so it is crucial to keep them well-oiled by scheduling regular maintenance to prevent costly downtimes. Maintenance services for both MEP and HVAC systems require skilled experts who can both fix emerging issues and offer preventive solutions to avoid workplace hazards – which is why this category of commercial building maintenance has a huge safety and functionality focus. In addition, HVAC maintenance offers massive energy savings in terms of optimizing your units so that they stay compatible with your building's heating/cooling/ventilation needs. Such services may differ between office, restaurant, hospital, and retail settings depending on the type of technologies and equipment that are being used. All in all, this ensures a comfortable working atmosphere that is safe and healthy for your employees to be in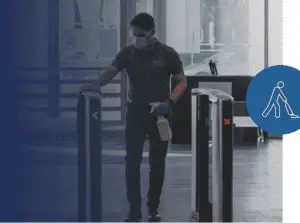 Commercial building maintenance from Service by Medallion
Painting
Whether it is a minor touch-up or a full-scale interior/exterior painting, commercial buildings can benefit immensely from a fresh coat of paint. This is all about better aesthetics and brand representation, so it definitely makes a key building maintenance service for commercial properties. Repainting also helps with rebranding purposes, allowing you to update your commercial palette for the new theme.
Landscape Maintenance
Landscape maintenance is a key exterior maintenance aspect for commercial buildings. It adds to the curb appeal of your property and sets the first impression of your brand, so you want to make sure that your landscape is always well-kept and aesthetically ready for the day. This includes keeping your lawns manicured and safe from pests. Landscapes change with seasons, so this is one of the services you will add to your seasonal building maintenance checklist.
Architectural Restoration
Materials like metal, stone, and wood can take a beating from the elements and wear out over time. Extreme factors like fires and natural disasters can also leave their marks, calling for professional restoration services to help commercial buildings recover from the damage. So, depending on how much help your building needs, your restoration goals may differ. Good building maintenance should include services like metal refinishing to tidy up and polish various metal hardware such as railings, elevator cabs, fixtures, ornaments, etc.
Stone refinishing is another example, and it helps structures made of granite and similar materials get a new lease on life. Wood restoration can also be used to improve various millwork within your building and make doors, window frames, and panels look as good as new. Restoring architectural elements to their original glimmer simply elevates the aesthetic appeal of your building, making it a crucial maintenance service for commercial properties.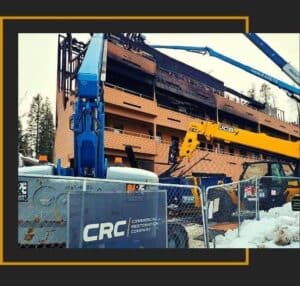 Building restoration by Commercial Restoration Company
Facade Repair
This overlaps with restoration services, as a building façade is made of metal, glass, concrete, and wood – all of which undergo repair and restoration for a successful facelift. Quite often, the service begins with a thorough leak inspection and solution to make sure that there is no underlying damage eating into the façade. Pressure washing may be required to get rid of mold and dirt, followed by commercial window cleaning (and glass replacement if needed). If the exterior paint has chipped and faded over time, repainting and waterproofing will be important to revamp the façade and bring back its curb appeal.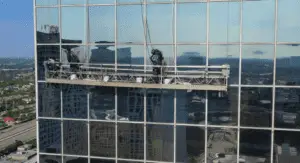 Commercial window cleaning by JOBS-AMST
Parking Lot Maintenance
The parking space of your commercial building also marks the first impression of your business, so you want to extend your exterior building maintenance to your parking lot for sure. Some services included within parking lot maintenance include sidewalk repair, asphalt repair, parking lot striping, pothole repair, snow removal, and lighting maintenance. Asphalt and concrete can wear out over time, especially if there is heavy foot/vehicle traffic and exposure to aggressive weather. With regular parking lot maintenance, you can give your asphalt and concrete a valuable stitch in time to help them last longer and add value to your property.
Conclusion
Every commercial building is different and comes with different maintenance goals to stay on track. Proper commercial building maintenance keeps your space updated and inviting, encourages tenants to stay, prevents costly repairs, and boosts the curb appeal of your establishment. Such a maintenance checklist can be quite comprehensive and business-specific, so make sure to get customized quotes from potential service providers who can offer tailored solutions for your building before hiring your team.