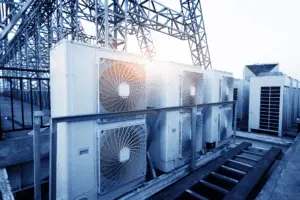 When you have to buy or replace a commercial HVAC system, there is one other key figure apart from the price that you should look into: the size of the HVAC system, also known as tonnage. This is measured in tons and makes a crucial indicator for finding the right commercial HVAC systems. Poorly sized HVAC units are not compatible with a building's heating and cooling needs, so they can be very inefficient and expensive in the long run. By working out the correct HVAC tons per square foot for your commercial property, you can maximize your building's energy efficiency and create a comfortable atmosphere for your employees and visitors to be in. Here is how you can go about it.
Commercial HVAC Tons Per Square Foot
Definition
HVAC units are generally measured in tons, and this is known as tonnage. In HVAC terms, 1 ton – or AC tonnage – refers to the amount of heat an AC unit can remove from a room in 1 hour. This is also expressed in BTUs per hour:
1 ton = 12,000 BTUs per hour
So, 1 ton of air conditioning is considered to remove 12,000 BTUs per hour.
For context, residential HVAC tonnage falls between 1 to 5 tons, and anything about 5 tons is considered ideal for commercial usage. If you have a 6-ton air conditioning unit, it will remove 72,000 BTUs per hour – so these are some standard figures that are used for references in HVAC estimations. They give you some idea of how small or big your HVAC units should be in terms of their heating/cooling capacities in order to maintain a comfortable workspace climate.
In terms of square footage, here are some rules of thumb followed by HVAC contractors to make quick estimates:
It takes about 25 BTUs to cool down 1 square foot of commercial space.
1 ton of air conditioning is needed per 500 square feet in a commercial building.
To sum it up, 1 ton of air conditioning removes 12,000 BTUs per hour from a 500-square-foot space.  You will meet these 2 numbers again in the main calculation steps below.
Calculation
The following calculation steps are commonly used in commercial HVAC size estimations:
Calculate your building's total square footage (its total area).
Divide by 500.
Multiply by 12,000 – this will be your total cooling load.
Add 400 BTUs per occupant, 1200 BTUs per kitchen, and 1000 BTUs per window.
Divide by 12,000 to get the HVAC size in tons.
As an example, consider a 5000-square-foot commercial space with 10 employees, 1 kitchen, and 5 windows. Following the above steps would give:
A total area of 5000 square feet
5000 / 500 = 10
10 x 12,000 = 120,000 BTUs
120,000 + (10 x 400) + (1 x 1200) + (5 x 1000) = 130,200 BTUs
130,200 / 12,000 = 10.85 tons
This means that your 5000-square-foot commercial building needs 10.85 tons of air conditioning to cool the entire space – which is roughly 0.002 HVAC tons per square foot.
This is consistent with the above rule of thumb. If 1 ton cools down 500 square feet, you will need about 10 tons to cover 5000 square feet (give or take a few after factoring in the main heat sources in the building).
It should be noted that rough figures are only useful for estimation purposes – not the final tonnage, which would further require a technician's advice and consideration for factors like ductwork and building material.
Key Considerations
Commercial HVAC tons per square foot are influenced by the number of heat-generating sources within the building. This is why the sizing formula above accounts for additional BTUs that increase heating. By factoring in the extra BTUs, you can reach a more accurate tonnage that will cool the building more efficiently considering all the major heat sources inside it.
According to the Air Conditioning Contractors of America (ACCA), you should consider the following main aspects before buying your commercial HVAC system:
Your commercial application (office, restaurant, store, etc.).
The building type (single-story, warehouse, and so on).
Its total square footage that needs to be heated, cooled, or ventilated.
The HVAC infrastructure (gas or electric) available in the building.
The construction materials of your building's walls, roofs, and floors.
Their insulation.
Window types.
The total number of occupants.
The number and type of artificial lights and heat-producing devices.
In addition, you have to account for automated zones in your building that use smart units. All of this is done with the help of commercial HVAC experts who will visit your building for a thorough inspection to understand its heating and cooling needs, after which they will suggest tailored solutions based on the size of HVAC your building requires.
AC Tonnage Calculator
If you do not prefer manual calculation, you can use the Gulf Coast Air Systems AC tonnage calculator to get instant estimates for your HVAC size. It is an online tool that calculates your AC tonnage using the following inputs that you have to enter:
Square footage
Number of people
Number of windows
Number of exterior doors
This is a quick way of finding out initial estimates that you can use to browse commercial HVAC catalogs and compare different prices from potential brands. It gives a good general idea of the commercial HVAC size your building might require, so you can get some head start on your search before talking to an HVAC contractor.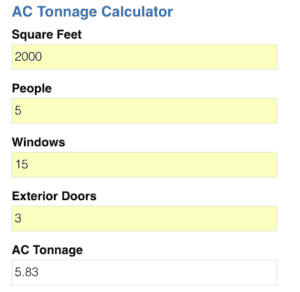 Conclusion
It is important to work out the right HVAC tons per square foot for your commercial property so that you can buy an HVAC unit that is relevant to your building's heating/cooling needs and compatible with its infrastructure. Incorrectly sized HVAC causes major drawbacks like poor functionality, higher bills, costly maintenance, and zero efficiency.
This is because an oversized commercial HVAC unit will consume extra energy to heat or cool the space more than it needs – which is quite wasteful in terms of both energy and money.
Likewise, an undersized commercial HVAC unit will work harder to heat or cool the building – which causes frequent breakdowns and is not energy efficient either. For this reason, HVAC experts and contractors use various calculations and online tools to obtain numbers that are tailored to your specific business and can meet its HVAC requirements easily.