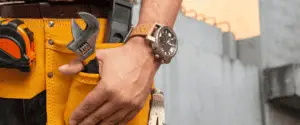 Image credit: Medium
Construction projects are typically divided into five key stages: planning, preconstruction, procurement, construction, and post-construction. You begin with forming plans, schedules, budgets, blueprints, and designs before moving to permits and getting approvals. Once you get the green light to begin construction, you can order materials for delivery and get the labor ready to work on the site. As the project unfolds, you have to manage tasks, communicate, report to relevant audiences, organize the flow of events, gear up for setbacks, plan reworks, check for code compliance, and ensure quality results.
When the construction is complete, you must conduct final checks before handing over the keys to your client. All of these stages are driven by a common denominator – time. The construction world can be a race against time with so much going on at once, which is why time is money if you want the project to reach its finish line. For someone working at a busy, unpredictable jobsite, watches happen to be the only accessories allowed as part of the construction attire – so the universal arm gesture for time-telling (closed fist, raised arm, pulled sleeve, and a finger on the dial) is more common here with everyone looking down to check the time! The best watch for construction workers should definitely be built for this tough environment, so we have compiled a list of the top options you can wear to work every day. Read along, and stay on the dot!
Best watches for construction workers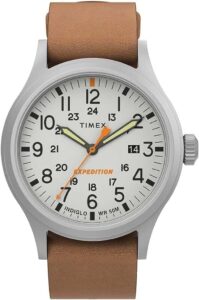 Timex Expedition Sierra combines functionality, style, simplicity, and durability into one watch. It is designed for outdoor friendliness, which makes it ideal for jobsite purposes as well. The watch includes an adjustable 20mm, tan-colored leather strap leading to an off-white glass dial displaying both 12-hour and 24-hour numerals. You can also check the date on the small date window.
Construction-friendly features:
Indiglo backlit dial and luminescent hands enable nighttime visibility.
Large, easy-to-read numbers are quite helpful.
Water resistance to 50m keeps the watch safe in wet environments.
Scratch and shatter-resistant mineral glass lasts longer.
Major complaints:
Too small date window.
Low-quality leather strap.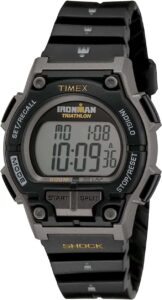 Timex Ironman Endure 30 features an adjustable 18mm resin strap with the chronograph function, so you can have both a stopwatch and a time display on the same dial (which is made of a 42mm resin case with an acrylic lens). It uses the 24-hour military time and includes 2 time zones. The display also has a simple date feature.
Construction-friendly features:
ISO-approved shock resistance is great for jobsites.
Indiglo backlit digital dial offers nighttime visibility.
Water resistance to 100m is perfect for working in wet conditions.
Customizable alarms and timers can be used as work reminders.
Ability to switch between 2 time zones.
Bulky and heavy-duty enough for tough environments.
Major complaints:
Faulty buttons.
Low-quality screws.
Resin strap can be too rigid and uncomfortable on the wrist.
Not resistant to scratches.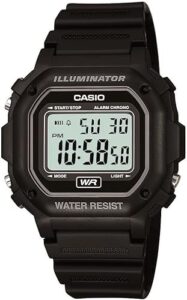 The Casio F-108WH-1ACF chronograph watch has a large square digital display featuring an LED light, alarm settings, a date slot, and an hourly time alert. The 42.4mm stainless steel case has a mineral glass dial window with a durable resin band. The simple and robust watch design makes this one of the best watches for construction workers.
Construction-friendly features:
Water resistance to 30m is great for everyday use.
Simplicity and at-a-glance readability are ideal for busy construction workers.
Effective timepiece for both office and jobsite settings.
Alarm and calendar functions support work schedules.
Backlight feature enables easy visibility.
Major complaints:
Low-quality band tends to break sooner.
Screen is prone to scratches.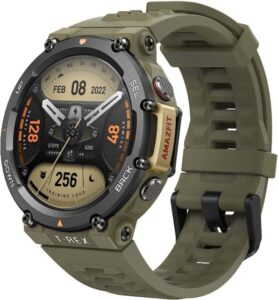 Amazfit T-Rex 2 is a smartwatch with GPS navigation functionality. It uses dual-band with 6 satellite positioning and makes a truly rugged, military-style smartwatch. The watch has been designed for outdoor sports and hiking, which is why you can trust its technical zeal while working in remote construction sites – particularly as a backup GPS with sufficient battery in case your smartphone runs out.
Construction-friendly features:
24-hour battery life allows convenient usage at work.
Resistance to shock, water, heat, fire, and cold adds to overall ruggedness.
Always-on high-resolution display is great for outdoor uses.
Health metrics from built-in sensors can give heart rate alerts to signal emergencies (in case of construction accidents).
SOS and alarm functions are also important at work, especially in remote sites.
GPS navigation and tracking is a huge plus for remote construction projects.
Notifications for incoming texts, calls, and alarms keep you on track.
Low-temperature operability allows the smartwatch to work even at -22°F.
Customizable dial faces are excellent for switching between as needed.
Major complaints:
Not mud-resistant.
No offline map support.
Issues with synchronizing time.
Can be upgraded with voice integration.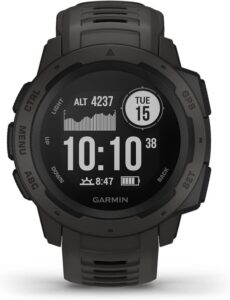 This smartwatch, the Garmin Instinct, is hands down one of the best watches for construction workers. It has a simpler, hassle-free design with rugged features that ensure outdoor compatibility. Built to military specifications, Garmin Instinct smartwatch does more than just display the time!
Construction-friendly features:
Resistance to heat, shock, and water makes it ideal for jobsite purposes.
Multiple global navigation systems (GPS, Glonass, and Galileo) take GPS to the next level.
3-axis compass and barometric altimeter support navigational safety and tracking.
Built-in heart rate/activity sensors keep you safe and covered during emergencies.
Garmin Instinct pairs with compatible smartphones to notify you instantly about incoming calls, texts, and alerts so that you can keep your phone in your pocket – and enjoy hands-free convenience!
Multiple battery-life modes allow for uninterrupted use, which is great for remote applications.
Programmable buttons support long-hold shortcuts.
Incredibly packed with features at the given price (which is less than most other smartwatches).
Quite lightweight and comfortable to wear, unlike other bulky smartwatches with rigid bands.
Major complaints:
Does not support voice-enabled replies.
Notifications can only be cleared on a connected smartphone.
Tracking capability can be improved.
Time and tide wait for no construction worker
The best watch for construction workers must stand up to the daily wear and tear of a jobsite. Depending on the type of environment you work in, your chosen watch should have the right protective features like resistance to water, shock, heat, etc. It is best to use watches with large, easy-to-read displays that support backlight functionality. Digital displays are quite effective when it comes to low-light readability and chronograph elements. However, analog displays are equally competitive if they include luminescent hands – plus, they look both stylish and functional even for jobsite applications, so it is all about your personal preference for displays.
If you opt for smartwatches (which are generally more expensive), you can enjoy GPS benefits and health monitoring while working in remote sites. For the above reasons, you will see that most of the popular construction watches are in fact sports watches or hiking-friendly watches designed to support navigation aspects, timers, as well as health tracking. So, a good construction watch must have all these features.
Most importantly, the best construction watch should be durable and reliable enough to tell the correct time during your projects. Time is the only constant that connects the yellow "Under Construction" tape to the red "Grand Opening" ribbon, so make sure to invest in a rugged timepiece that brings both timekeeping and smart management at your wrist!