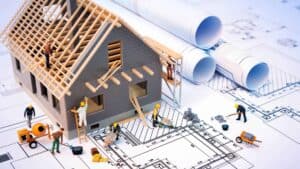 Building a new-construction house has its own charm compared to remodeling an existing house. Most homeowners prefer the idea of constructing their dream home that is designed and built just as they wish. It gives them a chance to finally breathe some life into their Pinterest boards by taking things to blueprints – or as we like to call them: The X-ray of a house! Durability and long-term comforts offer the much-needed return on your investment as a homeowner. This is because you build everything from scratch, and so the problems of old and used materials never slow you down. There is no struggle to keep up with the recurring maintenance of an existing house. You have an entirely new infrastructure to support all the required amenities, and the lack of damaged utility frameworks is a gratifying bonus. This is where house construction cost calculator comes in handy.
It is always recommended to work with a licensed general contractor on such a massive construction project. You need to discuss time frames, resource allocation, labor, building materials, and most importantly, house construction costs. Your general contractor will help you with a breakdown of the total project cost, which would typically include the price per square foot, architectural costs, project milestone costs, labor fees, etc. This article explores the general aspects you will come across in financing your dream home project, and we have added 2 house construction cost calculator tools to guide your estimates.
House construction steps and costs
The following stages make up your standard home building guide. There can be additions depending on your choice of design – including smart home solutions and sustainable technologies. Your overall house construction cost will break down into these elements. The average cost of each milestone is also mentioned, and you can expect discrepancies depending on your chosen contractor and project scale. Various house construction cost calculator tools are available online – and they are the perfect guide to understanding such discrepancies. They can be customized according to different factors like zip codes. You will receive estimates based on your location, and the tools often help you explore all the financial ingredients of your investment.
The stages discussed below offer some glimpse into what an online house construction cost calculator would tell you. Your costs are typically split across your project's stakeholders. So, the key benefit of hiring a trusted contractor is that they will be in charge of working with architects, engineers, supervisors, carpenters, excavators, electricians, plumbers, interior designers, and all the relevant inspection authorities – you will not have to worry about these collaborations. Once the team is set up, your house construction is good to go.
Preparing the house construction site
Your contractor will first take care of the building permits and approvals from the local authorities. With all the agreements confirmed in black and white, it is time to prepare your chosen site before any construction can begin. This includes clearing the space by removing debris, rocks, and any obstacles. Once a ground level is obtained and the site topography is optimized, your dream home officially finds a ground to stand on. This stage is all about leveling the land and defining the boundaries and perimeter of your house. Site preparation costs can range between $5,000 – $38,000.
Pouring concrete and foundation
This is the stage where you literally cement the foundation of your house design. It includes excavating as well as installing foundations and slabs. Your construction crew will make use of rebar, which is reinforced concrete with embedded steel rods. The poured concrete footings, walls, slabs, and the overall foundation are waterproofed and inspected by professionals before any progress can be made. With a complete foundation, your house plan officially marks its construction footprint. By this point, you have a land to your name, and a concrete basis to kick start the construction! The foundation stage can cost around $16,600 – $72,000.
Adding the frames
Framing carpenters install the flooring, walls, ceiling, roofing, siding, etc. This lumber framework forms the shell of your new home, and it is the main infrastructural support. Windows, doors, and skylights are also framed and installed at this point. Wall sheathings and roofing materials are placed, and the stage ends with a protective house wrap to safeguard your house shell against moisture. The house wrap is a crucial step, as its synthetic material acts as the final defense against leaks and moisture buildup. All the framing aspects would cost you around $16,600 – $95,000.
Installing plumbing, electrical, and HVAC frameworks
Your team's electricians and plumbers will step in during this stage to lay down the electrical wiring, pipes, and HVAC ducts. Chimney installation is also handled at this point. Initially, all the rough-in works are inspected prior to the final installation to ensure no room for errors. Once the framework is complete and in place, your insulation crew will add the wall and ceiling insulation. Various insulation materials such as foam and fiberglass are used for walls, basements, attics, and crawl spaces to promote energy efficiency around your home. This allows your utility bills to stay manageable, as the house retains the desired temperature, avoiding the need to overuse the HVAC units. The major systems reach a total cost of $17,000 – $72,000.
Adding drywall and trim
Drywall installation helps complete the post-framework stages. It gives a blank canvas shape to your house, and the interior finally begins to come together. All the drywall seams will be finished with a joint compound and sanded for a seamless look. This allows your walls and ceiling to get spray primed before the trim and crown moldings fit like a puzzle piece. Interior finishes take effect at this point, and your fireplace mantle also gets installed. Once the results are approved, the empty canvas is ready for a paint splash!
Painting and installing hardware
Now that the walls are primed and finished, your crew's painters can finally make your chosen color swatches come to life. Cabinetry and countertops follow this step, and your contractor should arrange for timely deliveries to match the painting schedule. Installing fixtures like faucets and electrical switches turns your house into a functional space. This stage usually completes all the interior design basics so that your house starts to feel more like home.
Installing the flooring
As a homeowner, you can choose from a variety of flooring options for your home. There are different hardwood, laminate, ceramic tile, and carpeting styles to suit your design. Most homeowners prefer DIY flooring if they are skilled enough for the task. You can always resort to your contractor's advice to make sure that you optimize every nook and cranny – as proper flooring is essential to avoid repairs down the road.
The basic interior elements of drywall, painting, and flooring all contribute to the combined costs of $42,000 – $167,000 – making interior finishes your most expensive venture according to house construction cost calculator .
Finishing the exterior
Your house construction requires the exterior to work equally well as the interior design. At this stage, your contractor and landscape designers will help you finish the patio, driveway, front porch, backyard, garden, drainage, etc. This is also the time to focus on the aesthetic aspects of your house for building a hard-to-ignore curb appeal. Exterior finishes can range between $20,000 – $95,000.
Completing the inspections
Debris removal and site cleaning generally mark the end of the house construction process. Following the site cleaning, building code officials or site inspectors will come in to assess the completed project. When all the issues are resolved, you will become eligible for a certificate of occupancy. This is where the key to your dream home is finally handed over to you as the proud homeowner – and all that is left is the client walkthrough to get the first impression of your home.
Other cost perspectives
Cost per square foot
House construction typically costs $100 – $200 per square foot, and the range can go up to $400 or more depending on your project scale and location. The type of house you want to build is another crucial factor, as it decides the actual footprint to determine the costs calculated by house construction cost calculator . This includes considerations like the number of floors, outdoor decks, swimming pools, etc. Also, the addition of a basement affects the per square foot range directly, costing you around $110 – $300 per square foot for a finished basement.
Labor costs
The labor costs for your house construction project take up around 30% – 60% of your total costs. They are based on the type and design of your house, its size, the project complexity, custom designs, as well as your contractor's resource hunting skills. For example, the construction manager would charge you $4,000 – $43,000, whereas the concrete contractor charges around $4,000 – $13,000. The electrician and plumber rates can range between $50 – $200 per hour.
It is important to host a detailed consultation with your contractor regarding the cost breakdown to understand your budget range. This allows you to allocate the right proportion of your budget to the right sections of the house construction pie chart – and pay your stakeholders fairly for their hard work.
Material costs
House construction materials consume nearly 50% of your total project cost. The quality of your materials plays a huge role in the price range, as the high-end products cost more per square foot. Based on square footage, flooring materials may cost $1 – $5, whereas insulation products cost $0.10 – $1. Lumber framework reaches a total of $25,000 – $65,000, and roofing costs may add up to $1,000 – $3,000 in total.
Costs based on house type
Ranging anywhere from $50 – $400 per square foot, you can expect your cost plan to fluctuate according to different house types. These include timber frames, steel frames, brick houses, concrete houses, log cabins, single-family, and many more. There are custom homes built to your expectations and details. Prefab home structures are manufactured offsite and then assembled at your location. You might aim for the allure of a ranch house or a cottage to enjoy the countryside vibes. The overall project cost, therefore, depends entirely on what you have in mind – as that automatically reflects in labor and material costs too.
Cost of house plans
Your actual house plan can cost between $2,000 – $8,000. The design professionals in your team include architects, engineers, interior designers, and contractors. They each have their own hourly charges, and you can expect anything around $100 – $250 per hour for each planning expert.
A rough estimate
Bearing in mind ALL of the aspects discussed so far, your total house construction cost can be anything between $100,000 – $450,000. A trusted and licensed contractor is your crucial starting point to understand your options and finance your dream home. Working with a professional team gives you a good head start on the project and improves your construction feasibility through resourceful, efficient, and cost-effective alternatives.
"Home is where the heart is"
Investing in your dream home is a major step to take as an about-to-be homeowner. You have to work with only the best people and resources to avoid secondhand shortcuts that could sabotage all your efforts. There are various online house construction cost calculator tools you can use, such as those designed by:
These house construction cost calculator tools help you get estimates based on your zip codes, and they also offer detailed and updated breakdowns to guide your budgets.
Your full project may take around 6 – 12 months or more depending on your project size and complexity. Make sure you use house construction cost calculator. There is always some possibility for unforeseen delays, like those due to permit deadlines and material delivery. It helps to leave some room for the construction to stretch along the initial timeframe. That said, it is also important for you to enjoy every step of this memorable journey, taking little setbacks in stride and celebrating even the smallest progress. You probably will not get to watch another construction life cycle in its entirety. So, make sure to capture the nostalgic moments. Chase your family with a dripping paintbrush. And do not forget to film the construction time-lapse!