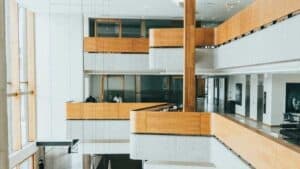 Image source: Nelson J. Greer Painting Contractors
Commercial buildings need to undergo various renovations from time to time. This keeps them in good shape and allows businesses to thrive in a welcoming environment. Painting the space is one way to improve its look and build a refreshed corporate image. It helps you revamp your business identity by simply adding a new coat of paint and letting different color palettes define your creative scope. Commercial painting eliminates the need for expensive overhaul projects that you would otherwise use for upgrading the décor. You can plan both interior and exterior painting with high-quality finishes that add to the overall commercial aesthetics.
Working with professional painters is always important. Commercial buildings can be quite large, and so they require painting expertise that is both professional and artistic – with the right eye for commercial detail. The cost to paint a commercial building varies between companies and is generally based on square footage. Depending on the size of your project, you can find a suitable painting company that offers reasonable pricing with all the benefits you are looking for. It is an effective choice to transform the way your employees feel about their workplace – and the first impression it leaves on visitors!
Commercial painting costs
Professional painting crews do not just paint your commercial building. They also provide the necessary prerequisite services to ensure smooth, durable, and high-quality results. These services include various prep work and cleaning aspects such as scraping, power washing, wallpaper application, floor cleaning, wall repairs, priming, and safety precautions. The average cost to paint a commercial building can be influenced by different factors, including the size of your building and the total material/labor costs. The amount of paint required is another key factor – as is the current condition of your commercial building.
Average painting cost per square foot
Commercial painting companies generally charge their services per square foot of your building walls. The average rates are $2 – $6 per square foot; the hourly charges can be between $60 – $100 per hour. Larger buildings require more paint and time, and this is further affected by your choice for painting both interior and exterior walls. You can receive various estimates from your chosen painters and calculate the approximate cost in a few steps:
Measure the square footage of your walls. This is the simple height x length to obtain the area of each wall you want to paint. Adding the areas gives you the cumulative result, and you can subtract the areas of doors/windows from this value to get the wall space square footage alone. The ceiling area can be included as well by simply using the width x length formula.
Calculate the amount and cost of paint needed. Using the paintable wall area from step 1, you can estimate the amount of paint your commercial crew will use. One gallon of paint usually covers around 250-400 square feet of a smooth wall surface. Professional painting companies use high-quality paint, which can range between $50 – $75 per gallon.
Estimate the general time required for the whole painting job. You should consider the prep work and cleaning services to determine reasonable timeframes. An initial inspection from the painting company is important to understand the scope of the project and receive accurate quotes. Small projects can be completed in a day, whereas full-scale painting can be stretched across multiple days.
Consider the material and equipment costs. Your painting crew might use special equipment and tools like lifts, rollers, spraying equipment, etc. These are all factored into the total painting costs, so having a detailed and itemized consultation with the company always helps.
Calculate the labor costs. This includes multiplying the painting company's hourly rate by the number of hours you estimated in step 3. Labor costs are a massive consideration for your painting scope, as you are paying the company for this very reason – its professional painting expertise. Commercial painters can do the job precisely, neatly, and quickly, setting the difference between professional painting and DIY approach. They can paint an area of 200 square feet accurately within an hour, charging you between $55 – $100 per hour depending on the project size. This also includes the prep work needed for different rooms.
Work out your average painting cost. With all the paint, material, and labor costs obtained so far, you can estimate a rough guess by adding them together. As an example, consider a commercial property of 15,000 square feet. Your painters will need around 60 gallons of paint, adding to $50 x 60 = $3,000 for just the paint. The team can cover 200 square feet in 1 hour, so the 15,000 square feet would need 75 hours, and $100 x 75 = $7,500 for labor. You can expect an average of $10,500 for such a project.
Factors that affect the cost
Interior and exterior painting
Since we want the wall space and not the floor space of a commercial building, factors like wall-sized windows can cut down the overall costs – as you will remove these non-paintable surfaces from the equation. On the other hand, specialty coatings and waterproof paint are more expensive than standard products. They can cost you more for your commercial property. If the painting crew needs to work around landscape obstacles and move furniture, then the labor costs will increase exponentially. Textured walls also demand added effort and labor costs compared to smooth wall surfaces. They require more paint for better finishing and consistency, hence the added painting costs for any given room.
Building condition
Any type of exterior elemental damages, interior cracks, holes, blemishes, and cosmetic flaws can add to the overall prep work for the painting crew. The painters will first need to address and repair any imperfections that can interfere with the final results. In case of considerable damage that requires wall demolitions and replacements, the repair work will extend accordingly before any painting can begin. Commercial buildings have different infrastructures, and their accompanying challenges rely on professional painting techniques and resources.
Business hours
The actual working schedule for painting is another factor. You might want the painters to come in during work hours for phased efficiency. The costs will also vary based on how the team phases its work to ensure minimal disruption and issues from noise or paint odors. Alternatively, you can choose to paint your commercial property in the after-hours, and this is often more costly in terms of the available labor and materials. If teams have to paint outside of their regular business hours, they will charge more on an hourly basis.
Don't cut corners to paint your brand image
Commercial buildings benefit from a good paint job because the results stick around for a long time. It is best to hire reputable painters who are licensed and certified for their services, as this gives you a level of artistic professionalism in the work. Professional painters do not just have an eye for detail. They respect the project that is assigned to them and understand your commercial scope, always delivering quality results and ensuring a safe work environment. An ideal commercial painting company should follow various OSHA and EPA regulations. You can choose different color options and request an estimate for the project before confirming your crew. The paint swatches you pick will actually define your corporate colors, so make sure to build an inspiring identity for your business.
FAQs
How Much Does Commercial Painting Cost Per SF?
The average commercial painting costs are between $0.5 – $6 per square foot (if we consider both extremes of such a project), with the hourly labor rate at $60 – $100 per hour. The actual cost will be determined by applicable factors for your specific commercial building. Some examples include building size, total paintable surface area, material costs, labor rates, amount of paint needed, number of coats required, project complexities, protective coatings like waterproofing, and so on. In general, you need 1 gallon of paint to cover between 250 – 400 square feet of walls, and you can expect to pay $50 – $75 per gallon depending on the quality of paint you desire.
Professional painting requires special equipment like lifts, spraying tools, scaffolding, etc., which is why the total material costs can increase your overall commercial painting cost per square foot. In addition, if you want to create textured walls, this will need nearly double the amount of paint compared to smooth painting, which is expensive. Likewise, hefty prepping stage and after-work hours can cost you at the higher end of the range for the same square footage.
How Much Does It Cost To Paint 1000 Square Feet?
For homes, the average residential painting costs are around $3.5 per square foot for interior painting. So, you can expect to pay $3,500 per square foot to cover 1000 square feet of walls through professional painting. The figures can go up to $5,000 for more labor-intensive work and high-end finishes. If you choose DIY painting for the interior, you can expect half the costs of professional work, so this brings down your rate to nearly $2 per square foot – giving a total of $2,000 for the whole project. Residential painting costs depend on the amount of paint needed, the number of rooms to cover, and the materials/tools required.
For DIY pursuits, most of the costs go into the supplies you need such as rollers, paintbrushes, rental equipment, paint, primer, etc. – determined by the number of coats of each paint and primer you require. 1000 square feet of the paintable area would need around 6 gallons of paint (to cover 2 coats) and 3 gallons of primer.
Since 1 gallon of paint costs about $60 while 1 gallon of primer costs $25, your total paint and primer costs will be around $400. Add in the materials you need, and the costs can be $700 – $800 in total, which is less than half of professional costs ($2000).
Commercial painting costs range from around $0.5 to $6 per square foot, and you will always require professional painting for these projects. The average total cost to paint a 1000-square-foot area would be up to $6,000 for a commercial building – almost always higher than residential costs for the same square footage.
How Much Does It Cost To Paint 10000 Square Feet?
The residential average is $3.5 per square foot for professional interior painting, so it can cost you $35,000 in total to cover 10,000 square feet. Commercial painters charge up to $6 per square foot, making your budget go up to $60,000 in total for high-end specifications. Different professional painters offer varying ballpark figures for such projects, which is why your specific project costs can differ a lot from the above ranges based on your professional cost assessments for the given building.
The final numbers also depend on what type of space is enclosed within 10,000 square feet. Is it the total paintable area alone? Is it a large, open interior? Is it the total exterior surface area? Is it a large building with multiple rooms that should be painted? Do you require textured painting? Usually, projects of such a magnitude can secure discounts on the total costs, but equipment like scaffolding and safety gear would take additional expenses for a tall building.
Average Cost To Paint Interior Of A House?
The average residential painting costs are around $2.75 – $3.5 per square foot for interior painting. Including trims, ceilings, and other structures can extend the range to around $4.5 per square foot. Professional painters tend to charge anywhere from $20 – $50 per hour, depending on the flow of work involved. DIY painting can cut down these costs to nearly half the amount, but it might compromise details and quality touches. The key cost-influencing factors include the number of rooms to paint, the amount of prep work to go first, the total paint and primer required, and the need for any special equipment.
If you look at painting costs by room, you might pay around $500 per bedroom and $1,300 for a living room. Bathrooms have an average painting cost of around $450, whereas kitchens can cost you up to $800. Homes with lofted ceilings or higher ceilings are more expensive to paint and can increase the total range by up to 40%.
How Much Paint Required Per Sq Ft?
One gallon of paint can cover between 250 – 400 square feet of walls based on how smooth and easily paintable the surface is. Paint spreads better on smooth, primed surfaces which is why 1 gallon can cover 400 square feet if the surface is well-prepped and smooth. If the wall is rough or textured, 1 gallon will only cover 250 square feet. For context, 400 square feet represents the paintable area for a small bathroom, so 1 gallon would be enough to paint this space, 2 gallons for an average room, and so on. This is the standard measurement scale for both residential and commercial painting. To break it down further, you will need 1 quart of paint for 100 square feet. In terms of per-square-foot amounts, you require:
Around 0.004 gallons of paint per square foot
OR: 0.5 fluid ounces of paint per square foot
OR: 15 milliliters of paint per square foot
As an example, to paint a 2,000-square-foot space, you need about 5 gallons (based on the standard 1 gallon to 400 square feet ratio). So, this is 0.0025 gallons of paint per square foot or about 9 milliliters of paint per square foot. Most paint jobs require 2 coats of paint to ensure consistency and a smooth finish. You can expect to pay around $50 per gallon on average and up to $75 per gallon for higher-quality paint.
How Do You Paint A Commercial Building?
Here are the main services you would use in commercial painting:
1. Plan surface inspection. Professional painters ensure thorough inspection to detect pest damage and other wear and tear from the elements.
2. Cover non-paintable surfaces. Things like furniture, fixtures, carpets, office equipment, etc. should be removed before any work begins.
Landscape features like gardens and shrubs will require covering before exterior painting activities. Paint-proofing through painter's tape adds the final precautions to cover outlets, windows, and other built-in hardware.
3. Ensure good ventilation and safety. Proper airflow will allow the paint to dry up better and prevent toxic fumes from saturating the indoor air. Other safety aspects include using the right safety gear for the workers.
4. Implement full prep work. Prep work before commercial painting includes power washing for surface cleaning (to remove grime, algae, and dirt off the walls), air blasting, removing peeling paint, addressing mold/mildew, sanding, filling cracks, caulking, repairing walls, and so on to tackle surface flaws. It is important to let the wet surfaces dry thoroughly. Otherwise, the moisture will interfere with both primer and paint adhesion.
5. Use the right tools and equipment. Commercial painting relies on specialty equipment like spray paint and suspended scaffold, so make sure you have exactly what the project needs beforehand.
6. Apply primer. Adding primer before painting enables stronger adhesion and creates high-quality results. It is often sanded down once dried for better efficiency.
7. Apply paint. Most commercial buildings use high-quality latex with semi-gloss finishes. Once the paintable surfaces are primed, painters can go ahead and paint using the colors chosen by the client. It is important to consider color psychology to reflect the brand's personality and set the right vibes for those who walk in, so this stage is driven entirely by the client's expectations.
Do I Need To Prime Before Painting?
Priming is a necessary prerequisite for painting most surfaces, especially those that are porous, rough, or textured like drywall and wood. It seals the porous surface so that paint does not get absorbed into the walls, which would ruin the final look. Adding coats of primer helps with improving paint adhesion and allows your paintwork to look great, last long, and simply blend well overall. This also prevents peeling down the road. Whether you hire professional painters or try DIY painting, you will need primers based on the surface of your walls and the color of paint you wish to use. Generally, 2 coats of primer are important to create a good barrier between the walls and the paint, followed by sanding after the primer dries.
In this way, your choice of paint will adhere better and last longer on the walls. Quite often, including primer enhances the look and finish of your paintwork. You will also have to prime before painting if you want to paint a new color on top of the old one, as priming will prevent the new color from bleeding into the previous shade. Glossy surfaces require priming as well, considering how paint cannot bond with high-gloss finishes. You might also need to sand highly glossy surfaces to give them a bit of texture and be ready for painting. If you have wallpaper on the surface, then priming is absolutely essential.
How Much Does 1 Gallon Of Paint Cost?
A gallon of paint usually costs between $20 – $50 for basic finishes and can cost up to $75 for higher-quality paint. Depending on how smooth or rough the walls are, 1 gallon can cover between 250 – 400 square feet in total. Latex paints generally cost between $15 – $50 per gallon, whereas oil paints are more expensive and can cost you up to $60 per gallon. If you want something for dry regions with not much moisture, you can use low-quality flat paint which costs around $15 per gallon. Semi-gloss and high-gloss paints come at an average of $10 – $80 per gallon and are excellent for trims, hallways, and doors. Some designer brands may even charge $100 for a gallon of their paint.