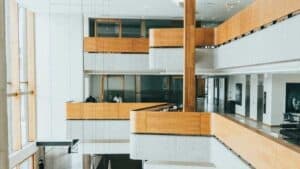 Image source: Nelson J. Greer Painting Contractors
Commercial buildings need to undergo various renovations from time to time. This keeps them in good shape and allows businesses to thrive in a welcoming environment. Painting the space is one way to improve its look and build a refreshed corporate image. It helps you revamp your business identity by simply adding a new coat of paint and letting different color palettes define your creative scope. Commercial painting eliminates the need for expensive overhaul projects that you would otherwise use for upgrading the décor. You can plan both interior and exterior painting with high-quality finishes that add to the overall commercial aesthetics.
Working with professional painters is always important. Commercial buildings can be quite large, and so they require painting expertise that is both professional and artistic – with the right eye for commercial detail. The cost to paint a commercial building varies between companies and is generally based on square footage. Depending on the size of your project, you can find a suitable painting company that offers reasonable pricing with all the benefits you are looking for. It is an effective choice to transform the way your employees feel about their workplace – and the first impression it leaves on visitors!
Commercial painting costs
Professional painting crews do not just paint your commercial building. They also provide the necessary prerequisite services to ensure smooth, durable, and high-quality results. These services include various prep work and cleaning aspects such as scraping, power washing, wallpaper application, floor cleaning, wall repairs, priming, and safety precautions. The average cost to paint a commercial building can be influenced by different factors, including the size of your building and the total material/labor costs. The amount of paint required is another key factor – as is the current condition of your commercial building.
Average painting cost per square foot
Commercial painting companies generally charge their services per square foot of your building walls. The average rates are $2 – $6 per square foot; the hourly charges can be between $60 – $100 per hour. Larger buildings require more paint and time, and this is further affected by your choice for painting both interior and exterior walls. You can receive various estimates from your chosen painters and calculate the approximate cost in a few steps:
Measure the square footage of your walls. This is the simple height x length to obtain the area of each wall you want to paint. Adding the areas gives you the cumulative result, and you can subtract the areas of doors/windows from this value to get the wall space square footage alone. The ceiling area can be included as well by simply using the width x length formula.
Calculate the amount and cost of paint needed. Using the paintable wall area from step 1, you can estimate the amount of paint your commercial crew will use. One gallon of paint usually covers around 250-400 square feet of a smooth wall surface. Professional painting companies use high-quality paint, which can range between $50 – $75 per gallon.
Estimate the general time required for the whole painting job. You should consider the prep work and cleaning services to determine reasonable timeframes. An initial inspection from the painting company is important to understand the scope of the project and receive accurate quotes. Small projects can be completed in a day, whereas full-scale painting can be stretched across multiple days.
Consider the material and equipment costs. Your painting crew might use special equipment and tools like lifts, rollers, spraying equipment, etc. These are all factored into the total painting costs, so having a detailed and itemized consultation with the company always helps.
Calculate the labor costs. This includes multiplying the painting company's hourly rate by the number of hours you estimated in step 3. Labor costs are a massive consideration for your painting scope, as you are paying the company for this very reason – its professional painting expertise. Commercial painters can do the job precisely, neatly, and quickly, setting the difference between professional painting and DIY approach. They can paint an area of 200 square feet accurately within an hour, charging you between $55 – $100 per hour depending on the project size. This also includes the prep work needed for different rooms.
Work out your average painting cost. With all the paint, material, and labor costs obtained so far, you can estimate a rough guess by adding them together. As an example, consider a commercial property of 15,000 square feet. Your painters will need around 60 gallons of paint, adding to $50 x 60 = $3,000 for just the paint. The team can cover 200 square feet in 1 hour, so the 15,000 square feet would need 75 hours, and $100 x 75 = $7,500 for labor. You can expect an average of $10,500 for such a project.
Factors that affect the cost
Interior and exterior painting
Since we want the wall space and not the floor space of a commercial building, factors like wall-sized windows can cut down the overall costs – as you will remove these non-paintable surfaces from the equation. On the other hand, specialty coatings and waterproof paint are more expensive than standard products. They can cost you more for your commercial property. If the painting crew needs to work around landscape obstacles and move furniture, then the labor costs will increase exponentially. Textured walls also demand added effort and labor costs compared to smooth wall surfaces. They require more paint for better finishing and consistency, hence the added painting costs for any given room.
Building condition
Any type of exterior elemental damages, interior cracks, holes, blemishes, and cosmetic flaws can add to the overall prep work for the painting crew. The painters will first need to address and repair any imperfections that can interfere with the final results. In case of considerable damage that requires wall demolitions and replacements, the repair work will extend accordingly before any painting can begin. Commercial buildings have different infrastructures, and their accompanying challenges rely on professional painting techniques and resources.
Business hours
The actual working schedule for painting is another factor. You might want the painters to come in during work hours for phased efficiency. The costs will also vary based on how the team phases its work to ensure minimal disruption and issues from noise or paint odors. Alternatively, you can choose to paint your commercial property in the after-hours, and this is often more costly in terms of the available labor and materials. If teams have to paint outside of their regular business hours, they will charge more on an hourly basis.
Don't cut corners to paint your brand image
Commercial buildings benefit from a good paint job because the results stick around for a long time. It is best to hire reputable painters who are licensed and certified for their services, as this gives you a level of artistic professionalism in the work. Professional painters do not just have an eye for detail. They respect the project that is assigned to them and understand your commercial scope, always delivering quality results and ensuring a safe work environment. An ideal commercial painting company should follow various OSHA and EPA regulations. You can choose different color options and request an estimate for the project before confirming your crew. The paint swatches you pick will actually define your corporate colors, so make sure to build an inspiring identity for your business.