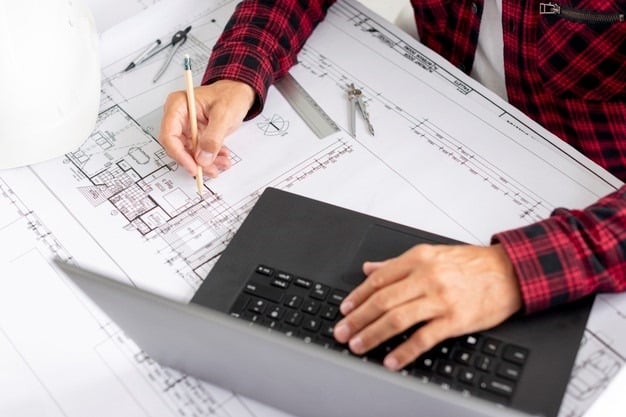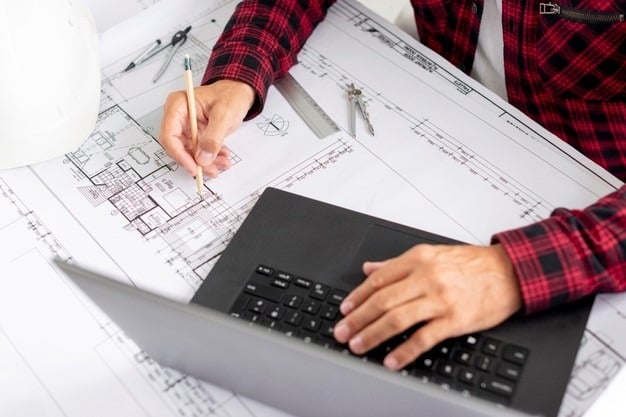 It is important to know how to estimate in construction for contracting and remodeling companies. Most  client want you to to submit your bid before you can sign a contract with them. Accurately estimating the costs up front numbers is important so that you can be competitive in the market and give a guaranteed price. Incorrect estimates may lead to losses or inflate the prices of your projects (and cause you to lose work).  Here are some steps you can take to learn how to estimate in construction.
Obtain A Detailed Design
The first step to estimate in construction is to get your hands on detailed design plans of the project you are going to undertake. These drawings are prepared by an architect hired by the owner of the site. They contain specifications regarding the project, including the requirements of the clients and the details for every room and area of the site. These drawings will assist you in calculating the items, materials, and equipment required for construction.  If no plans exist and you have to create your own scope, then make sure you think about ALL of the trades that may be affected as you describe your scope.  When we come up with estimates in our office, we use the Masterformat Construction Specifications Institute (CSI) list as a checklist to run through each
For example, if you do drywall work, then you know you are going to have to do painting as well, or if you do any rough plumbing work, then there is a good chance that you are going to have to do drywall work, then paint, etc… If you DON'T know all of the scope then it is best to state your assumption up front while you are giving a price so there are no surprises with your client later.
Quantify All The Items
Once you have obtained the detailed schematics for the construction site, you must recognize and quantify all the items and materials that will be required for construction. You can list the items by categorizing them on the basis of the plan, (such as living room, hallway, roof, etc.) or the subcontractor  you are going to employ (I.e. the MasterFormat CSI Division – electrical supplies, plumbing supplies, framing, etc.) After listing the items and materials, calculate their quantity based on the drawing plans. During construction, there is going to be a "waste factor" of materials due to cutting, grinding, or finishing. Make sure to account for the waste factor by adding a certain percentage on top of what you initially quantified. Ensure that you don't miss any scopes of work such as the exterior of the house or commercial building. You can either quantify items manually or use software to streamline and organize the process.  Some examples of estimating software include isqft and Timberline.
Find The Rates And Calculate The Prices
After you have prepared a list of the items, it is time to find the rate of each item. You can obtain these rates from previous projects that you may have undertaken. Your suppliers may also be able to provide you with the rates. If you are a subcontractor, you may have your own rate lists. There are Construction Cost Guides available that contain average rates of all items used in construction. You can refer to these guides for obtaining the rates, but please note, we only recommend using "Construction Cost Guides" such as RS Means, Brennan's Book, or others when you are coming up with "rough" budgets.  You can't rely on those when bidding work because the potential for price swings (due to inflation or market conditions) is too great. Once you have quantity and rates, calculate the price of all items by multiplying their quantity with rate.
Account for Additional Costs
You will also have to include additional costs apart from the price of items and materials used. These costs may include labor charges, renting of machinery and equipment, and approval fees. Sales tax, bonds, and project management costs shouldn't be overlooked. You may also have to include insurance, social security contributions, and other expenses for your employees. Don't forget to add transportation and fuel costs. If you are going to employ subcontractors, make sure to add their quotes as well. You can ask them for their bids in advance.
Add your Profit Margins
The final step to estimate in construction is to add your profit margins to the calculated costs. Keep margins competitive while making sure you make adequate profits to sustain yourself and your business. You may also keep a profit margin on materials if you wish the same. You will have a close estimate of the construction costs once you follow all the steps. Make sure to review the numbers while ensuring that you haven't missed some items, overlooked a part of the plan, or added incorrectly!
Good luck and let me know any other tips or software that you use to help in how to estimate in construction!
Dan