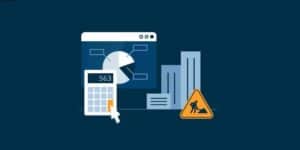 Constructing a new building works best when you have a certain design in mind and would like to see it come to life. Custom-built projects are often taken by homeowners who are about to construct their dream homes from scratch – and also by commercial owners for their corporate footprint. This beats the option of buying an existing building, as you want something new and original. Construction projects have a huge inventive scope to design and build exactly what you are looking for in a home or a commercial space facilitated if you choose a construction cost calculator online. You will work with contractors and builders at each step, and so it is important to discuss your custom plans and the costs required to fuel the construction.
Preferably, you can pick a construction cost calculator online, and receive quick estimates for your project. Most online tools allow you to choose options for flooring, roofing, remodeling, framing, etc. By entering all the parameters in your specific construction, you can get calculated values to guide the budget. Some online calculators are based on the costs per square foot, so the total chargeable square footage decides how much you will pay. In this blog, we have discussed the general breakdown of construction costs and reviewed a few resourceful construction cost calculators online . They all create personalized results and give a good insight into the financial elements of construction.
Construction cost divisions
Construction stages are all detail-oriented and cost-driven. Regardless of the nature of your building project, there are some definitive stages that every construction life cycle follows. You could be building your dream home, a hospital, a retail store, or a university campus. Each type of project gets broken down into some common steps from start to finish. These construction stages are discussed below, and they typically form your construction cost pie chart. A project that is implemented in its consecutive order ensures the safety of workers and the future residents of that building. On average, you can expect residential construction to cost between $100 – $300 per square foot, and a commercial project may range between $250 – $650 per square foot. Here is a peek into the elements a construction cost calculator online would show you before displaying the final cost.
Concept and design
This stage is the primary step for any construction. It tackles the design and blueprints on which your entire project will be based. Various architects and engineers work on concepts and create custom plans. This is also the time to refresh the updated local codes in the project and make sure that everything is code-compliant. You will collaborate with your construction team and receive itemized costs for the whole project.
Building permits
With the blueprints and construction documents on hand, it is time for your contractor to obtain building permits. This can be an ongoing stage throughout the construction life cycle. You might require subsequent permits down the road, and so it helps to employ the services of a verified construction company. A professional and well-established firm can streamline the building process and handle the paperwork at strategic times – so you will not have to worry about missing any deadlines.
Site preparation and excavation
Once you get the green light from the permit authorities, your crew will prepare, clear, and excavate the land to officially mark your building footprint. This stage involves removing any debris and obstacles from the land. All the required excavation is carried out, and the land is brought to a solid ground level to be ready for some real construction ahead.
Foundation work
The cleared and excavated land requires a concrete foundation to be poured. This takes up various proportions of your total construction cost, depending on the building size. Rebar and slab work follow this step to reinforce the foundation – and literally, cement your construction scope. The stabilized foundation then accommodates the structure to give an initial shape to your building.
Framing and installations
The framing aspects include installing wooden frames and steel beams to create the first infrastructural level. At this stage, the construction timeline begins to take a proper shape. All the necessary inspections need to be conducted before making any progress. This makes sure that there is no room for error, and you can proceed to the utility stage. Your construction costs by this point will depend on the framing layout, material quality, and project complexity. They also include the hourly charges for carpenters and framing specialists who will work on this lumber framing process calculated by construction cost calculator online.
Electrical, plumbing, and HVAC utilities
The utilities initially take the appearance of rough-in work that waits for the approval of site inspectors. Your project's specialty contractors will install the electrical and plumbing framework. Various HVAC outlets are also addressed at this point. The rough-in allows your crew to lay the pipes and wires in place, so they can be used later on. You can expect the cost distribution for this stage done by construction cost calculator online to split between the charges for electricians, plumbers, mechanics, and square footage.
Roof installation
Adding the roof by this point creates safety for subsequent interior construction. Roofers will join your construction timeline to install your choice of materials and finishing. A proper roof in place protects your building from potential rain and elemental damages. Your contractor will also step in to finalize the exterior aspects such as landscape aesthetics, porch design, and parking areas. The stage ends with your custom details for skylights, HVAC ducts, vents, and HVAC units. The costs span across your roofing scope and exterior distribution based on materials and the number of units you install. Construction cost calculator online can be of help here.
Interior finishes
With the exterior design brought to life, it is time to focus on one of the most expensive slices of your construction pie chart – the interior finishes. These include adding drywall, insulation, ceiling, and trim works. It turns the fragmented and scattered look of your building into a cohesive, blank canvas. The electrical outlets and fixtures can be installed to turn the space into a fully functional building. This clears the way for painters and interior designers to make a splash and move from color swatches to paint cans. Finally, your construction crew can then install cabinets, countertops, faucets, elevators, fireplaces, etc. to make your building move-in-friendly.
Walkthrough
The client walkthrough is your moment of truth, and it officially marks the end of your construction life cycle. You get the first look and feel of your dream home – or commercial potential. This is where you evaluate the quality of construction and make any necessary upgrades before occupying the space. The stage finalizes your total costs and draws the finishing line for your investment.
Online construction cost calculators
You have traversed the core stages of construction above, and these make the basis of most online calculators. Here are some of the best construction cost calculator online tools, and they offer detailed insights into your budget.
Remodeling Calculator
A family-run blog
Remodeling Calculator is a construction cost calculator online designed by a contractor and consultant couple who runs the blog. They have curated some truly responsive and user-friendly calculators for residential construction. You can simply enter your project's specifications and receive estimates based on where you live. These online calculators provide the latest, region-wise construction costs with a comprehensive plan for various pursuits.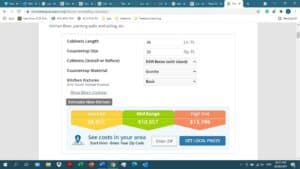 Construction cost calculators online
The blog's general Remodel Calculator gives you instant results for house renovation. You can choose your project type, for example – countertops, pick the counter material, type the square feet, choose quality, and select your US region. The customizable calculator displays an estimated cost based on what you enter.
The House Building Calculator provides updated and accurate estimates for construction. Its calculations are inclusive of the materials and labor that would go into your project. You just have to enter your house dimensions, the number of bathrooms, floors, roof type, build quality, material choices, and amenities like a garage into this construction cost calculator online. Based on your location or zip code, the construction cost for building a new house tells you all you need to know for planning your budget.
The Kitchen Remodel Cost Estimator elaborates on your kitchen scope. You can find out the cost of remodeling your kitchen using cabinetry details like dimensions – and whether you want to install new cabinets or reface the existing ones. The construction cost calculator online also takes in your choices for countertops and island possibilities. You can enter the kitchen fixtures, flooring, and appliances to customize the plan. The square footage and zip codes can also be selected – giving you a comprehensive cost analysis over low-end, mid-range, and high-end options.
The Bathroom Remodel Cost Estimator is inclusive of the vanity, bathroom fixtures, countertop, and shelving. It is also driven by zip codes over low-end, mid-range, and high-end construction costs. You can enter the square footage, the number of bathrooms, tiling, and quality preferences for your US region.
Cost to Build
A comprehensive tool
Cost to Build is a free construction cost calculator online that helps you with a building cost summary. You can calculate the cost of building a new house or a garage with detailed analysis. It is an extensive platform that allows you to select floor-wise specifications throughout your house plan – and so the cost summary is almost like a walkthrough of what you have in mind. The best part about this calculator is that it gives you an itemized breakdown of ALL the elements in your final cost – such as site preparation, framing, lighting, plumbing, painting, inspection, and even permit fees.
House and garage cost calculators
The House Calculator works floor-by-floor and has various clickable elements for your custom design. You have to define the measurements, porch details, deck area, roofing requirements, and house structure. There are specifications for the basement and garage, with additional floors and the loft to diversify your cost breakdown in this construction cost calculator online.
You can enter the kitchen and bathroom layout and your choice of cabinets, countertops, etc. The calculator also displays siding options and flooring coverage, and you can customize the heating/cooling utilities. Finally, the construction cost calculator online asks for your location, after which it displays a tabulated and itemized summary. Not only do you receive a cost breakdown of each item, but you also get the corresponding material and labor constituents. Furthermore, this intuitive construction cost calculator online includes the indirect building costs like permit and construction plan fees – with contractor overhead and profit.
Similarly, the Garage Cost Calculator works layer-by-layer to calculate your total construction cost. It takes parameters like the square footage and roof measurements. You will also enter the number of doors, suspended ceiling heights, insulation, and other structural details. Based on your location, this construction cost calculator online generates an itemized bill with direct and indirect building costs.
Here is a glimpse of the final summary: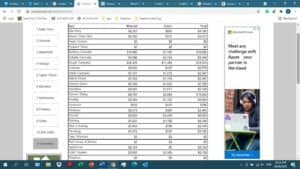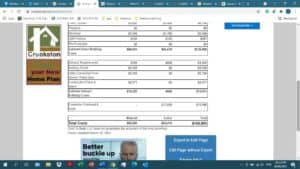 Cost Estimator
For construction professionals
Cost Estimator is a cloud-based tool managed by HomeTech Information Systems – which has a vast experience of 50+ years in construction estimating. It is a resourceful construction cost calculator online for construction professionals, allowing them to procure the latest estimates for their clients. You can get accurate and professional construction costs with pre-populated material and labor charges based on your zip code.
The calculator makes a simple and intuitive estimation tool for professionals like remodelers, builders, designers, architects, project managers, contractors, and specialists. You can opt for monthly or yearly pricing to get your subscription – and full access to exciting packages.
Online estimation made easy
The construction cost calculator online allows you to sign in and view your project dashboard. You can create new projects and add the zip codes among other details. As a construction professional, you can customize each project for your clients in this way. The tool lets you add items for the itemized summary, and the corresponding material and labor costs add on accordingly. It is a great way to automate most of the work and save templates. Cost Estimator also displays item descriptions that you can expand and view for clarification. This helps you build the perfect go-to financial library to simplify future work. You can update unit, quantity, labor hour, and material cost to generate refreshed and downloadable summaries, both for contractor and client perspectives. The calculator interfaces will look something like this: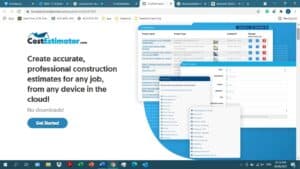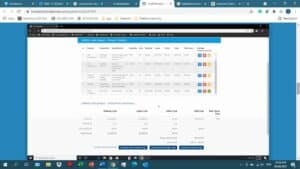 The best estimate
By using a construction cost calculator online, you can come as close to the best estimate as possible. Various free online tools are available to give you quick estimates based on your construction entries. The high-end versions with improved versatility and customization often need to be purchased. These are mostly used by construction professionals as part of their daily jobs. As discussed above, online calculators have the top incentive of displaying itemized summaries. You simply need to enter the project details, and the calculator generates all the financial ingredients that make up your total cost. It is a smart way to receive valuable insights before diving into the construction arena – so you will also know the different project avenues and the costs that will open those doors.