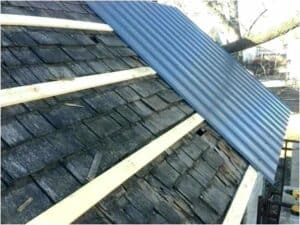 Metal roofing installation has a wide range of applications in various residential, commercial, and industrial projects. It allows owners to collaborate with architects and contractors for extending the lifespan of their new roofs. When metal roofing is installed over existing shingles, it adds a layer of durability that cuts down your roof's need for frequent maintenance and repair. This is because while shingles are cheap materials that build up your roof, they do require proper supervision and replacement every now and then. The low material cost is then offset by the accumulating future expenses to keep your roof in good shape. Metal roofing is a smart way to combat this problem, as it lasts for decades with very little maintenance down the road. It also means that you no longer need to pay hefty demolition costs and disposal fees for shingle roofs.
Made of recycled metals, all metal roofing materials come with the benefit of recyclable potential at the end of their long lifespan. A metal roof is available in different colors and installation styles, which all add to the real estate value of any building. Apart from long-term durability and rooftop aesthetics, metal roofing is a popular choice for roof recover projects. These focus on installing a new metal layer without removing the existing shingles – effectively creating a roof in shining armor! This article explores the different ways on how to install metal roofing over shingles and the reasons why it makes a phenomenal improvement to your building.
Why is it done?
Building owners can either tear down their existing shingle roof and replace it with another material, or they can simply consider a metal roof retrofit project. Such retrofit alternatives save time, effort, and money when you are running on a tight budget. There are different reasons and benefits of how to install metal roofing over shingles, and here are some of the popular goals:
To cut down tear-off costs
When it comes to shingle tear-off and disposal, you have a lot of expenses to consider as a building owner. Since shingles require regular maintenance or replacement, they can be quite cost-hungry for your improvement projects. The less recyclable shingle materials demand greater disposal fees, as they tend to reside longer in landfills than they actually do on your roofs. When you retrofit your existing shingles with metal roofing, you eliminate all these tear-off and disposal charges from your budget. Additional expenses take the back seat – along with the shingles!
To minimize commercial downtime
When shingles are removed to replace a roof, businesses will experience downtimes throughout the duration of the project. This affects the relevant operations, workflow, and employees, as they all work under the same roof and will face the same disruption. Metal roofing is an efficient alternative, since it offers a roof recover solution instead of a total replacement project. Your office building's main roof stays unaffected – and so does your business! This allows your work to carry on smoothly when the metal roofing installation takes place.
To ensure a safe and quick installation project
By standing on the existing shingles, your construction crew can safely work on the new metal roofing. Retrofits are much safer than replacements, and you get to plan a more reliable project scope for your home or office. There are fewer on-site hazards to worry about when your crew has better work safety to stand and move around on the original roof support. Metal-over-shingle projects generally have short durations because there is no need to tear down the old roof structure.
To add a layer of insulation
Installing metal roofing over shingles is the best choice for adding a layer of insulation between both the roofing materials. By sandwiching the insulation layer, your overall energy costs get reduced. This is because roof insulation optimizes your building's HVAC performance. Roof recover projects open a lot of scope for adding insulation layers, as you have more freedom to add to the existing infrastructure. If you tear down your old roof, you need to adhere to various codes and follow the updated standards before your building can qualify for a roof upgrade. Once again, metal-over-shingle steals the spotlight. It is budget-friendly, time-saving, and energy-efficient to meet all your expectations as a building owner.
To prolong the lifespan of your roof
Metal roofing stands the test of time up to several decades, saving you the need and expenses for frequent repairs in between. Its high impact resistance allows it to withstand any damage from hails, debris, and the elements. This helps you revamp and reinforce your existing roof with a stronger and more durable metal layer above the shingles. Fire resistance is another bonus, claiming the top tier for safety incentives in commercial metal roofing. These features ensure a longer lifespan with minimal repair costs to slow you down.
How is it done?
There are various considerations how to install metal roofing over shingles. Since the structure is quite lightweight, it can be added to your existing shingle roof without worrying about removals to accommodate the added weight. Metal roofing is attached in symmetrical panels that create smooth aesthetics for outdoor appeal. While there are different ways to achieve this, the general guide on how to install metal roofing over shingles is as follows:
Stick to your local building codes
Before enlisting the help of your roofing company, make sure you learn about the standard, approved codes for your area. It is not only important to hire qualified professionals for the job, they know how to install metal roofing over shingles; you also need to be aware of the approved installation methods. This will also clarify your scope for insulation aspects, and you can have some much-needed peace of mind in your long-term investment.
Your local building department is your starting point for installing metal roofing. The department is responsible for issuing all sorts of permits that will give you a thumbs-up for all your project milestones. This includes inspection goals to check your shingles for weak spots and damages. Your metal roofing will be installed using screws, and they require a durable support to leverage and secure the metal panels. If your shingles are made of soft plywood or have damaged areas here and there, then this is a huge red flag for your metal roofing prospects. Weak shingles cannot hold the screws firmly in place. Consequently, the metal roof can get easily unhinged in the wake of a storm. Local building codes are designed to anticipate and prevent such dangers. For example, they may limit the number of roofing layers for residential contexts to make sure that the roof does not collapse. These audits and precautions are necessary steps to launch your project successfully and let it thrive in the long run too. Checking with your local department to see if they allow metal-over-shingle installations is all the confirmation you need.
Conduct a thorough roof survey
Once you receive all the approval, the next step is to survey your existing roof as thoroughly as possible. Typically, this could be included in your local building audit stage where you call in the experts to have a look. Your contractor might also offer to examine the roof as part of the consultation stage. In either case, your roof needs to be checked for imperfections, water leakage, and possible damages from rotting rafters. The analysis will also reveal if the weight of the existing shingles might be causing structural challenges like a sagging deck or buckled fixtures. Your metal panels themselves will not be a problem in terms of weight, as they are manufactured for lightweight benefits – aluminum roofing is one example. The main cause of concern is the existing infrastructure and its ability to withstand installation changes. A roof inspection is definitely a major step to find out the current status of your roof and decide if it is suitable to support a metal upgrade.
Add a new underlayment to your shingles
This is one method of installing metal roofing over shingles – by sandwiching an underlayment between the two. The underlayment runs across your old shingles and essentially covers the old roof structure. It acts as a barrier between the old shingles and the new metal panels; if water sneaks into the metal roof, the underlayment prevents it from invading the shingles.
Metal expands and contracts over the years in response to temperature changes, so the added space from the underlayment is a relief. It cushions your shingles from the metal panels above them. This cuts down abrasions and damages between both the roofing materials, allowing them to coexist peacefully and independently.
Attach purlins to the roof deck
This is another method of installing a metal roof. Instead of adding the underlayment, you can add structural support in the form of horizontal beams – known as purlins – to your old roof. The beams provide a level platform to support your metal roofing. In this way, your metal panels get installed onto the purlins rather than the shingles directly. The uneven surface of the shingles does not get in the way, and the metal sheets receive a symmetrical look. Similar to the underlayment approach, there is a gap between both the roofing layers to enable roof longevity. The purlins create a buffer between your old roof and the new metal, allowing the installation to leave some room to breathe.
Follow specifications from the manufacturer
Depending on your choice of metal roofing, it helps to follow the manufacturer's guidelines for ideal screw spacing, screw positioning, installation areas on the roof, etc. If you are working with a contractor, you will be able to understand the layout options even better, as your contractor can show you the applications in real-time. Metal roofing requires strong supports for durable installation, and this includes ideal fixtures and positioning to optimize the framework.
Apply roof flashing
The edges of your roof panels need to be wrapped with flashing in order to reach and secure every nook and cranny. Roof flashing refers to a thin metal material that is waterproof and weather-resistant. It is designed to seal joints like the slope between a chimney and the roof. These roof valleys could potentially cause water leaks if left uncovered, which is why your metal roofing would be prone to water damages. Flashing diverts the water flow towards the roof gutters, and this prevents moisture accumulation. A roof trim in the form of flashing also improves the overall metal aesthetics of your newly installed panels – indicating a job well done.
Enjoy all the benefits under one roof
As explored in this article, how to install metal roof over shingles without needing to remove them – unless they are in poor shape and demand a replacement. Metal roofing effortlessly adds to the curb appeal of any building and is often the first thing to catch your attention. All renovation projects require a thorough pre-construction audit to determine if your home or office is fit for an upgrade. Roof improvement plans have the same prerequisite; they depend entirely on your existing infrastructure. If your old shingles are deteriorating beyond repair, then your contractor might suggest a remove-and-replace alternative before installing the metal panels. Water leaks, damaged rafters, splinters, sagging supports, and rusted fixtures are other red flags to halt your metal roofing hopes until the main architecture receives a makeover.
Exterior remodeling projects almost always include a visit to the roof, as this is one of those areas that affect your real estate ambitions. Metal roofs easily add extra decades to your property's value. They last for around 40-70 years depending on the type of metal and its installation scope. While the option has huge up-front costs compared to shingle roofs, most homeowners choose to invest in metal roofs for long-term returns down the road. The lack of frequent repairs is a definite plus, and protection against lightning or wildfires raises the bar for other roofing materials. Therefore, durability and a high curb appeal are the two deciding factors to opt for metal roof retrofits. They extend your roof's lifespan and shorten your project's timeline when you no longer need to tear down the old roof. So, you still have your original roof shingles intact, and the new addition is fully recyclable, creating a win-win bargain between you and the environment!