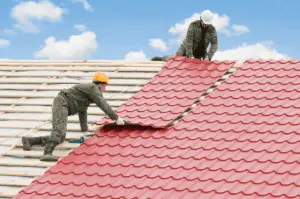 Metal roofing systems are known for their sheet-like panels that reinforce an existing structure. They have a strong curb appeal that is hard to ignore when you evaluate a house from the passer-by point of view. Metal roofs significantly improve your building's aesthetics, and they can comfortably sit up there for several decades without going wrong. It is this durability and resistance that make homeowners want to invest in metal roofing projects. A longer lifespan, better protection against the elements, and improved energy efficiency are truly rewarding incentives. The metal roofs are designed for their lightweight convenience compared to shingle tiles. They install much more easily and save you the hassle of repetitive maintenance down the road.
Another key benefit of a metal roof is that metal can be recycled at the end of its lifespan. Unlike shingle that resides longer in the landfill than it does on your roof, metal panels offer a more environmentally conscious alternative. They can withstand extreme winds and lightning – thanks to their durability and fire resistance. They are also incredibly resilient against hailstones. The roof assembly often consists of a decking, an insulation layer, and an underlayment to reinforce the structural efficiency. This leaves some room for your roof – and the landfills! – to breathe.
Denver residents, here is a comprehensive guide to your search for the best metal roofing Denver companies..
Metal roofing companies – Denver, CO
Advanced Roofing Systems
Trusted roofing experts
With around 4 decades in the roofing industry, Advanced Roofing Systems is a licensed and trusted collaboration of experts. It has an experienced team of project managers and qualified roofers who follow the local codes and Occupational Safety and Health Administration (OSHA) regulations. Each project is executed with quality roof installations backed by workmanship warranties for labor as well as manufacturer warranties on the installed products.
COVID precautions
The roofing company takes extra measures to ensure worker and client safety during these times. You can book online consultations and receive estimates for your metal roofing. To minimize as much contact as possible, satellite imagery is used to take roof replacement measurements – which also streamlines your consultation stage. All inspections and repairs are carried out based on the CDC Guidelines to create a COVID-proof work environment.
Residential and commercial roofing
Advanced Roofing Systems offers roof installations and replacements for homes as well as commercial buildings. This service comes in handy for the hail-prone Front Range in Colorado, allowing homeowners and businesses to install durable roofs for long-term results. The roofing experts will also work with your insurance company to tackle the expenses for a damaged roof – particularly one ruined by the elements. You can collaborate over the right materials and structural improvements customized to your roof's condition. The company offers a full range of roofing materials for both sloped and flat roofing designs. These include standing seam roofs, stone-coated steel roofs, gutters, downspouts, windows, siding, painting, shingle tiles, etc. There are also commercial flat roof solutions to explore, with coping and metal caps to complete the installation results. With tailored services to match your project scope, you can plan the required repairs to prolong your roof's lifespan – and add valuable years to your property!
Metal Roofing Denver
Denver's most trusted
Providing some of the best residential and commercial solutions, Metal Roofing Denver has raised the bar – and the metal roofs – for Denver's residents. It offers affordable services with quality workmanship and top resources. The company's metal roofing expertise includes roof installations, repairs, and inspections for a range of metal structures. These enable long-term results through professionally installed roofs that are all durable, resistant, and aesthetically appealing.
Metal roof inspections
Regular roof inspections for both residential and commercial buildings act as preventive maintenance for timely measures. Metal Roofing Denver has trained contractors who know what to look for in which type of roof – bearing in mind the different kinds of roofing systems. A well-maintained roof that has a long life ahead of it helps you find potential buyers for your property when you intend to sell it. Regular inspections also reflect your preventive status for insurance purposes. This makes you eligible to claim insurance for damages, as you can prove that you had your roof inspected over time. A standard metal roof inspection would include locating the source of leaks, assessing the building envelope, checking for wear and tear, and testing the drains.
Residential metal roofing
Metal Roofing Denver has all your residential options under one roof! Its Metal Shingle Roofing service is a cost-effective choice among homeowners, with aluminum being one of the preferred metal types. These metal shingle roofs are practically invincible against Denver's extreme weather conditions and wildfire emergencies. The metal layer adds insulation to your home and also lets the winter snow slide off the roof. Your choice of the metal roof will typically last for 40-70 years with minimal maintenance over time. Metal also contributes to energy efficiency, keeping your utility bills at an all-time low.
Corrugated Metal Roofing is another popular choice. Its corrugated sheet metal structure makes a long-term investment that pays for itself. Added durability and increased property value are definite bonuses for metal roofing projects. A corrugated metal roof is an ideal choice for constructing new buildings. It also works as a productive roof replacement if you are planning to get rid of the old, damaged structure.
Metal Roofing Denver provides Aluminum Roofing services for outstanding results that last for decades. The metallic appeal of aluminum reaches a whole new level with its strength, durability, and environmental friendliness. It is a lightweight metal that prevents mold and mildew from accumulating on your roof. You get to choose from a variety of aluminum styles, including Country Manor Aluminum Shake, Classic Metal, Oxford Aluminum Shingle, and Rustic Aluminum Shingle. You also have the option to pick the right installation method, such as interlocking panels, and direct-to-deck.
Standing Seam Metal Roofing comes with diverse design choices and structural efficiency. This system comprises of metal panels that are joined at the seam, creating an optimized roof geometry to let rainwater and snow escape easily. It makes an excellent roofing design for new buildings as well as replacement projects. Despite the ridged structure of a standing seam, Metal Roofing Denver's quality workmanship helps deliver a more symmetrical and aligned roof layout.
You can enlist the company's Metal Roofing Replacements service to upgrade from the old shingles. This gives you the option to install metal roofing over the existing shingles if they are in good condition. Otherwise, the roofers will have to remove the dilapidated structure and start from scratch – all the better for the new metallic replacement. You can select any of the metal styles discussed above and opt for galvanized steel, aluminum, stainless steel, etc. These metals and the connecting hardware fixtures are also coated to stay rust-free over the years and prevent water leakage.
Roof repairs
Residential and commercial repairs from the company keep in line with the latest construction technologies. They help you recover your roof from external factors like metal expansion, contraction, and damages left in the wake of a Denver storm. Other warning symptoms include water leaks, worn-out edges, ceiling stains, loose fixtures, rusting due to chipped coating, displaced panels, etc. By enlisting the help of Metal Roofing Denver, you can have your metal roof cleaned and sealed before accommodating the necessary repairs.
GBS Enterprises Roofing
A family-owned roofing company
Launched in 1998, GBS Enterprises Roofing is a client-driven company and a member of the Colorado Roofing Association. With free estimates and insurance-based support, the family-owned business works with all kinds of roofing materials, including metal panels. It is a licensed collaboration of experts in the field who use quality materials and sturdy installation methods. This allows you to restore your old roof to a better condition and even decide on total replacement options. GBS Enterprises Roofing offers professional inspections to detect red flags early on – a stitch in time to save you nine!
Residential roofing
The company's roofers are skilled in providing ideal installation services that are backed by warranties. They can work on standard and steep slope roofs as well as low and flat roof systems. The teams also specialize in tapered roofs and help you optimize your building's roofing potential. For your chosen roofing material – metal, asphalt, wood shakes, tiles, or slates – GBS Enterprises Roofing makes sure to follow the local building codes. You can enlist the team's re-roofing service if your current roof is damaged beyond repair. This could be due to damages that were left ignored for far too long, resulting in a disregarded roof structure that is prone to collapsing. Having your roof professionally inspected every year is, therefore, an important precaution. You can then take care of small repairs like minor leaks and clogged gutters before the water sneaks into the wood and ceiling.
Skylight installation
Skylights or roof windows enable ventilation and daylight ambience to warm up the rooms, usually those that are topped by the sloped part of a roof – like an attic. The frames of these skylights need to be incorporated into your metal roofing with seamless precision. GBS Roofing offers bespoke possibilities to suit your applications for overhead natural light. It is a great way to invest in a new metal roof with the added skylights to enhance your makeover plans.
Your roof in shining armor
Metal roofing creates the scope for various repair and restoration projects. It gives your building a timeless charm and allows for long-term results on your investment. You get to overcome the chronic water leaks, mold invasions, and structural damages of old materials by installing a metal roof. Planning regular inspections will help enrich the durability and strength of your chosen metal. This is because while metal lasts convincingly longer than other materials, it can get damaged from unavoidable factors like expansion or loosened nails after a storm. Preventive maintenance keeps an eye out for potential weak spots, so you can take timely action to preserve your metal roof's lifespan – and smooth out the chink in the armor!