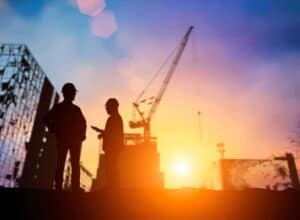 Image credits: ProEst
Commercial construction projects differ according to the type of building you are constructing. Offices, retail stores, hospitals, recreation parks, and other sectors have different project scopes and building sizes, so their costs can vary considerably. These commercial projects could either be new construction or buildout projects, so the total commercial construction costs per square foot depend on such project complexities. New construction will begin from the ground up and comes with various land permits, professional services, and approvals for your chosen business type. This makes new construction costs per square foot a lot more expensive than buildouts – which only focus on adding upon an existing framework or structure.
To understand your budgets better as a commercial owner and collaborate with construction teams, it helps to get some basic idea about the cost breakdowns so that you can negotiate your terms confidently and predict what lies ahead. Online commercial construction cost per square foot calculators are useful tools for this purpose. They give instant estimates based on the information and square footage you provide. Usually, online calculators offer updated data to keep up with the changing commercial trends. Business owners can refer to these for quick references to get some idea about their budget range. However, if you are a professional contractor looking for the most accurate numbers to create your bid, you can use construction estimation software apps that are available for download at a price. In this article, we have explored some of the best calculator and software tools to help you out.
The cost data is also based on the websites below, so credits to the respective owners! We have rounded up the numbers to make things simple and help you compare them easily.
Commercial construction costs per square foot – influencing factors
Before moving to the calculators, let us look at the main elements of commercial construction costs and their influencing factors. This will highlight the driving factors behind the costs and help you understand the way the calculator tools work. Commercial construction costs vary based on aspects like the geographical makeup of your city and fluctuating material charges. The reason why these costs are broken down per square foot is that all the major factors that go into constructing each square foot of the total space need to be accounted for. If any of the factors are skipped, your project cannot begin – or if it has begun, it cannot be continued due to underestimated numbers. Here are the main elements/factors that both make up and affect the final cost.
Materials
Inflation, import/export bans, and material shortages greatly impact the total commercial construction costs per square foot. Projects that require difficult-to-source materials will be more expensive compared to alternatives like prefab modular structures and recycled materials. Depending on your region and resource availability, make sure that you discuss all the possible options with your construction teams. Stick to local options if imports fall out of your budget. This will keep the project on track with timely material deliveries and scheduled procurement.
Labor
Similar to procurement challenges, labor is a key influencing factor for your commercial project. Labor costs consume up to 40% of the total cost, and due to the ongoing inflation and construction highs and lows, you can expect this element to make or break your complete project.
Regions
At the heart of it all, regions play the most important role in determining construction costs. Materials, labor, and other elements are naturally tied to where you live, so it comes down to the region.
Some areas will have lower costs than others for the same square footage just because of the location advantages and resource availability. Businesses opening up in snowy regions need to consider elemental challenges like a snowstorm, as this can increase the construction costs per square foot. Here is a list of regional cost ranges for single-floor to high-rise buildings according to ProEst and Cumming (discussed further under calculators).
Eastern US: $300 – $800 per square foot
Western US: $300 – $700 per square foot
Midwest US: $200 – $700 per square foot
Southern US: $200 – $600 per square foot
Permits
Permits are directly linked to regional factors, so this has another major influence on commercial construction costs. All local laws apply here, and your teams need to make sure that the construction takes place with proper adherence. The size of your project and the type of business you will run are both important to get the right permits before any work can begin. Even though permits take up a small proportion of the total costs, they are still crucial to cover for getting the green light to start building.
Land
In line with regions and permits, land is another important link and will mark the actual "footprint" for your commercial building. If it is a new construction project, excavations can only begin once the land meets its permit and approval process. This also depends on what type of business operations you will run and whether or not they will be harmful to the neighboring land, natural environment, existing buildings, people, etc. The more difficult it is to find a suitable piece of land, the higher your costs per square foot will be.
Finishes
Regarding finish quality, low-end finishes will stay within a reasonable budget, whereas high-end options will increase the costs per square foot. Finishes and fixtures include walls, tiles, countertops, lighting, windows, doors, roofs, and similar items that you need for functionality as well as aesthetics.
This includes both interior and exterior finishes, so make sure you factor in landscape aesthetics too.
Building types
Commercial construction costs per square foot are also determined by the type of commercial building you want to construct. Based on the regional costs given above, you can expect variations across office, retail, healthcare, restaurant, and other building types – with schools and offices ranging within low-medium and recreation taking up the highest costs.
Commercial construction costs per square foot calculators
Commercial construction costs average around $500 per square foot and can go up to $1,000 or more depending on the project type and size. Here are some cost calculators that you can use during your estimation and budgeting stages. They make a useful guide for setting a workable range to shape your budget.
The following cost ranges are based on data provided by Cumming and the National Association of Home Builders, as summarized by ProEst. These costs are derived using the factors discussed above, so you can expect location, material, labor, and other factors to be working behind the scenes per square foot! This is also why there can be a huge difference between construction costs in cities and suburban areas, mainly due to population sizes and resource availability. Smaller commercial buildings can cost $350 per square foot, and larger ones can go up to $1,000 – give or take a few hundred for different regions. Here are the main commercial construction costs per square foot for various building types according to ProEst.
Offices: $200 – $1,000
Recreational buildings: $300 – $1,200
Hospitals: $400 – $1,000
Government buildings: $400 – $800
To calculate the total costs, you can multiply the construction cost per square foot by the total floor area and add on the influencing factors such as:
Total cost + labor + materials + permit fees + finishes
According to Hurd Construction, you can expect the following costs based on project types:
New construction: $150 – $450 per square foot
Buildout: $50 – $200 per square foot
The company's online commercial construction costs per square foot calculator is a great estimator tool that you can use to receive valuable insights. You just have to enter your project's details, zip code, project type (new construction or buildout), proposed business use, total square footage, current status, and the required professional services. The calculator will then work out an estimated range that will be emailed to you. As you can tell, it uses factors like location and permits to determine an updated cost figure that matches the current trends. If it is a new construction project, you will start from the ground up, so your range will be on the higher end. Interior buildouts just require certain spatial improvements to be made to an existing building, so they are relatively cheaper.
Hurd Construction can also help you understand your budgets better using various associated costs for each influencing factor:
Hard costs covering the physical costs like walls, finishes, HVAC, MEP, etc. They can take up to 85% of your total commercial construction costs.
Soft costs for permits and legal fees – amounting to around 12% of the total costs.
Other costs like vendor, allowance, and project management costs that are crucial for driving the project forward.
Bush Construction also has a simple commercial construction cost calculator that gives a total value based on your project's square footage. It calculates a preliminary range to give you the initial low and high costs, and if you need further breakdowns, you can contact the teams for official quotes. The calculator factors in building types, regions, materials, finishes, etc. to work out a reasonable estimate per square foot.
Since lumber and steel prices keep fluctuating, a detailed official quote would be better to help you set a more accurate budget. You just need to enter your project type, its total square footage, and complexity level to receive instant low and high estimates. We found this calculator to be very helpful for obtaining a range instead of one figure, as this allows you to decide how much money you will allocate per square foot for low-end as well as high-end options.
This is something different than a basic online calculator. RSMeans Data offers 2 main choices to calculate commercial construction costs per square foot. You can either browse through a list of available cost models and visual guides for different business types, or you can download the software for more accurate quotes.
We were impressed by the simplicity and effectiveness of this scenario-driven model concept, as you can easily click on the model for a school, hospital, gym, community hall, library, restaurant, etc. to view its cost breakdowns and a cost per square foot value. Another quick-glance reference was the company's visual map guide with localized costs that displays an average per-square-foot cost for different US states on the map. We found these models and visual guides to be the best choice for business owners who are looking for free estimates for an initial number. You can expect your project to cost anywhere from $200 – $400 based on square footage. The only downside of using the models is that their data was obtained according to specific years in the past, so the displayed numbers are just for references and do not provide much accuracy.
For this reason, the software can be used to bridge such gaps, as it relies on updated pricing for the current year. You will have to purchase the software for long-term use, so we think that it would appeal more to professionals rather than clients. Commercial contractors, for example, need accurate data to create quotes while bidding. The software can help them access current material, labor, equipment, and other types of costs to calculate a final commercial construction cost per square foot for different zip codes.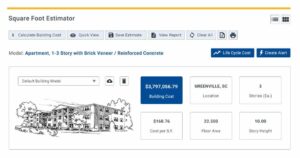 Conclusion
A good commercial construction cost per square foot calculator is important for setting your own budgets. This will allow you to negotiate with your chosen pool of contractors by starting with strong numbers that make sense, are valid, and will let your project take off successfully. That said, always make sure to ask your contractors to give you a detailed and itemized breakdown of all the costs. You should have a thorough understanding of what goes where, so a generous cost breakdown will always help. Calculator tools like those discussed above are ideal for obtaining a range of costs early on, and they can help both the business owners and experts alike. For more realistic final numbers, you do need a professional's input, considering your specific business and the type of commercial activity you will run. Lastly, make sure that you work with a licensed commercial contractor who will handle everything from start to end credibly and professionally – saving you from financial and legal setbacks down the road.