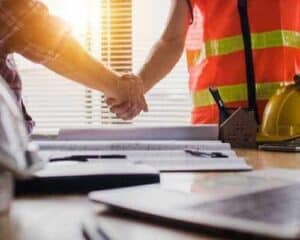 Image source: Viewpoint
General contractors often enlist the help of subcontractors for specialized trades to complete a project on time. These trades could be roofing, carpentry, HVAC, plumbing, design, and electrical services. General contractor-subcontractor agreements are used to establish a formal contractual relationship between the involved parties. This clarifies their respective project obligations and helps with dispute resolution during conflicts. The construction agreement minimizes various financial and legal risks that can cause substantial damages to the involved teams. These contracts are curated with the latest legal and building rules to address the needs of general contractors and subcontractors. They reinforce the terms of credible working practices and ensure timely payments for workers.
Clients or project owners hire a general contractor to oversee their construction projects, and this creates a prime contract between them. However, if the general contractor delegates tasks to a subcontractor, they will both operate on a subcontractor agreement and not the prime contract. In this way, subcontractors have no direct link to the project owner, though the construction hierarchy should be carefully considered before signing a contract. Understanding the agreement clauses is a good place to start as a subcontractor, and this article covers some essential ones.
General contractor-subcontractor agreement clauses
Before any project details can be shared, a subcontractor will first need to sign a non-disclosure agreement to ensure the project's confidentiality. The bidding process typically begins after this, and general contractors can officially hire suitable subcontractors for their services. A well-planned and inclusive contract needs to be prepared to outline the responsibilities as well as project liabilities for both teams. It should clearly state potential implications if the subcontractor does not provide the agreed services or the general contractor fails to make a payment.
Once the contract is signed, the subcontractors become legally obligated to work accordingly on the project, and the general contractor is responsible to pay them for their work. It is important to clarify your terms and expectations to leverage your end of the contract, as this sets the tone for future negotiations, updates, and dispute resolution. Maintaining the contract's terms adds transparency to your work as a construction professional.
The scope of work
The agreement should clearly define the scope of work for subcontractors, letting them know exactly what they should do on the worksite. This includes all the necessary specifications and tasks for the client's project as well as the relevant client-contractor terms. The scope of work covers various aspects like the materials needed for the project and the trade services required. This helps a subcontractor build accurate estimates and proposals to be hired for the project. The clause should also include the start and end dates for construction, giving subcontractors a timeframe to follow.
Payment details
Payment is an important contractual clause that gives subcontractors their financial rights for the completed services. Details like labor charges, material charges, insurance, and subcontractor allowances are usually included. These cover various project and miscellaneous costs throughout the construction process. Subcontractors can even compare the prime contract to the subcontractor agreement to look for financial compatibility between both agreements. This helps them find out whether the client's stated fees will cover their own payments or not. It is also a simple way to match the payment schedules and confirm cash flows down the hierarchy.
Payments for a project are initiated by the client to the general contractor, who is then responsible to distribute payments along and down the construction tiers. This often leads to delays before the payment reaches a subcontractor, and so the payment clause is a good place to address these concerns and prevent financial conflicts. The time and method of payment should be clearly stated to reflect monthly or milestone payments. Contracts often use terms like pay-if-paid or pay-when-paid, and subcontractors need to consider them carefully to make sure they get paid on time for their services.
Mechanics liens
Another way to ensure timely payments is to file a mechanics lien, which is a legal claim used by subcontractors to receive payments for their contributions. It gives you the financial leverage to protect your hard-earned money for both the labor and materials you have provided. A mechanics lien appears on the property title and makes you eligible to be paid for all the improvements you have made to that property. Subcontractors can use this to their advantage because the improved property cannot be sold unless it is free from legal claims – and no owner/contractor wants to bear that kind of a financial headache. Different state laws are available to help subcontractors file a mechanics lien to secure their earnings before signing agreements.
Dispute resolution
Dispute resolution is important for completing a project on time and preventing delays. General contractors and subcontractors can work out a common ground in advance to decide the best course of action in case a conflict arises during the project. The dispute resolution clause states their choice to settle future conflicts. For example, binding arbitration requires an arbitrator to settle the dispute, avoiding the need to take issues to the court. However, if subcontractors are not happy with the arbitrator's word, non-binding arbitration allows them to go to court. Litigation also works by allowing both general contractors and subcontractors to appear in court and resolve their disputes. Mediation, on the other hand, requires both parties to negotiate and settle the problem mutually.
Termination clause
The general contractor-subcontractor agreement can be terminated for various reasons, and these need to be added to the contract. Both parties can choose a "No right to terminate" option that allows the agreement to end only when the project is complete. Termination rights can also be given to either the general contractor or the subcontractor, who will then be able to end the agreement based on the contract's terms. This clause focuses on areas during which termination can be acceptable and lets you know what requirements should be followed.
Defense clauses
Subcontractors can use various defense clauses to negotiate their end of the contract and receive legal protection against unfair claims. Indemnification clauses or "hold harmless" clauses allow general contractors to be exempted from liabilities, losses, and risks. These could result from damages to the property, and the indemnification clause makes the general contractor immune to any legal or financial impact. Consequently, the blame falls on the subcontractors, making them vulnerable to hefty legal risks. It is important to seek protection from such liabilities, otherwise, you will be responsible to pay the contractor to cover the losses. Defense clauses can buffer subcontractors against unfair claims and only hold them accountable for damages caused by their own work or negligence. Insurance is another important consideration for defense. The general contractor-subcontractor agreement must reflect insurance details, allowing the necessary reimbursements in the face of accidents.
Addressing construction red flags in black and white
A well-planned agreement protects the legal and financial rights of general contractors and subcontractors, establishing clear working terms for the project. Having a good lawyer back you on the necessary advice always helps. The agreement allows both parties to add their expectations and concerns on paper, which creates better protection when things go wrong – making the contract equivalent to a construction yellow hat for legal protection!