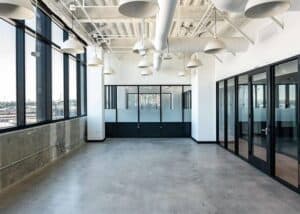 Image credits: WeWork
During your hunt for the right commercial building, the condition in which you find one determines how much work needs to be done before the space becomes move-in-ready. It is not possible to find a perfect-fit commercial space that checks all of your boxes as a future tenant. There is always some scope for improvement to make the area better configured for your specific business. If you are leasing an empty shell space, a significant number of improvements are required compared to a previously occupied building that has already been built out. So, the costs involved in such a project can cover as little as fresh paintwork and go up to funding a full-scale makeover. Before receiving commercial build out estimates for your project, you need to have at least a basic and relevant financial standpoint for smarter negotiations – and in this article, we will share both numbers and factors to help you out.
Commercial build out estimates
Definition
A commercial build out refers to all the customized changes that are approved for a building in order to make it more optimized for a certain tenant. The process is also known as tenant improvements and fit out improvements for this reason. It is primarily geared toward helping a business create a unique brand identity. The build outs can be both small-scale and large-scale updates that add purpose, value, and personality to your leased space. Such a project allows commercial buildings like retail stores, offices, restaurants, gyms, and warehouses to undergo functional and aesthetic transformations. It focuses on both current and future requirements to ensure a smooth occupancy period, so this is a great time for you to plan ahead and add some futureproofing elements if you intend to stay for a longer time. Some examples of a commercial build out include:
Structural additions like custom walls, acoustic ceilings, flooring, carpeting, windows, etc.
Technical aspects for HVAC, plumbing, lighting, and other utilities.
Additions for new conference rooms, breakrooms, changing rooms, lobbies, parking spaces, and so on depending on your commercial setting.
Cost estimates
Commercial build out estimates can vary based on a number of applicable factors such as the level of customization, the condition of your building, and the type of business you will run – more factors to follow further below! Considering the average extremes, building out a commercial space can range between $50 – $300 per square foot. The range can shift up by an additional $10 to $20 on each end for a first-generation shell space that has never been built out before. On the other hand, you can expect the average costs to be a lot lower for a second-generation building with a long history of improvements left by the previous occupants. The greater your specialized needs for the building, the higher the estimates. Here are some insights into the estimates you might work with for different commercial buildings:
1. Office build out estimates
For an office build out, it is important to fully understand your corporate expectations for the leased property. Since your added improvements will shape your corporate image, they should be as tailored as possible in order to establish your commercial footprint – both in terms of functionality and aesthetics. Some examples of office build outs include:
Creating open and airy workspaces with skylights and tall windows.
Adding private offices and conference rooms.
Adding amenities like breakrooms, an office gym, and a lounge area.
Expanding the reception to include a bigger waiting area.
Installing glass fronts and custom millwork.
Adding acoustical treatments for better sound absorption.
Interior and exterior signage.
Basic office build outs can cost between $50 – $150 per square foot, whereas complex and high-end improvements extend to $200 – $300 per square foot. So, a mostly open office workspace with very few enclosed individual rooms will be on the low end of the range, and a mixed floor plan with more private offices and enclosed conference rooms will be on the high end. This is because cost estimates increase according to the amount of work that needs to be done, so the more labor-intensive your specifications are, the higher you will pay for the build out. For context, a 1000-square-foot office will cost around $55 per square foot to be built out, which totals an estimate of $55,000.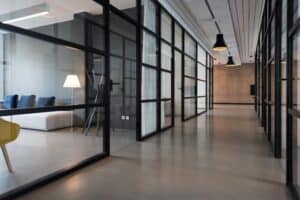 Image credits: Seacoast Construction
2. Medical office build out estimates
Medical offices tend to have more technical requirements than a standard office, so this can add to the overall estimates accordingly. In general, commercial build out estimates for medical offices range from $50 – $150 per square foot. For a 1000-square-foot medical office, the average build out cost is $65 per square foot, giving a total of $65,000 for the whole project. The associated tenant improvements usually include:
Building a reception and a waiting area.
Adding the required number of clinics and examination rooms.
Installing voice and data cabling and security frameworks.
Building ADA-compliant restrooms.
Including sufficient lighting.
Adding signage and landscaped exteriors.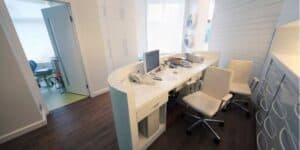 Image credits: Perillo Construction
3. Retail build out estimates
Retail properties can have varying build out estimates for grocery stores, malls, boutiques, etc. They tend to cost between $50 – $200 per square foot. Projects for retail tenant improvements are very brand-oriented because everything from the interior layout to the displays and signage highlights your retail ambition. This is also what makes your store a go-to place for happy customers. You can expect such a project to focus on:
Designing the right aisle layout.
Maximizing the foot traffic.
Building merchandising scopes through displays, stocking layouts, and custom décor.
Adding checkout terminals.
Adding custom storage spaces and changing rooms.
Customizing the façade and landscape aesthetics.
Adding a parking lot.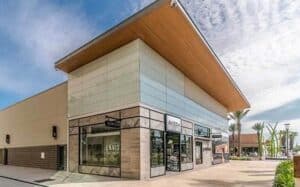 Image credits: Construction Concepts
4. Restaurant build out estimates
A restaurant is typically comprised of a commercial kitchen, a main interior dining area, an optional outdoor dining space, restrooms, and a parking lot. Build out estimates for restaurants can be anywhere between $200 – $300 per square foot depending on your level of customization and aesthetic focus. Here are some key build out aspects that are commonly used by restaurant tenants:
Custom lighting, décor, and signage for both interior and alfresco dining spaces.
A waiting area and private dining spaces.
Optimized foot traffic for dine-in and take-away customers.
HVAC and technical upgrades for specialty kitchens.
Exterior landscaping and design.
Health and safety upgrades.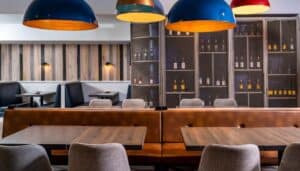 Image credits: Anazao
5. Fitness center build out estimates
A fitness center can cost around $200 per square foot to be built out based on your requirements for the available space. You might want to add improvements like:
Glass fronts and interior/exterior signage.
Custom lighting and HVAC.
Locker and shower rooms.
Optimized flooring to hold the fitness equipment.
A large main workout area.
A parking lot.
Acoustic treatments for better sound isolation within the space.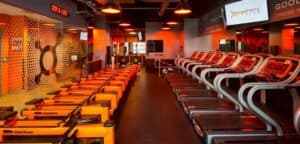 Image credits: Jordy Construction
6. Warehouse build out estimates
Commercial build outs also focus on areas of adaptive reuse that give an existing space a brand new purpose. Warehouse transformations are some of the most trending adaptive reuse projects, as they allow businesses to create their own commercial structure within an industrial warehouse. This mix of industrial and urban personalities really sets the tone for creative designs in commercial settings. In general, you could build out an old warehouse into a new one, or you could repurpose it for a completely different commercial activity. The vast warehouse main area is ideal for open office workspace layouts, art galleries, event halls, showrooms, and other businesses that are driven by the freedom of space and creativity. For a 1000-square-foot warehouse, the average commercial build out estimate will be between $40 – $60 per square foot, giving the total range of $40,000 – $60,000 as a whole.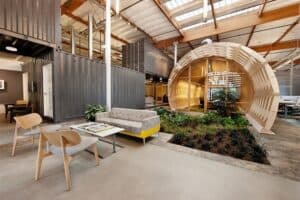 Image credits: Cuningham Group Architecture via Office Snapshots
Commercial build out estimates calculator
Various online calculators can be used to receive quick initial estimates for your commercial build out project. Usually, contracting companies provide their own calculator tools on their websites, so this helps with working out accurate quotes that include updated material costs and labor fees. B7 Builders has one such quick-estimate calculator for different commercial buildings like offices, medical centers, and warehouses. It uses Southern California's updated material and labor data for 2022 and can be used for getting a rough idea of project costs for other regions.
You just need to select your commercial building type and enter details like the total square footage, building condition (shell space or second generation), types of finishes, layout, flooring/ceiling/wall/lighting options, ADA restrooms, and so on. Once you enter the main build out specifications like these, the calculator will display both low and high estimates for commercial build out costs per square foot as well as the total value.

Cost-influencing factors
Commercial build out estimates can vary according to all the applicable factors that influence your specific project. Since each build out is different, it is important to get in touch with the right commercial contractors who can help you connect the dots better. Here are some of the main external factors that you need to consider while setting a budget in order to obtain a more realistic number.
Allowance scope
A tenant improvement (TI) allowance is mainly a project discount offered by the building owner to help you fund your build out – either partially or wholly. It is stated as a cost per square foot and is open to negotiation depending on the versatility and win-win potential of your project. Technically, it is the building owner who pays for the build out process, but if any improvements go over budget, the difference should be covered by you. Your building owner will be better motivated to offer a generous allowance if your added changes can be retained and reused for the next potential tenant – particularly someone who has a similar commercial scope as yours for an office space, a café setting, or a gym. Your final estimate will then be the initial budget minus the allowance, which effectively reduces your out-of-pocket expenses.
Building condition
The next crucial factor is the condition of your leased building. First-generation spaces or shell spaces will be made available to you in a very raw and unfinished condition, which increases the amount of build out work considerably and adds to the overall estimates. In comparison, a second-generation space might already include some of its previous improvements that you can reuse, so the costs for building out such a space will be a lot lower. If you want to add more custom finishes and utilities to a shell space, your final estimate will easily reach the top-tier range. However, if you find a suitable second-generation building with reusable amenities like lighting and HVAC, you can instead direct more money to other key areas like custom aesthetics and branding.
Previous use of space
Another building-related factor is its previous use of space – which refers to how the building was used by the previous tenant. If you want to lease a commercial property to open a gym or a fitness center, it will be much easier and quicker to move into a building that was already built out for this purpose. This is because most of the common amenities like locker rooms, shower rooms, main workout spaces, optimum lighting, and reinforced flooring are already there, so your project estimates will only have to cover custom additions like décor and signage.
Region, material, and labor
Regions can affect build out costs massively because materials and labor are both linked to where you live, so access to the required materials and labor totally depends on your regional and geographical advantage. It is important to plan local backups beforehand so that supply chain disruptions and labor unavailability do not impede your project's flow.
Building codes and inspections
The applicable building codes for your leased space will also set your financial scope, especially if you are building out a commercial property for an entirely different use than its original setting – like warehouse-to-office conversions, office-to-restaurant conversions, and so on. The building type and condition should match your commercial purpose, so it is important to plan a code-compliant build out to prevent safety issues and legal setbacks down the road. Permits and approvals are an integral part of any commercial build out, and these will be handled by your contracting team.
In addition, regular inspections should be conducted to ensure code compliance and building compatibility. All of such permit, approval, and inspection fees fall under soft costs which make up around 25% of a typical build out project estimate. The more challenging the build out, the more the applicable codes, and the higher the soft costs.
Conclusion
Updating your leased building to make it more suitable for your brand is a crucial decision for a business owner – or a new tenant. Make sure to address calculator estimates and factors like those discussed in this article, as you want the contractor collaboration period to be as detailed as possible in order to clarify your improvement scope. Physical improvements add value to the commercial real estate and turn the basic brick-and-mortar into a brand-inspired setting, so it helps to keep an eye out for win-win scopes during lease negotiations. This will allow you to bridge several gaps between planned and actual estimates and launch your project from a stronger negotiation ground.