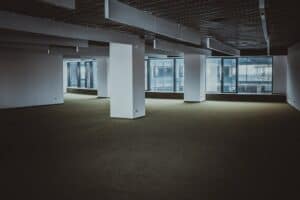 Interior buildouts refer to the customizations made to a commercial space for move-in-friendly results. These business-specific projects allow you to relocate or start a new venture by adding the necessary retrofits to the chosen building. For this reason, interior buildouts are also known as tenant improvements (TI) or leasehold improvements. They address the needs of commercial tenants to ensure that the leased space reflects their business identity, accommodates all the technologies and hardware, and has functional amenities. Your commercial rental space will either be available as a blank shell or previously occupied space – which determines the size of your interior build out cost per square foot. Improving a new area will require renovations and additions from scratch, whereas an already rented building will include some improvements from the previous tenants. This marks the difference in project costs, and you will generally share them with the building owner.
Finishing the interiors of offices, hospitals, restaurants, retail stores, hotels, etc. depend on specific project requirements of the tenants. You might want to construct new ceilings, demolish old walls, install new floors, and customize the lighting. Buildouts also focus on workstation layouts and décor aspects, allowing you to fully personalize your commercial footprint.
The buildout crew includes constructions professionals who can help you finish out the interior based on relevant building codes and zoning requirements. All of these roles and responsibilities contribute to the final cost, which is determined as the interior buildout cost per square foot. Since the building owner covers some or all of the costs – under tenant improvement allowances – discussing the arrangement during lease negotiations will pay off remarkably throughout your tenant stay. You can seek commercial real estate advice for optimum financial numbers that can fuel your specific project. Sufficient allowance is a key feasibility factor and supports valuable improvements based on square footage, as discussed in this article.
The interior buildout process
Who is involved?
Interior buildouts are all about renovations and configurations tailored to your business's objectives. You will work with project contractors, project managers, engineers, architects, electricians, plumbers, interior designers, painters, and building inspectors. Licensed teams deliver not just quality projects but also code-compliant results to prevent legal consequences down the road. They can create commercial adaptations out of your bespoke details for the interior buildout, which is why it is important to collaborate with contractors who specialize in commercial remodeling. The buildout documents and plans can help estimate the initial costs per square foot, and each stakeholder's contribution adds up to the final value. You can also discuss your project feasibility with commercial real estate experts as well as remodeling specialists before hiring a contractor. This gives you a good vantage point regarding the costs, renovation types, labor charges, and zoning specifications – building the discussion grounds for contractor proposals.
Why is it important?
Commercial interior buildouts are planned for several reasons, all of which revolve around the emerging needs of businesses. Custom renovations to the leased space can help you upgrade your corporate environment using the latest design trends. Rebranding is a popular perspective, and by simply finishing out the building, you can save up on hefty new constructions. Startup businesses who want sustainable working practices can exploit such projects to their best potential, as you get to go green by starting green! Interior buildouts are also important for building owners, as they are more likely to rent their space if it meets the expectations of potential tenants.
To establish this win-win agreement, a favorable TI allowance amount must be negotiated, so it can translate into relevant costs per square foot throughout the project. The proposed use for a leased space will differ for each business – as office suites have their own corporate functions, medical centers rely on specialty services, and cafes/restaurants need commercial kitchens and dining areas.
What is included?
All interior buildout processes are divided into the designing, planning, and remodeling stages. Your chosen crew will use various digital tools to create specifications, drawings, and evaluations. These determine the feasibility of your buildout project and help you collaborate on cost-effective strategies. A thorough design stage includes detailed consultations, allowing you to curate itemized project milestones along with their cost breakdowns. The planning stage is where your designs are put in action and the paper-based ideas seek permits, approvals, and a proper timeline. This aligns your buildout's material procurement and delivery aspects very efficiently, so all the required resources arrive on time. Professional scheduling techniques are important to meet the lease deadlines and narrow the timeframe for successful occupancy.
With all the paperwork checked off, the buildout crew can begin the actual remodeling stage. During this time, various mechanical, electrical, plumbing, demolition, painting, and lighting aspects will be completed – making your leased space finally come together. Other configurations include framing requirements, drywall additions, millwork, HVAC layout, and acoustic ceiling installations. Building inspectors will assess each renovation detail. Combined with your walkthrough analysis, the necessary updates need to be addressed, after which you can move in. The interior buildout cost per square foot is the cumulative mix of all the above material and labor input.
Interior buildout costs
Hard and soft costs
Commercial interior build out costs per square foot is commonly divided into hard and soft costs, based on the permanence or volatility of your changes. Hard costs cover all the permanent, tangible improvements you make to the leased space, like the paint, carpeting, HVAC systems, and electrical wiring.
These additions stay even after you leave and are often improvised by the future tenants – making them a crucial consideration for TI allowance. Soft costs are related to various paperwork and approval aspects such as permit fees, inspection charges, and other approval costs. Your final buildout cost will include both of these hard and soft costs, depending on the frequency of inspections and repetitions.
Cost per square foot
Your TI allowance is also expressed as a cost per square foot, so if you end up paying anything extra for the buildout, you will only consider the [total buildout cost – the TI allowance]. This makes the lease negotiations a very crucial part of an interior buildout, as there are multiple win-win possibilities for both parties. If a considerable proportion of your tenant improvements are hard costs, then these could also benefit the owner in the long run by speeding up the next move-in at the end of your lease. At the same time, you can strike up a confident TI allowance from the owner. Tenants and building owners often discuss the interior buildout costs based on the location, remodeling scope, type of commercial context, and of course, square footage. The costs will differ between commercial contracting companies and your project size, but here is a general guide for what to expect:
basic finishes: $50 and above ($50 – $80 per square foot)
mid-range finishes: $100 and above ($100 – $135 per square foot)
high-end finishes: $150 and above ($150 – $200 per square foot)
The average interior buildout cost per square foot is around $50 when you want to add just the standard finishes for your lights, paints, tiles, etc. This will give you more priority on the functional side rather than aesthetic appeal. Choosing above-average materials would cost you around $100 per square foot, and extravagant details for luxury finishes can go up to $200 per square foot. This sets the general scale between $50 – $200 for an interior buildout. The lower end of this range would create a basic office layout, and as you climb up the scale, you can find high-quality designs for executive offices and also amenities like cafes and gyms.
High-end buildout projects that cost $150+ per square foot can be imagined based on their space plan. A progressive space has a 100% open floor plan and inspires collaborative coworking. A moderate space would feature just 10% enclosed offices and 90% open workspaces.
A traditional space features more individual offices and can divide enclosed to open spaces in a 40:60 ratio. More isolated offices require more construction, and so the interior buildout costs would increase from progressive-traditional spaces.
Online cost calculator
Commercial contractors often provide online calculators on their websites to help tenants and building owners receive quick estimates. An example is the commercial buildout cost calculator from Hurd Construction Management. It makes a simple and helpful guide for calculating the cost per square foot and factoring in the relevant cost drivers. You just need to enter your zip code, choose the proposed commercial use for office/store/restaurant, select the square footage on the given scale, and confirm your current stage in the project. This lets the tool know if your permit stage is over and you are about to start preconstruction, and so on.
The calculator displays a smart estimate based on where you live and your given commercial context, so you have a useful benchmark for the bidding stage. By using simple and intuitive online tools like this, you can obtain a rough quote for the entire project, as these calculators do the math using the company's stated rates – which are updated with the shifting trends. For example, at $50 per square foot, your interior buildout of 5,000 square feet will cost $250,000 – and the calculator will incorporate any additional costs for influencing factors based on the details you provide.
Influencing factors
The cost range can be affected by various factors. The project size, number of demolitions, quality of finishes, architectural complexity, material cost, material availability, and labor rates are some examples. The age and condition of your leased space is a key factor. Blank shell spaces – or first-generation spaces – do not have any work done so far, costing you on the higher end of the spectrum. On the other hand, a second-generation space has already been improved by its previous occupants, making their hard costs an opportune discount for you! You can also expect cost fluctuations from delayed deliveries, weather problems, market trends, and the type of commercial operations you will run. Specialized interiors for hospitals and call centers will definitely cost more than an office of the same square footage, considering the technical diversities.
Costs vary greatly between states, which is why your zip code is requested by online estimation tools. Geographical elements determine various zoning requirements.
This decides the permissible building changes, their costs, and the accompanying permits. The zoning aspects also govern material procurement, logistical options, and labor compatibility for your project. For this reason, you can expect the topographic makeup of your building's location to easily influence the costs. Buildout costs for the same square footage can vary significantly between regions, especially for those businesses that operate in earthquake-prone areas or various natural landscapes.
Putting one foot in front of the other
Commercial interior buildouts need to be progressive and aligned throughout the project. By finishing out your leased space, you can make it move-in-friendly for your commercial goals. Custom modifications help the space become better optimized and equipped for your specific operations. Working with experienced contractors, designers, and architects allows you to set the pace for a well-organized buildout that inspires your corporate vision. Receiving ballpark quotes from potential contractors makes a good starting point to understand the buildout costs.
Professional contracting companies will take extra time and effort to deliver quality improvements that will facilitate your business, create lasting impressions, and promote a healthy corporate culture. A commercial contractor who understands and anticipates your commercial needs will help you break down costs and analyze how they add up to the square footage. With a reasonable budget at hand, you can turn a raw space into a fully functional commercial interior, packed with all kinds of amenities that boost workplace productivity.
Buildout projects are an excellent chance for reimagined coworking opportunities, especially if most of your employees work from home. Tenant improvements offer versatile rebranding scopes for your brick-and-mortar store or office. With improved value added per square foot, you can make sure that your corporate four walls exude professionalism and creativity while your employees aim to break the glass ceiling!
FAQs
What Are Build Out Costs?
Build out costs are driven by the needs of a tenant and cover all costs necessary to configure the leased space for the given business. It is stated as a cost per square foot of the building and includes various key hard and soft costs for the project. Hard costs refer to those costs that you pay to add physical improvements – which are often permanent – within the building, such as HVAC systems, paint, MEP features, windows, skylights, and customizations that are specific to your business. Labor charges are also hard costs and form the largest slice on a build out pie chart. Soft costs cover aspects that work behind the scenes and are important to get the project going, so this includes costs for building permits, legal fees, inspections, and so on.
To sum up, build out costs are a mix of material, labor, and legal costs that together help with transforming an empty space into a fully functional and customized commercial building. The average build out costs range from $50 to $150 per square foot depending on the type of finishes you choose.
What Is Interior Build Out?
Interior build out is the process of transforming the interior of a leased space into a tenant-friendly environment that is equipped for a specific business – like a restaurant or an office. It is also known as tenant improvements and includes various customizations like installing new floors, changing the lights, creating workstations, updating décor, adding ceiling acoustics, and so on. Businesses rely on interior build outs for multiple reasons, all of which focus on enhancing the interior in some way. It is an excellent option to work with an existing space rather than relocating to a new building, so interior build outs are very cost-effective when done right. They can help you refresh the interior design, plan efficient rebranding options, implement commercial expansions, switch from one commercial interior to another (like from an office to a retail store), and even go green using sustainable methods.
How Much Does A White Box Cost Per SF?
A white box can cost between $20 to $110 per square foot depending on the scope of work needed. Since this is a partially finished space, it typically includes the following features for most building types: drywalls, drop ceilings, finished flooring, ADA-compliant restrooms, various MEP utilities, and HVAC. The actual cost to white box a space depends on the building's existing condition, its total size, the number of demolitions needed, and its applicable permits. You can expect the following cost breakdowns for a white box:
HVAC systems at $5 to $10 per square foot.
Dropped ceilings at $3 to $5 per square foot.
Electrical features at $5 per square foot.
Flooring at $3 to $5 per square foot.
Permit costs at a total of $250 to $1000.
How Much Does It Cost To Build The Inside Of A House?
Building the inside of a house includes framing, MEP installation, and interior finishes as the key stages, so their total costs will generally equal the cost of building the interior of a house. Here is a breakdown for each of these costs:
Framing is the second stage after laying the foundation and gives the house its initial shape. It can cost between $15,000 to $95,000 on average. Framing includes installing various structures like trusses, metal work, subfloors, windows, doors, sheathing, and so on – creating a workable interior as a starting point.
MEP installation is all about connecting your mechanical, electrical, and plumbing utilities, which can cost between $20,000 to $70,000 on average. The cost for this stage depends on what type of systems – such as HVAC units – you intend to use inside the house.
Interior finishes are the most expensive part of building a house, taking around 30% of the total construction costs. They can cost you between $40,000 to $150,000 depending on the level and quality of finishes you want. This stage will turn the inside of a house into a welcoming and functional home environment, so it includes everything that completes the interior and makes the space ready to use. Features like interior walls, insulation, finished flooring, paint, interior doors, countertops, and cabinets are all interior finishes.
Adding the above costs, you can expect to pay around $75,000 to $315,000 for building the inside of a house.
Is It Cheaper To Build Up Or Build Out?
Home expansions can be done by building up (vertically) or building out (horizontally). To understand which of the two is cheaper, you need to analyze your specific infrastructure and permits to determine the feasibility of and compatibility with your new additions.
Building up involves adding a new floor for master suites, home offices, or over-garage rooms. It is a great alternative if there are land restrictions on your property or the land costs are off the charts – and there is just not enough room to expand horizontally. It can be quite labor-intensive to build up a house, considering the increased precautions needed to keep it stable with a new floor on top. This includes opening the roof, adding structural reinforcements, installing new stairs, revising permits, etc. Most residential properties come with height restrictions, so building up is not an option if this exceeds the acceptable number of floors. Building up is usually cheaper if all you need is more framing labor to add a new floor.
With building out, you are not adding anything new on top of the existing structure – so there is no need for extra safety, supporting framework, or roof demolitions. You do need enough land to accommodate the new kitchen or room, so you might have to compromise some of your yard space and pay for new excavation and foundations. In most cases, building out is cheaper if you have available land and the real estate is in your favor.
For quick context, building up on a two-story house is cheaper than building out if you are talking about new construction, as there is still time to expand vertically. In contrast, building out a one-story house is cheaper than building up during remodeling, as adding a second floor will unleash multiple add-on costs for the project.
Are Buildout Costs Tax Deductible?
Capital improvements (value-adding improvements) and repairs (quick fixes) are both tax deductible based on who pays for these expenses. Since improvements or buildouts are long-term additions and increase the property's value, their costs are depreciated during tax return.
This is because capital improvements add value for the next consecutive years and not just the current year, which is why you cannot claim for the complete tax deductions in the same year you make those improvements. Repair costs, on the other hand, are eligible for deduction within the same tax year. It is important to know whether you are paying for buildouts or repairs so that you can claim the right tax deductions.
In general, the party (landlord or tenant) who pays for the buildout and owns the improvements is entitled to tax deductions based on how the lease terms are structured to address tax benefits. For this reason, it is crucial to discuss and understand how the lease and the buildout payments will affect taxing for both parties before signing the papers.
What Costs The Most In Construction?
In terms of construction stages, both framing and interior finishes cost the most. Framing costs can go up to $95,000 because this stage relies on using high-quality lumber – which makes the highest material cost for new construction homes. Interior finishes are even more expensive, going up to $150,000 and taking 30% of the total construction costs depending on what you want to add. Flooring, tiles, walls, cabinets, countertops, paint, lighting, etc. are all included as interior finishes. Based on your choice of finishes and materials, these elements can cost the most in construction, often twice as much as the exterior costs.
That said, with high framing and interior costs, the labor costs soar even higher and can consume up to 50% of the total construction costs – especially if you account for delays, material shortages, reworks, and weather challenges.