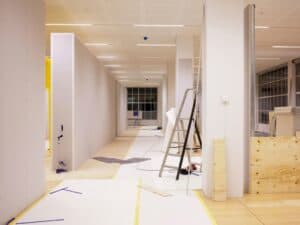 Commercial remodeling allows businesses to make the best out of their available spaces when relocating to a new facility is not possible. It is an efficient way to grow as a business if you cannot invest in a new construction project. Various renovations are made to the old premises for promoting better spatial usage. Commercial remodeling companies offer business-oriented services to ensure maximum productivity in your specific work environment. Their general contractors and construction teams have the relevant skills for working with the existing framework – instead of starting from scratch. For this reason, it is important to hire a reputable company that can add to the given infrastructure without disturbing its integrity.
The project timeline depends on your renovation size as well as your active business operations during the remodel. The construction crew will need to plan phased remodeling for work hours, so you will have to organize the shifts accordingly. This helps streamline the project by following a scheduled order for demolition, utility framework, painting, etc. The main benefit of a commercial remodel over new construction is the reduced downtime a business incurs, especially with phased implementations. By choosing a professional remodeling company, you can create a workspace the reflects your commercial perspective – without worrying about where to drop your GPS pin all over again!
Commercial remodeling services
Different commercial remodeling companies provide different services and specialize in various projects. A typical portfolio would include remodeling projects for dental clinics, hospitals, retail stores, offices, restaurants, university campuses, etc. The scope for fast-track projects is huge, and professional contractors regularly update their skills for emerging commercial trends. This helps them expand their services for tenant buildouts, recreation projects, and all hospitality areas. It is also a good insight into the company's licensed and insured working practices. Commercial upgrades in the existing building is a smart way to reconfigure your available workspace using services like:
commercial design, scheduling, budgeting, and planning
human resource management for contractors, subcontractors, architects, engineers, designers, technicians, etc.
material, equipment, and labor procurement
sustainable products for environmental friendliness
building code compliance and zoning requirements
infrastructural and architectural improvements
landscape considerations
traffic flow efficiency within the building during and after the renovation
sequenced demolitions and scaffold work
wall replacements and new flooring
cosmetic touchups and paint for workplace aesthetics
debris removal and final cleaning after remodeling
Commercial remodeling companies
1. Avatar Construction
An award-winning collaboration
Operating in Watertown, MA and Salem, NH, Avatar Construction is an award-winning commercial construction and remodeling company. It was established in the year 1999 and has expanded its commercial services throughout Boston and New England areas ever since.
Some of its leading general contractor services include construction consultation, project management, commercial remodeling, preconstruction, finish carpentry, and historical restorations. It is a construction hub for all your commercial and retail needs, working to optimize your existing space and meeting industry standards.
Commercial remodeling
Avatar Construction has licensed and certified teams that can handle all architectural, structural, and décor challenges for your business. They work on spatial expansion projects and various upgrades to give your work environment a commercial facelift that makes all the difference. This includes addressing any red flags in the building and repairing damages before the actual remodel. You can save up on expensive overhauls by organizing efficient alternatives with Avatar Construction. The company has a vast portfolio in commercial renovations that both upgrade an old space and incorporate new additions for better functionality. Some of the company's clients are Cambridge Community Charter School, Boston Medical Care Facility, Everett High Vocational Tech, and SNHU Dormitories. You will find options for all office and hospitality projects, and you can schedule a complimentary consultation to receive project estimates.
2. MV Group USA
A top luxury construction company
MV Group USA has offices in different locations throughout Florida, including Miami, Lauderdale, and Palm Beach. Founded in the year 2007, it is a leading construction company in Florida, with exceptional client-contractor collaborations. These have been a driving force behind the company's client-inspired innovations for all residential and commercial projects. You can find services for various retail, medical, and office remodeling. MV Group USA has a diverse client base that includes Fortune 500 companies, national hotel chains, and world-famous celebrities. It takes care of all logistical and contracting requirements, so you can just focus on your business's new image.
Commercial remodeling
The company provides skilled expertise for all your commercial needs to make sure that your space is reimagined on every functional level. Its commercial and retail teams will help you design and renovate the existing environment for improved commercial aesthetics.
This also inspires greater productivity and innovation as a business, allowing you to recycle old layouts into brand new ideas. MV Group focuses on commercial visual impact as well as sustainability in all projects. You get to improve the interiors for better flexibility and access and still keep your carbon footprint to a bare minimum. The company's versatile portfolio features ground-up construction and remodels for various office buildings and high-end stores. With specialized solutions in commercial remodeling, MV Group stays in touch with relevant architects, contractors, and construction communities. This keeps the company at the construction frontline to deliver state-of-the-art transformations.
The renovations help clients balance their private and open spaces through optimized floor arrangements. You can build a visually engaging and modern-day workplace with smart integrations. There are endless ways to plan expansive layouts and make room for a luxurious rooftop deck with other amenities. Some of the commercial remodeling projects from MV Group include 1200 Brickell Ave Unit 700, Tech & Media Headquarters, Armani Casa Common Areas, Paramount Miami World Center, and Financial Institution Executive Offices.
Building the right corporate camouflage
A well-organized commercial remodel helps you create vibrant interiors that represent your business both professionally and creatively. It is a simple way to add the necessary retrofits and update your commercial look. The remodeling stage is a good time to invest in energy-saving technologies if you want to go green. You should always ask for references and portfolios from potential contractors to make sure that your project is in the right hands. Your commercial remodeling team will include experts like designers, architects, HVAC installers, inspectors, etc. to handle specific applications. They should be certified and licensed to help you urbanize your commercial footprint using new technologies and décor. You want to give your business a corporate camouflage that adapts to the commercial trends around it. And speaking of changing colors, go ahead and pick a tasteful color palette that inspires some serious workplace creativity!