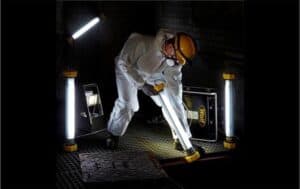 Image credit: Wolf LinkEx lighting via Thorne & Derrick
Confined space lighting is required in various limited and hazardous areas mostly for inspection, installation, and repair purposes. Portable and technically equipped lighting solutions are designed to illuminate confined and narrow spaces like tanks and help operators access them easily. Ordinary flashlights and other lighting options cannot be used in these scenarios because they do not offer sufficient brightness and can increase the risk of explosions. This is because confined spaces like tanks, vessels, tunnels, and rail cars may include toxins and chemicals that can be flammable – which is why ordinary light bulbs that get hot quickly can explode if they come in contact with stray sparks or flammable gases.
For this reason, ensuring worker safety is a major consideration in confined space projects, and using the right lighting products is the best way to go. These LED lights are built with explosion-proof features, are quite portable, can offer hands-free usage, and are compact enough to enter hard-to-reach areas. In addition, they offer low-temperature illumination to minimize the risk of an explosion inside the confined area while still delivering adequate ambiance. In this article, we will discuss some of the best lighting options you can use for confined spaces.
Confined Space Lighting Options
Wolf Linkex Confined Space Lighting Kit For Hazardous And Explosive Areas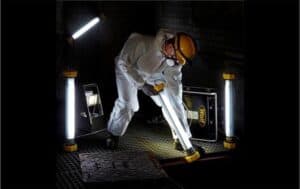 Wolf LinkEx confined space lighting kit
Wolf LinkEx offers a great lighting kit system that can illuminate any confined space easily. It includes the following elements:
1 x Wolf LX-400 LED 360° 110V ATX Linkable Temporary Luminaire with a 10-meter cable.
2 x Wolf LX-400 LED 360° 110V ATX Linkable Temporary Luminaire with 2-meter cables.
2 x Wolf SP-600 ATEX LED Inspection Leadlamp with 10-meter cables.
These LinkEx LED Temporary Luminaires use 2 arrays of LEDs to light up T4 temperature class applications for various confined and hazardous spaces. The 3 linkable LED luminaires can light up a tank, while the 2 handheld leadlamps provide targeted illumination. These fixtures are equipped to work safely in different hazardous and explosion-prone areas (Zone 1 & Zone 2 Gas and Zone 21 & Zone 22 Dust). They come with different mounting options to give you hands-free convenience at work, so you can either mount them on stands or carry them as you like.
Western Technology Confined Space Lighting
Western Technology is another excellent choice for confined space lighting solutions. It offers certified portable LEDs that are designed specifically for confined and hazardous applications such as storage tanks, frac tanks, rail cars, and fuel cells. They feature explosion-proof construction, compact designs for narrow routes, and low-voltage safety. They are also highly portable to be carried or mounted as you need depending on the environment you are working in. Western Technology lighting products can be used in wet locations as well. The following are 2 of its popular confined space lighting products.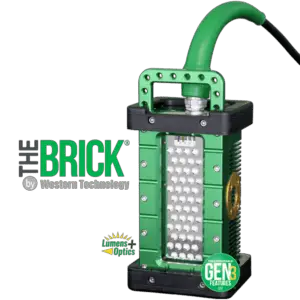 The BRICK portable explosion-proof LED area light
The BRICK® from Western Technology is certified and approved for the following hazardous locations:
Class I, Div 1 & 2, Groups C & D
Class II, Div 1 & 2, Groups E, F, & G
CSA Zones 1 & 2; Zones 20,21 & 22
It meets the Portable Luminaire (UL 153) standard and can be used in wet locations too, offering a low voltage with sufficient ambiance (which is 50,000 Lux at 1 foot and more than 11,500 lumens). You can use this light in aviation applications, tanks, power generation facilities, refineries, and so on.
The BRICK has a durable, dust-proof, and watertight 6061-T6 aluminum construction, with a polyurethane bumper. It also meets the NEMA Type 6P certification requirements of submersion testing. You can choose between flexible mechanical mounting and magnetic mounting to install this light in any confined space as you work conveniently. It is thermally controlled to protect your hands while handling the fixture. You can also buy the required add-ons like carry cases, mounting frames, and anti-glare diffusers depending on the type of accessories you need.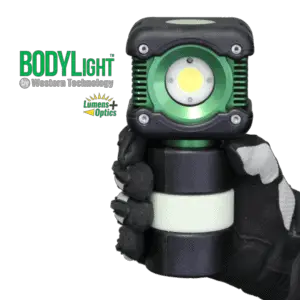 BODYLight™ explosion-proof rechargeable LED light
The BODYLight™ is another confined space lighting product by Western Technology. It is the first ETL-Certified, cordless explosion-proof LED light that is battery-powered and rechargeable. The light has a runtime of 3.5 hours to 14 hours per charge and delivers 2500± lumens on high mode. It has an industrial build and a very tough style that makes it different from normal flashlights. The BODYLight™ is made of 6061-T6 aluminum and includes polyurethane bumpers for added protection. The glow-in-the-dark panel makes it easier to operate in the dark, which simply adds to the light's ergonomic strengths. The BODYLight™ has the following certifications:
Class I, Div 1 & 2, Groups C & D
Class II, Div 1 & 2, Groups E, F & G
CSA Zones 1 & 2; Zones 20, 21 & 22
Portable Luminaire (UL 153)
Wet Location (NEMA TYPE 6-P)
It needs its smart charger base for recharging and can take up to 2.5 hours to be fully charged. You can also buy accessories like compatible magnetic mounts, belt clip attachments, DC power inverters, hands-free body straps, and carry cases.
Boss Explosion-Proof Confined Space Lighting
Boss Lighting also specializes in UL-certified explosion-proof fixtures that are equipped for Class 1 Division 1 and 2 hazardous locations. They can illuminate most confined spaces like tanks and vessels with a range of lighting options to choose from, including string lights, scaffolding lights, magnet mounts, and hand lamps. All these lighting products are designed and tested with explosion checks, so they deliver the best quality and durability benefits, and the fixtures can easily survive tough environments without shattering. The following hand lamp is one example of Boss's extensive catalog.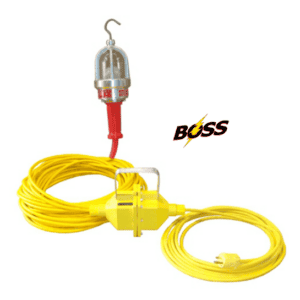 Boss portable 12V LED explosion-proof hand lamp
This is a UL-certified, OSHA-approved 12V LED hand lamp that is portable and explosion-proof. It makes a great hazard location lighting choice that can be used safely in confined spaces that are prone to flammable gases or pulverized dust. Some applications for this hand lamp include refineries, steel mills, and offshore marine – any setting that requires inspections and repairs for tanks, vessels, fuel cells, paint booths, and so on.
Conclusion
Explosion-proof lighting can be used in many confined spaces like silos, vessels, tanks, tunnels, and even wastewater treatment plants. They are equipped for both flammable and wet locations and are quite flexible for industrial uses. These low-voltage lighting fixtures ensure personnel and environment safety and allow workers to access hazardous areas with better illumination and reliability. As we saw earlier, confined space lighting can differ in 2 ways:
Corded lighting with explosion and water resistance.
Cordless or rechargeable lighting with more portability and ergonomics.
The type of fixture you choose depends on what location you need to inspect, clean up, or repair, so make sure to check the product's specifications for hazard compatibility before buying it.