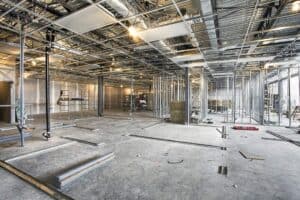 Image source: Jarvis Construction
Commercial interior construction projects are designed to build and transform the commercial story of your business. They include a variety of applications like office renovations, retail spaces, fitness centers, hospitality, lobbies, restaurants, daycares, etc. Companies offer turnkey services and design-build options for both small and large projects. Starting from preconstruction all the way to occupancy, a professional construction firm will work closely to your goals. These multifaceted interior projects have specialized needs depending on your commercial context. Businesses keep evolving over time, and this creates a construction necessity for updated environments. Owners prefer multifunctional spaces that can be adapted to commercial upgrades down the road. This allows them to build vibrant workplaces that reflect their corporate culture as well as modern trends.
With a growing business, your workspace also needs to evolve and accommodate new changes. This could take the form of a full-floor conference room, a rooftop expansion idea, or reimagined office interiors. Most commercial experts provide occupied renovations to avoid interrupting the daily workflow. They also deliver phased occupancy options to tackle large-scale construction in bite-sized progress. The aim is to always create an energetic and dynamic space that encourages creativity, hard work, and efficiency. Commercial interior projects are quite diverse, and here are some examples that build construction portfolios for several contractors.
Popular commercial interiors
Dining spaces
Even though most restaurants and cafés have moved to alfresco dining during the pandemic, there are still promising interiors for COVID-proof brands. Designated lounges and open-space seating are quite popular. Most commercial construction and renovation projects focus on transforming cramped and outdated designs into reimagined dining attractions. Offices, universities, and hotels often require a café bar or a dining floor facility. Flooring, lighting, HVAC, seating layout, and décor are some important aspects. Restaurants prefer creative and elegant focal points in the lobby to create lasting first impressions on their visitors. Millwork details and paneling are other key requirements, especially to construct private dining areas or lounges.
Lobby and conference centers
Commercial interior construction often depends on occupied renovation services from the contracting company. This allows the business to separate its working hours from the construction hours, so you should consider contractors who specialize in occupied services if business downtime is your main concern. The lobby and conference rooms are two examples of occupied renovations. Your building's lobby is a high-traffic area that stays busy all the time. With a phased management plan, your construction team can coordinate the traffic flow between elevators or stairs in the lobby. While everyone takes safe alternative routes during work hours, the more serious construction resumes in the off-hours. This streamlines the interior construction of your lobby. Signature changes to the reception may include high-end millwork, custom flooring, ceiling design, security turnstiles, etc.
Regarding the conference floor, the contracting company may start from revamped corridors. Conference centers in commercial buildings need to accommodate banquet spaces and meeting lounges in their layout. You can opt for technological upgrades to support Zoom meetings and online collaborations in the room.
Medical centers
Healthcare is another major commercial sector for interior construction. The emergency area and ambulatory entrance are the top priorities for traffic flow management in hospitals.
Improved visibility and communication between staff and patients rely on accessible layouts. This includes constructing a separate emergency drop-off, planning an extra registration counter, improving the in-patient infrastructure, and adding modern finishes. Pleasant aesthetics and calming décor positively influence the hospital's atmosphere. Full-floor renovations may require phased approaches and patient relocation where feasible. It is important to execute construction in a way that is the least disruptive to the patients and medical staff, especially in patient wards and operation theaters. An example of full-floor renovation is the construction of COVID isolation rooms with the required amenities for patient comfort.
Banks
Interior buildouts for banks are usually carried out on specific floors to add the necessary retrofits. From staircase installation and partitions to acoustic ceilings and workstations, banks have different commercial interior needs to optimize their environment. You can revamp boardrooms or design creative cafes in the building. It is common for banks to remain open and working during these renovations, as downtimes can be disruptive to both employees and the bank's customers.
Media rooms
Radio studios and media rooms make up the technical part of construction companies' portfolios. Various open office plans, video editing suites, and studio designs are required. These include acoustical walls and doors that meet the ideal rating standards. Contractors need to install air-handling units to deliver a cool interior climate for server racks and devices. These projects rely heavily on competitive acoustical engineering and soundproofing expertise throughout the building. Interior design for these commercial contexts also uses floor-to-ceiling glass windows to let the panoramic skyline make some inspiring, natural artwork. Media rooms employ several audio/visual technologies and equipment that need to be installed in the relevant areas.
Offices
Offices are increasingly adopting agile work environments and open concepts. Construction portfolios are filled to the brim with diverse office renovations. These commercial interiors focus on ideal workstation plans with ergonomic working comforts. Phased completions are often used to speed up tenant move-in without affecting the jobs running in parallel. Décor and creative aesthetics are imperative, as they speak volumes about your corporate identity.
An example is the installation of geometrically arranged ceiling lights throughout the office suite. Other areas of office interiors include meeting rooms, break rooms, open collaborative lounges, rooftop expansions, elevator construction, and reception areas.
Creative on the inside. Thoughtful on the outside.
Building ideal commercial interiors gives your business a unique identity and personality. It helps to use adaptable designs that can evolve with your growing business – and even welcome back recurring trends! Commercial interior construction is a widespread industry service, ranging from small firms to famous brands like Nestle and National Geographic. Their headquarters and regional offices have signature details and color palettes that make them stand out. This is why well-planned commercial interiors help you establish a meaningful theme for your company – with the best commercial dynamics that sing your corporate story.