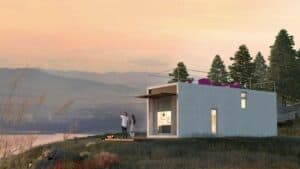 Image credit: Gonzalo Viramonte
Precast concrete homes are taking prefab construction for residential buildings to a whole new level. Homeowners who want to build custom homes with better durability, cost-effectiveness, and design freedom are increasingly using precast concrete for the range of benefits it offers. You can build both small and large homes with this construction method. In this article, we will explore the inventiveness of building with precast concrete modules and how they can benefit you as a homeowner.
Precast Concrete Homes – Definition
Precast concrete is a popular construction material made by pouring concrete into various design molds or casts and letting it harden into a solid slab. Concrete panels are formed in this way and used for building up your home – hence the name "precast concrete home". The slabs are created offsite in a controlled factory environment to achieve flawless consistency (which means that quality control begins right at the factory, unlike other concrete projects). These slabs are then delivered to your location where they are assembled and installed into a proper shell – complete with concrete walls and a roof for building your home.
Your construction teams will lift the panels with the help of a crane to support tilt-up installation where each slab gets hoisted up before being secured in place. For this reason, you will often hear the terms prefab construction and tilt-up construction in these projects.
Precast concrete is quite durable and versatile and can build the longest-standing structures in residential real estate. Homeowners who prefer minimalism in construction always admire the cohesive, effortless look of concrete modules. But this does not mean that precast concrete homes are always boring and dull grey – the architectural and geometrical diversity they offer is simply stunning. While precast concrete is more common for building small houses, it is also used in larger properties because concrete structures can be built virtually anywhere without breaking the bank.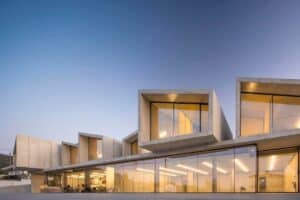 Precast concrete's architectural scope. Photo by Fernando Guerra | FG+SG
To sum up, building a home with precast concrete involves 3 basic steps:
Offsite panel fabrication (lasts a few weeks)
Onsite panel assembly (takes just a couple of days)
Interior finishes and amenities (depends on the utilities needed)
The entire project takes around 60 days to complete, and you can build all the required structures for your home using precast concrete, including walls, floors, roofs, and staircases. Your site experts will put the individual "Lego pieces" together to complete the construction. On the whole, you can expect to pay between $120 to $180 per square foot to build your home using prefab concrete panels.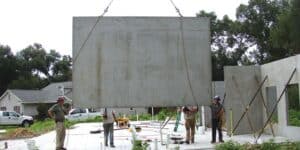 Precast concrete home construction by Florida Engineering Solutions
Precast Concrete Homes – Benefits
There are several benefits of investing in precast concrete homes, and the following are just a few to name!
Fast Construction
One of the main benefits of building precast concrete homes is that they are relatively faster to build and assemble compared to other materials like wood frames. This ensures a more streamlined and accelerated project schedule divided into 2 work environments to share the load – offsite fabrication and onsite assembly. Since all the work does not begin at your location alone, your site workers only need a couple of days (a week or two at the very most) to tilt up the delivered slabs and install amenities to finish the project. The precast walls and other panels already include built-in slots to accommodate wiring and plumbing.
Since precast walls and floors are fabricated with expanded polystyrene foam, there is no need for additional or elaborate insulation – which saves even more project time. Moreover, the panels are fully finished and ready to go without requiring paint or siding, so if you want to skip the aesthetics, you can still have a visually appealing structure to call home. You can move into your precast concrete home in around 60 days from slab pouring.
Overall Durability
Precast concrete is one of the most durable construction materials. It gets sturdier and more resistant with time, which makes it the best choice of material for longer-lasting homes. Precast concrete undergoes the process of curing in which it develops the desired strength from temperature and moisture controls. As a result, concrete becomes quite dense and strong, and it can retain its initial form and finish without much effort on your part. The prefab concrete panels are reinforced with steel to build a solid and resilient shell comprising walls, ceilings, and floors – each module strengthens the overall durability of your concrete home, helping it stand and pass the test of time effortlessly. When properly fabricated and cured, precast concrete panels can last 100 years or more, so they are here to stay for long!
Architectural Diversity
The term "precast concrete homes" initially builds a very dull-grey picture of monotonous, box-like homes with no personality or style. The reality is surprisingly different, and this is because precast concrete is actually quite versatile and adaptable. Modular homes made of precast concrete can be as diverse and elaborate as you like, with complete design freedom and creativity at your disposal. Concrete and glass make a stunning combination, and most homeowners install glass walls on one end of their homes to welcome a bit of nature inside. Modular buildings can be customized in different ways using a variety of design molds for slab pouring. This adds features like color, texture, and style for each slab, giving it depth and personality for creating beautiful homes. Moreover, precast concrete can replicate different patterns and finishes of other materials, so it really offers endless possibilities for homeowners to choose from.
Weather Resistance
Precast concrete is a highly durable material as we saw above, and weather resistance is one major application for its durability. Since precast concrete undergoes strict quality controls during fabrication, it is possible to tailor each slab to suit your specific climate. Concrete can effortlessly guard your home against the elements. It does not erode from exposure to wind and water and easily stands the test of time. The material can withstand extreme weather conditions because of its structural integrity, keeping your home safe and intact during storms, hurricanes, tornadoes, etc.
Homes built out of precast concrete are the safest places to be in because of their reinforced construction, which is why people living in disaster-prone areas opt for this material. In fact, concrete homes can withstand high wind speeds of up to 250 MPH – which is a Category 5 storm! They stay unharmed in the wake of both unforgiving winds and flying debris, so building precast concrete homes in such regions is truly worthwhile.
Mold And Pest Resistance
Thanks to the structural resistance of precast concrete, it creates a defensive barrier against moisture and keeps all possible mold and pests away from your home. It protects against various infestations from insects and termites, as pests cannot eat into the non-organic concrete. All of this helps preserve the overall structure of your home and makes it last incredibly longer than other materials.
Fire Resistance
Precast concrete homes have the added benefit of fire resistance because concrete cannot catch fire, so it also serves to halt potential wildfires in their tracks by blocking any approaching flames and preventing them from spreading – whether it is from room to room or outside. The material is great for keeping your family and property safe from all fire hazards and disasters. It can easily withstand prolonged exposure without falling apart.
Energy Efficiency
Homeowners who live in precast concrete homes reap the long-term benefits of energy-efficient heating and cooling. Concrete helps with temperature regulation and maximizes your HVAC efficiency by maintaining the desired indoor climate while preventing external heat or cold from sneaking in. Precast concrete walls have a high thermal mass and can absorb and store the day's heat for releasing it slowly during nightfall into the home. They then absorb and store the cool night air to be recycled within your home the next day. This creates a repetitive indoor climate loop that keeps your home comfortably and naturally warm in winter and cold in summer without increasing your HVAC loads. The result is a huge dip in utility bills, as your HVAC units do not overwork themselves trying to fight air draughts, which increases your energy savings by around 30-50%. Quite often, the combined benefits of thermal efficiencies in an airtight structure make HVAC downsizing a very achievable target.
You can reduce the number of heaters or air conditioners to be installed because your precast concrete home is already equipped for temperature control. In addition, concrete's natural ability to regulate temperatures reduces the need for added insulation – the precast fabrication process already includes continuous insulation features, so you benefit immensely from thermal efficiencies and can significantly minimize your carbon footprint.
Soundproofing
Concrete combined with its continuous insulation within walls and floors will create a soundproof barrier against external noises. Precast concrete is a very dense material and makes the perfect choice for building a calm, noise-free place to live, especially for those homeowners who love a peaceful and quiet interior. Homes made of precast concrete are, therefore, much quieter than wood-frame homes thanks to the buffer they add around your home – which also improves sound acoustics.
Low Maintenance
Thanks to the high durability features of precast concrete (which we saw above), homes built with this material are incredibly low-maintenance and high-quality structures. Curing allows concrete to become even stronger and more durable to minimize maintenance and boost material longevity. Precast concrete is resistant to weathering, abrasion, erosion, seasonal impacts, fire, and water. This greatly reduces the amount of regular upkeep you need over time, which is a peak benefit for homeowners aiming for a maintenance-free lifestyle. Low maintenance also reduces the overall operating costs you need to keep your home safe and functional throughout the seasons.
Affordability And High Value
Precast concrete homes are very cost-effective for those aiming to save big on their house payments, insurance, and general maintenance. They cost around $120 to $180 per square foot for construction, with fewer site workers needed compared to other residential projects – so the overall labor costs are also reduced. The considerably lower initial build costs also deliver long-term returns via energy savings and reduced maintenance (as we saw above). Concrete homes easily cost up to 70% less in terms of insurance than other materials like wood, so precast concrete is ideal for increasing your property's value over the years.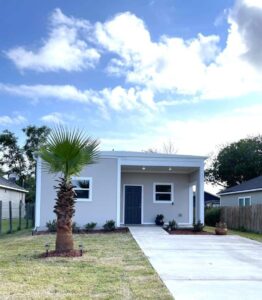 A precast concrete home by Hercules Concrete Homes
Welcome To Our Humble Abode!
Precast concrete elements are being increasingly used in residential construction, with more and more homeowners discovering the potential of this remarkable material. It checks all the boxes for energy efficiency, low maintenance, customization, durability, and increased savings. Precast concrete homes are built to resist anything that nature throws at them. They are environmentally conscious, take less time to build, and last long. All you need to do is choose your home design, customize your finishes and amenities, and move in!