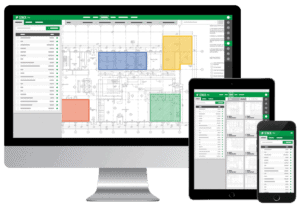 Image credits: STACK
If you are a lumber supplier or a framing contractor, you will work with lumber estimates right from the bidding process. Material takeoffs – such as lumber takeoffs – are important preconstruction estimates for getting the right quantities to place accurate orders. A good lumber takeoff software can automate this crucial stage for you so that you can work with precise numbers and streamline your bidding process. Here are 4 lumber takeoff software options you can choose from to be the best in your trade and get more projects in the pipeline.
Lumber Takeoff Software
For most supplier and contracting projects, a lumber takeoff software is used to calculate how much wood is needed from start to finish. Estimates for wood beams, wall studs, framings, and timber joists – everything that is millwork and lumber – are calculated to create a comprehensive takeoff list. The benefits of using a software as opposed to pen and paper for these estimations include:
Faster takeoffs for multiple projects
Reduced human errors and better accuracy
Confident bidding
Increased profits
Centralized cloud storage (easier accessibility)
Real-time collaborations
Here are some of the top lumber takeoff software solutions designed for various audiences like lumber experts, framing contractors, roofers, remodelers, builders, and suppliers.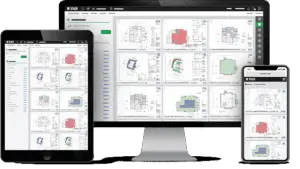 STACK has a cloud-based carpentry and lumber takeoff software that you can use after signing up for free. With STACK, lumber takeoffs are faster, more accurate, and more profitable. You can work out takeoffs and full estimations from the same, all-in-one platform – so there is no more need to juggle multiple apps. Homebuilders, carpenters, suppliers, contractors, and subcontractors can use STACK's lumber takeoff software for creating detailed estimates and more optimized bids. You can do the following with STACK:
Measure digital plans.
Work out quick and accurate estimates.
Manage plans, specifications, and other documents online.
Create customized and branded proposals for each project.
Collaborate with teams in real time.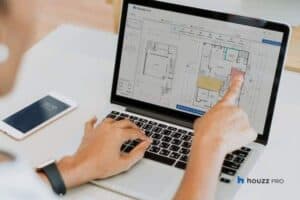 The Houzz Pro lumber takeoff software is compatible with Mac and Windows and offers a 30-day free trial, after which you have to subscribe to one of its plans. It is an efficient tool that speeds up the takeoff process for lumber and framing contractors, ensuring higher revenue for each trade. It can also be used by homebuilders, architects, remodelers, landscape contractors, and other professionals. With Houzz Pro's lumber takeoff, you can:
Eliminate manual errors from estimates.
Submit reliable bids.
Work on multiple takeoffs (and bid on more projects).
Receive online approvals quickly.
Get paid faster through online payments.
Markup plans on-screen.
Upload plans and enter measurements.
The tool allows you to make quick and accurate takeoff-to-estimate conversions, all without downloading extra software. Every estimate you need is just a click away. Houzz Pro lumber takeoff software also supports integrations with QuickBooks Online, iCloud, Gmail, Office 365, Outlook, and other platforms. In this way, you can synchronize your existing information with Houzz Pro and have your changes auto-appear on relevant platforms. You can also pair your business calendar with the software to synchronize deadlines automatically and manage your work on the same platform.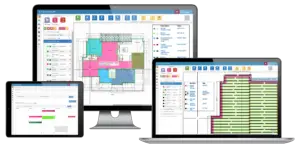 Another great option for lumber trades is the Square Takeoff framing takeoff software, which is cloud-based and comes with a free trial. You can use it with Windows, Apple Mac OS, and iPads. It makes your takeoff process very time-saving and productive, allowing you to finish takeoffs faster with better accuracy. Square Takeoff works for multiple trades like framing, general contracting, and roofing, and it combines every estimation you might need for wood materials. Here is what you can do with this software:
Upload digital blueprints as PDF or image files.
Set a scale for your pages.
Measure quantities.
Export all measurements to Excel.
Start a free trial before purchasing the required package.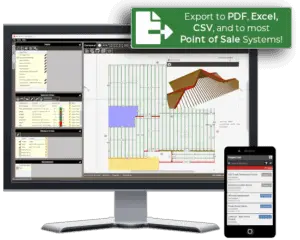 PrebuiltML is a one-stop construction takeoff software that offers cloud-based services and a free mobile app. It is built for estimators, by estimators. The software includes takeoff-friendly features that you can use for lumber and framing takeoffs. With PrebuiltML, you can generate detailed material lists quickly and work on multiple takeoffs at the same time. It is a popular tool among builders, lumber yard experts, framers, and suppliers who can simply import their digital plans, set scales, and measure takeoffs before getting their export-ready list of materials. PrebuiltML helps you:
Trace using the point-and-click digitizer.
Use the built-in Quick Check for automated list checking.
Select built-in formulas for takeoffs and estimations.
Choose professional framing layouts.
Apply color-coded visuals.
Add numberings, notes, and tags.
Use customizable wall assemblies and material kits.
Store everything on the cloud.
Collaborate in real-time.
Export lumber lists as PDF, CSV, and Excel files.
Export to Point of Sale platforms.
More Lumber Less Paper
With a good lumber takeoff software, you can ditch your paper and pencil and have a much cleaner, more organized work desk. Such software tools simplify the estimation and bidding process by automating most of your work. As a result, you can create customized proposals, bid on more projects, and increase your chances of repeat hires. Apart from efficiency and accuracy, these software tools offer cloud-based services to further help you stay in touch with everyone involved in lumber takeoff. They focus on streamlining the entire process so that you can access everything you need from wherever you are.