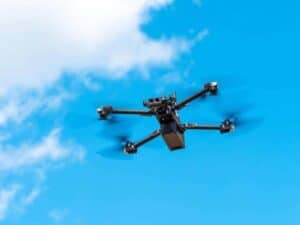 Image credit: Skydio
Construction sites have very demanding and unpredictable environments that are often dangerous to access. Previously, construction workers would take the risk of physically accessing and supervising tough jobsite aspects, but over the years, drones have increasingly replaced this challenging task and simplified several construction responsibilities like site inspections and mapping. Drones can carry high-resolution cameras that deliver a bird's-eye view of the whole jobsite, making it easy, safe, and quick to conduct remote inspections and monitoring. Construction drones provide an instant aerial perspective of all the activities supervised by contractors and managers, and since they are operated remotely, they can access hard-to-reach areas that would otherwise remain a blind spot for humans. This article reveals the best drone for construction inspection that are popularly used by drone pilots, site inspectors, supervisors, and contractors.
Benefits of using drones for construction inspection
Faster Inspection
Drones can scan the site quickly and get you the information you need much faster than manual inspection. They are highly maneuverable and can navigate tough areas when used by trained and licensed professionals.
Whether you want to inspect work progress, employee performance, site logistics, or safety aspects, construction drones can gather multiple data and recordings in just a few minutes for you to access remotely on your computer. This saves valuable project time and allows managers and contractors to streamline their work without worrying about downtime from unavailable labor or delayed inspection.
Increased Safety
Construction sites are not always safe for humans to access, especially those with hazardous zones and unfinished work. Drones can easily reach such areas that are potentially unsafe for humans to enter, allowing them to remotely inspect the environment and make informed decisions. This is particularly helpful during preconstruction when architects, engineers, and contractors need to visit the site for the first time – and they are not sure what lies ahead. Bridges, power lines, dams, HVAC equipment, hazard zones, and other structures can be inspected using drones to identify potential issues before deciding if it is safe to enter in person or with the help of safety equipment.
Detailed Perspective
The best drones for construction inspection are built to go – or fly – the extra mile and generate detailed 360° models for full coverage and visualization. Different payloads (add-on gadgets like cameras and thermal sensors) can be attached to a drone to capture images and even detect red flags like electrical hazards or leaks through temperature differences. With the help of drones, construction experts can procure elaborate maps and aerial images of the overall site and learn about its topography. This greatly simplifies visual inspections using high-resolution cameras that capture data from multiple angles, conquer blind-spot areas, and improve the visibility of your project's sensitive details that will otherwise slip through the cracks. Aerial imagery and inspection also help supervisors monitor their workers' productivity and performance without physically visiting the site, so they can check for code compliance and efficiency and take timely measures if things are not going well.
Streamlined Reporting
Drones for construction inspection use various drone software platforms that keep the captured data synchronized with other construction aspects. This is accessible to all the involved stakeholders, which improves both communication and reporting duties.
The results of the inspection can be shared automatically with your teams, allowing everyone to stay on the same page and receive instant alerts for areas that need immediate attention.
Cost-Effectiveness
Drones significantly reduce the overall costs you need for conducting construction inspections. This is because one drone can replace multiple expensive equipment like scaffolding, safety gear, survey tools, and so on. The costs for all such equipment can be eliminated along with insurance costs for your workers because they no longer need to risk their lives and health by working in dangerous conditions.
Best Drones For Construction Inspection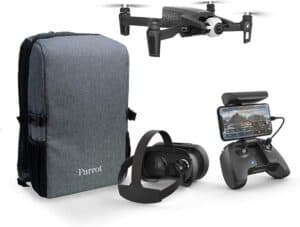 The Parrot Anafi FPV drone set includes a lightweight quadcopter drone, an FPV Cockpitglasses 3 immersive headset, a controller, and a carry bag. It is one of the best drones for construction inspection, capturing 1080p videos from a maximum transmission distance of 4km. The comfortable Cockpitglasses 3 goggles connect with the drone's 4K HDR camera to give you HD live streaming quality for aerial inspection. The Parrot Anafi drone generates a flight time of 26 minutes. You will receive the following accessories as well:
16GB micro SD card for easy storage
USB-A/ USB-C cable for recharging
8 additional propellers
Mounting tool
We like the drone's integrated autonomous flight mode and return-to-home functionality that help Parrot Anafi complete the aerial inspection and return back to its saved location by itself – which is great for busy construction managers and supervisors. The Parrot Skycontroller 3 has a built-in tablet holder as well. Combined with the FreeFlight 6 application, the Parrot Anafi FPV drone set supports remote construction inspections anytime, anywhere.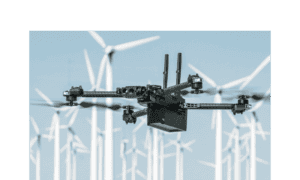 The Skydio X2 drone is one of the best autonomous construction drones from the brand. It is the top choice for situational awareness, site inspection, industrial asset inspection, site mapping, and other supervision tasks that are dangerous for direct human intervention. The drone includes a 4K60P HDR color + FLIR® 320p thermal camera for generating high-quality aerial imagery and detailed inspection results. It also provides 360° obstacle avoidance to keep the drone safe in flight, making it a truly autonomous and construction-conscious solution. Together, the Skydio X2 relies on six 4k 200° navigation cameras to see from multiple angles and make smart decisions. The drone has a wireless range of 6km (5GHz) to 10km (1.8GHz) with a longer flight time of 35 minutes. You can use its integrated strobe lights in the dark to light up the area easily.
Skydio X2 is NDAA-compliant and comes with cybersecurity features. The drone's ruggedized airframe construction includes magnesium and carbon fiber composites, making it both sturdy and lightweight for effortless navigation. You can choose from different payload options based on the type of sensors you need such as:
Color/thermal

4K60P HDR color camera with 16x digital zoom

Color lens with ~46° HFOV for situational awareness

FLIR® Boson 320 x 256 infrared camera with 8x digital zoom

Color

4K60P HDR color camera with 16x digital zoom

Wide-angle color lens with ~80° HFOV for detailed up-close inspections

Skydio 2+ for Enterprise is another great option from the brand and makes a popular choice for autonomous site inspections, close-proximity inspections, and site surveys. The common features it shares with Skydio X2 include:
360° obstacle avoidance
Full aerial coverage with six 4k 200° navigation cameras
In addition, the Skydio 2+ has a main 4k 60 HDR / 12 MP camera and operates on the fastest AI processor – the NVIDIA Tegra X2 SOC processor – reaching a flying speed of 36 mph. It can hold a flight time of up to 27 minutes over a range of 6km while capturing quality aerial data. The camera itself features Sony's IMX577 1/2.3 inch CMOS sensor and Qualcomm's RedDragon™ QCS605 to generate 12 MP images and 4K60 HDR videos – with zero post-processing edits, it is that efficient! These improvements make Skydio 2+ the most competitive construction drone that produces outstanding 45 megapixels of visual data, which exceeds expectations for all inspection purposes.
This allows site inspectors and drone pilots to zoom in exactly on the area that needs investigation or supervision, with the drone effortlessly hovering around the site. You can operate this drone using the Skydio Enterprise Controller designed with advanced features for an advanced drone.
According to Sundt Construction – a frequent deployer of Skydio drones – construction inspection times conveniently fall by 90% because of the super efficiency and precision these drones deliver. Both Skydio X2 and Skydio 2+ speed up inspections and corresponding documentation of jobsites, get into tough regions for risk detection, and glide safely by avoiding obstacles like rebar, equipment, and vegetation on the site – checking all the boxes for reliable and autonomous site supervision and inspection.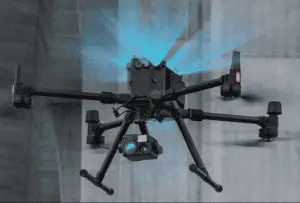 The DJI Matrice 300 RTK is another best drone for construction inspection, equipped with the following strengths:
A maximum transmission range of 15 km.
A generous flight time of 55 minutes.
6 directional sensing.
IP45 rating.
-20°C to 50°C operating temperature.
A convenient anti-collision beacon.
High-quality 1080p videos.
Real-time auto-switching between 2.4 GHz and 5.8 GHz.
Matrice 300 RTK can fly near high-interference environments, capturing and delivering encrypted visual data for secure inspections. It has a refined airframe design that ensures flight stability and helps the drone stay upright in tough weather. You can mount up to 3 payloads (with a maximum payload capacity of 2.7 kg) at the same time on this drone, which is a very site-friendly consideration for inspections that need more details like thermal data. There are several compatible payload options that pair with Matrice 300, some of which include:
Zenmuse L1 Lidar + survey-grade RGB solution.
Zenmuse H20 Hybrid sensor solution with LRF, zoom, and wide camera.
Zenmuse H20T Hybrid sensor solution with LRF, zoom, wide, and thermal camera.
The drone enables smart tracking with which you can identify and zoom in on workers, vehicles, equipment, pipelines, etc. for close inspection and monitoring. It also supports dual controls by 2 different operators depending on the level of supervision and access required onsite. You will receive a battery station, a TB60 intelligent flight battery, a DJI smart controller enterprise, and other accessories along with the main drone.
The sky is the limit!
Manual inspections can be physically challenging, time-consuming, costly, dangerous, and often life-threatening. Drones have gracefully glided into the construction world and are here to stay for a long time, given the range of benefits they add, including human safety. To use a construction drone successfully, you need to be a licensed drone pilot and meet the requirements of the Federal Aviation Administration (FAA). Only FAA-licensed drone pilots are allowed to conduct drone inspections under the Part 107 guidelines, which list various operating rules and precautions to ensure both safety and legal compliance. FAA-certified drone experts receive training and pass an exam to demonstrate their understanding of the applicable drone laws, some of which include:
Registering your drone with the FAA.
Getting the required authorizations for night operations.
Avoiding flying a drone near airports.
Avoiding manned aircraft.
Keeping your drone within your direct line of sight.
Not flying directly over people.
These are just some examples of the Part 107 rules that are enforced to help operators know and understand what is allowed or forbidden so that they do not violate any laws or trespass legal boundaries. You have to know where you can safely fly your construction drone and which areas you should avoid, so make sure to register yourself with the FAA, get the right training, learn your Part 107 rules, and fly safely!