Image credit: Ariat
Concrete is a durable and multi-purpose construction material used in a variety of projects. While the end results are spectacular and incredibly long-lasting, the process itself is very demanding and labor-intensive. Working on concrete for prolonged hours adds stress on your feet and can impact your back, legs, and overall posture because concrete does not absorb shock, so it can be quite difficult to get through the day without the right pair of boots. The best work boots for concrete workers should minimize discomfort caused by working on concrete for longer hours. They should be lightweight to ensure footwear comfort and also include some interior cushioning and shock-absorbing features. Here are some of the top options available to help concrete workers and masons stay strong on their feet.
Best work boots for concrete workers
When it comes to buying work boots for walking on concrete, you have to consider key features that ensure safety on different types of concrete – such as smooth, wet, and textured. The main features of a pair of good work boots include:
Sole type. Soles are the parts that actually touch the concrete and add traction, so they should be your key starting point before buying a pair. Thick, well-designed soles do most of the shock absorption from the ground so that little to none is felt on your feet and legs. You can choose from regular heels, classic, and wedge soles based on the kind of foot support you need. Boot soles can also be equipped to offer anti-fatigue and anti-slip features. For these reasons, look for ideal sole quality if you want your concrete work boots to check multiple safety boxes.
Footbed and insole. These two components make up a boot's interior and come into action during the "break in new shoes" phase. They are specific to foot shapes and sizes. To stay comfortable in your boots all day long, you require memory foam footbeds that will adapt to your foot shape over time. Contoured/cushioned insoles, arch support, mesh lining, and heel support can also help with this process, so look into these details thoroughly before making a purchase.
Shank. Boot shanks are thin bars of stabilizing material like steel or composite that are added under the footbed for posture support, comfortable fit, rigidity, and reduced foot fatigue. If you are on your feet most of the time, boot shanks are worth considering for better foot support.
Toe protection. With safety-toe work boots, you can protect your toes from heavy falling objects that can cause damage. This feature takes care of how roomy your toe box is going to be for your toes, and as someone who will be on their feet most of the time, it is important to pick a safety-toe material that is both lightweight and impact-resistant – such as composite. Even top-quality work boots can fail in toe box sizes, causing the boots to be too tight or too narrow for some people. Safety toe aspects and toe boxes are both essential for comfortable footwear, so make sure you check for the required protection as well as tox box size to ensure safety for your toes.
Keeping in mind all these key features, here are some of the best work boots for concrete workers to wear onsite.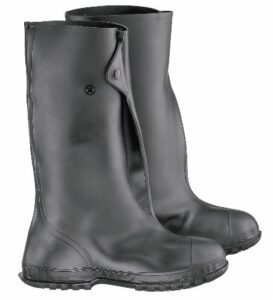 Dunlop's heavy Flex-O-Thane PVC concrete work boots feature a reinforced 4-way cleated outsole for maximum slip resistance and overshoe/over-boot protection. They are 100% waterproof and deliver shock absorption as well. You can easily wear them over your work shoes or boots for good coverage and traction on concrete surfaces. The kick-off lug offers easy on-and-off wearability. Overall, it makes a durable pair of 17″ high overshoe boots that are maintenance-free and can last months of daily use without wearing out.
Major flaws:
Cannot be used as standalone boots – you can only wear them over shoes or boots for coverage.
Faulty snaps can limit usability.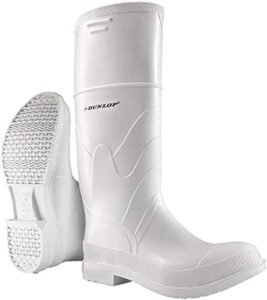 This pair of white PVC work boots can be worn for multiple applications including concrete work. The 100% waterproof design features a polyvinyl chloride sole, a steel shank, a PVC upper, and a slip-resistant safety-loc outsole – making it ideal for proper traction and secure footing on concrete surfaces. The upper material also ensures chemical resistance. These boots are ergonomically built for a comfortable fit and are easy on the feet for all-day-long concrete work and masonry.
Major flaws:
Issues with footbed may affect wearability.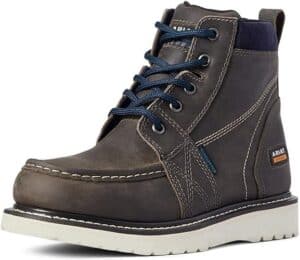 ARIAT has some of the best work boots for concrete workers. This is a pair of women's work boots made of 100% leather, featuring slip-resistant rubber soles and removable cushioning insoles that are excellent for concrete work and masonry. ARIAT's 4LR technology offers lightweight comfort without compromising stability thanks to the stabilizing shank included in the design. Also, these boots are waterproof, so you can easily work outdoors on different concrete without slowing down.
Major flaws:
Not the best traction.
Zero arch support.
Toe box can be too narrow for comfort.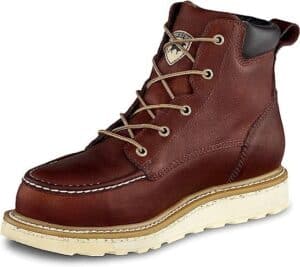 Irish Setter's concrete work boots for men are available in 100% full-grain brown leather options with rubber soles. The 6″ lace-up design includes a heat-resistant rubber-EVA outsole that promotes easy wearability for prolonged concrete work in high-heat areas. The boots meet the ASTM F2413-11 electrical safety standard, which is a huge plus for concrete slab work and similar projects. Overall, Irish Setter work boots are great for ankle support and are lightweight enough without compromising efficiency.
Major flaws:
Insoles could be improved for stability.
Not waterproof.
Toe box can be too narrow.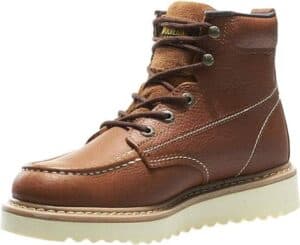 At WOLVERINE, you will find this popular pair of honey leather boots that are built for concrete work. It features crepe soles, premium leather upper, grippy PU wedge, nylon shanks, removable full-cushioned footbeds, springy PU midsoles, and Goodyear Welt construction. The 6″ design is equipped with everything you need for shock absorption and anti-fatigue support. WOLVERINE soles are resistant to oil, water, and abrasion, making them last longer while keeping you safe as you walk and work on concrete.
Major flaws:
Can be too thick and heavy.
Breaking in can be tough.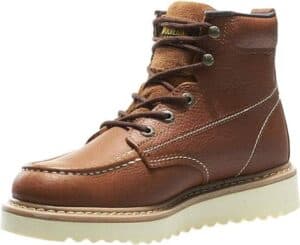 These safety-toe work boots from American Heritage are made of full-grain leather and offer steel toe protection, which is a huge level up for concrete footwear. MAXWear 90™ slip-resistant and electric-resistant outsoles ensure maximum safety for concrete work. The highlight of these boots is that they do not require break-in times and are comfortable to wear right away. Goodyear Storm Welt construction lets you re-sole your boots when needed, making these boots a one-time investment in practicality. They also include removable shock-absorbing footbeds, cushioned insoles, and composite shanks, checking off major boxes for comfort and footwear ergonomics.
Major flaws:
Not waterproof.
Can be too heavy.
As solid as the ground you walk on
Using lightweight work boots is important because they exert less force on concrete, which in turn reduces strain going back to your leg muscles and joints. Safety features like shock absorption and slip resistance are achieved through soles that support these safety ratings, so depending on the type of concrete you are working on, you should buy a compatible pair that secures your footing. Investing in boots that have the required safety technologies always pays off – you can bet your boots that it will be worth it!