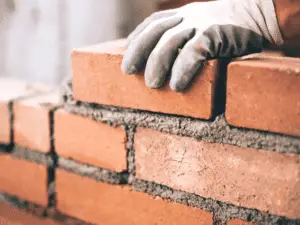 The word "masonry" is used to describe the art of building structures with materials like stone, brick, and concrete, and it also refers to these structures themselves. The scope for masonry businesses is huge because there is always a high demand for basic, everyday jobs in both residential and commercial contexts – so it is common for masonry experts to start up their own businesses on a small scale. Since large firms generally do not provide minor repair services – they specialize in bigger projects – new businesses in this industry tend to start low-key before venturing into a larger establishment. An important starting point for launching your business is to pick a suitable name that highlights your service scope. For all the bricklayers, stonemasons, and other masonry experts reading this, here are some tips on putting together unique masonry business names to help you stand out.
Masonry company name ideas
With so many existing masonry businesses, it can be difficult to choose a name that has not yet been taken. On the bright side, this opens the scope for thinking outside the box and brainstorming truly impressive masonry company names that catch attention. Here is how you can do this:
Combine Your Name Or Initials
It is a popular practice to name a business after its respective owners – whether you use first names or initials to include everyone. This is also an effective strategy for masonry experts who are joining forces to start a small business that they can run from home – or from the garage, the origin of great ideas! Make sure to limit initials to just 2 or 3 initials so that the name does not sound repetitive or unnecessarily long. If this is a sole venture, you can combine your name with interesting possibilities. To all the "Tony Masons" out there, this is your time to shine! All in all, it is important to keep the "masonry" aspect highlighted to help people know what kind of services you are offering. Some examples of first-name and initial-based masonry company names are:
ABC Brickwork
J&K Masons
Newton Bros. Concrete
Tyler The Paver
Tony Masons & Concrete
Include Your City, State, Or State Nicknames
You can target local audiences by adding your city's name or initials next to the main keyword. This is useful for those businesses that operate in specific areas and do not have a wider reach, so by adding the city, you will help people reach out to you faster through a narrowed and more applicable search result. You can also use state names, abbreviations, or nicknames to come up with unique options if you have multiple branches in the US. Some examples of such masonry business names could be:
Denver Masonry Co.
Seattle Masons
Chicago Brick & Stone
L.A. Masons
Urban Masons Inc.
Kansas Bricklayers
Aloha Masons
Keystone & Bricks
Texas Bricklaying
All American Brick & Supply
Pick Relevant Keywords
This includes synonyms and phrases that are related to masonry. Top keywords include brick, block, mortar, brickwork, slab, and stone. By using different yet relevant keywords, you can get creative with your masonry company name ideas. Try adding masonry-specific hand tools and trades to come up with something different from plain "masonry". You can also adapt popular phrases that apply to this field of work – so it is all about thinking outside the box! Here are some examples:
ABC Brick Tile & Stone
Houston Brick N' Mortar
B&T Stepping Stone
The Urban Trowel
Stone Cold Pros.
Alpha Brick
The Bricks & Stones Company
Add Book Or Movie References
This calls for more outside-the-box thinking. You can pick popular references from books and movies to create unique combinations and make your masonry business stand out – especially if it is a self-starter/freelance pursuit. Fans of The Wizard of Oz and Harry Potter, this is your chance to tap into the magical power of stunning literary brickworks! Some examples of such names include:
Abracadabrick
9¾ Bricks & Co.
The Yellow Brick Road Company
Masonry League
Focus On Your Specialty Area
Good masonry company names often highlight the specialty area for the offered services. So, you can take inspiration from the type of masonry work you do and choose keywords from the structures you build.
Masonry experts can build various spaces and structures by emphasizing the architectural details, so it is common for them to take on projects like landscaping, outdoor restoration, patio remodeling, chimney/waterfall/pool designing, fireplace/firepit creation, walkway construction, and so on. Here are some masonry company name ideas that highlight the offered service or area of expertise:
Arch Masonry & Restoration
MNP Concrete Brickwork
NY Masonry Preservation Co.
Sidewalk Pros.
US Masonry & Chimney
Mike's Stonework & Repair
Tips For Good Masonry Business Names
Your chosen name should reflect your expertise and professionalism in this industry, so it is important to get the right combination of words. While brainstorming for potential masonry company names, remember to:
Keep it simple and do not go overboard. You do not want your business name to sound too wordy or complex.
Think of logo-friendliness. New businesses rely a lot on the marketability of their brand profile, so think of how well your chosen name would fit into a potential logo.
Consider your target audience. Depending on where you wish to open your business, you must first find out which residential or commercial audiences would be interested in your offered services – and then pick a name accordingly to drive that interest.
Get creative. You do not want to pick a boring and generic masonry company name, especially if your services fill the local gaps, and there are no competitors that do what you do – so make sure to give your brand its individual spotlight!
Consider names that are timeless. It helps to pick a time-proof name that will continue to be relevant even when your business grows in the future.
Use name generators for ideas. If you have reached the "thinker's block" and cannot brainstorm new ideas, try using online name generators to refuel your mind. You can also search for existing masonry company names and let the results guide your own creative streak.
Check for domain availability. This is particularly important for self-starter, online businesses that operate from home. You do want your carefully curated business name to also get the same domain while creating your website, so the more unique your idea is, the better the chance of an available domain. In addition, you should think about the social media compatibility of your chosen name so that you can share your portfolio and advertise your skills more impactfully.
Keep it memorable. People should be able to recognize and remember your masonry business name, so avoid words with tough spellings and pronunciations.
Leaving No Stone Unturned
Masonry projects range from simple, small-scale tasks like repair work to large-scale building and renovation – so there is always a local homeowner, school manager, store owner, and barista looking for the services of a masonry expert. Most masonry business owners are able to launch their companies thanks to the experiences they gather by taking on small and frequent projects. It really is a stepping-stone job that leads to bigger opportunities ahead if you are confident enough to explore. You already have the craftmanship skills to build long-lasting and beautiful structures, so trust your portfolio strengths and start your own masonry company. You can always start small and take orders online and schedule your projects before traveling to the clients' locations. This will save you the expenses of running a separate establishment, which is why you should get the required license first to be able to work from home. Lastly, never underestimate the inventive power of a small garage where all the history's great things started!