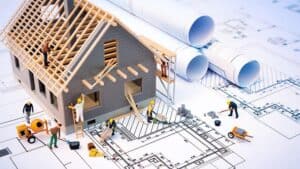 Like a brand logo, your construction company name gives your organization a unique identity. It helps you stand out and represent your services, integrity, and collaborations with famous partners. A good company name should be memorable and reflective of your construction vision. It should promote your ideas and competence in the industry, so when clients hear the name, they know it is going to be a valuable partnership. An example is when clients work with top construction brands like Bechtel, Fluor, and Skanska. Their names have been synonymous with popularity and innovative streak over the years. When your construction goals and services meet the customers' expectations, your company name marks a good signature on the vast construction canvas – everything from billboards and posters to business cards and your social media footprint.
An important part of your brainstorming process is the name and domain availability. There are various availability checker tools to help you with your hunt for the best name that is not already taken. A simple and impactful name will be better remembered, and you can always use name generators to spark your imagination. Following creative examples scattered throughout the digital web, here are some exciting inspirations for the best construction company names.
Use your service keyword
One popular naming strategy for best construction company names list is to use a keyword to represent what services you offer. This will help people narrow down their search for relevant contractors. It also gives them some clue about residential or commercial scopes for their projects. For example, if your company provides roofing solutions, it will be a smart idea to use the word "Roofing" in your name. By representing your specific services, you have a better chance of guiding the relevant customer traffic – and making sure that people remember you.
Another addition to this could be the region or state you work in. This allows your company name to appear on search results when people Google something like, "roofing contractors in Oregon". You can explore creative possibilities and play with different combinations that revolve around your chosen keyword. In this way, your company name could indicate the time of service and the state or city for the right audience.
Keywords also open creative possibilities to use relevant idioms, quotes, or phrases. You can use synonyms, play with famous idioms, and brainstorm ideas that appeal to customers. When you decide on the main keyword, the use of alliterations adds a new twist. This because the same initials for each word in the name create a rhythm – and that gives your clients something new to remember.
Some examples of construction company names with service keywords are:
Atlas Roofing
Under One Roof
Oregon Roofing & Construction
Roofing Repairs
The Single Shingle
The Clean Slate
Sticks & Stones
NY Excavation
Use construction materials and elements
If you want a one-for-all company name to generalize your services, you can incorporate any common construction tool and material into the name. Words like ladder, tile, yellow hat, concrete, paint, and toolbox highlight your construction context, and they are all residential and commercial-friendly terms. By stringing them into creative and personalized combinations, you can brainstorm catchy names for your company.
Using one essential material to represent your work is a smart strategy to deviate from mainstream ideas. Anyone can tell that "ABC Construction" is a construction company. However, it is "The Blue Ladder" that leaves a good impression and stays fresh in people's memories. Such names also open scope for unique logos, as a cobalt blue ladder next to the name makes your brand even more unforgettable.
Some examples of tool and material-based company names include:
Concrete Details
Red Ladder Co.
Toolbox Renovations
The Yellow Hat
Drywall Horizons
Use regional clues and cities
This might seem like a go-to choice for naming a company – as most people prefer the state or city name to represent their coverage. However, your naming options do not have to be boring sitting next to the word "New York"! You can explore diverse possibilities to make your company name stand out. It is convenient especially if you operate only in one region, as you can address only a specific audience in this way.
Instead of using the actual state names, try using the nicknames that your region is popularly called. Alternatively, you can incorporate some defining feature, landmark, natural monument, etc. to come up with a more brandable and unique identity. State abbreviations are another choice.
These naming options help your construction company find its own spotlight, and this also improves the search result efficiency for interested customers. If you want to customize your brand to indicate residential or commercial services, you can add specific keywords for creativity. These could be synonyms or random elements from a construction project – such as deck, tenant improvement, remodeling, etc.
Here are some examples for company names that represent their regions:
The Big Apple Constructions
NYC Remodeling
Skyscraper Builders
Liberty Contractors
Texas Summit Roofs
Florida Skyline Homes
Grand Canyon Renovations
MA Contractors
Seattle Decks
NH Tenant Improvement
Keeping it simple
You want to curate special names that are independent, unique, and memorable for your construction goals. Simplicity and impact go a long way, and a name that compiles your construction portfolio effortlessly is your best shot. In order to stand out from the mainstream names, you need to brainstorm creative possibilities by thinking outside the box. This helps with designing a brand identity that is timeless and full of personality. Company names that are more fluid to pronounce and easy to remember will stay alive in people's minds. For your startup company, your goal is to make a remarkable first impression – and the best way to achieve that is to be remembered.
Names that reflect your specialty and residential/commercial context help clients reach you that much faster – thanks to optimized searches. You can use your own name, family initials, or a combination of names if you have partners.
This gives your construction company a timeless feel since the founders and owners mark their presence over the years. You can pick important milestones from your portfolio and craft a more dynamic company name. There are endless options for coming up with an impressive identity. It does not have to be complex or sound too wordy – the shorter the name, the better. Think of your brand name as the book cover, the defining profile, and the first impression for a new viewer. You cannot judge a book by its cover, but its name is the first thing that tempts you to turn the page!