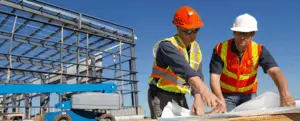 Image source: LMR Builders
Commercial construction is a very serious and complex endeavor for businesses. There is no room for mistakes when you embark on this journey, as you have significant commercial goals to keep alive. The construction marks a pivotal point for your company and gives it a commercial footprint for clients to follow. As a businessperson, you want to pick the right team to lead the project, and hiring the best general contractor is your springboard to successful construction. A bad workman may blame his tools, but you are the one who pays for this expensive mistake! It is always smart to choose verifiable and professional contractors to ensure that your investment is in the right hands. A commercial general contractor is your starting point and is responsible for the entire project. These professionals have the required experience and skills to oversee all your project's phases and milestones.
They supervise the project from a competent vantage point and work with various stakeholders like trade experts, vendors, architects, designers, etc. Your commercial construction requires extensive resource hunting, including materials, labor, and hefty paperwork. With a general contractor on board, you have the backbone to support your project – and resourceful expertise to count on! This is because contractors know the ins and outs of this fast-paced industry. They stay at the nucleus of each project and are aware of emerging construction trends. Quite often, the contractors will outsource tasks to relevant subcontractors to accelerate crucial stages.
You should hire a general contractor to meet the specialized needs of your commercial context. If you choose to work alone, you can have a lot on your plate – not to mention, you will bite off more than you can chew! However, if you collaborate with a contractor, you will have someone who knows what they are doing. Effortless multitasking is a powerful ally, and we have combined other key reasons to hire the best contractors in this article.
Commercial general contractor: hiring essentials
General contractors for commercial construction have diverse portfolios to back their experience. They work on fast-track projects ranging from small renovations to skyscraper construction. Your project needs to be completed on time, and the general contractor makes sure to navigate within your stated timeframes. The top benefit of working with a contractor is that you can take the back seat knowing your project is in the right hands. Also, the contracting company takes the necessary steps for insurance, compensation, and liability aspects in case of losses or accidents. This helps you leverage your potential even more, as can you trust the safe working standards of the firm. Here are some of the services to look for before hiring a commercial general contractor for your project.
Gathering human resources
Human resource management plays a significant role during commercial construction. It involves shortlisting and hiring various construction professionals who will make up your team. Your contractor should definitely provide personnel selection as part of their services. Some of the experts who will join your crew include civil engineers, structural engineers, architects, inspectors, and designers. They work on construction documents and diagrams to give your commercial building an initial outlook. The contractor should also appoint safety personnel to ensure worker safety and equipment standards for a secured and tested working environment. Finally, the contractor is in charge of reaching out to relevant subcontractors who can contribute to the project's completion. Various milestones are assigned to subcontractors for streamlined efficiency. These subcontractors take up only those construction fragments that are related to their skillsets – like roofing or HVAC. In the project timeline, these subcontractor bits join up to complete the project by driving it forward in a synchronized and timely manner.
Managing finances
Commercial construction has immense financial aspects to cover and manage. In addition to the human resources above, a commercial contractor is responsible for working with financial experts on the project. They handle various accounting, bookkeeping, and auditing needs of the construction. And so you can expect to work with finance managers, auditors, and accountants to keep an eye on all the financial activities.
Supervising logistics
All construction projects include the movement of resources, labor, materials, and machinery at the stated times. The building supplies, materials, equipment, electrical devices, HVAC ducts, paints, safety items, fixtures, etc. are all provided by construction vendors. It is important for your contractor to choose the best vendors who can supply high-quality resources at the best prices – and on time! Thanks to the construction outreach of a contractor, you can benefit from discounted prices as well as the most trusted experts coming on board. The contractor also needs to get in touch with the right dealers to manage the supply orders. Supply chain management is a critical service and ensures optimized schedules when resources arrive on time. Your general contractor will collaborate with the right teams to take care of product delivery. These professionals have the logistical expertise to make sure that the correct materials and labor reach your site in the required construction phase. Procuring the relevant workforce as well as materials beforehand keeps your project on track, as you will not be slowed down by delays or misaligned schedules.
Building communications
The success of your commercial construction project relies heavily on clear, regular, and updated communication between the involved parties. This helps your stakeholders and crew members stay on the same page. Your commercial contractor is the communication link between various stakeholders. Throughout the construction timeline, the contractor makes sure to update the relevant teams and promote effective communication. Various software apps allow both project management and communication features for instant broadcasts. This keeps every member tuned in to updates and supports timely changes to the original plan. Also, good communication eliminates potential disputes among teams. The contractor is responsible to minimize conflicts and resolve them professionally if they arise.
Top commercial general contractors
The best contracting companies offer smooth bidding workflows for your contractor pool. They help organize your consultation process and hunt for the best contractors nearby. You can use their websites for productive online collaborations and gain insights on construction forecasts. This allows you to anticipate the changing trends and establish links with industry professionals. The following are 3 famous general contractors for commercial construction – and their versatile portfolios make a good starting point for what to expect.
INLINE COMMERCIAL CONSTRUCTION
INLINE Commercial Construction is located in Aloha, Oregon. Founded in 1983, the full-service general contractor expanded to reach the entire Oregon and SW Washington. The company continues to take on the whole commercial spectrum, ranging from minor tenant improvements to ground-up, skyscraping construction projects. It works with various healthcare, educational, and financial sectors to bring their commercial goals to life. With proficient teams assigned to high-occupancy spaces, INLINE Commercial Construction has built a competitive streak in the industry. Here is a glimpse into the firm's vast and adaptive commercial construction portfolio:
PCC SE Campus Library construction
Vernier Software & Technology expansion
Pacific University projects
Portland public schools renovations
Magnum Opus Salon construction
SolarWorld kitchen renovation
Aloha Community Library
OHSU KPV Summit Cafe remodel
THE WEITZ COMPANY
Headquartered in Des Moines, Iowa, Weitz was established in the year 1855 and is the sixth oldest construction company in the US. Using pioneering technologies that changed with time, the firm is known for its innovative and collaborative solutions. It has a dynamic commercial portfolio that has stood the test of time for more than 165 years so far! Talk about a construction boom in the making!
The full-service company offers commercial and industrial services in all 50 states. The nationwide coverage has allowed Weitz to build a resilient, adaptive timeline with trusted contractors, subcontractors, partners, and designers. Its recognized and top-tier contractors work on healthcare, hospitality, office, retail, tenant improvement, and several other commercial applications. This shows the wealth of commercial construction experience the company provides in all of its solutions. It deals with everything from preconstruction and Mechanical/Electrical/Plumbing (MEP) to supply chain and lean construction. LEED accredited experts are available to help your business go green. Some of the firm's impressive projects include:
student housing and campus renovations
senior living
historic renovations
aviation industry
POULIN CONSTRUCTION
Poulin Construction is also a full-service company for commercial construction in Brunswick, Maine. It was founded in 1974 and has grown to provide quality solutions in the commercial sector. Superior craftsmanship and commitment to safe working practices are the reasons for increasing repeat hire business. They ensure timely delivery of milestones with the firm's owner participating in each phase from start to finish. The family-owned company has a reputation for a commercial building in Maine and northern New England, adding construction versatility to its geographical footprint. Its portfolio features diverse opportunities with franchise construction, tenant fit-up, store buildout, prefabricated buildings, fast food design, commercial kitchen remodeling, hospitality areas, convenience store projects, and retail buildings. The competitive expertise extends to corporate office construction as well as LEED-certified commercial buildings – so you make a confident statement about your business. The following list is a sneak peek into the ever-growing portfolio of Poulin Construction:
MBNA Executive Housing townhomes, community centers, and playgrounds
Highgate Springs Border Station office, warehouse, and wastewater treatment center
Deer Isle School and community theater
Walmart and Best Buy renovations
McDonald's, Taco Bell, and Tim Horton's restaurant buildouts
From Under Construction to the red ribbon
The ground-breaking era of commercial construction has seen remarkable changes over the years. When it comes to hiring the right general contractor, it is important to match their experiences with your project scope. This lets you find compatible expertise for your specific commercial construction. In the end, you literally get what you pay for in the commercial world, so it helps to keep trusted professionals at the frontline of your project. They ensure quality products and practices to back your valuable investment – right from the moment the Under Construction tapes go up till when you finally cut the red ribbon!