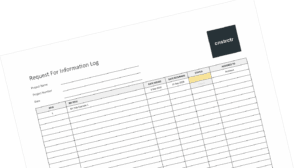 Image source: Files.Construction
A Request for Information (RFI) log helps construction teams track changes throughout a project. The document is frequently used for clarifying various details and construction objectives. It is very common for a project to deviate from its intended route in terms of resources or unforeseen events. Different RFIs are written for the relevant professionals to respond to and ensure smooth transitions between each stage. They can be used to address emerging problems and confusion regarding design, procurement, labor, and other aspects. RFIs allow experts to communicate clearly about such questions before they pile up into construction bottlenecks. The log is an efficient way to record and follow every flagged issue, and using an RFI log template makes your work that much easier.
The original drawings of a project may lack certain details and upgrades, so an RFI is generally created to request more information – as its name suggests – and bridge any gaps. If the crew needs to work around issues like material and labor shortage, an official request is necessary to confirm suitable alternatives. It allows construction professionals to redefine their specifications and keep the project streamlined. RFIs provide a resourceful way to address the missing pieces of the original picture. Tracking all the RFIs throughout your project's timeline is important, as it contributes to successful project management. Your RFI log makes a good dashboard to help you keep an eye on every change.
This is particularly useful for discovering contractual details that were incomplete, allowing the right stakeholders to elaborate accordingly. Various templates are available online, and they can be downloaded for individual use. They can work as simple Excel or Word documents; there are also cloud-based templates that you can customize on the go – as discussed in this article.
The RFI walkthrough
Who uses an RFI?
Different construction experts like general contractors, subcontractors, and architects can work on an RFI. Project managers, engineers, and designers also write and respond to relevant RFIs to offer the necessary clarification. Subcontractors request information from their general contractors, who will then forward the request to its correct recipient – usually the architect or client. This information flow throughout the hierarchy helps teams overcome project barriers, as whoever responds to an RFI is aware that any possible progress depends on their answer. An RFI document allows teams to officially raise questions and receive quick answers as part of formal collaboration.
What is an RFI log used for?
An RFI log lists all requests in one place and helps you scroll through them for easy navigation, confirmation, tracking, etc. By issuing an RFI to the project's client or engineer, you can prevent communication and work delays. Compared to the theoretical plans and blueprints, RFIs consider the real-world aspects of construction and accommodate the required changes – efficiently filling any room for improvement! The log documents can be used starting from the bidding process until the project's final stages, so their typical duration is the project timeline itself. General contractors and subcontractors may have questions about costly materials and building approvals. If the original plans do not answer these questions, an RFI is written to seek additional clarity on designs, specifications, site problems, contractual details, equipment data, etc.
RFI logs are valuable tools for record-keeping applications and effective project management. They keep both the request and the response in black and white for teams to proceed in a credible and transparent manner. The request generally needs a detailed answer from its construction recipient, so areas like expenses, schedules, and procurement need to be addressed accordingly.
A well-structured log minimizes communication delays, project risks, and possible disputes among the stakeholders, so conflict resolution is one important purpose of maintaining an RFI log. Feedback often travels both ways before a final answer is written, and so clarifying such changes is always helpful. The log can be sorted based on the RFI number, requesting party, current status, issued date, response deadline, etc., allowing you to prioritize the RFIs as needed.
Vendor comparison is another crucial reason to use an RFI. You can request more information on services and materials from different vendors or suppliers. The comprehensive details in the document give you better insights into the procurement stages and help you choose the best vendors for your project.
How does it work?
The RFI life cycle is mostly the same for all construction projects. For example, a subcontractor who has a doubt can write an RFI and submit it to the general contractor. If the general contractor can provide a clear, detailed answer, the response is complete and the issue will be resolved. Otherwise, the general contractor needs to forward this request to someone on the upper tier – usually the project's architect or client. In case of any confusion, the RFI may find its way back to the subcontractor for clarifying the problem – and travel back and forth until both parties are satisfied! The project will only resume when the subcontractor receives an adequate response and knows what to do next. For this reason, it is very important to use relevant templates that match your standard format and enable clear communication. It is equally important to know how to write and respond to RFIs effectively for streamlined collaboration with minimal revisions. This also ensures proper log management through organized requests and responses.
How to write an RFI?
A request for information should be framed clearly enough to deserve a productive response. Using appropriate templates gives you a formalized way to address your concerns. This includes following simple formats, using RFI conventions, attaching the required documents/images, stating a reasonable deadline, and asking one specific question per request. Make sure to define the problem using a clear statement and also mention effective solutions that you think can make a difference. Subcontractors often use RFIs to express their ideas on the problem and contribute to efficient problem-solving techniques using their experiences.
So, coming up with a good alternative always goes the extra mile on an RFI, as this also helps the upper tier know what expertise is available on board.
How to respond to an RFI?
Construction professionals may need to tackle massive RFI loads during a project, especially for long-term projects that take up years to complete. An RFI log template is a good way to go, and most online tools are used to manage this process. You can use simple spreadsheet tools to log the RFIs; various construction management software apps are available for improved tracking. These tools allow you to prioritize the incoming requests by assigning unique identifiers. Make sure to read the RFI thoroughly and view any attached documents before writing your answer. This avoids the need to make revisions or submit multiple RFIs. Collaborating with the relevant upper-tier stakeholders is important to confirm the problem, so always take the right input where needed. RFIs need detailed answers to the questions, and a comprehensive response with no loopholes is more likely to be accepted by the subcontractor.
Here is an example of a clearly structured RFI with one specific question and a helpful response.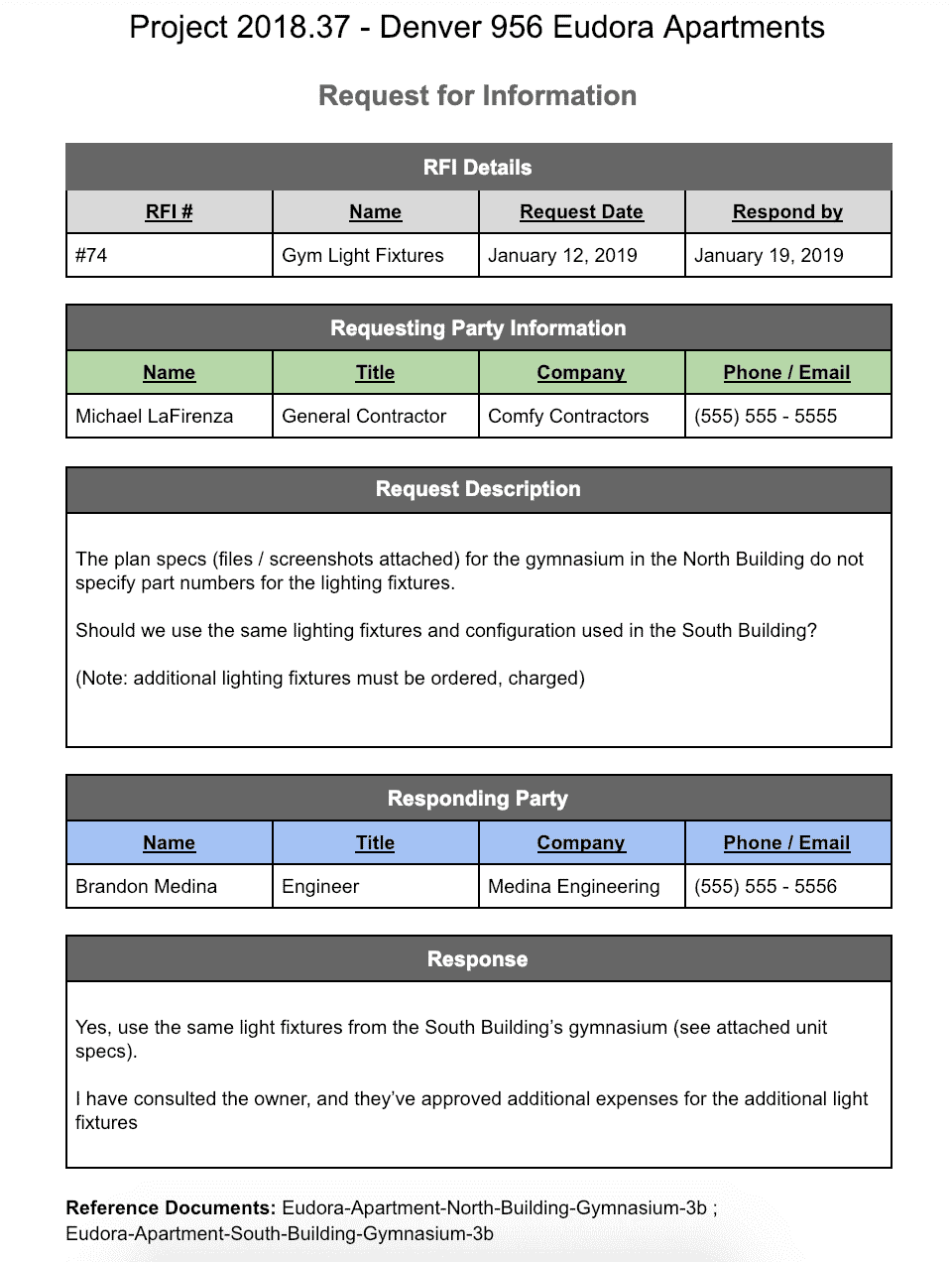 Image source: Construction Coverage
Benefits of using an RFI log software
RFIs encourage teams to ask their questions as the problems arise. Without this real-time consideration, the project can be easily vulnerable to expensive repetitions – or a complete failure! If workers do not receive clarifications on emerging problems, they cannot work to their best potential, and this directly impacts the quality and integrity of the project. RFI software tools like those from Procore can be used to organize logs and make information more accessible to all the stakeholders. The contributing members can manage the entries productively and initiate the requested changes from subcontractors.
To provide supporting evidence, various construction plans and documents can be attached for reference. This outlines a detailed RFI history that leaves no room for confusion. Such cloud-based tools offer standardized management that you can rely on. Their built-in templates can be customized and updated to your liking. Since all the changes are made in real-time, there is better visibility and spontaneity for all the contributing stakeholders. So, improved access and collaboration tools are the key benefits.
Another major benefit of using an RFI software is that you get to navigate within the deadlines – thanks to the lightning-fast feedback everyone receives online. The construction can then continue as scheduled and stick to its original budget. Cloud-based RFIs can be filtered for both resolved and outstanding issues, allowing you to set the right priorities and plans to fuel your project's timeline. RFIs that are managed online provide better comparability and readability to users who want to decide between different vendors. An RFI software helps you request information as well as respond using a standard format in a template. It already has the outline; you just need to fill in the blanks.
Here are two examples from Procore and CM Fusion that help with RFI log management and provide maximum benefits of using software tools for RFIs. The features they offer are a good guide for the tools you can use to manage and track RFIs effectively.
Streamlined management
Procore's RFI management software is a great tool to create, manage, and track construction RFIs. It allows teams to keep their schedules and milestones aligned without incurring unnecessary delays. You can keep your RFIs well organized for easy access, as the software provides an RFI history that you can always refer back to. If a response to the RFI causes project costs to change, the software can help you update this event immediately – so there is no chance of missing key changes or forgetting to follow up. With such streamlined management, it becomes easy to track material shortages, labor unavailability, changes in costs, and other unforeseen events. Once you use a template to issue requests, all subsequent responses will be organized so that immediate action can be taken – and subcontractors can receive the right information to resume their work.
Collaborative ease
Since Procore RFIs work through emails, there is no extra step or learning required to write or respond to RFIs on external platforms, as you can simply communicate via emails. You do not need to learn anything new. This enables tracking each RFI log history through emails, and the archive allows for quick tracking and reviewing. It is a simple way to make sure all the involved participants stay updated as soon as new requests or responses are available. The software automates reminders to relevant recipients, so you can keep RFIs on track. This creates transparency and accountability in the whole system. You can also attach the required supporting information in the form of PDF files or images to the RFI log template.
Moreover, Procore's RFI software supports integrations with other apps that you might use for accounting, estimating, scheduling, BIM resources, drone technologies, etc.
Efficient tracking
CM Fusion RFI software is another resourceful tool for RFI log management. It helps you track RFI activities, document attachments, assignments, and updates efficiently. You can view all histories and RFI logs from the same software, which cuts down the need to manage multiple apps. It is easy to work with CM Fusion, and since the software backs up RFIs regularly, your teams receive higher security in all their exchanges.
Cloud-based communication
The software offers a centralized platform for viewing responses to requests and getting notified instantly whenever a new response is posted. Since CM Fusion is cloud-based, it provides real-time and synchronized communication between all involved participants. This prevents delays and errors that can sometimes be built into email management. Cloud communications also have the added benefit of faster approvals because the more streamlined the process is, the quicker it will be resolved. Contractors, subcontractors, project managers, and clients can manage RFIs from any device. These features help you keep the project on track and within budget.
RFI log templates
You can download and use various templates, such as the RFI Google Docs template from Big Rentz. A template generally includes headings like the RFI number, title, date of issue, due date, assigned company, RFI status, etc. Different templates are designed to target different audiences and provide a standard communication framework to follow. You can use an RFI log template to track and organize all the requests you have issued – or to submit multiple RFIs for vendor comparison. Construction professionals will often attach a template with the issued RFI to help the recipient reply back using a standard format.
Some intuitive, downloadable and cloud-based templates include:
Constructing the right communication bridges
A good RFI log template keeps your project accelerated, focused, and aligned. It makes sure that the project deliverables follow easy transitions and do not experience delays. RFIs can easily push emerging issues to the construction frontline and give potential red flags an instant spotlight. By using suitable software apps, you can write and respond to RFIs in a meaningful, straightforward, and recognizable form. Online templates like those mentioned above take away most of the administrative burden through automated features and collaborative tools. With crystal-clear communication driving the workflow, you can finally mobilize the frozen milestones and let the project resume as seamlessly as possible.