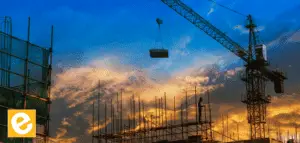 Image credits: eSUB, Inc.
Commercial building constructions range from small-scale to large-scale projects in which businesses might want to achieve anything from simple rebranding to high-rise designs. The cost per square foot to build a commercial building varies depending on your specific construction needs – like the size of the building. The costs also differ based on your commercial business type for office, retail, medical, educational, hospitality, or recreational settings. In this article, we will look at various average figures for commercial building construction costs, including factors that can affect the range for the same square footage.
Cost per square foot to build a commercial building
Average costs
In general, you can expect your commercial building to cost anywhere from $70 to more than $1000 per square foot, depending on a series of project-specific factors like location and materials as we will explore below. Small-to-medium project sizes have an average cost of $200 – $350 per square foot, whereas large-scale projects can range from $450 – $850 per square foot. This assumes only standard finishes and materials, so if you want high-end results, add another $100 to each range.
Since commercial ground-up construction is very business-oriented, it often helps to analyze costs by building types and regions to achieve a more condensed estimate that you can work with – as discussed below.
Costs based on building types
All commercial buildings differ from each other in terms of their audiences, designs, commercial footprints, business activities, landscape needs, and interior layouts. Here is a rough breakdown of low and high commercial building costs per square foot for different types of buildings:
Corporate offices: $250 – $1000
Medical offices: $450 – $1000
Retail stores: $350 – $500
Gyms and recreational buildings: $300 – $700
Hotels: $500 – $700
Art galleries, museums, academies, theaters: $800 – $1000
Educational buildings: $250 – $750
If you are considering the cost per square foot to build a commercial building based on its type, then you should also look into specific details like the scope of your business. For example, if you want to build a primary school, you will generally focus on the number of classrooms, science and computer labs, teachers' offices, management offices, cafeterias, and a playground. So, the cost to construct such a building will be between $200 – $300 per square foot. However, if you are constructing a university campus, you will also have to factor in the dorms, auditoriums, gyms, and conference rooms, which will stretch the costs to around $750 per square foot.
Costs based on regions
Commercial construction involves various regional complexities that can slow down a project. Regions play a huge role in setting your final budget, so they are one of the key cost-influencing factors – and we will visit them in a bit. Depending on your state, you can expect significant changes in commercial construction costs, and this usually comes from the geographical and logistical benefits/limitations of the place. Here are some average numbers for regional costs per square foot to build a commercial building:
The eastern region: states located in the eastern US region have some of the highest commercial construction costs per square foot – with the Big Apple ranking as the most expensive city in the entire US, as the costs can be twice as high. You can expect offices, schools, hotels, restaurants, hospitals, gyms, and other buildings to cost $300 – $450 per square foot on the low end, $500 – $600 in the middle range, and $700 – $850 on the high end.
The western region: the western US cities also have some of the most expensive high-end options. Depending on corporate, retail, hospitality, and educational settings, the low-end costs are between $300 – $400, the middle range is $450 – $550, and the high-end costs are also $700 – $850 per square foot like the eastern region.
The Midwest region: the Midwest has a mix of highs and lows for different commercial building types. In general, the low-end options include $200 – $350, the middle range is $450 – $550, and the high-end options go up to $650 – $750.
The southern region: states located in the southern region are typically cost-friendlier per square foot than any other region. Commercial building options here are as low as $200 – $300 per square foot and usually go up to $550 – $650 per square foot on average.
Factors that affect your cost range
Region
As discussed above, when you look at commercial building costs per square foot according to different regional standpoints, you will note some key differences in the low and high-cost options. Regions are the biggest cost-influencing factors in the world of construction, mostly because they host a range of other factors that affect your budget – such as materials, labor, zoning, and permits.
Materials. Coastal and densely populated cities tend to have more expensive commercial construction projects, so the competition is really all about urban vs countryside. For New York City and its skyscrapers, the sky is the limit, so that is where you will also find the building costs! Both material availability and material transport are common problems in urbanized regions because of issues like high demands or road traffic, hence the skyrocketing prices. Combine this with the rising inflation, fuel shortages, and bans, and we have a horror construction story in the making!
Labor. Labor unavailability is another region-bound concern. Since urban regions have higher commercial construction demands, it is not easy to find available labor for your project. Remote and geographically challenged areas experience even more labor shortages because it is difficult to access the site or work in it, which increases labor rates significantly and makes it more difficult to find the correct labor type for the project. The more difficult it is for materials and labor to arrive at your location, the higher the costs. Some examples of geographical complexities include earthquake-prone regions and areas that are more likely to be hit by snowstorms. Labor charges can take up to 40% of your total cost per square foot to build a commercial building. Therefore, when you think about the region, allocate 40% of your consideration towards your project's workforce and make sure that you are fully satisfied with the chosen labor before any construction begins.
Zoning and permits. Apart from materials and labor, your region decides the kind of zoning requirements your building should meet. It is important to consider and handle zoning aspects that apply to your business during the preconstruction stage so that your project gets its green light right from the beginning. If an area has hefty building codes to follow, this can drive up your overall costs per square foot. Your commercial contractors will help you answer questions like how your building's construction will affect your neighbors and whether or not the chosen land is suitable for your commercial activities. Approvals and permits take around 2-3% of the total commercial construction costs. Despite the small percentage, these costs have a lot of gravity because you cannot begin any construction work without getting it approved first. So, checking the local laws and receiving the necessary permits should be given a frontline priority.
Building size
The cost per square foot to build a small commercial building will be considerably lower than that of a skyscraper. High-rise buildings require more extensive plans, designs, logistical accuracy, and building permits. They also use more materials and labor during construction, so all of these aspects increase the total costs, as more material and equipment need to be transported throughout the construction. If you have chosen high-quality materials and finishes – with more custom details – then this will be multiplied based on your building's size. Regional complications like traffic delays and unfavorable weather can halt material deliveries, which also affects labor productivity, as we saw earlier.
Combine this with a larger building size, and the costs just keep getting bigger, as you have already chosen expensive bulk materials that are now stuck somewhere in traffic and will not reach you anytime soon.
Modular construction
Modular construction or off-site construction is a growing trend in which the only construction activity that will take place at your location is the assembling of prefabricated building parts – which have been manufactured off-site. This is kind of like putting together a life-size Lego house. Such a project has the benefit of lower construction costs per square foot. It also solves many location-based problems like material and fuel shortages, traffic delays, rainy/snowy weather, jobsite inaccessibility due to COVID or similar restrictions, and so on. This is because the main building components (the Lego pieces) are constructed somewhere else, and all these pieces are later delivered to your site at a convenient time so that they can be assembled. As a result, everyday issues with labor and logistics are easily avoided, and jobsite attendance can be limited only to the module assembly day. With off-site construction, you also get to choose prefabricated materials over something expensive like steel, so this cuts down your overall budget. You can also work with recycled and eco-friendly materials if you are planning to go green right from the start.
Commercial construction cost estimator
Now that we have some average numbers and cost factors at hand, it is time to finally get down to initial estimates. Various cost calculator tools and software are available online to help business owners and construction professionals get quick estimates for their commercial building projects. Different factors like location and building size are integrated into the calculation methods, so all you have to do is enter the details and sit back while the tool generates your initial estimate. This comes in handy for both businesspeople and experts like architects, contractors, and engineers. Estimator tools give a useful cost reference point to help business owners compare bids and set more realistic budgets. At the same time, they allow contractors to build more accurate quotes using updated local data.
A good example is the RSMeans Data estimating software. It is designed to generate location-based estimates by letting professionals choose material, labor, and equipment charges. This helps them work on more accurate cost models before submitting them during the bidding stage.
The estimator tool can be customized for each project type and display costs per square foot to build a commercial building. It also provides other cost breakdowns like assembly and material costs. You can click on the existing cost breakdown models for various commercial buildings to get quick references. There are models for buildings like college dorms, laboratories, convenience stores, hospitals, car washes, bowling alleys, and so on.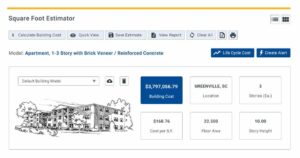 Image credits: RSMeans Data
Conclusion
The commercial landscape is competitive and unpredictable. From small constructions to megaprojects, commercial buildings have different timelines and budgets that can fluctuate with applicable factors like storms, logistical delays, and labor shortages. Small-scale commercial constructions can take around 6 months to complete, whereas large-scale projects need a year or more depending on how smoothly everything goes. The cost per square foot to build a commercial building will be one of the key discussions with potential contractors who have the right portfolio for the job. Make sure to ask for cost breakdowns to understand what goes into each square foot of your commercial building. A good contractor will be able to anticipate possible delays and help you reach an inclusive budget that is open to changes along the timeline. This is important because it is always smart to be prepared and have some buffer against unexpected financial impacts – such as those caused by delayed procurements.
To understand your available options and make the best out of your investment and collaborations, look for portfolio-rich companies that specialize in constructing buildings for your business type – for example, shopping malls, medical offices, and cafes. This will turn the odds in your favor because you will be working with commercial teams that are already familiar with your project scope. Compared to hiring general contractors, this is a more efficient way of giving your business a long-standing commercial footprint. By leveraging key construction skills and expertise, you can be confident that your commercial brick-and-mortar is in good hands.