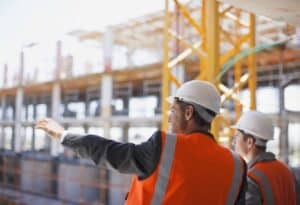 General contractors are direct or prime contractors in a construction project. They are hired by property owners to lead the construction services and supervise all the work. The construction company offers general contracting services – for example, metal roofing – takes the role of a general contractor. This brings the company and the property owner into a prime contract that both parties agree on before any work can begin. A general contractor can then assign certain areas of the project to subcontractors, so it is executed efficiently and meets the deadlines.
Apart from managing the onsite operations, your general contractor will collaborate with all the stakeholders of your project. Communicating with everyone on board allows your teams to stay on the same page, which is important for any construction context. General contractors have a multifaceted role on the site, giving them a bird's eye view of everything. If you want someone to see – and build – the bigger picture for your plans, then you need the vantage point of a general contractor's skillset. Construction companies offer different general contracting services to suit your project scope. This article covers some top examples and exciting packages to speed up your hunt for the best general contracting services.
Types of general contracting services
General contractors provide different solutions for your residential and commercial pursuits. They can start a new construction project in its entirety and lead it to its finishing point. They can even step in to save a project midway and help you with bespoke services. This is what makes the project versatility of a general contractor your beacon guide for any construction. There are various types of services your hired contractor will offer, and here is a brief glimpse into what to expect.
Turnkey services
A turnkey service will fast-forward the construction stages for you – the property owner – to the final step of the project. The general contractor handles everything, and all you have to do is "turn the key" to your new building and start using it. There is no owner participation in a turnkey project, allowing the general contractor to design and build the facility as required. Such services are best employed during strict budgets and timelines. They let owners take the back seat as the general contractors move blueprints from concept to reality – which is why it is important to hire someone you can really count on.
New construction
This form of general contracting service is when the contractor builds using the design of another architect. Your hired contractors can also coordinate the design and construction details for better execution. They often distribute the project milestones among relevant subcontractors or specialty contractors. The service should ideally follow your local codes and comply with updated standards for safe building. This includes using code-compliant resources and materials throughout the construction project.
Build-out services
Leased spaces for commercial use include the simple "blank canvas" structure – like walls with utilities only. These typical construction shells need a fit-out or a build-out service to make them inhabitable and functional. A build-out project will optimize the infrastructure of your leased property as a tenant. Your general contractor is responsible for finishing the floors and ceilings and adding all the necessary upgrades. Code-compliant building resources are essential to interior fit-outs, and working with credible firms gives you a valuable head start.
Construction site upgrades
General contractors also work on site improvements to optimize the existing space. The site plan forms an architectural guide, and the contractor builds a spatial reality out of it. As a site owner, you might want to incorporate utility upgrades, landscape aesthetics, special needs services, and improved parking areas. These improvements make a property better equipped to facilitate its commercial applications. This brings us back to local code compliance, and a good general contractor should know where to begin.
Remodeling projects
Interior and exterior renovations are popular construction goals for owners. They allow residential and commercial buildings to receive design and structural improvements. Remodeling services are particularly useful in rebranding contexts for giving businesses a new identity. General contractors with extensive remodeling portfolios can adapt their skillset to optimize your residential or commercial layouts. This helps you reimagine the available space and finally achieve that sustainable outlook you always planned.
General contracting companies
R. Carlson and Sons, Inc
Headquartered in Mokena, Illinois, R. Carlson and Sons provides general contracting and excavation services for commercial and industrial projects. Its professional teams and collaborations enable a more streamlined approach to your construction needs – keeping business downtimes as low as possible. The family-owned company has been around for more than 70 years and is known for its quality workmanship. Its vast portfolio features all kinds of projects with various firms, including Fortune 500 companies that steal the spotlight. Apart from project designs, R. Carlson and Sons oversees your project's planning, licensing, and building stages from start to finish. Some of its top-ranked general contracting projects include gas stations, factories, restaurants, retail stores, car washes, banks, and recreation parks. In addition, the company takes care of your site development concerns such as soil contamination. These full-scale services also range from pre-construction planning and project feasibility to thorough inspections and follow-ups – giving you a one-stop general contracting solution.
Katerra
Headquartered in Houston, Texas with a continental coverage, Katerra has a dynamic portfolio that showcases a complete construction life cycle. It offers turnkey services and remodeling scopes to support cost-effective general contracting services. Whether you are aiming for end-to-end new-build services, construction options, or renovations, Katerra has something to offer in the vast residential and commercial marketplaces. It bridges the gaps between affordable construction and sustainable practices, making sure to stay within realistic time frames and budgets. By focusing on the preconstruction stage, the general contractors pursue an early-bird approach to bring all team members on the same page – and plan the project efficiently. You will receive virtual design and building consultations from industry experts. Equipped to tackle various construction geographies and landscapes, Katerra is one of the leading general contractors that add spatial optimization to any property.
Finaly General Contracting Corp.
Finaly General Contractors is located in the New York City, and it is a full-service general contracting hub. The firm helps you build customized budget plans, so you never run the risk of over or under-estimated projects. Its general contracting services encompass all project sizes and applications, giving you an owner-centric collaboration. The construction industry is fast-paced, and so is Finaly's adaptive portfolio, keeping up with creative interiors and architectural trends. All general contractors are specialized in corporate, retail, healthcare, and education sectors. A leading woman-owned business in town, Finaly takes you through the preconstruction, estimation, scheduling, budgeting, procurement, project management, and sign-off stages with professional experts. The preliminary planning is an important step to get your construction bearings in order before any work can begin. This is why Finaly general contractors take exhaustive measures to handle approvals and permits for construction activities. They also implement site safety and value engineering practices.
Another crucial aspect of general contracting services is proper, streamline communication. Finaly teams host regular meetings with your project stakeholders to address any lapses and readjust the plans. There are full-time superintendents to keep a watchful eye on your site operations. This is followed by daily inspections to check for quality services. Furthermore, all negotiations with subcontractors are handled by your main contractor to prevent future disputes and delays.
Regarding the project closeout and handover, Finaly general contractors compile the necessary reports and documentation. This includes punch lists and manuals that tell you all you need to know about the key milestones and resources. So, whether you plan to expand your office floor or reimagine your lobby design, consider a full-service advice from Finaly to discover your options.
Blueprints and yellow hats for green construction
Before enlisting the help of general contracting services, it is important to have a detailed consultation with your chosen firms. As discussed above, the preconstruction stage is an important step, and it can mark pivotal changes for your project. It is a good time to discuss hefty paperwork for permits and approvals with your contractor, who will also help you with permissions – or rejections – from the buildings in your vicinity. This is because some neighboring buildings might not approve of your construction activities, and so the zoning requirements could restrict your plan. If you are taking the green route for your commercial building, then a detailed breakdown of available options will simplify your sustainable goals. These allow you to invest in the necessary upgrades before you can finally go green.
Most commercial contractor portfolios showcase services for office, healthcare, retail, recreation, and industrial applications. You can plan a new build, apply for tenant improvements, or consider maintenance and repair aspects for your property. As a building owner – and your contractor's client – you want to aim for a competitive caliber for your project's goals. By hiring professional, well-ranked, and qualified general contractors, you can trust your project to be in good hands. Then, it is simply a matter of time before your construction visions find a ground to stand on – assuming the land allows them to!