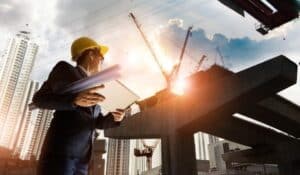 Image credits: Pro Crew Schedule
The construction industry can be both diverse and challenging for someone aiming to advance their career. To understand how to be successful in construction, you should first ask yourself if you are ready to face changes, setbacks, repetitions, and failures along the way – as they are bound to turn up anywhere anytime in the construction world. With so much that can go wrong and still so much to explore, anyone standing at the threshold of construction should be prepared for a challenging journey ahead. In this article, we will share some advice on how you can make the best out of your career while moving up the construction ladder.
How To Be Successful In Construction
Aim For A Vast Construction Network
Since construction projects rely on good vendors, repeat clients, and valuable human resources, it is crucial to tap into the power of networking. You can be a part of various associations and local events to expand your network and get in touch with the right audiences. In this way, you can increase your brand visibility if you own a construction company. You can also establish a good reputation with your construction neighbors within the network regardless of your trade or management role, and this will allow you to showcase your expertise better and win projects.
Another key benefit of a strong network is that you can always find alternative vendors in case your projects reach procurement bottlenecks – which have been on the rise ever since the pandemic and inflation hit the industry.
Establish Your Social Media Footprint
If you are starting out your construction business or simply offering freelance services, it is important to make yourself easily accessible to interested clients. The best way to do this is through a website that acts as your service profile. In addition, you should use social media platforms like Instagram and Facebook to document your ongoing projects and increase your visibility within the local options. This will help clients find you quicker by following your social media breadcrumbs and deciding if the services you offer are relevant to them or not. All in all, you should make it simple for people to contact you by including social media links on your official website, displaying your contact number and email, and creating contact forms for detailed quotes. This is also a great way of gathering customer reviews as you receive more and more work down the road, so you can post these as well as credentials to highlight your growing success and build a trustable reputation among clients.
Discover Gaps In Local Services
Another key tip on how to be successful in construction is to find gaps within your local services, especially as someone just starting up. If your area already has enough construction expertise for utilities, masonry, landscaping, etc., it does not make sense to join this already trusted pool of experts who are popular among locals. You can instead focus on what is missing from your area and align your specialty accordingly. For example, construction services like landmark restoration or building sustainability add value to the industry and allow people a chance at something different to invest in. Gaps in local services can really inspire portfolio diversity, especially if you have the skills and resources to fill them.
Build An Adaptable Career Path And Be Open To Changes
Construction career paths can begin from a single trade and move towards site supervision, project management, and even higher ranks up the ladder. You should first identify your main area of interest and work from there, as construction success always relies on how happy you are with the work you do.
Your starting point in this industry should indicate your preference for jobsite or office-based projects, and you can then map out where to go next based on your current position. The type of company and employer you choose will also determine your career trajectory and set the tone for promotion scope, training opportunities, etc.
Every construction career path has room for growth and success, and this depends on your willingness to explore new routes and your readiness for change – which is why career adaptability is a huge success metric for any professional. The construction world is highly prone to unexpected changes such as the ongoing pandemic and inflation crisis. These changes increase a project's volatility and can easily bring things to a halt, so if you feel the need to switch to another role, having some relevant experience and skills in that area will work like a charm.
Don't Put All Your Eggs In One Basket
This is in line with the above advice on networking, change, and adaptability. Having a backup plan for your career as well as your current projects is a smart precaution to ensure your success in construction. In case your current job reaches a halt and you know that you have reached the end of the line with this role, you will be able to bounce back if you had spent some time working in another construction specialty. Similarly, if you are facing procurement delays and labor unavailability, you can rely on your network to choose suitable alternatives for timely resumption And Project Success.
Go The Extra Mile
In order to be successful in construction, you should embrace the extra-mile approach and not be scared of trying something new. Higher construction ranks generally require a relevant construction degree and experience for job eligibility, so continuous learning will always be a part of your career if you intend to go further up the ladder. Apart from these basic qualifications, you can expect new technologies, laws, and practices to reshape the construction horizon anytime, which is why you should keep an eye out for formal training opportunities, internships, and similar programs to update your skill set. This is particularly useful for those who aim for promotions, as advancing to the next level requires proof of continuous improvement to indicate your seriousness for the role. Training does not have to be limited to new equipment or department.
You might acknowledge the need to learn new languages and maybe explore international projects as you continue to build your network, so most of the time, these training programs are self-improvement pursuits to ensure your career success.
Get Familiar With Construction Software
Another key training area is software proficiency. Quite often, companies offer in-house training to help employees learn the digital ropes before starting a project, so make sure to participate as needed. You can even enroll in online classes to learn different software apps depending on your trade or managerial role. The construction industry has seen a rise in the use and implementation of software tools, especially over the past couple of years. Good construction management software apps like Procore connect the jobsite and the office to the cloud that simply follows you wherever you go, so this real-time access to data is what you need as a successful construction expert.
Construction project success largely depends on how streamlined everything is from planning to closeout. The main benefit of construction management tools is that they combine all the features you might need into one platform – so you can use a single app for team collaboration, project documentation, scheduling, budgeting, reporting, and digital signing. Therefore, as we spoke of extra miles earlier, do not be afraid of going this extra mile when it comes to software skills, since construction technologies will only go uphill from here.
Don't Sweep Your Legal Responsibilities Under The Rug
Construction projects are always susceptible to lawsuits if something goes wrong and you are not prepared for the consequences. You should primarily be aware of all the applicable building codes and laws for your projects, and this might require collaboration with legal and various real estate experts – remember: the stronger your network, the better! Always make sure to document your project milestones and reports using a good construction software app so that you will have all the evidence ready in case it is needed. Facing litigation as a construction professional can seriously injure your reputation and chances of success in the industry, so do your part and focus on your frontline responsibilities.
Caution! Success under construction
That was the end of our advice on how to be successful in construction! Just do what you like the most so that you can enjoy your work and look forward to it. Our final reminder will be to memorize Murphy's Law and live by it, as anything that can go wrong will definitely go wrong in the world of construction. But this is not a negative notion; it only indicates that you should always be prepared for setbacks and have a backup plan ready to take over. Even if everyone seems to be going a certain way, quite often, taking the opposite route can turn out in your favor if you know that you have what it takes to get there – so do not ignore the road "less traveled by" just because everyone else does!