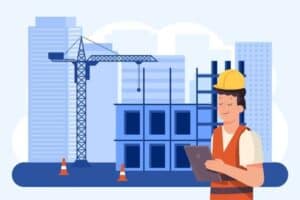 Image credits: Bridgit and Freepik
Construction superintendents have various onsite responsibilities in terms of project supervision and scheduling. They typically work with other construction experts like project managers, contractors, subcontractors, and different stakeholders. This keeps them at the nucleus of any construction project, and all professionals are required to report to a superintendent and follow the guidelines accordingly. If you are a new construction superintendent, you can expect to walk through all the phases and trades connected to your specific project. This includes setting deadlines, allocating resources, managing progress, ensuring safety, and collaborating regularly. SMART goals for construction superintendents allow new professionals in the field to set achievable targets and advance in their careers smoothly. They also help experienced superintendents try out something new and expand their skillset. So, in this article, we have shared some main goals you can set and add to along your journey.
Smart Goals for Construction Superintendents
Goal-setting is a productive habit that allows you to self-evaluate yourself and work towards possible improvements. This is important for career growth, especially as a new superintendent. If you feel that you lack in one or more areas below, try and set yourself a personal goal to achieve so that you can have a more progressive career – as opposed to a repetitive and stagnant one. Just as reference when we refere to "SMART" Goals in career development we are talking about goals that are "Specific, Measurable, Achievable, Realistic, and Timely". If your goals don't meet the "SMART" criteria then there is potential that you won't be able to determine if you were truly successful in meeting your goals or not.
Here are some examples of SMART goals for construction superintendents.
Build Strong Communication Skills
Construction superintendents need to be good communicators because of the collaborative nature of their job. This includes spoken and written communication with all kinds of interpersonal awareness. Superintendents who know how to interact with stakeholders and instruct their teams effectively will set the best project dynamics. It also helps to know more than one language in order to bridge language gaps within the team. You need to be open to discussions and accept feedback for improvement, so it is crucial to connect well with everyone and have the daily milestones on track. Another important aspect is to be aware of the technical terms used by construction experts, as this helps everyone stay on the same page and understand roles more easily. For these reasons, building proper communication skills should be one of the main goals for a construction superintendent.
Develop a Problem-Solving Attitude
Good communication also creates a problem-solving instinct that allows a superintendent to remain focused and calm during conflicts. A lot of mistakes can happen within construction projects, and you need to be able to solve problems rather than crumble under pressure. When you set problem-solving as a goal that you want to achieve, you try to look for solutions instead of wasting valuable project time. You might choose to re-prioritize milestones and adjust everything around any delays. You can also delegate tasks to subordinates based on their potential – which is why it is important to have strong interpersonal skills to assess the strengths and weaknesses of each team member. This will help you allocate tasks during emergencies or project bottlenecks so that everything becomes streamlined.
Even though you have a lot on your plate as a superintendent, you do not need to be everywhere at once, and delegating key roles will greatly simplify your work by increasing productivity. Not only does this realign the project back to its schedule, but it also encourages team members to play to their strengths. Communication and problem solving both establish a high standard of professionalism because you focus on respecting other people as well as the project at hand. This makes you a good listener and speaker, a great problem solver, and an overall excellent leader.
Walk the Extra Mile
No two projects are the same, and you will always encounter something unexpected in every project you supervise. The construction industry has faced lots of highs and lows in the past 2 years due to the pandemic, rising inflation, and import/export bans. Your goal as a skilled construction superintendent should be to adapt your knowledge and current experience around emerging onsite requirements. Your teams will be looking at you for directions, so make sure you do some prior research about the project and soak up as much knowledge, possibilities, and constraints as you can. This will help you answer questions or doubts faced by your stakeholders and teams.
You can visit the jobsite beforehand, make a list of the good and the bad, evaluate site safety aspects, and determine whether your team will be ready for the job. If not, you might want to plan and organize some training programs to address gaps before the project can begin. Doing some prep work in this way prevents construction bottlenecks down the road when teams realize they do not have the right skills for a particular task. Instead of blaming others, you can set an example by looking out for your teams and helping them improve through training programs – which always opens new doors to opportunities like LEED certifications. So, set a goal to walk the extra mile in terms of responsibility – both for yourself and for your teams. Being a step ahead of everyone else always goes the extra mile!
Keep up with Safety Guidelines
Safety is the most important consideration for all construction projects, and as a superintendent, it is your primary job to reinforce the right protocols. This includes people and site safety rules. Your main goal here will be to first learn the rules and educate yourself on the diversities and challenges of the current project you are working on. It will allow you to cover the smallest details in terms of safety and ensure a more productive, secure, and efficient jobsite environment. This should focus on everything from COVID compliance and personal safety to equipment guidelines and emergency protocols.
S.M.A.R.T goals
Speaking of smart goals for construction superintendents, let us also look at how the popular S.M.A.R.T management goals apply to the field of construction.
S.M.A.R.T stands for Specific, Measurable, Attainable, Relevant, and Time-bound. These SMART characteristic goals refer to breaking down a project into a set of achievable targets to help you finish your work more effectively – and they generally apply to all kinds of management categories. As a construction superintendent, you can use this strategy to optimize your current performance and get the best out of the tasks at hand, particularly the ones that you find challenging. In simple words, SMART goals are designed to increase the efficiency of your project and reach the deadline successfully – and this is how it is done:
Specific
Your goal needs to be specific and address a specific problem in order to be solved on time. Instead of generalizing your goal, try and narrow it down to one specific issue and take one thing at a time. The more complex your goals are, the more confusing it will be to handle them. As a construction superintendent, it will be easier to approach "Training 50 contractors on the new software in 1 month" compared to "Addressing gaps".
Measurable
Setting measurable goals is equally important, as it gives you the metrics to monitor progress and find out if things are actually moving forward. In the case of construction projects, this means analyzing a stage in terms of its lifespan and comparing it to others to mark progress (or a lack of). For example, you will be able to measure and track a demolition milestone on a monthly, weekly, or hourly basis using any software tool. This will show you how the milestone progressed over time and can be represented graphically to measure progress and make comparisons.
Attainable
Construction project goals need to be realistic and attainable. You cannot just set and forget a goal as a superintendent; you do want to achieve it and keep the project going. Setting attainable goals means first assessing whether or not a certain task can be done. You can then prioritize subsequent tasks based on how well you can achieve this goal. By considering project limitations such as logistical delays, you can decide whether building the landscape can actually be accomplished. If it falls out of budget and timeline, it does not make sense to include it as something you will work hard to achieve.
Quite often, it is better to review and reconsider your options instead of wasting time on something impossible to attain – like completing a major remodel in 2 weeks when you know that there aren't enough team members to finish the job on time.
Relevant
A relevant goal is directly linked to the construction project and can make or break the final outcome. Pursuing or ignoring such a goal can affect the overall timeline. You have to decide where certain tasks rank on your priority list and how relevant, interlinked, and crucial they are to accomplish. This will help you take care of the important stages first before moving to other activities. Instead of juggling multiple goals at the same time, consider revising your priorities so that your project does not reach a burnout phase with excessive efforts going into tasks that could have been handled much more easily later on. Setting relevant goals keeps teams focused and driven rather than overworked to the point of exhaustion. It also lets you plan resource allocation more efficiently. For example, in a kitchen renovation project, "Installing floor tiles before the cabinets and countertops" is a relevant goal. "Installing touchless fixtures" that the clients may or may not like can wait for later.
Time-Bound
Lastly, the goals that you set as a construction superintendent need to be time-bound or executed in a timely manner. This coincides a little with the "Measurable" metric for smart goals. Both help you establish feasible goals that can be measured by time and indicate how long you will be spending on each. Based on your resource and labor availability, you can decide if building a backyard swimming pool can be completed within a certain duration – just in time for the next stage to begin. If you discover conflicting timeframes, you might want to review schedules and Gantt charts with your teams again and redirect valuable time and effort to the more important milestones. Getting all of this covered in advance will allow for some buffer to accommodate delays and still keep the project on schedule.
To sum up the SMART goals, here is a simple scenario:
Specific – use a construction management software
Measurable – compile the last 10 daily reports
Attainable – gather highlighted report issues within 2 days
Relevant – assign roles and resources to address those issues
Time-bound – allocate a week to the teams with daily follow-up
Smart, as in Computer Smart
We saved technological goals for the end to give them the spotlight they deserve. Good technological goals boost productivity and keep things organized. Construction superintendents can use various construction management software apps to monitor different areas of the project. These tools are designed to centralize the multifaceted responsibilities of a construction expert. Using software apps can greatly simplify your jobsite and office duties because of the automation benefits they bring. For example, you can easily navigate between employee, material, and equipment statuses without having to physically visit those departments. In the world of COVID and online transitions, this became a massive shift in dynamics for construction experts who have been able to continue their work as seamlessly as possible.
Therefore, technological savvy has got to be on your list of smart goals. This includes a willingness to step outside your comfort zone and learn new software solutions, adopt cloud-based management, and create a technology-driven workforce. Setting a goal to bridge technological gaps will be beneficial both for you and your teams because you can then train your juniors to step up their game. Most importantly, computer software and mobile apps free you from the need to manage paperwork records. Everything you need is just a click away, so this takes care of your organizational goals as a construction superintendent. Good organization makes you more efficient with all the remote access you can have to the project data. In the end, you save time and effort thanks to a better jobsite perspective shaped by a resourceful construction management app. If you are planning to set a technological goal to try a new app, here are some of the best construction management software options to help you out.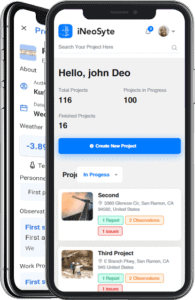 iNeoSyte is a mobile app for daily reports and makes one of the most powerful construction management tools for different experts. As a construction superintendent, you can use this app to organize field documents, digitize project records, and create inspection reports for daily follow-ups. You can log issues and key observations, add photographic evidence, share PDF reports, and even organize contractor profiles.
Such a cloud-based solution gives you instant access to reports and records from wherever you are. You can quickly take site photos and annotate them before sharing the message with your teams. This enables real-time collaboration and helps everyone stay on the same page at the same time.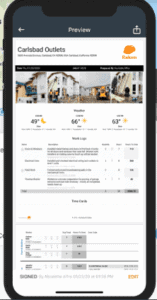 Raken app is another popular construction management app for field and office responsibilities. It helps construction superintendents set and accomplish smart goals for completing their projects on time. With better jobsite analysis and official insights, you can save a lot of time down the road. The app allows you to quickly take photos and incorporate them in reports, with stored digital signatures speeding up your work. It is a truly one-stop construction management tool that combines payrolls, product tracking, equipment tracking, material inventories, budgeting, and several other features. You can build historical data and identify potential red flags instantly. The dashboard summarizes everything you need to know, so you can focus on the actual field work instead of being slowed down by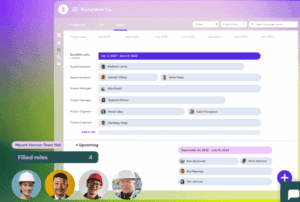 Bridgit Bench is a workforce planning software that offers simplified workforce visibility to keep you up-to-date. It takes away spreadsheet management from your list of worries, so you can instead redirect valuable time to field supervision, stakeholder meetings, and general audits. It enables integrations with Autodesk, Procore, Oracle, BambooHR, Microsoft Dynamics, and other platforms, allowing you to connect data in an easily accessible way. Smart goals for construction superintendents should include ways to manage workforce details as well as forecast analysis for each project. Bridgit Bench enables all-in-one forecasting, scenario planning, workforce utilization, reporting, and various other construction-oriented tasks. This will allow you to predict workforce needs and make the best out of resource allocation techniques, so most of your management goals will be covered here. Workforce planning also reveals issues like under and overstaffed roles, helping you re-allocate tasks, expertise, resources, and timeframes. The best part is that you can assign team members based on their availabilities and skillsets – so this form of centralized labor management is crucial for good organizational goals.
Conclusion
This was our take on smart goals for construction superintendents. As a construction expert, you want to set goals that actually address particular problems that you or your teams might be facing. The goal should acknowledge such a problem and help you reach a solution.
For example, if your goal is to build strong communication skills, the goal identifies your language barrier, interpersonal limitations, or fluency problems. Once you admit that there is room for improvement, you can work on possible solutions and make sure that the project does not lose its momentum. So, you might choose to delegate responsibilities or appoint an assistant for the time being. This will streamline communication and resume the work – all the while you take personal steps for improvement via feedback.
We liked the idea of S.M.A.R.T goals too, as they allow you to plan realistic and timely goals for short-term expectations, considering project timelines, limited budgets, resource scarcity, and so on. Lastly, the use of technological tools can be revolutionary for both new and experienced superintendents who are looking to achieve tech-savvy goals as professionals.
The key takeaway is that people are relying on you and waiting for your directions, so the sooner you figure out what to do, the better it will be for everybody and the project! Keeping that in mind, separate the personal development goals that you can work on at your pace. At the same time, make a list of crucial project goals that you need to address quickly, and work on them as a team – remember that you do not have to figure everything out on your own, but you do need some head start to stay a step ahead of everyone else.
FAQs
How can a construction superintendent improve?
Being a construction superintendent requires continuous development and self-improvement to keep up with this fast-paced job. There are many ways to improve your career as a superintendent. Good planning and research are important to understand the project you are working on, so be an early bird and get your information ready to go early on.
Another way to improve yourself is to be open to feedback and criticism, and this requires the ability to listen and accept others' opinions – especially those related to the project – so that you can identify problems and work on solutions. Talk to senior superintendents in your company and look for opportunities to interact with external networks too, as this will help you take valuable advice from the experts themselves – they know what it feels like to be in a super's shoes!
Professional improvement also comes with the willingness to learn new things and adapt, especially in the ever-changing world of construction. So, you can enroll in relevant training programs and acquire superintendent certifications to bridge gaps in your skill set. You can also work on SMART (Specific, Measurable, Attainable, Relevant, and Time-bound) goals that we discussed in this article for doing the best you can with the immediate project at hand – as opposed to general, long-term improvements that you can work on at your own pace.
Software tools are a super's best friend, so make sure to learn how to use them for effective construction management and tracking. They will help you stay organized and focused by keeping everything you need on one platform. Software apps like Raken also support documentation aspects through synchronized logs, voice recordings, photos, and videos, allowing you to improve the visibility of important project features – so nothing slips through the cracks, and you stay at the top of your game!
What skills should a construction superintendent have?
As a construction superintendent, you are the main link to the site activities, and you will have various heavy-duty roles to perform both onsite and offsite. This requires competitive skills to remain focused and productive, as the job involves a lot of multitasking and collaboration with several departments. Firstly, you need strong communication skills – both written and verbal – to interact with your teams, establish vendor networks, and report to different audiences. It is preferred to have bilingual or multilingual skills to connect with a wider construction audience, especially if your company requires you to travel a lot. Good interpersonal skills are also crucial, as they help you excel at key "people" skills like team-building, openness to feedback, the ability to listen, and so on.
With all the above communication and interpersonal skills ready to use, you also become an excellent leader armed with the right skills to effectively lead a team. This branches off to talent recognition and delegation skills as well. A good leader understands the benefits of effective task delegation and knows when it is time to step back, delegate responsibilities to the right members, and redirect the project back on track.
Problem-solving is the next key skill for a super. Construction projects are always vulnerable to surprises, conflicts, and delays, so it is important to know how to resolve issues and find solutions on time to get the project back on track. Software proficiency is another valuable skill to acquire as a construction superintendent, as it also supports good organization and problem-solving aspects. You will always find skills for CAD software, MS Office, Bluebeam, and other management tools as the main hiring criteria in job openings, so do not forget to add tech-savviness to your skill set!
What are the most important duties as a project superintendent?
A project superintendent has major responsibilities both onsite and offsite, and the complete list of tasks will simply drag on if we let it! To keep it short and focused, here are some of the most important duties you will cover as a project superintendent:
Supervising construction projects from start to end. This includes tracking each stage, highlighting red flags, monitoring progress, and taking steps to keep the project geared toward its deadline.
Communicating frequently with construction stakeholders like engineers, contractors, architects, and vendors. This could be for reporting purposes, brainstorming, collaborations, negotiations, and similar goals.
Implementing safety and quality standards. Project superintendents are responsible for the safety of their workers, the quality of the work, and the overall jobsite safety. This includes guiding on and reinforcing safety rules and code compliance based on OSHA standards.
Obtaining relevant permits and planning timely inspections.
Placing orders for materials, tools, and equipment. This also includes tracking inventories, allocating the right resources to the right teams, and ensuring safe handling practices via training.
Hiring suitable jobsite employees and organizing relevant training sessions to address gaps in skills.
Conducting regular follow-ups and safety meetings.
Managing all site activities and logistics. This includes setting the day's schedule, assigning tasks, checking whether the required equipment and materials are ready to use, streamlining deliveries, and so on.
How do construction superintendents stay organized?
Construction superintendents can use software tools like Raken and Bridgit Bench to stay organized and productive. These construction management apps have multiple features to streamline your work as a superintendent and keep everyone on the same page. By centralizing all communication and documentation on one platform, you can easily access the information you need and get quick insights from visual dashboards.
Another way to stay organized is to keep your notepad and pen ready to use. You might need to quickly note down emerging tasks or reminders, so it will be easier to make a list on your notepad and strike off items as they get covered. This will help you prioritize activities for the day and address issues before they go out of sight, out of mind.
Task delegation is the next secret to staying organized as a busy superintendent. You cannot be everywhere at once or do everything by yourself, so the sooner you accept this, the quicker you will warm up to the idea of effective delegation. By delegating tasks, you can manage the project more efficiently, allow others to play to their strengths, and most importantly, stay organized!
Lastly, it is important to return calls, answer emails, reply to chats, etc. to keep the recipients well-informed and updated. It can be overwhelming to manage this, as it is simply not possible to answer every call or respond to every email immediately. Therefore, you can organize your communications based on priorities for the project – for example, real-time chats on construction management apps require instant responses from teams waiting for your approval or update, so you can handle these first. Similarly, you can set automated acknowledgments for new emails, get back to calls from new contacts later, dedicate certain days to meetings alone, and so on.
Where do construction superintendents make the most money?
The average salary of construction superintendents within the US is around $89,000 per year. On the higher end, superintendents can earn $130,000 or more per year depending on where they work. According to Indeed, here are the highest-paying cities where construction superintendents make the most money:
Chicago, IL: $102,617 per year
Portland, OR: $102,517 per year
Atlanta, GA: $95,394 per year
Dallas, TX: $95,243 per year
Nashville, TN: $93,644 per year
Phoenix, AZ: $92,691 per year
According to Zippia, Idaho, Hawaii, California, and Washington are the highest-paying states that offer some of the best average annual salaries for construction superintendents. Zippia research also marks San Fransisco as the leading city of California where superintendents make the most money at a high annual average of $117,898. California itself has the highest construction superintendent demographics as a state and is known for its competitive top-tier salary range of $180,000. Here is a look at some of the top-paying states where superintendents earn significantly higher than the national average:
Idaho. Annual average of $107,188 with the highest 10% earning $166,000.
Hawaii. Annual average of $120,372 with the highest 10% earning $157,000.
Montana. Annual average of $99,580 with the highest 10% earning $151,000.
Oregon. Annual average of $108,640 with the highest 10% earning $169,000.
Washington. Annual average of $111,683 with the highest 10% earning $173,000.
Utah. Annual average of $105,852 with the highest 10% earning $163,000.
New Mexico. Annual average of $103,175 with the highest 10% earning $153,000.
California. Annual average of $117,438 with the highest 10% earning $180,000.
New York. Annual average of $95,094 with the highest 10% earning $133,000.
What are the three main responsibilities of a superintendent before construction can begin?
As a superintendent, you have the following main responsibilities to handle before construction begins:
1. Jobsite prep work. This involves visiting the jobsite beforehand to evaluate it and make it ready for work. You will need to assess safety aspects, anticipate the needs of your site crews, plan out the logistics, establish work hours for employees, ensure that the right vehicles and equipment are present, organize temporary offices, and so on.
2. Employee training. This is a key responsibility as a superintendent, and you will be expected to evaluate your crew's skills and address gaps with the required training. Your workers could need training for safe equipment handling, vehicle handling, software proficiency, and other major aspects – all of which should be covered before construction begins. Otherwise, the lack of competence can create bottlenecks when crew members fail to report on time, do not follow code compliance, ignore safety rules, and so on.
3.  Permits. Getting the right permits from local authorities is crucial and must be tackled before any construction work begins – or else the project will suffer costly reworks right from the start.
What are 5 characteristics one may need to be a superintendent for construction?
To become a good construction superintendent, you need to be:
1. Communicative. Firstly, all superintendents should be excellent communicators in terms of both verbal and written communication. This supports their interaction with teams and individuals and also helps with effective documentation, emailing, reporting, and similar tasks that require technical construction vocabulary.
Being bilingual or multilingual is a huge plus, especially if you are working with international audiences, as this will help you overcome language barriers within your crews and also connect with global vendors.
2. Safety-driven. The next important characteristic is being safety-driven when it comes to both your employees and jobsite. As a construction superintendent, you need to be aware of and implement all the latest safety protocols and applicable OSHA standards. This includes training new employees on safety, reinforcing correct practices throughout the jobsite, evaluating tasks to determine code compliance, and so on.
3. Detail-oriented. Good superintendents pay special attention to detail, which comes in handy during quality assurance purposes. This also helps with detecting errors quickly, planning timely reworks, and improving the value of each process for better efficiency.
4. Tech-savvy. Another key characteristic of a construction superintendent is being tech-savvy and proficient with relevant apps and digital tools. Most construction skills like organization, collaboration, reporting, scheduling, tracking, and budgeting are single-handedly covered by one efficient management software, so the more strengths you have in software skills, the better.
5. Problem-solving. Being a problem solver allows you to take initiative rather than crumble under pressure. This includes strategies like task delegation to improve the project's flow or conflict resolution to help teams overcome their differences – the goal is to use a problem-solving attitude to prevent delays and keep the project on track by coming up with realistic solutions that work for everyone.
Is being a construction superintendent stressful?
The job of a construction superintendent is fast-paced, diverse, and very demanding. Working between both jobsite and office environments can make you feel like you have a lot on your plate and just not enough hours on the clock to finish the work. Construction superintendents have to work with several audiences with very different project interests. This includes supervising the work of subcontractors and site workers, meeting with inspection teams, reaching out to the right vendors, updating project managers, training new workers, and much more. Most importantly, they have to supervise the complete project to make sure that it meets the deadline.
Such heavy-duty management duties can be very stressful to handle. The work hours are long, with every day bringing something new to the table. Unpredictability in construction is very common, so there is the added pressure of being able to adapt to changes, which can be stressful for most supers.
Some key strategies for managing stress as a superintendent include keeping a crystal clear set of rules to follow, maintaining thorough documentation to avoid confusion, and prioritizing your to-do lists. It is also important to share the load through task delegation to help you manage both the project and your stress better. Using the right software apps can take away a lot of administrative burden from your end and help you automate key tasks like scheduling and reporting, allowing you to focus on the jobsite and be more productive. In addition, setting SMART goals can support stress management by breaking down the big picture into targets that are specific, measurable, attainable, relevant, and time-bound. Lastly, it is important to remember that you cannot be accessible to everyone all day long, so you have to know where to draw the line to avoid burnout in your career.
Is superintendent higher than Foreman?
Construction superintendents are responsible for overseeing site activities and managing some office work when needed, so they often switch between the two work environments and have a leadership role in the project. Their primary responsibility is to ensure that the project finishes on time, meets quality standards, and stays within budget. Construction foremen spend their time entirely onsite and are directly involved with guiding and helping the site crews. These foremen take their instructions from superintendents and form the main link to updates on the site workers and activities.
This places superintendents one step higher than a foreman. Construction superintendents have more authority than foremen because of their management and leadership perspectives. Supers can reach out to foremen for complete insights into the teams' performances and site progress, often providing feedback to let the foremen pass on instructions and make changes. In most construction projects, foremen work under the supervision and guidance of superintendents and also report to them regularly. So, the superintendent has a comparatively bigger management picture to look at for the whole project, whereas the foreman has a more hands-on role to get the actual work done alongside the construction labor.
Construction superintendents need at least an associate or a bachelor's degree in relevant industry majors, but foremen usually need just a high school diploma with various apprenticeship experiences. All of these differences in qualifications, roles, authorities, and work environments put superintendents in charge of foremen – regardless of the project type.
What is a general superintendent in construction?
General superintendents in construction supervise and manage the complete project from start to finish. This includes overseeing everything from budgets and schedules to inspections and documentations to ensure that the project stays on track. These professionals frequently collaborate with project stakeholders like managers, engineers, architects, contractors, etc. – which makes general superintendents the key point of contact for everyone to report to. Your specific roles as a general superintendent will differ according to the company you work for, but here are the main responsibilities you can expect:
Planning the project scope.
Setting and updating schedules.
Tracking daily progress.
Managing procurement aspects.
Ensuring timely availability of equipment and materials for each day.
Providing instant feedback.
Ensuring quality assurance.
Implementing and monitoring safety rules.
Checking for code compliance.
Reporting to seniors.