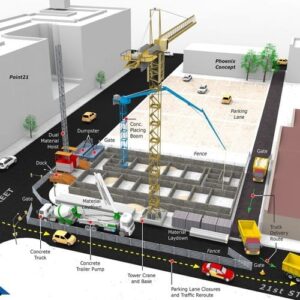 Image source: 99 Designs
A construction logistics plan (CLP) refers to a comprehensive document containing information about the ins and outs of a construction site. It represents the construction workflow and details for streamlining every stage and preventing delays. The plan acts as a valuable resource for construction professionals, as it deals with the impact a project can have on the local traffic, pollution, safety, noise, etc. Construction logistics is all about delivery vehicles moving around a site to load/unload materials and equipment, and so it covers all aspects related to timely deliveries, transport, quality assurance, and the safety of people. A well-organized plan provides a good vantage point for the construction, allowing teams to handle every movement without disrupting the general traffic.
The document includes information like procurement details, inventory management, human resource lists, personnel safety, and construction site layouts. Contractors and developers use this tool to analyze supply chains as well as their influence on road traffic. This helps prevent congestions due to any logistical challenges and keeps the construction as secluded from the local communities as possible.
A construction logistics plan is a complete framework for managing freight movement around a site. Construction companies often face delivery issues and accidents caused by the moving trucks – for example, due to mismanagement. Danger to life and property is a huge concern, which is why planning ahead allows construction teams to leverage their expertise and work efficiently. Projects have different logistical complexities that can affect communication between contractors, suppliers, and other stakeholders. By addressing all such avenues in the plan, construction experts can streamline their progress and prevent delayed milestones. This offers them a more centralized approach for handling freight logistics and improving their project's feasibility.
Construction logistics plan
What it includes
The CLP framework primarily addresses the construction vehicle activity around a worksite. It helps the involved teams understand the overall project navigation – and keep the total freight truck numbers on the road as low as possible. A complete plan typically includes details like:
the routes taken up by the construction vehicles
the construction traffic to be expected on those routes
any possible impact on the local communities
the materials, equipment, cranes, and other vehicles involved
excavations and demolitions that can cause disturbance
dedicated loading/unloading areas in the site
access routes around the site
personnel safety as well as pedestrian safety
supply chain management and storage issues
quality assurance per delivery
zoning restrictions and code compliance
Who is involved
Different construction professionals contribute to their logistics plan. The full document is curated based on individual input and approval from relevant authorities. The local planning authorities (LPAs) will analyze and approve a construction logistics plan.
They address the local community issues, reinforce the objectives of the plan, and make sure that these get implemented around the site. The construction developers are responsible for putting the CLP framework into action and collaborating with contractors accordingly. This sets the actual dynamics for the work environment and allows teams to follow a visual map throughout the project. The contractors also work on the logistics plan to make sure that all the construction stages remain synchronized with the framework.
How it benefits everyone
A good construction logistics plan helps with productivity and efficiency around a site. Some of the benefits it brings to a construction project include:
Timely deliveries: construction teams benefit from proper scheduling, preplanning, and communication. Contractors and specialists are responsible for the freight movement, so a plan that covers the relevant areas makes the job that much easier for timely deliveries.
Risk management: construction vehicles on the road increase the risk of traffic congestions and accidents. A logistics plan ensures reliable and safe movement with experienced carriers. This reduces risks for both the construction company and the surrounding people. Also, the number of trucks in the peak hours will drop considerably, making the roads safe for others to use.
Environmental efficiency: the actual construction and freight movement often leave a huge carbon footprint. By carefully planning and limiting the number of vehicles used, there will be lower emissions and noise pollution. A CLP framework helps contractors anticipate how the chosen routes will be affected. This enables them to manage the location better and be more environmentally conscious through sustainable measures.
Cost-effectiveness: limited deliveries also determine the financial feasibility of any construction. The logistics plan acts as a good construction forecast, reducing waste and repeated orders for the project. It allows construction experts to plan ahead and work with reliable suppliers who can guarantee the quality of the materials delivered – thus saving extra logistical overheads in the long run.
Labor productivity: a quality workforce is imperative, and it comes with ideal management of the site. Since a CLP document streamlines deliveries, it also supports resource allocation. This allows construction companies to hire the right teams for the right task and cut down idle labor time.
Designing a construction logistics plan
Site logistics and safety management are essential for any construction project. Developers and contractors use various Virtual Design and Construction (VDC) tools to create a custom plan. BIM integrations are also possible, and different companies specialize in these services to offer visual representations of a project. They help construction teams build the required logistics plan and receive expert advice on the workflow. Two examples of such companies with virtual design services are:
New York Engineers
New York Engineers provides construction logistics and safety planning services through VDC and BIM tools. It designs CLP documents by considering fixed and variable factors for project flexibility. The plan links site logistics with supply chain management aspects and helps construction companies safeguard their materials, equipment, and labor from potential hazards.
Viatechnik
Viatechnik offers plans and renderings for construction logistics using 3D tools like Sketchup and 3DS Max. These virtual design resources generate elaborate plans that include even the traffic posts and parking areas in the layout. It is a great way to receive expert advice on construction logistics through an organized visual map – with site perspectives that can be added or removed for the necessary adjustments.
Prevention is better than cure
Every type of construction project relies on materials, labor, and equipment. The role of a good logistics plan is to have these delivered on time and in good shape. Otherwise, if one thing goes wrong, the domino effect will be felt throughout the construction. It may lead to traffic holdups and literally bring the entire project – and road – to a bottleneck halt. A detailed construction logistics plan should be tuned in to such possibilities to ensure preventive backups and mobilized workflow – and keep logistical nightmares at bay!