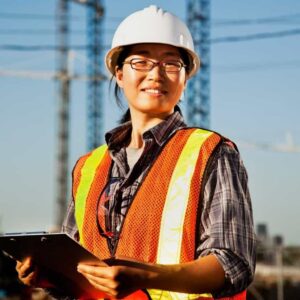 Image credits: RON LEVINE via GETTY IMAGES
Women in construction have a wide job scope ranging from specific trades to management roles. They work as installers, bricklayers, roofers, technicians, carpenters, equipment operators, surveyors, inspectors, architects, engineers, and other experts in the field. They also take on leadership roles where they work as construction managers, project managers, and site superintendents. Depending on the type of work you do – in the office or on the jobsite – your female construction attire will differ to suit your work environment. Here is what a typical construction wardrobe for women looks like.
Female Construction Attire
Women's construction workwear is generally the business casual type for most roles. Even if you are working in the office, you can expect to switch back and forth between the jobsite and office environments, which is why nearly everyone prefers a business casual look over a corporate formal. Good female workwear is designed with both functionality and comfort in mind, so it needs to tick some major boxes like sizing range, flexibility, fit, durability, safety, and of course, usable pockets.
Most off-the-rack options have limited sizes that end up being too small or too loose for women in construction – not to mention the lack of utility with fake pockets! For this reason, it is better to pick brands like Dovetail Workwear and Carhartt while deciding on your construction wardrobe because these brands have well-curated workwear catalogs that actually WORK for women. You can easily find a size that fits you along with a range of features like flame resistance, insulation, etc. Fabric compatibility is important in jobsites where machinery and flames can cause hazards, so your chosen attire should be equipped for the work ahead. Also, loose or baggy clothing will only get caught in tools or machinery and potentially put you at risk as you work – hence the need for a good fit to get you through the day, all the while helping you appear neat and site-prepared. That said, here are some construction workwear ideas to inspire your wardrobe.
Tops
Construction shirts for women generally include t-shirts, flannel shirts, and long-sleeved full-button work shirts. These can be worn by any female working on the jobsite, and those in the office can stick to flannels and full-sleeved work shirts. Brands like Carhartt, Legendary Whitetails, and Dovetail Workwear offer wider sizing options from XS to 5XL or more, so you will always find what you are looking for in one of these brands. Make sure to keep an eye out for features like chest pockets, button closures, and material stretch. Flannel tops will be an excellent addition to your business casual wardrobe because they work as both standalone shirts during summers and go well with base layers during winters.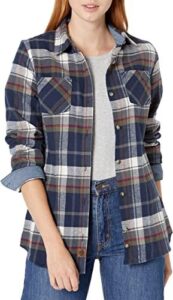 Legendary Whitetails women's flannel work shirt
If your job requires special safety features like flame resistance (FR) in your shirts, you can find many durable options from Wrangler Riggs and Carhartt. Jobsites may have different thermal protective ratings to be followed, and your chosen female construction attire – your shirt in particular – must meet this rating. FR fabrics are designed with self-extinguishing properties that can avoid the risk of burns and similar hazards as you work. Most brands also provide additional features like shirt pockets and high-visibility logos, so consider these add-ons for a truly jobsite-conscious work shirt.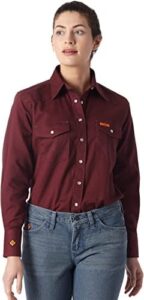 Wrangler Riggs women's flame-resistant work shirt
Women in both offices and jobsites require ideal base layers during winter to keep warm without appearing too bulky – as wearing multiple shirts with a thick jacket restricts movement and can slow you down more often. Layering is always effective as one compression base shirt provides enough warmth and comfort when combined with a flannel or extra shirt on top. In this way, you can ditch your heavy jacket – or keep it just for outdoors – and choose a more lightweight option in the office. Good polyester base layer shirts wick away moisture, enable easy movements, have a textured fabric for better warmth, and offer general comfort throughout your work hours.
Keep in mind the fact that you need a full range of motion in your arms if you work outdoors, so look for features like Rugged Flex which is popular in Carhartt base layers.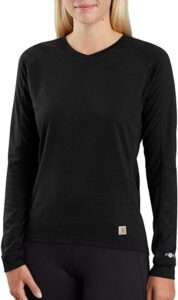 Carhartt women's midweight thermal base layer
Jackets are a crucial part of female construction attire for winters. As we discussed above, the benefit of good layering is that it takes away the weight of an otherwise bulky and restrictive winter outfit. Brands like Legendary Whitetails offer convenient shirt jacket combos that you can wear to keep warm without added bulk. They come in a range of corduroy accents with flannel linings, drop tails, big cargo pockets, and hand-warming pockets and simply make a great work-ready outfit for construction women. You can wear a base layer underneath this shirt jacket – it lets you skip wearing an extra shirt, as the flannel is already attached to the jacket! Functionality? Check. Pockets? Double check!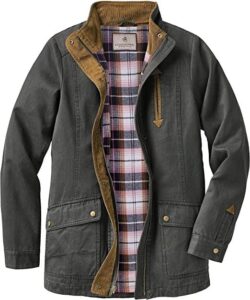 Legendary Whitetails women's shirt jacket
Lastly, a good, lightweight, and adjustable hooded jacket works well for both office and outdoor settings, especially if you are a site super. If you want to wear a jacket without having to remove it each time you come back inside, consider buying one with adjustable cuffs and waist to help you stay comfortable between both environments. Adjustable cords also give a more presentable and stylish look, which is important if you are responsible for meeting different people throughout the day. You can find lightweight jackets at Levi's and Carhartt. They provide impressive pocket ranges, fabric stretch, and color options to suit your overall outlook without compromising your construction work efficiency.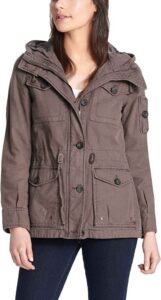 Levi's women's hooded field jacket
Pants
Work pants for women in construction also focus on business casual, so cargo pants, bootcut pants, field pants, and utility pants are the everyday norm for both office and outdoor settings. Denim is a less frequent choice, usually reserved for jobsite days, so construction supers might opt for jeans depending on their schedule but if you are a manager, denim could be too casual for your leadership role. As with shirts, construction work pants come with a range of safety features like flame resistance, which is useful for women who work in hazardous conditions. The ideal pair of work pants should be durable, relaxed-fitted/well-fitted, stain-resistant, flexible, and overall comfortable to help you navigate easily. And, of course, it should have the right number of multiuse pockets to keep your tools, stationery, and gadgets within accessible reach. Dovetail Workwear, Dickies, and Carhartt are excellent brands with generous size and style offerings, so you will always find something that works best for you.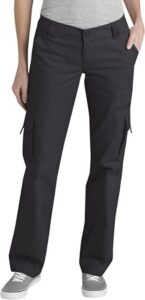 Dickies women's relaxed-fit cargo pants
Field pants also make a functional part of the female construction attire. Most field pants include features like moisture-wicking, stain resistance, and breathability. They are quite rugged – hence last longer – and often include reinforced linings as well as multifunctional pockets and tool loops.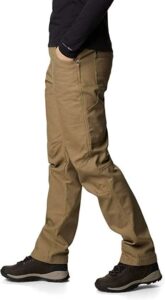 If you do want to pick denim, consider those with bootcut styles as you will most likely wear construction boots to your job. Look for fabrics with more stretchability so that you can navigate the jobsite better. Jeans with reinforced pockets are a plus – anything that adds to attire storage is your friend!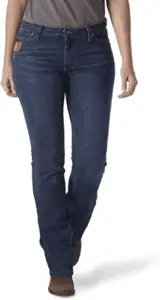 Wrangler Riggs women's boot-cut jeans
Footwear
Lastly, women who work in jobsites require durable construction boots that meet relevant safety ratings depending on specific trades. Those who are based in offices can also opt for regular, everyday work boots minus the technical safety features. As long as you are on construction grounds, you need to be able to trust your footing and avoid accidents, so boots set the best footwear standard in this case. Carhartt, Timberland PRO, KEEN, and CAT are popular brands for women's work boots. You will find a range of rugged and jobsite-ready boots with features like slip resistance, chemical resistance, heat protection, moisture-wicking, etc. Safety-toe boots are ideal for jobsite workers, whereas office teams can simply opt for the soft-toe variety.
With steel-toe boots, your feet remain secured against impacts thanks to the shock absorption features of such footwear. In addition, these boots offer a level of slip resistance, waterproofing, insulation, and breathability to keep you safe and comfortable.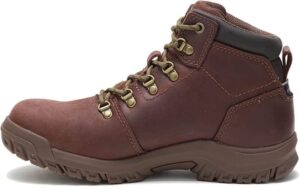 CAT Footwear women's waterproof steel toe work boots
In comparison, soft-toe boots provide minor toe protection. They focus more on everyday wearability, midfoot support, heel support, and general footwear comfort. The more expensive options may include electrical hazard safety as well, so this depends on the type of environment you are working in. Soft-toe work boots are lightweight and not as heavy-duty as steel-toe, which is why they are worn more frequently by supers and managers.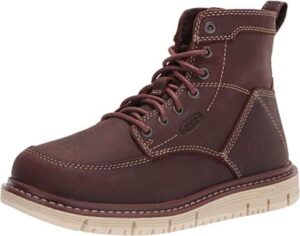 KEEN Utility women's soft-toe wedge work boots
Conclusion
The construction industry is full of physically demanding jobs. Without the right construction attire, it is simply not possible to perform your best considering the level of safety involved with jobsites. Workwear options for women can be very limited outside of brands like Dovetail Workwear, Carhartt, and CAT as we saw above. These brands focus on realistic workwear standards that should become more widespread in order to meet the needs of an industry with a rising number of female professionals. Sizing and functionality have been the two main areas of concern among women in construction, and with the above brands redefining the norm, relevant construction workwear is finally achievable. Whether you work outdoors or in the office, your choice of workwear can easily affect how your day unfolds, so you want to make sure that you both appear and feel confident in your stride to go the extra mile with your key strength: work!