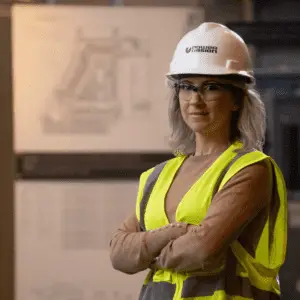 Image credits: Power Design
Workwear for women in construction is being increasingly redefined to include more options for functionality, sustainability, color, size, and style. While popular brands like Carhartt have everything you might need, women-owned brands are raising the bar for female construction workwear standards – so there is something epic for everyone to wear, and you no longer have to make do with the limited, cookie-cutter options. Dovetail Workwear is one example. Apart from being a sustainable, environment-conscious company, Dovetail Workwear offers the right fit and fabric for every female construction professional – and it takes women's pockets very seriously!
If you are a construction project manager, you will be busy with both office work and occasional site visits depending on the day's schedule. Since construction project management is mostly an office-bound job, your choice of outfit will be a little different from jobsite teams. While planning your female construction project manager attire wardrobe, you want something that is not strictly corporate-formal but still business-casual enough to let you switch between the office and the jobsite when needed – and here is how you can do it.
Female Construction Project Manager Attire
Tops
During summers, you can opt for linen and cotton work shirts, flannels, polos, and collared shirts. There is no need for a blazer – remember: construction business casual over corporate formal! Depending on your specific construction project and your company's requirements, you can also wear flame-resistant work shirts for extra protection. Since construction workwear is all about functionality, your attire should have pockets that you can actually use, so watch out for fake pockets and consider buying shirts with easy-access storage pockets. Also, make sure to wear fitted work shirts with full sleeves to appear more professional and presentable. Loose or baggy shirts are not very appealing in an office setting and certainly not practical during site visits. Some construction work shirts also feature high-visibility logos that come in handy for outdoor work in the dark. Needless to say, you will also have high-visibility vests with you whenever you go out.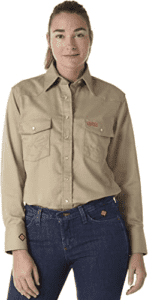 Wrangler Riggs women's flame-resistant long-sleeve snap work shirt with reflective logos
For your winter ensemble, it can be challenging to find the right balance between a good fit and comfort, which is why we recommend wearing base layers instead of thick and bulky sweaters – topped with even bulkier jackets. By wearing compression inner shirts, you can layer your female construction project manager attire more effectively so that you stay warm and comfortable and still look neat.
This will help you skip the jacket while you are indoors, so you can only wear it when you visit the jobsite. It is also a smart way to ditch the bulky, enveloped winter look and opt for a more effortless, work-ready vibe. Finding the right base layer fabric is crucial, as you do not want something that is too restrictive. Look for materials that are breathable, stretchable, and moisture-wicking to allow better mobility as you work.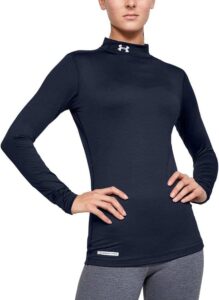 Under Armour women's ColdGear Authentics compression base layer
Pants
As a female construction project manager, you can wear slim chinos, fitted work pants, tapered pants, straight-fit khakis, and even denim – just reserve the denim for strictly outdoor visits, as it is not very professional to attend office meetings wearing jeans. Again, the focus is on business casual and fitted, so make sure to wear something that is durable, functional, and comfortable. Speaking of functionality, aim for multi-use pockets in which you can carry on-the-go essentials like stationery, hand tools, your smartphone and walkie-talkie, etc. Considering the frequent meetings you will have and the various stakeholders and clients you will collaborate with, it is important to always stay on top of your game, and your outfit marks the first impression for this purpose. Therefore, opt for stain and wrinkle-resistant fabrics to always have that effortlessly ready look about yourself.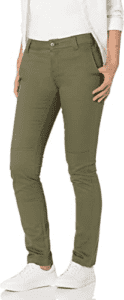 Dickies women's double-knee stretch twill work pant
Footwear
Construction project managers have to switch between both office and jobsite settings as needed, so a flexible pair of shoes is important to help them walk that fine line. While you can wear loafers and steel-toe shoes in office environments, it would be better to wear durable boots when you are outdoors. For this reason, you might want to keep two pairs of shoes – one that is more office-appropriate and the other that is more jobsite-friendly. Depending on the safety ratings required by your company for the current project, you will have to wear various safety-rated boots that offer maximum foot protection outside. Usually, simple work boots are sufficient for construction project managers because they do not spend all of their time in tough jobsite environments. Your choice of construction footwear can really make or break your overall outfit, so steer clear of heeled shoes and stilettos and only wear covered shoes for maximum comfort.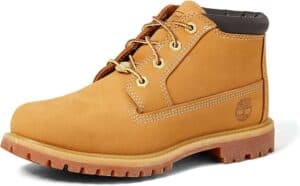 Timberland women's waterproof ankle boot
Accessories
The only accessories that make sense for any construction professional are the functional ones, so that leaves you with leather belts, strap watches, and sunglasses. Even if you are working in the office the whole day, you might be called for jobsite approvals here and there, which is why it is best to ditch any fancy jewelry that can be dropped, lost, or damaged easily – and this is highly probable in the unpredictable construction environment.
Colors
The usual construction color palette applies to everyone working in the field of construction, and all female construction project managers can wear grey, khaki, beige, and white. In addition, it will be much safer to wear navy blue and black inside offices rather than outdoors, so while jobsite superintendents avoid wearing dark colors and only prefer the "construction camouflage", project managers can safely put on darker tops without worrying about catching dust.
Conclusion
To sum up, your outfit for construction project management should be comfortable and professional-looking, ready for the office and the site when needed. Also – and we cannot emphasize this enough – get some real pockets! Various construction workwear brands provide everything under one roof, so you can browse for features that you want such as wrinkle resistance and large pockets. Earlier, we talked about women-owned brands like Dovetail Workwear that are focusing on both functional and fashion-driven clothing for women in construction.