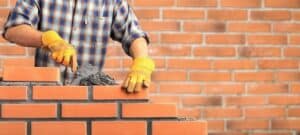 Image source: Home Advisor
Masonry contractors specialize in various stone, brick, and concrete projects to build a range of structures. From chimneys and bridges to walkways and buildings, the art of masonry has coined the term "brick-and-mortar" in the world of construction. It dates as far back as the Colosseum and the pyramids, and the fact that they still exist proves how masonry stands the test of time. Builders often prefer brick and stones for their durability and versatility in creating architectural wonders. The monumental impact of these projects helps construct famous landmarks and buildings in all residential, commercial, and civil contexts. Masons can be stoneworkers who focus on exterior renovations and veneer choices, brick masons who layer bricks, and concrete workers who specialize in house foundations and block concrete uses. Masonry work is quite diverse and includes several applications from minor crack repairs to full-scale restoration projects.
If you are a masonry expert planning to start your own business, you already have the skills and knowledge, so you just need a good direction for a successful takeoff. Running a masonry business requires proper organization and the right collaborations to make your services known to the local audience. Since you are just starting out, you can focus on small-scale projects first before moving to complex ventures. After all, every thousand-mile journey begins with a single step.
Start-up masonry businesses often provide minor works like chimney installation, tuckpointing, and walkway construction. Speaking of a brick walkway, follow the yellow brick road below to your own Emerald City where your handcrafted success awaits!
How to start a masonry business
Do some research
A good place to begin would be the websites and social media pages of existing masonry companies. Their portfolios will give you an idea about the local services that are already available to customers, so you can identify gaps and decide your skillset accordingly. Customer reviews make a very insightful guide in helping you discover what the people actually want. An example would be a complete job site cleanup after the masonry service is over. If there are mostly large-scale businesses in your town, then chances are that they do not offer minor services like brick wall repairs and mortar replacement – for the budgeting goals they have to follow. This is where startup masonry contractors can pave the way to their initial services, as brick and stone renovations are always in demand.
It is a great way to plan your first projects and decide what kind of audiences you can work with (homeowners, retail store owners, office designers, etc.). The research stage should give you enough time to brainstorm original ideas for your masonry specialty, company name and logo, website, social media presence, residential/commercial scope, and competitive pricing. As a company that is about to open during the pandemic, you should consider ways to keep things COVID-proof and ensure the safety of your clients. You can also think about the best advertising approach to showcase before-and-after results on Instagram once you start winning projects. At its inception, your masonry business will have to meet various small-scale requirements before branching out into full-service craftsmanship. You need a good business plan beforehand to anticipate your company's goals from a better vantage point – and decide the financial loans from lenders to fuel your vision.
Invest in software technologies
Software apps for construction automation management and project management are important in organizing your workflow.
Using digital tools keeps communications and masonry dashboards aligned, taking away the burden of extensive paperwork from your shoulders. You might not need new office premises immediately; you can simply work from home during the initial stages. Various business apps are available to manage and track planners, projects, estimates, schedules, etc. on the same digital system, so you get to launch your business without any towering paper loads. They are helpful in improving your visibility and accessibility as a business once you start. Masonry projects rely on material orders for all kinds of products like block, mortar, rebar, concrete, and decorative pieces. So, an automated inventory management system will streamline orders and logistical processes to make sure that materials arrive on time. Masonry contracting also uses takeoff details to measure material quantities and their associated costs from blueprints, including labor charges and overheads. All you need to do is upload the drawings and receive instant numbers to work with. Compared to using pen and paper, a software app will save you a lot of valuable time that you can divert towards the actual work. It also minimizes errors and inaccuracies in the measurements and estimations.
Masonry-specific CAD solutions focus on calculating the quantities of brick, adhesive, mesh, mortar, and stone based on square footage applications. You can share the digital plans with your team, and these are accessible on both web and mobile devices – effectively speeding up collaborations. Accurate estimating will allow you to create reliable bids and improve your chances of getting hired. This is because you can mention reasonable timeframes for each milestone on the bid and then actually commit to the stated duration. Apps provide organized customer and project visibility to let you track each request, completion, delay, and project success/failure. Contractors might prefer manual work if they want to save up on initial spending, however, anything that makes your job easy in the long run is your priority investment that will pay off. Here are some masonry business management software apps you can use:
On Center (employs On-Screen Takeoff and Quick Bid software services)
Decide the tools and equipment
Based on your chosen specialty, you can pick the required tools and equipment for the job. You will not need expensive and brand-new resources in the beginning; you can always improvise with second-hand tools that are good enough to use.
These may include second-hand ladders, scaffoldings, cars, trucks, saws, and handheld tools – all of which can be either borrowed or purchased at low costs. A startup masonry business will benefit from budget orientation right from the scratch, allowing you to invest money in more crucial services. You can also focus on buying only those tools that your services currently need. Good preplanning will prevent you from spending money on tools and equipment that you might never use. Most masonry projects require levelers, trowels, cement mixers, cutters, and polishing tools. Once your business takes off from its runway stage and you are more financially confident, you can purchase new resources and update your toolbox.
License and register your business
Acquiring suitable training or apprenticeship for your chosen trade will bring you a step closer to your contractor license – which is an important legal necessity for running a masonry business. The training ends with an exam that will decide your licensing options. You might already have skills and experiences in the field, and the exam puts them all to the test for proof of credibility. Your local and state authorities are responsible for issuing the masonry contractor license at the given fees. Since different states follow different licensing rules, you need to get in touch with your state's authorities and labor department. The license is your ticket to winning more projects down the road because clients almost always prefer hiring certified contractors. It reflects professionalism, transparency, and legal compliance on your part.
A contractor license also secures your business by enforcing relevant insurance plans. They help protect your masonry assets and teams from lawsuits in the face of an accident. You can explore your available options with an insurance company. Usually, general liability insurance is purchased to cover both medical costs for injured personnel and replacement fees for damaged tools. Such policies buffer you and your business against the financial impact of unforeseen events during the job. Once you check off all insurance, licensing, tax code/filing, OSHA, and permitting requirements, it is time to register your business according to your preferred operating structure. This is where you get an official business name, logo, website, and bank account to build your business identity – and finally create Facebook/Instagram pages to reach a wider audience.
Choose your team and advertising strategies
With a proper, established legal footprint, you can start building your masonry crew and confirm that all members get covered by relevant insurance as well. The human resource stage will depend on the kind of services you have in mind – or whether you are open to new specialties on board. Make sure to document each project professionally with your team and clients so that you can build a detailed portfolio right from the start. This will help you advertise your services more impactfully on Facebook and Instagram, as trying to promote your business without social media apps can be like talking to a brick wall! These platforms employ targeted advertising that drives content to relevant audiences based on their locations. So, you will receiver better visibility and speedy recognition for your services using social media "channels" that people tune in to regularly.
Local advertising banners are also important. They offer a simple way to catch the attention of homeowners and commercial building owners in your location. There is always a driveway that needs fixing, a patio that can be rebuilt, and a fireplace that can be restored – giving you ample chances to collect startup portfolio content. The kind of actionable marketing and advertising you do will improve your masonry network and sponsorship possibilities to grow as a business. Remember to hand out business cards to clients you work with so that they can contact you for repeat projects. You never know how many relatives and friends may ask for recommendations from your clients, so keep your company and team within accessible reach.
Don't allow failures to hit you like a ton of bricks
The Wizard of Oz might not help you much, but if you need any inspiration, there is one wizarding world of iconic brick wall entrances that we are adding to masonry landmarks: Platform 9¾ and the Leaky Cauldron! Both brick walls open a whole new world, and that is all the metaphorical boost your business needs if you are a Harry Potter fan. The key to running a successful masonry business is to remain focused, determined, and patient with the learning curve. Small business ownership brings you the level of freedom that you can never find as an employee. You can pick friendly work hours and choose the best projects. You should definitely not be scared of spending more money on resources that will save time/effort and reduce mistakes.
Saving up on such expenses will actually backfire in the long run when estimation errors slow you down and demand additional payments. A good masonry business deserves resourceful solutions.
You cannot afford to gather up debts when you have just started. Brick-and-mortar projects range from simple wall replacements to full facade renovations. The services you offer can always evolve over time to accommodate the local challenges – like restoring dilapidated structures.
The trade requires an eye for detail to create seamless installations for all projects, keeping up with specific building codes. As a masonry contractor, you can expect your schedules to crumble easily under inclement weather, logistical failures, and other delays. It is called a learning curve for this very reason, and you should focus on workable alternatives instead of giving up. You are your own boss, you can work from home, and you have a set of digital tools to reconsider everything – which all add up to the main incentives!
Another source of motivation is the fact that you get to choose small masonry repairs for quite some time. Apart from the local customer base, large construction companies can also outsource their minor projects to you because they have the bigger picture to take care of. Some examples of such services include sidewalk repairs, fireplace construction, chimney renovation, and landscape improvements. When so many small repairs add up, your portfolio keeps getting heavier. And that window of opportunity is hard to ignore. This makes a masonry business a very profitable venture, and the structures you create are likely to stay here for a very long time.