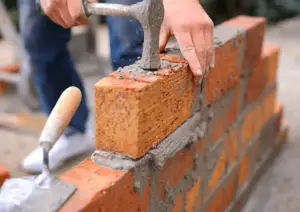 Image credits: Yuri_Arcurs Getty Images
As a masonry contractor, you have to work on promoting your business and services by targeting potential audiences. Masonry advertising and marketing strategies are important for the success and visibility of any contractor. Both new and existing masonry businesses rely on good advertising techniques to reach out to clients, highlight their portfolios, and become better accessible on the digital trail. While posters and banners remain popular advertising tools, they are not enough to help you establish your digital footprint – without which you cannot grow as a business in today's world. So, here are some effective masonry advertising tips you can use to give your brick-and-mortar skills a special spotlight.
Masonry Advertising Tips
Join The Masonry Network
Most masonry experts organize collaborative events and workshops where different contractors and landscapers meet up to learn and share something new. This is particularly useful for new masonry contractors who have just launched their businesses. It gives them a chance to meet other professionals in this industry and find out more about advertising and marketing techniques. Make sure to keep an eye out for such events in your region and participate in them whenever you can.
This will also help you put your business out there by interacting with people, who will remember to contact you for future projects, especially if you offer masonry services that are missing from the local talent. Networking is a remarkable opportunity to advertise your services by simply being a part of the existing contractor pool and letting things take off from there.
Advertise Through Word Of Mouth
Another effective technique is to get yourself known among the local community and rely on word-of-mouth advertising. You can do this by volunteering for various local projects that involve repairs and fixes for homes, schools, community clubs, stores, cafés, etc. You can even start your initial paid work by fixing/building walls, repairing chimneys, remodeling landscapes, and working on similar small-scale projects in your local area. Generally, the first steps are all about getting out there and knocking on doors to let yourself be known or meeting neighbors as you pass by them and offering to help. In this way, people will get to know about you through word of mouth – there is always someone who needs a masonry service, and people usually begin by asking neighbors. Chances are that you might have worked for them recently, so word of mouth will be your low-key advertisement strategy!
Get Listed In Online Directories
Online directories like Thumbtack and Houzz connect clients to relevant businesses, so – for example – this will help an interested customer find your masonry services more easily. By listing yourself in such online directories, you make yourself accessible to anyone using them for finding local options. People prefer using the features of such directories because these are designed to narrow down searches for local businesses, making it easier for homeowners and commercial clients to find what they are looking for.
Build Your Social Media Trail
Coming to the main digital tools, social media platforms like Facebook, Instagram, Twitter, and Pinterest are key advertising tools to use. In addition to your main website, you need to create your social media pages to promote your masonry business. They will help you showcase your portfolio, maintain a digital gallery, create Insta stories, and let people know your strengths in this industry. Again, you can get things going initially through word of mouth, by sharing your contact card, and using local banners with links to your social media pages.
Even better, consider using QR codes that take people directly to your social media profiles. This will help you advertise more efficiently and allow people to find and learn about your services by instantly visiting your website and other pages.
Harness The Power Of Ads
This is all about getting the right kind of digital ads to promote your masonry business, so it will involve everything from search engine optimization (SEO) to YouTube advertisements. By using Facebook ads, Insta stories, Google rankings, YouTube ads, and similar services, you can target relevant audiences faster and give your portfolio a wider spotlight. This increases your digital visibility as a business and promotes brand awareness with better coverage. People are more likely to visit your social media pages, like your posts, interact with your updates, and increase your views when they frequently see relevant ad content based on the keyword searches they make – which is why Facebook and YouTube video ads are so effective. The first 5 seconds of your video ads are crucial, as this is your chance to grab attention before anyone clicks on "Skip Ad", so make sure to create impactful and client-conscious masonry ads before publishing them. If you are not sure how to manage all of this masonry advertising content, you can enlist the help of online advertising and marketing consultants to do this for you instead.
Don't Forget Email Marketing
Lastly, remember to stay in touch with your existing clients by sending promotional emails to showcase your new plans, packages, seasonal offers, and similar updates. You can use such broadcast emails to advertise your new services through infographics that will appeal to the recipients (your existing clients). This increases the chances of getting repeat clients, which is more profitable for start-up masonry businesses compared to finding new customers.
Where To Begin?
With so many online advertising and marketing platforms out there, it can be confusing to get everything done by yourself if you are not sure where to begin. A good starting point will be choosing a reliable, all-in-one advertising and marketing consultant who can provide multiple services to promote your masonry business. Feedbackwrench is one such service provider for website, SEO, and advertisement features, and here is how you can benefit from hiring its teams.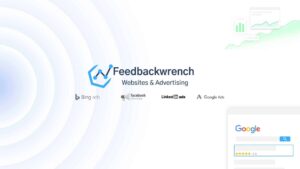 With Feedbackwrench, small masonry businesses can tap into the benefits of competitive advertising tools using SEO, Bing Ads, Facebook Ads, Google Ads, and similar services. It is a one-stop digital advertising and marketing platform that supports all business types, including masonry and stonework contracting, in the hunt for setting their digital footprints. Since you will use just one platform for everything ad-related, you do not have to use any other software or service for managing your website and ad content. Here are the top services you can get from Feedbackwrench in the same package for your masonry business:
Custom website development
Optimized website and ad content
Paid Bing and Google advertising
Bing and Google ranking via masonry keywords
Leads using Bing Places and Google My Business reviews
Blogs and FAQs from Feedbackwrench writers and content strategists
Feedbackwrench has a huge reputation among masonry, brick, and stonework businesses – which also means that its teams know exactly what they are doing. Once your digital pages are up and running, you can simply upload new photos as you expand your portfolio and watch them appear simultaneously on your website, Facebook page, LinkedIn profile, Google My Business, Pinterest, etc. This is what we love most about the one-stop convenience of such a service! It automates nearly everything so that you can focus on what you do best – running your masonry business – without juggling multiple websites and advertisements.
Popular masonry keywords and phrases like "chimney repair near me" and "masonry contractors near me" are used based on current keyword statistics. This keeps Feedbackwrench at the top of its keyword game because its teams have specialized in masonry leads, so you can be sure of work stability and consistency. In addition, the platform accelerates your search engine rankings based on the Bing/Google reviews you receive. In this way, if you get higher positive reviews than other masonry contractors, you will automatically appear further up the search results and have more clients interested in hiring you.
Lastly, Feedbackwrench also provides the services of its writers who can help you create meaningful, relevant, and client-driven content through blogs and FAQs. These are two key website elements that will help you build your reader pool. People are interested to know more about their chimneys, fireplaces, landscapes, garden walls, driveways, etc., so the more information and advice you share, the more questions you end up answering – and this will turn your blog readers into potential clients. Feedbackwrench can do all this for you by creating optimized content for masonry advertising through keyword-driven blogs and FAQ sections that encourage visitors to stop by and read along.
From Brick-And-Mortar To Zeroes-And-Ones
For someone who is not familiar with the world of SEO and keywords, it will be difficult to join the existing competition and become visible to clients. Advertising and marketing platforms like Feedbackwrench can help bridge a lot of gaps, so consider enlisting the services of such companies to fuel a successful masonry advertising campaign. To sum up everything, such a service connects all the digital dots for your business so that interested clients can follow this breadcrumb trail and find you easily. Whether you are a small or growing business, you will benefit tremendously from such behind-the-scenes advertising, so make sure to allocate the right budget to these technologies if you cannot manage them by yourself. Brick and stone structures are works of art, and people will know you through the "artist's signature" you leave on your work – so going digital is your best shot!