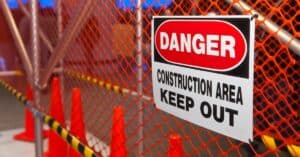 The construction industry has some of the most brutal statistics of workplace accidents and injuries considering the demanding and unpredictable nature of jobsites. The losses and damage incurred from site accidents cost billions of dollars per year and can be a result of both natural events and human negligence. If proper precautions and training are not implemented, there can be several causes of accidents at construction sites with devastating outcomes for families and the construction firms themselves. Here is a look at the major causes of such accidents in the construction world.
Causes of accidents at construction sites
According to the OSHA statistics, there are 4 main causes of jobsite accidents and injuries, and these are collectively known as OSHA's "Fatal Four":
Falls
Struck-By
Caught-In/Caught-Between
Electrocution
Each year, around 50% of construction accidents and deaths occur due to falls and injuries from dropped objects or debris. Together, the Fatal Four contribute to more than 60% of injuries and casualties in jobsites.
Here is a detailed breakdown of the most common and life-threatening causes of accidents at construction sites.
Poor Management
Quite often, smaller construction firms lack proper safety practices, training, and management due to limited resources and budgets, which increases the risk of their jobsite accidents. If construction firms do not have a serious management tier to enforce OSHA regulations, hire only certified candidates, and provide the necessary training, their workers will be a danger to both themselves and to those around them. It is important to offer clear safety instructions before the work begins and monitor the site carefully – which is the job of a site supervisor. Having a site supervisor improves the day-to-day flow of a construction site, as these professionals are in charge of implementing safety procedures and reporting violations.
This is why it is necessary to hire a site supervisor who will give your jobsite their undivided attention and alert you immediately about incompetent or careless workers before any accidents happen. Without good site supervision and effective reporting, you can easily jeopardize your company's future, not to mention the permanent damage your workers will suffer in the face of construction hazards.
Sometimes even big firms make the mistake of compromising safety out of time constraints and the mounting pressure to meet deadlines. This creates problems from overcrowded jobsites and underqualified workers when you hire too many subcontractors to finish the work. If your workers do not have access to the right PPE and site safety protocols, they will be highly prone to construction hazards, so this places a huge responsibility on managers and supervisors to be extra careful and vigilant.
Human Negligence
Another huge cause of construction site accidents is human negligence and carelessness. Again, this could be due to a lack of training and qualification or because of improper supervision, causing your employees to blatantly ignore site safety rules.
Overworked or incompetent employees can also act carelessly either because they are too exhausted to focus or because they do not know how to use the given equipment, tools, or vehicles. Construction sites require crystal-clear communication and reporting platforms – usually with the help of construction management apps. If workers fail to communicate their problems or forget to point out red flags at work, then those issues can quickly go out of sight, out of mind because nobody thought to document them or alert the managers. For this reason, it is important to enforce regular communication, conduct follow-up meetings, and ask everyone for their feedback. Site managers and supervisors should assess their workers' aptitude for handling equipment, materials, and machinery and help them bridge any gaps via training before work begins. To reduce the room for errors, you have to go the extra mile to make safety your top priority and have a productive workforce that performs its best.
Falls
Falls account for the highest cause of accidents at construction sites. It is one of OSHA's Fatal Four causes and can occur for different reasons in different ways. Here are some examples:
Slipping on wet or uneven surfaces.
Tripping over obstacles.
Falling in dark areas due to insufficient lighting.
Falling from stairs, heights, roofs, unsafe flooring, etc.
Falling due to ladder/scaffolding malfunctions.
Collapsed scaffolding from exceeded weight.
Such incidents happen when workers do not use safety harnesses on raised platforms or ignore important rules like weight limits, proper installations, and so on. There can be a general lack of fall protection rules from the company, and this always ends badly for the workers because the injuries from falls can be devastating – fractured bones, broken spine, and motor impairment are a few to name.
Falling Objects
This comes under OSHA's Struck-By category and refers to any falling tools, debris, etc. that can strike someone standing below – which is why hard hats save lives! Such accidents occur when workers present on the ground do not wear protective gear like hard hats.
Construction sites are unpredictable and super busy, with something or someone always on the move. So, there is always a risk of objects falling from cranes or other heights due to improper handling, faulty equipment, and worker carelessness. This can result in serious head injuries, head trauma, and fractures.
Structural Collapse
Structural collapse coincides with falling objects to some extent and can be counted as OSHA's Caught-In/Caught-Between scenarios. Workers can be badly injured if they get trapped underneath a collapsed wall, building, or trench – all of which can lead to fractures, suffocation, and other critical injuries.
Moving Equipment And Vehicles
This is another Struck-By scenario and also overlaps with OSHA's Caught-Between. It is a common cause of accidents at construction sites and happens when a worker gets struck by a moving vehicle or gets trapped between heavy equipment. Construction vehicles like cranes, forklifts, bulldozers, etc. are constantly moving around. Anyone standing nearby can be hit by them if they are not careful – especially if workers are not wearing high-visibility clothes and the vehicle operator fails to see them. These operators require proper training to maneuver their vehicles safely and navigate the site with caution, including knowing how to maintain them or resume after repairs. Injuries caused by such accidents include fractures and even amputations in the face of lethal impacts.
Electrocution
Electrocution is also one of OSHA's Fatal Four causes of jobsite accidents. Employees who work near electrical lines are always prone to this major hazard, and things can quickly go downhill if there is a lack of PPE, safety awareness, and handling skills. Jobsites that fail to implement electrical precautions and training can suffer massively in terms of life and property. Faulty wiring, improper installations, site negligence, and poor supervision can increase the risk of electrocution and fires around a jobsite, so it is important to ensure a safe and reliable working environment before any construction activity begins. Some precautions to take include wearing safety-rated boots built for electrical sites and using the right gloves while handling wires.
Malfunctioning Tools And Improper Handling
Malfunctioning tools and equipment can cause Struck-By accidents in jobsites if they are not handled or maintained properly. Workers can get hurt in the following scenarios:
Using power tools that lack safety guards.
Not being careful around discharged nails from nail guns.
Working near flying or stray debris from saws and other power tools.
Not wearing face shields, gloves, and other relevant PPE while using power tools.
Improvising tools and equipment for other purposes, which may cause hazards like fires.
Failing to repair defective tools and equipment.
Wearing loose clothing or jewelry that get stuck in machines.
Such mishandling and malfunctions can cause cuts, fractures, and eye injuries. It is important to wear the right PPE and ensure tool maintenance before lifting any tool or equipment at work.
Toxic Exposure
Construction workers are often exposed to toxic fumes, dust, gases, mold, and chemicals which can cause serious health concerns from prolonged exposure, especially if the workers do not wear the correct PPE (face shields, goggles, gloves, and masks). In some cases, they might need to wear protective clothing to protect their skin from hazardous contact. If proper instructions and safety gear are not provided, workers can develop vision impairments, breathing issues, and skin diseases. It is equally important to put up relevant signs around such areas so that non-authorized people do not enter them.
Prevention is better than cure
Construction accidents can hold the following parties accountable if the resulting injuries and losses are associated with them in any way:
Equipment manufacturers and vendors – for their faulty tools and equipment.
Material transporters – for their mishandling and negligence.
Managers and supervisors – for failing to protect their workers.
Other site workers – if they acted carelessly.
Construction site safety measures keep changing with the fast-paced technological improvements, so you will always see new equipment and protective gear getting launched to promote workers' safety. All construction firms have a responsibility to keep up with emerging laws and prevention strategies. They should implement the right OSHA-approved training for their workers, monitor each work phase closely, provide the necessary PPE, and remember to promote good communication between everyone. This includes all formal communication for reporting purposes as well as site-specific communication through two-way radios, hand signals, and safety signage – everything that puts safety first!