In our blog for "Construction Superintendent App", we wrote about various interactive software that has helped to transform the construction industry. Information technology has formed a pivotal turning point for construction superintendent tools and workforce coordination. Its monumental impact is allowing generation X and millennials to quickly gain confidence and abilities in the construction world as tech-driven construction professionals. So, it is no surprise that the most common construction superintendent tools revolve around smart gadgets and software solutions. Within the fast pace of projects and information flow in today's construction world, it is even more important to keep up with current construction plans and be able to convey information back to the design team as before. As a superintendent, you need to synchronize the overall project activities, so they appear as a single cohesive working unit. This involves maximizing effective communication and automating reports for the folks back in the office and all stakeholders. In addition to the apps discussed in the previous article, some resourceful superintendent tools frequently used today are as follows. These are all accessible on smartphones, tablets, and laptops.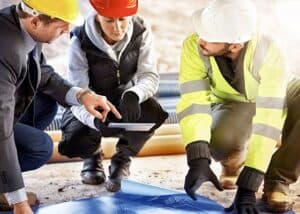 Digital Software Construction Superintendent Tools
1. Raken Field Management – Toolbox Talks and Daily Reports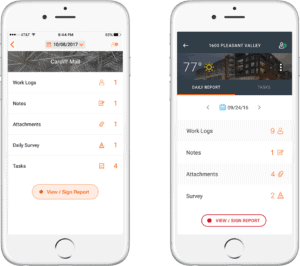 Raken app provides an interactive Toolbox Talks feature that uniquely streamlines hazard control meetings for superintendents. You can raise important safety topics and pass your smartphone or tablet around to collect digital signatures for acknowledgement. You can also snap a photo of the hard-copy signature sheet to document the safety meeting. Managers can select topics and confirm schedules to alert the superintendents for addressing the next safety issue. Compliance reports and signatures are automatically forwarded to the directors.
2. Procore Daily Log Tool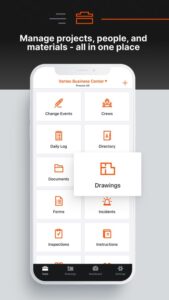 This log tool from Procore helps to capture critical field observations for immediate reporting. Project managers and superintendents can access labor, material, communications, equipment, and miscellaneous construction events as they arise. Weather updates are displayed automatically to take precautions for site activities. All the data is archived systematically for future references. Labor hours get logged into the system for easy tracking and payroll processing. They can also be exported as Excel spreadsheets. The user interface is quite simple with a drag-and-drop feature for personalization. Procore solutions are compatible with Microsoft Project and various other scheduling programs. Daily Log allows you to manage your schedule by entering the day's tasks, subcontractors, duration, and percentage completion. These log files download as PDF documents for easy editing and sharing.
3. HeavyBid Pre-Construction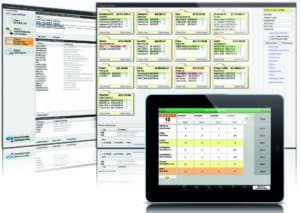 This estimating and bidding software tool is designed for civil infrastructure teams. As a construction superintendent, you can rely on HeavyBid for strong project biddings with no more elusive guesswork. The tool enables you to import DOT data, build an estimate, compare subcontractor quotes, and update your bids competitively. You can save complex, custom-made calculations and formulae into libraries for future use. Furthermore, imported data from Primavera or Microsoft Project allows reviewing and analysis on the HeavyBid app.  
5. Smartsheet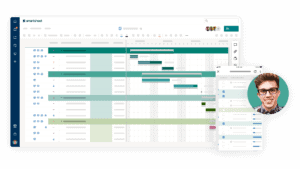 Smartsheet is a scheduling and project tracking tool that generates Gantt charts automatically to adapt changes. You can create self-designed timelines and descriptions while following the critical path for nearing deadlines. Teams and stakeholders sign in to track progress, collaborate, and follow up on implementations. Smartsheet focuses on real-time transparency so you can supervise each member's contribution to commercial, residential, and industrial projects. The automated flexibility is a refreshing change from scribbling on calendars on a daily basis.
4. Communication tools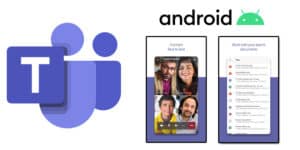 Intuitive communication software is necessary for making simple calls, participating in video conferences, sending emails, texting, and leaving voice notes. Microsoft Outlook is a commonly used email service. Teams, Skype, FaceTime, Facebook Messenger, and WhatsApp offer usable interfaces for audio/video calls and chats. The app versions are available through Google Play Store and App Store so you can handle communications on the go. These apps support file sharing as attachments.
Superintendents also use walkie-talkies that are military-standard, 2-way radio systems. These are durable against moisture and debris. Motorola and Kenwood are famous brands for such 2-way radio devices that enable instant conversations.
Aerial surveillance drones are incredibly useful for site supervision. DroneDeploy's cloud-based solution is an example of managing drone maps, reports, and 3D models. You can improve your site-based communication with managers and engineers via real-time inspection data.
Construction Superintendent Jobsite Tools
Believe it or not Superintendents also frequently resort to what I like to call the "real tools" in the field. Not every project (large or small) can be planned perfectly so more often than not one of our superintendents find himself or herself picking up the traditional tool on occasion to wrap something up. Here are the most common superintendent tools that can be found on a jobsite:
Hammers and Tape Measures
Hammers and taper measures are to superintendents as the pen and calculator are to our engineers. They nearly always need them so they nearly always have to have them on hand. These of course help them take care of miscellaneous issues that occur throughout the job site.
Optical Surveying Tools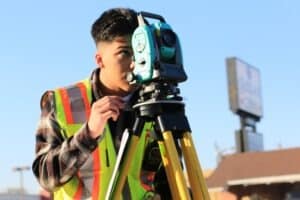 Tools such as laser levels, total stations, builder's levels, and theodolites – and now GPS locators more than ever – offer auto-leveling and angle precision. They allow contractors and superintendents to control layout configurations for door/window frames, leveling tiles, checking for land elevations, and masonry alignment. These laser tools deliver geometric perfection that highlights the architects' work.
Cordless Drill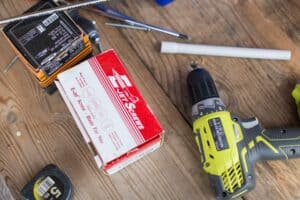 Battery-operated and pneumatic cordless drills are efficient tools for maintenance purposes during inspections. They are portable and lightweight, and so you can quickly add final touches to installations. LED-lit designs are useful in dim construction areas. 
Temperature Gun
A temperature gun allows you to safely aim and measure the temperature of any object without having to get in contact. It is also known as an infrared thermometer and can be used for making remote measurements of indoor and outdoor areas. Some examples are electronic circuitry, industrial equipment, vehicles, motors, hot asphalt, HVAC systems, leak detections, and fire control. The temperature gun is cleverly designed to detect readings from areas that are difficult and unsafe to reach by humans.  
Construction Superintendent Tools Available Online
Construction superintendents usually carry their hand tools like hammers, pliers, tape measures, screwdrivers, etc. in a tool pouch. So, anything they might need at work stays within accessible reach. Apart from these hand tools, there are various power and pneumatic tools that can be found around the jobsite. They are designed to replace manual input with electrical power and air compression to simplify – and speed up – construction tasks. Here are some best-selling tools that can be purchased online.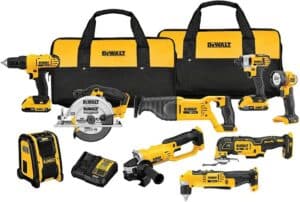 DEWALT 20V power tool combo kit has nearly all the power tools used by construction superintendents, contractors, and other experts. It includes the following tools: cordless drill, impact driver, reciprocating saw, circular saw, oscillating multi-tool, grinder, right angle drill, DCB203 20v MAX XR batteries, and other compatible hardware. The lightweight 1/2″ compact drill driver uses a high-performance motor. The 1/4″ impact driver creates maximum torque to fasten screws into wood, metal, or other surfaces.
DEWALT's oscillating multi-tool delivers greater runtime using various attachments for sanding, scraping, polishing, and cutting applications. The circular saw has a powerful 5150 RPM motor that can help you make linear cuts effortlessly. You can also use the reciprocating saw for more flexibility and maneuverability to cut materials like PVC and metal. The grinder tool operates on an 8,000 RPM motor to support high-power cutting and grinding with tool-free wheel changes. To top it all, this combo kit also has a jobsite Bluetooth speaker that you can use for making instant announcements and alerts.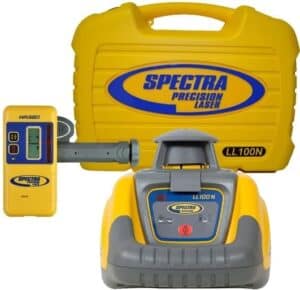 This laser level kit includes the following components: LL100 laser level transmitter, HR320 receiver, C59 rod clamp, alkaline batteries, a durable case, and a user guide. The automatic self-leveling tools help construction superintendents and other jobsite teams with accurate surveying and referencing. The transmitter is remote-controllable and creates 360-degree coverage, and you can use the handheld receiver when mounted on the rod clamp as well. It is a simple, one-button tool that makes construction on patio, terrace, pool, and other landscape projects easier. The overall rugged design has an IP66 environmental rating for weather and waterproofing features. This gives the laser level better stability on the jobsite, as it can withstand impacts from accidental drops – which also prevents unnecessary downtimes. The unit's alkaline batteries ensure continuous performance by minimizing disruptions caused due to no power.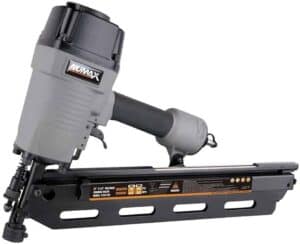 Pneumatic tools are important construction superintendent tools. This NuMax Nail Gun, for example, has a lightweight and sturdy design that makes it quite portable for framing, flooring, roofing, and fencing applications. It has an ergonomic handle for added comfort during repetitive tasks and makes the best choice for construction contractors, superintendents, and even DIY users. You can use the interchangeable trigger for both quick-fire and single-shot purposes. The nail gun enables depth adjustment and comes with a no-mar tip, so it works on various surfaces without slowing you down. The package includes a pneumatic 21 Degree 3-1/2″ full round head framing nail gun, interchangeable triggers, air tool oil, and different adjustment tools. On the whole, this pneumatic nail gun helps you customize your projects minus the hassle of managing multiple tools and equipment.