Construction site dress codes are designed to promote safety and a cohesive workforce for projects onsite. Construction superintendent attire should reflect the professionalism and functionality that accompany your job responsibilities. If you are a superintendent on the field, you will be responsible for site supervision, the overall schedule of the project, worker safety, overall jobsite organization and cleanliness, stakeholder interaction, and a lot more. For this multi-faceted profession, there is a trade-off between working in an office environment and transitioning into a construction landscape where you have to deal with potential safety risks and varying weather conditions on a regular basis. Additionally, you are expected to appear ready and presentable for client and stakeholder meetings on a regular basis. At the same time, you must look like a qualified supervisor and leader who knows their way around the site and has safety on your mind at all times.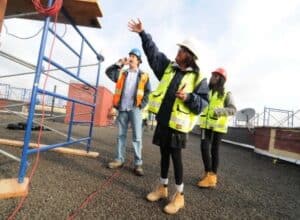 Construction Attire For Safety
When I think about what I need to wear when I am spending a day (or an hour in most cases) at the jobsite, the number one thing I have to think about when choosing my outfit is safety. So often a subcontractor or a client comes onto one of our jobsites with clothes that are inappropriate and unsafe. When a client arrives on a working jobsite with inappropriate footwear (i.e. flip flops or high heels) or when a subcontractor shows up on our commercial jobsite wearing shorts, the first thing that our team thinks is "this person doesn't know what they are doing" or "this person doesn't care to be here". So, in general, you need to first pick your construction attire for safety. For nearly all jobsites that means wearing a long-sleeved shirt, durable pants, and sturdy boots. If you come to a jobsite wearing those items you will be in good shape. Now, of course you will need to wear proper PPE (personal protective equipment) such as safety glasses, a safety vest, and a hard hat, but those can usually be given to you when you arrive at a jobsite.
Construction Attire with Weather In Mind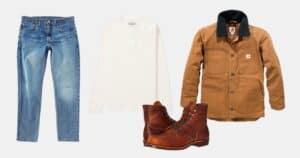 The second thing I ask myself when getting dressed in the morning is what is the weather going to be like? Here in Denver that can be a difficult question to answer because we tend to have some pretty wild temperature swings. Generally though in the summer it is going to get hot and winter it's going to be cold (of course), so I always make sure to dress appropriately for the seasons. If you don't go to a jobsite every day it's easy to forget that most jobsites really don't have proper heating or A/C. Sure, there will be a construction office trailer and most trailers will have A/C or heat but as a superintendent you don't have the luxury of hanging out in the trailer all day. You will be going in and out of the trailer, outside to walk to the building, inside the building that may or not be heated (or some parts are and some are hot) so you will certainly have to deal with the elements for the majority of the day. For that reason I usually recommend wearing layers when it is cold out so you have the flexibility of taking an outer shell (jacket) off when you are sitting down in the office, but also wearing a middle layer and an inner layer so you can adjust your clothing at any given time. Usually that means you are wearing a nice, sturdy jacket on the outside that can handle getting scraped up against something without scratching, a long sleeved button down (i.e. flannel) or non-collared shirt underneath, and a t-shirt or similar under that should you get hot. Always make sure you have a rain jacket of some sort on you at all times as well in case you get an unexpected downpour of rain. Since I personally drive to a number of jobsites in any given week I try not to have to guess what I need to wear and I just keep a few different jackets in my vehicle so I can grab what I need when I am visiting jobsites.
Construction Superintendent Attire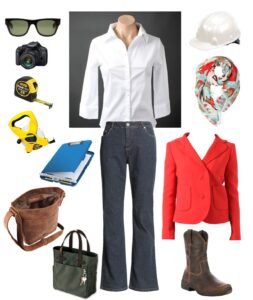 There is no gender-specific attire to be worn by construction superintendents. You do not need to struggle with a bulky ensemble of crinkled and lousy-looking clothes. Part of the safety aspect of how to dress as a construction superintendent is that you should not be wearing loose or ill fitting clothing, but you still need to be able to perform your daily tasks while staying comfortable. So you should opt for slim for comfortable clothing, which is a standard rule for workers and supervisors alike. Slim jeans, khakis, chinos, "work pants" (i.e. Carhartt or Dickies), or cargo pants, coupled with a collared button-downs or collarless t-shirt/work shirt (i.e. see Carhartt again), and work boots are always great choices. Yellow or orange reflective safety vests (or sometimes bright and reflective shirts can be worn as an alternative) distinguish construction workers from the general public so that will be a mainstay for a construction superintendent.. The reflective lining will highlight your profile for easy visibility at night. You can take an optional blazer with you for client or potential client meetings although that is not very common nowadays. You can also have your company's logo printed on your shirt or jacket. While on site or near machinery, make sure to use safety gear (PPE) like gloves, hard hats, earplugs, and goggles. Generally, a construction superintendent attire walks the fine line between formal and informal.
Popular construction wear brands
Carhartt is famous for its iconic work pants, jeans, coveralls, flannels, vests, and footwear suitable for construction sites. There are various seasonal options and flame-resistant attire for men and women. So, if you are a new superintendent, a casual and self-assured outlook is exactly what you need to blaze your trail as your career kicks off.  
Carolina offers footwear for men and women to accommodate industry-standard work boots and shoes. The stylish and work-oriented line includes waterproof designs, union made, and safety toe boots as well. The company's slogan says it best: Built For Work.
Timberland Pro is another one-stop experience for adding the best construction attire and accessories to your cart. There are exceptional styles for women's work boots, work shoes, and waterproof/fleece-lined jackets for superior protection against the elements while on site. Men's work pants, safety work jackets, Timberland Pro logoed shirts, and versatile collections of boots ensure a smart and presentable appearance.
One of the oldest and the largest apparel manufacturers, Dickies is the go-to store for quality construction workwear. It offers a range of clothing options for both men and women. The catalog includes denim jeans, premium work pants, long sleeve work shirts, insulated coveralls, lined hooded jackets, bib overalls, belts, and gloves. There are also construction-specific features you can choose, such as moisture-wicking, sun protection, multi-pocket, double knees, water repellent, wrinkle resistance, heavyweight design, reflective fabric, etc.
Tingley's footwear and clothing line is designed for maximum protection against the elements, mud, chemicals, and debris. You can choose durable workwear options to put together your best construction superintendent attire for any environment. The brand's catalog includes safety toe boots, knee boots, rubber work boots, overshoes with gaiters, and other jobsite-friendly boot options. You can also buy jackets, mesh vests, and overalls under the hi-vis, fleece liner, softshell, heavyweight, flame resistant, and waterproof categories.
CAT construction clothing line is known for its durability, performance, and quality. It makes the perfect choice for functional, comfortable, and modern construction workwear for men and women. All the apparel designs are suitable for both on and offsite purposes, so you can choose the perfect superintendent attire to wear in offices or outdoors. Women's workwear includes insulated jackets, vests, flannel overshirts, button-down work shirts, anti-fog safety glasses, defender work pants, and work stretch leggings. Men's workwear includes work pants, heavy insulated jackets, defender work pants, flannel shirts, and button-down shirts. There are also options for hi-vis clothing in work pants, softshell jackets, safety vests, and gloves.
Flame-resistant base layers and cargo work pants are other great choices for superintendents.
What to Wear to Construction Superintendent Interview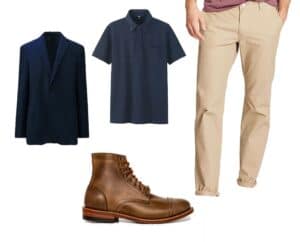 It would be a tempting idea to wear formal business suits to create a lasting impression for your job interview. However, as a person who interviews superintendents on a regular basis I really am not expecting you to be wearing a suit to an interview. Most superintendents that we interview are either already superintendents or they are foremen or project engineers who want to become a superintendent, so I would not expect that you would swap your normal work clothes to don a suit for an interview. Additionally, there is always a chance that you may go on a jobsite visit during your interview. It is an industry-based job after all. You will be expected to demonstrate your field knowledge and expertise, and a crisp designer suit would not be very favorable. You do not want to look like a visiting CEO who lost his or her way, and the last thing you want to be in an interview is uncomfortable because of your outfit choice. Depending on the firm you are applying to, consider wearing simple dress pants, full-sleeve button-downs, polos, or slim khakis. Wear work boots or work shoes and definitely avoid wearing ties. In the end, a professional-looking construction superintendent attire should leave a great first impression and showcase your personality as an industry expert.
It is also a smart idea to find out the dress code of the firm you are applying to. As part of your preparation for an interview, you can do some research to get an idea about the firm's business casual wear or formal preferences – and then dress accordingly. If the company follows a set of colors for construction superintendent attires, wearing the respective colors will give a good first impression. Generally, neutral color palettes are quite common. These include navy blue, beige, black, and brown as the standard colors. You can contrast the light and dark tones depending on the weather as well. You do want to stand out as a construction superintendent – and not be mistaken for someone else – so the choice of colors is very important.
While you can skip the tie, do consider wearing just the right accessories like a watch and sunglasses. A watch definitely completes the overall look and is something you will always need to stay on the dot – and it is simply the hallmark of a punctual person. You also need to be COVID-conscious and respectful towards the interviewing company's safety rules – which you must include in your pre-interview research. Wearing a mask and face shield and using gloves when needed will be a good measure of your current work ethic and responsible nature.
All in all, appear smart and be safe!
Construction Attire Summary
At the end of the day, superintendents will wear a variety of different clothes when coming to the jobsite. Superintendents within our own company will wear a variety of clothing options amongst themselves depending on how casual or formal they want to look and what the conditions are at the jobsite. You can decide for yourself what you feel like wearing on a daily basis but the most important thing to consider how to dress as a construction superintendent is safety, warmth (or coolness in the summer), and to make sure you are picking a comfortable enough outfit to be able to perform any physical tasks that you may encounter for the day.
FAQs
What does a construction superintendent wear?
Construction superintendents generally wear business-casual outfits that promote safety, functionality, and comfort. Since this job requires switching between the jobsite and office more often, you will be expected to dress accordingly for both work environments. So, your work wardrobe should include outfits like durable work pants, khakis, chinos, slim jeans, long-sleeved shirts, flannels, and button-down shirts. Cotton and lightweight fabrics are ideal for summer, and you can wear base layers and neat jackets during winter to stay warm without feeling too bulky –heavy jackets and multiple clothing layers will restrict movement. You can also keep a jacket in your vehicle or office, ready to wear during jobsite visits if needed. For footwear, it is recommended to use sturdy boots for outdoor work, and you can always keep an extra pair of ordinary work shoes to switch into before office meetings. Skirts, high heels, short sleeves, baggy clothes, and fancy jewelry are strictly not allowed.
In addition to these workwear articles, construction superintendents need to use the right personal protective equipment (PPE) such as safety glasses, a reflective vest, and a hard hat as required and offered by their workplace. All in all, good construction superintendent attire should be safe, weather-conscious, well-fitted, functional, and comfortable.
What should I wear to a construction superintendent interview?
You do not need any special outfit preparation for such an interview. You can simply put on your everyday workwear if you already are a super – just make sure to look neat, presentable, and jobsite-ready. If it is your first construction superintendent interview, then remember that this job role is all about business casual as opposed to corporate formal, so you do not need to wear a suit and tie. You can wear slim cargo pants, polos, flannel shirts, button-downs, clean and sturdy boots, and a leather-strap watch. Keep a jacket at hand if the weather calls for it. Since most construction firms conduct site visits as part of the interview, it is best to wear full sleeves and overall well-fitted clothes to stay safe and prevent your outfits from getting stuck somewhere.
Choosing jobsite-appropriate attire for the interview is important because this reflects your professionalism and awareness as a superintendent. You can also take some time and read about the hiring company's dress code for construction superintendents and dress accordingly. This is helpful for finding out which colors are acceptable to wear so that you avoid trade-specific colors. Usually, neutral colors like beige, gray, cream, black, and white are all acceptable colors for supers.
Is being a construction superintendent stressful?
Your job as a construction superintendent can be stressful if you do not implement good management strategies in your work. This role is very demanding, fast-paced, and multifaceted, so people who become superintendents know exactly what they are signing up for and reach this position by choice. They love challenges, have an eye for detail, and thrive under pressure – all of which are key prerequisites before becoming a construction super. Even with all of your passion and skills for the job, sometimes it can be overwhelming to manage so much.
You are responsible for and answerable to so many people on a daily basis. The project at hand might require you to work overtime and travel more often. You need to track progress, highlight errors, coordinate schedules, train employees, address issues, create reports, and contact vendors – the list goes on. This requires keen attention and focus so that nothing slips through the cracks, or else one mistake can easily set off a domino effect throughout the project if left undetected.
With so much to do and so many relying on your word, being a superintendent can be stressful if you do not know where to draw the line. You cannot be everywhere at once nor stay accessible to everyone all day long, so this calls for strategies like task delegation, software management, prioritization, and time allocation to make the best of each day at work with reduced stress and increased productivity.
What should a female construction manager wear?
Female construction managers can wear business-casual workwear like canvas pants, flannel shirts, button-down shirts, and the occasional jeans. Work boots and regular shoes are both acceptable depending on how much time the managers will spend outdoors. You can keep two pairs of work shoes to alternate between the site and the office easily. It is best to avoid dresses, skirts, heels, and fancy jewelry for site safety reasons. You also do not need a blazer, as it is more formal for a construction management role.
For winters, you can keep a jacket to ready to wear outside and consider base layers underneath your main outfit to stay comfortably warm indoors. Apart from the usual workwear, you will need the required PPE based on your day's schedule, so you can expect to wear a high-visibility vest, a hard hat, and safety goggles from time to time. A good female construction manager attire should be fitted, comfortable, and professional-looking to suit both your office and jobsite work environments.
How do you dress like a professional contractor?
To dress like a professional contractor, you need a well-planned business-casual wardrobe that includes cargo pants, jeans, polos, button-down shirts, flannels, base layers, and jackets. As a general contractor, you will meet and work directly with your project clients – who could be homeowners or commercial tenants. So, you have to dress according to your target audience and make sure that you feel confident, comfortable, and professional. For footwear, sturdy boots are always a great choice, but you can choose ordinary work shoes as well if you are meeting your client at their home – for example.
Short dresses, skirts, heels, loose clothing, and sleeveless tops are off-limits, as they do not appear professional within the construction context. Lastly, make sure to choose contractor workwear that is functional, fitted, durable, and versatile. Chances are that you will meet clients and project stakeholders on the same day, so you can carry spare outfits in your bag or have some ready in your office to switch into when needed depending on who you will meet.
What are construction workers' clothes called?
Construction workers have different outfit requirements based on the companies they work for and the type of jobsite they are assigned to. In general, these workers can put on ordinary workwear like full-sleeved shirts, chinos, flannels, and jeans. In addition, they require strict personal protective equipment (PPE) based on their jobsite rules. Apart from protective gear like goggles and face shields, PPE also includes high-visibility safety apparel (HVSA) like neon vests, shirts, pants, and jackets – all of which include reflective lining for added visibility. Construction workers can wear overalls and coveralls with reflective lining depending on their trades.
On the whole, their clothes are highly functional (with large utility pockets for tools) and jobsite-conscious (through flame resistance, waterproofing, hi-vis features, etc.) because they spend most of their time working on the site.
What should a general contractor wear?
General contractors can wear business-casual outfits just like superintendents and managers. The main difference is that general contractors are responsible for meeting clients as well as other stakeholders, so they need to dress accordingly. It is common for a GC to wear khakis, chinos, jeans, work shirts, polos, durable work boots, and functional accessories like a leather-strap watch. Since GCs primarily represent their construction companies, they must look professional and work-ready, so this includes wearing full-sleeved tops, choosing a good fit, avoiding heels, avoiding loose/baggy outfits, wearing neutral colors, and so on. Most general contractors keep spare clothes in their vehicles or offices in case they need to change their outfits while at work based on the audience they will meet. For example, if you are wearing jeans to work and have new clients visiting for a meeting, you might want to switch to chinos or slim work pants for a better first impression.
Why do construction workers tuck their shirts in?
Construction workers have strict dress codes to follow for safety reasons. One such rule is to keep their shirts tucked in. This prevents the shirt from getting caught by sharp tools or machinery. Tucked-in shirts do not get in the way as you work, and you do not need to adjust them more often, which helps you stay safe and focused. This serves the same purpose as buttoning up the cuffs of your full sleeves, tucking in your pant legs into your boots, avoiding necklaces/bracelets, tying back long hair, etc. because all these things can easily get stuck in the wrong place at the wrong time on a busy jobsite. Depending on specific trade types, construction workers might be asked to wear coveralls or overalls instead. They solve the problem of loose shirts, come with large pockets, include reflective lining, and have a seamless design to keep things simple and safe.
Why do construction workers wear neon?
Wearing neon clothes is a part of the dress code safety in construction, which is why all workers are required to put on the right high-visibility safety apparel (HVSA) in a jobsite. Neon green, yellow, and orange are popular construction colors. These "highlighter" colors are bright and stand out easily, improving the visibility of those who wear them, especially in low-light conditions.
This is important for preventing accidents during construction. It is also a key OSHA requirement for workers to adhere to PPE clothing, so that makes wearing neon an important construction law that must be followed. Machine operators can easily spot workers wearing neon clothing, which helps them navigate vehicles/equipment safely and prevent accidents on the site. Similarly, workers in neon clothes who are present near moving traffic can easily catch attention and make themselves visible to drivers. Construction activities can go on even in low-light, rainy, or foggy conditions, so wearing neon colors, is the best way to highlight your profile and stay safe as you work.