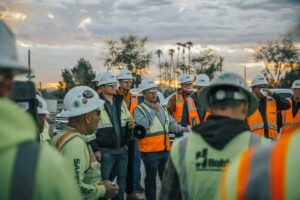 Low visibility is a major safety concern on jobsites, which is why the crews working outside have to wear construction-friendly clothing that is both safe and durable. All workers, superintendents, and managers are required to abide by various safety rules, one of which is wearing safety-compliant apparel as part of their personal protective equipment (PPE). In this article, we will focus particularly on superintendent safety vests designed for jobsite functionality and better visibility. These vests can be worn by anyone in charge of supervising a busy jobsite and overseeing moving equipment. Not all safety vests are construction-compliant, so it is important to wear the right type with the required safety features in place. Here is what you should look for when buying your safety vest as a construction super.
Superintendent safety vest features
ANSI/ISEA 107 Standard Compliance
The American National Standards Institute (ANSI) and the International Safety Equipment Association (ISEA) have set the ANSI/ISEA 107 standard for high-visibility and safe workwear. Your superintendent safety vest needs to be ANSI-compliant, which means that it should meet the right color and reflective lining specifications depending on the jobsite you are managing.
The recommended main or background color can be bright yellow-green, bright orange, fluorescent yellow-green, and fluorescent orange-red. These colors will help you stand out easily in a busy jobsite, especially with moving equipment involved, so the risk of accidents becomes reduced. Here are the key color components that make a jobsite-conscious safety vest:
Bright colors: bright or neon yellow, green, and orange are suitable for daytime visibility.
Fluorescent colors: fluorescent yellow, green, orange, and red are ideal for jobsites with more moving equipment and vehicles around.
Reflective lining: retro-reflective stripes enhance nighttime visibility. They should ideally be at least 2 inches wide and stretch both horizontally and vertically depending on the vest's applicable performance class.
Performance Classes
Safety vests come with different performance classes to represent the intended visibility they can be used for. This makes it easy to choose the right type of vest depending on the kind of jobsite you work on. The 3 main performance classes for safety vests are:
Class 1 safety vests have minimum high-visibility material with reflective tapes in the middle and over the shoulders – ideal for low-traffic areas with few or no moving vehicles.
Class 2 safety vests have comparatively more high-visibility material with reflective tapes in the middle and over the shoulders – ideal for low-visibility and average-traffic areas.
Class 3 safety vests offer the highest visibility with reflective tapes lining the entire silhouette (shoulders, sleeves, middle) – ideal for traffic-prone and busy areas.
Construction supers usually wear Class 2 safety vests and may need Class 3 for extreme working conditions. You should always check your PPE requirements while assembling your construction gear as a site superintendent.
Fire/Heat Resistance
Some safety vests are made of fire-resistant materials, so this is important if you are working near fire and high heat. These vests offer dual purposes in terms of helping you stand out and keeping you safe from fire hazards – talk about knights in reflective armor! Fire or heat-resistant vests are only applicable for specific conditions, so not every super will be expected to wear them.
You can simply wear standard safety vests if your current site does not require fire-resistant clothing as a rule.
Proper Fit
Superintendent safety vests need to be the right fit in order to prevent accidents caused by loose clothing. They should not be too restrictive either or else it will be tough to move around in them. Construction supers must wear safety vests that are snag-free, flexible, and just the right fit to keep them comfortable and safe. Quite often, the available sizes (XS to 5XL) need to be checked for the correct fit, so you might need to buy a size up or down. In addition, your vest should be roomy enough to accommodate base layers or a jacket underneath it during winter. Look for vests with adjustable straps or drawstrings if you cannot find the right size so that you can adjust the fabric stretch as needed.
Pocket Ranges
Construction supers carry around different stationery, hand tools, and gadgets with them during their jobsite supervision. Since a safety vest will be the topmost article of clothing you wear, you want to make sure that it comes with the right pockets for easy access to these everyday items. Apart from pen slots, mic tabs, and a card/badge holder, you might need specific pockets to accommodate your smartphone and tablet/iPad, especially if your work requires you to use them onsite. Keep an eye out for the right combination of inner and outer pockets depending on the things you require at accessible reach.
Fabric Breathability
Superintendent safety vests are generally made of moisture-wicking, breathable mesh. It is the perfect material for lightweight comfort and serves its safety purpose without making your overall outfit bulky. This also comes in handy during summers when you want to stay cool and makes a lightweight add-on for winter over your multi-layered ensemble. Most Class 2 safety vests feature anti-microbial fabric for better breathability and hygiene.
Superintendent Safety Vests
Here are some examples of safety vests you can buy for your jobsite duties. We have picked the ones with the best features a super would need in terms of both safety and functionality around a site.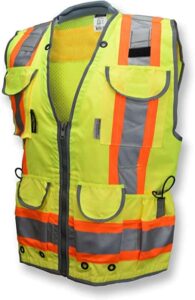 This high-visibility safety vest is available in green color and is made of breathable polyester mesh. It meets the ANSI/ISEA 107-2020 Class 2 standard and is an ideal choice for both construction superintendents and field engineers. The vest is durable and comfortable, featuring a zipper closure, 2-inch 3M reflective lining, and reinforcement edge binding. The contrasting colors ensure daytime as well as nighttime visibility. It comes with multipurpose cargo pockets and includes a padded neck, so it really checks the boxes for comfort, safety ergonomics, and functionality.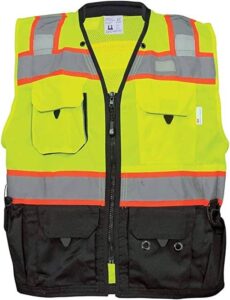 This is another ANSI Class 2 hi-vis safety vest available in yellow and black colors. It includes 3M reflective stripes over the durable mesh fabric – which also has a padded neck for better comfort. We love the different types of pockets (both inner and outer) in this vest. There are can holders, tablet pockets, mic tabs, pen slots, and general storage pockets. The vest also has d-rings and grommets and is designed for easy access to tools and gadgets for busy supers.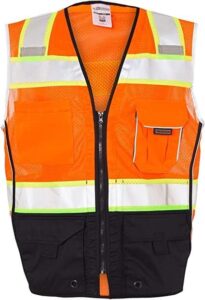 Available in a bright orange/black combination, this Class 2 safety vest is made of 100% polyester mesh and has generous storage options as well. You will get an iPad pocket, a radio/utility pocket, a patch pocket, pencil slots, left and right mic tabs, and adjustable cargo pockets – so you can easily stow your daily essentials within accessible reach.
The mesh includes 2-inch wide reflective stripes with contrasting trims and also has additional reflective trims for enhanced visibility, making it an excellent choice for low-light working conditions.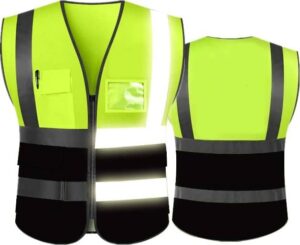 This neon yellow/black hi-vis safety vest is another great choice for construction superintendents. Its polyester fabric is lightweight and breathable, with 360° reflective lining for maximum visibility – making it ideal for all construction and surveying applications. Good pockets equal good ergonomics, and if you are looking for all-in-one vest storage, you will find this vest's pocket range truly impressive. It comes with multiple zipper pockets, a transparent ID badge pocket, a flap pocket, a pen slot, a flashlight/laser pointer holder, and a smartphone pocket. It also has a neat, minimalistic look for those supers who do not require contrasting trims around the reflective lining.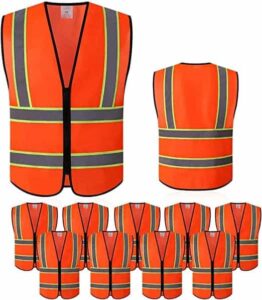 Available as a pack of 10, these neon orange safety vests meet the ANSI/ISEA 107-2010 Class 2 standard and are made of 100% polyester. The mesh is quite lightweight and breathable, featuring a durable zipper closure at the front. In addition, it offers heat resistance and is suitable for high-heat construction environments. Reflective stripes line the chest, shoulder, and waist areas both at the front and the back of the vest. The only downside is that there are no pockets in this version – so, apart from visibility and heat resistance, it does not offer anything else in terms of functionality.
Not All Heroes Wear Capes – Some Wear Safety Vests!
Personal protective equipment (PPE) guidelines include safety vests as key construction gear for all jobsite workers. You will find neon yellow and orange vests as much as white hard hats when it comes to construction supers. Safety vests are designed with different visibility requirements as we saw earlier, so you have to pick one that fits your current project scope. It is simply an unspoken agreement that pockets are a clothing necessity, and this extends to superintendent safety vests as well. Since the vest goes right on top, it should have some storage options to help you carry your daily notepad, stationery, gadgets, and hand tools easily. Finally, make sure to look for vests that check all the boxes for visibility, storage, adjustability, and site-specific safety – you do want to stand out as the main "super" hero onsite!