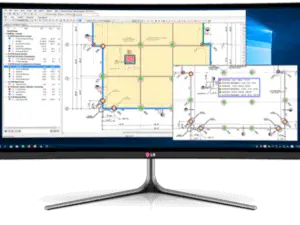 Image credits: On Center
Construction experts require accurate cost estimates and quotes for their bidding process. Since it can be very time-consuming to manually work out construction numbers – especially for complex calculations involving materials – software tools are designed to make this process more streamlined and reliable. Concrete takeoff software tools are an example. Concrete is one of the main construction materials and is used for everything from building foundations and structural designs to parking lots and sidewalks. The process of concrete takeoff refers to finding out exactly how much concrete is required for the current construction project, so your takeoff will basically be a list of concrete uses along with their respective quantities and associated costs. To understand this better, we will explore two such software applications below.
Benefits Of Using Concrete Takeoff Software
In terms of concrete takeoff, a good concrete takeoff software will automate most of the repetitive work on your end and allow you to abandon your pen and paper guesswork for something much more efficient. Such software applications can be both downloadable and cloud-based versions. They help concrete contractors use updated costs, extract accurate measurements, obtain the exact count, and so on. The result is that these professionals can curate reasonable and reliable quotes that will increase their chances of winning a project.
Here are some of the key benefits of using concrete takeoff software over pen and paper:
Quote accuracy. Such a software helps you calculate material quantities and takeoff measurements using updated cost data for both concrete and labor charges, which helps you back up your quotes with precise numbers.
Budget management. Concrete takeoff software tools are equipped to keep track of market fluctuations so that you always use the most recent concrete prices and update budgets accordingly.
Template creation. You can build custom templates to streamline your bidding process and simply reuse them for relevant projects – which saves time, looks professional, and does not require you to start from scratch.
Real-time access. Cloud-based concrete takeoff software allow you to integrate project details with your material estimations so that you can always access the required data, share it with stakeholders, and use any device for real-time collaborations.
Takeoff flexibility. You can easily adjust your concrete takeoff based on linear feet or cubic yards without making separate calculations for each measurement.
Predefined libraries. Concrete takeoff software apps include predefined libraries for concrete data, and you can also create your own custom libraries based on your current projects.
Scalability. These software applications are designed to be scalable to meet your exact requirements as a concrete specialist. So, you can add your own features like custom templates and libraries including other add-ons depending on what makes your work easy.
Best Concrete Takeoff Software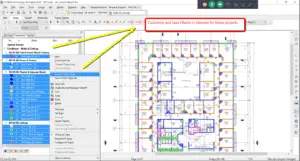 On Center provides the On-Screen Takeoff software which is a concrete estimating software designed to simplify your bidding process. Its on-screen takeoff feature offers the following solutions:
Clickable elements for quantifying rebar, mesh, concrete, finishes, etc. along with their associated costs.
Easy takeoff breakdowns for better analysis.
Markup drawings that can be shared instantly with others.
Simultaneous takeoffs for multiple items like slab and mesh.
Auto-count objects for quicker and more accurate calculations.
Click-and-drag convenience for takeoff efficiency.
In addition, you can adjust and update your bids easily by making instant recalculations based on unexpected material changes. The On-Screen Takeoff software makes it easy to work on detailed bids by bringing relevant functions right at your fingertips. You can simply select the concrete items you require such as foundations, curb, slab, etc. before putting together your material list and labor rates – all of which cuts down human errors from data entry and manual calculation. This Quick Bid feature also has the clever eQuote option that lets you request updated material prices from vendors.
We also like this concrete takeoff software's Digital Production Control setting. It is designed to help you track labor efficiency and project completion as a percentage.
This feature is important because it allows you to acknowledge and address the difference between your expected concrete values and the actual labor capacity to handle them.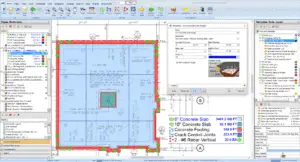 The PlanSwift Concrete Estimating Software is another excellent example of a concrete takeoff software application. It is designed to help concrete specialists put together accurate bids, increase their profits, and boost their visibility as competitive and professional experts in the field. Here are some of the best takeoff features you can use on PlanSwift:
Clickable measurements for concrete footings, walls, foundations, slabs, etc.
Pre-built assemblies for rebar and other concrete items – including the associated labor rates. You can also add to these assemblies according to the type of project you are bidding for.
Exact calculations for the volume of concrete needed to complete a specific project.
Customizable and color-coded takeoffs that you can simply point and click for selection.
Instant drag-and-drop material assemblies that can be integrated into your takeoff.
Quick team collaborations by printing or exporting your takeoff as an Excel file.
A scalable interface to match your specific trade using custom assemblies that you can update and incorporate as needed.
From Takeoff To Touchdown
Concrete takeoff is a very intricate and detailed process that you can probably do manually, but the guesswork and human error frequency can really put your bidding chances at risk. Mistakes in concrete estimates have a way of carrying forward right into the end of the project, so not only will this impact your reputation as a concrete contractor, but it will also cause a lot of reworks later on. You simply cannot afford such an expensive mistake, especially not in the world of speedy technological changes. A good concrete takeoff software can help you leverage your quote with updated figures. This will help you stand out as a potential contractor. By working out reliable quantities and costs based on how much concrete/rebar/slab is needed, you can understand the given project's constructability better. In this way, you can ensure smooth progress from the takeoff to the project closeout – so you now have a happy client who will gladly become a repeat client in the future!