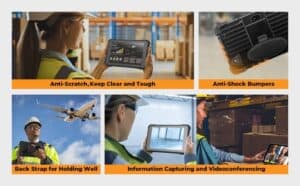 Image credit: MUNBYN
Today, construction projects are all about digitization and cloud storage, and the shift from paper to bits and bytes has been pivotal in shaping the flow of modern projects. If you are a contractor, you will need quick access to real-time jobsite data in order to make timely decisions and guide the project better. The best way to do so is to let all the information come to you instead of going out in search of it – which would take at least forever! Tablets can be used to bridge a lot of gaps and bring site data to your fingertips by accessing files saved to the cloud from wherever you are. It is like opening a window to get a bird's-eye view of the whole construction world, and as a contractor, you need that vantage point for a good head start.
The best tablet for contractors should ensure good connectivity, team collaboration, dashboard insights for at-a-glance convenience, and durability to withstand the rugged construction atmosphere. A tablet is easily an all-in-one compass to guide contractors and help them lead the project better, so in this article, we have compiled a list of the top construction tablets you can use for better productivity at work.
Benefits And Features
While everyone brings smartphones to work, they are not very efficient for prolonged analysis and app navigation due to their limited screens. They are also not built for the busy, rugged construction environment that can damage them easily. In comparison, a tablet has a much bigger screen and offers more portability than a laptop, so it forms a user-friendly middle ground between both gadgets.
The following are just some of the benefits of using a tablet for contractors:
The bigger screen (8 to 13 inches) enables better zooming in/out on blueprints and other documents.
100% information digitization means no need to carry printed copies of anything – so less paperwork is a huge plus!
Annotations can be made using a stylus.
More effective documentation is possible using the camera for quick images and videos.
It is far more portable than bulky laptops.
Protective casing can be used to keep the tablet safe and add durability against dust, shock, water, etc.
Every smartphone and laptop function can be done on tablets – with just more convenience and on-the-go comfort.
Regarding the features you should look into, here are some of the main features that make the best tablets for contractors:
Ruggedness that survives with or without a case – so a standalone ruggedized tablet will suffice on its own, or you can buy any tablet plus a compatible rugged cover for safety.
4G or 5G connectivity to stay online and access cloud updates.
Android, iOS, or Windows OS options for interface familiarity.
High-speed RAM of at least 4GB for smooth multitasking.
Good IP rating for site friendliness.
Long battery life to ensure uninterrupted usage per charge.
Included stylus for writing notes, saving digital signatures, and drawing.
Additional ports to connect to other devices.
AMOLED screen for readability in sunlight – as LCD screens are hard to read under the sun.
Glove compatibility.
Best tablets for contractors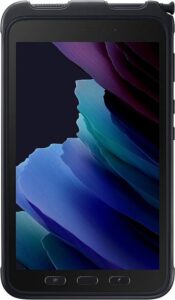 The 8-inch Samsung Galaxy Tab Active3 is designed for ruggedness and offers features that contractors can rely on. The key tablet specifications include:
Android 10 OS
Exynos 9810 processor, 4GB RAM, and 128GB internal storage
13MP rear camera + 5MP front camera
Wi-Fi 6 and LTE connectivity
IP68 rating
Military-grade MIL STD 810H rating
The tablet comes with an S Pen, and both the tablet and S Pen are IP68-rated which means that they are resistant to dust, dirt, sand, and water and will easily last long. You can add digital signatures, write notes, or make drawings using the S Pen, so this is great in terms of contractor duties.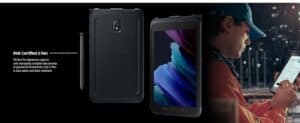 The tablet supports barcode scanning via camera to facilitate on-the-go inventory management. Its touchscreen is compatible with gloves, so you will not have to remove them to operate the screen. We also love the long-lasting, fast-charging, and removable battery that is ideal for maximum runtime on the field. Samsung Galaxy Tab Active3 comes with its rubber case and can absorb shocks if dropped from a height of up to 1.5m – you can have all the peace of mind knowing that your tablet won't break in the unpredictable construction site!
The fast RAM and plenty of internal storage are excellent for multitasking and downloading the required apps. And that's not all! Do you want to switch to desktop mode during office meetings and view things on a larger screen? Just use the Samsung DeX dual-screen functionality for seamless transitions.
Major complaints:
Case can obstruct the mini SD card.
Screen display is not readable under sunlight.
Lacks biometric scanning.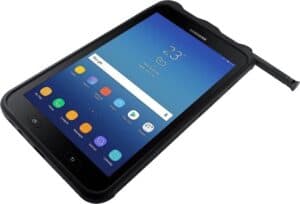 Samsung Galaxy Tab Active2 has most of the features of Active3 with bonus upgrades like biometric security options that appeal to construction contractors. It offers the following specifications:
Android 9.1 Pie OS
1.6GHz Octa-Core, 16GB internal storage
8-inch TFT screen
MIL-STD-810G certification
Wi-Fi, Bluetooth, and GPS connectivity
Fast-charging battery with 11-hour runtime per charge
IP68 rating for both tablet and S Pen
8MP back camera and 5MP front camera
USB 2.0 port, MicroSD slot (up to 256GB), and 3.5mm stereo jack
This is a ruggedized tablet, so features like non-slip grip and resistance to water, dust, shock, sand, humidity, and accidental drops make it the best tablet for contractors. In fact, Active2 happens to be a top-rated, "bulletproof" tablet that truly survives the usual construction wear and tear and walks out unscathed. The included POGO pin enables fast charging as well as device connectivity for improved networking.
The Active2 tablet is also compatible with the Portsmith multi-slot dock. It supports augmented reality, so you can rely on Google ARCore and AR Assist to boost your productivity on a jobsite. If that wasn't enough, you will find an impressive range of built-in features like an accelerometer, gyroscope, and geomagnetic sensor to bring all your site evaluation needs to your fingertips!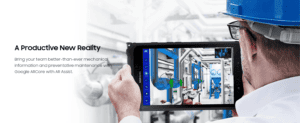 In terms of security, Active2 offers both facial recognition and fingerprint scanning for a seamless unlocking experience – even if you have your gloves on, as the tablet enables a clever Wet Touch Mode and White Glove Mode to suit the environment. The Samsung Knox platform security is another reason to use this tablet in construction. It keeps your company's data safe from hacking, and you can configure multiple devices to the security protocol.
We also like the included S Pen which is as durable as the tablet itself and simplifies note-taking, annotation, and drawing tasks. The HD camera can be used for scanning labels and capturing real-time evidence. Apart from the tablet and S Pen, you will receive an AC charger and a cable.
Major complaints:
Very limited storage – can be optimized with a micro SD card or cloud transfers.
Not suitable for sunlight readability.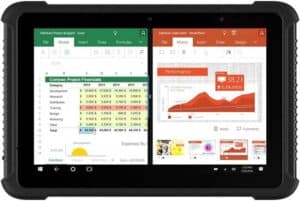 This 10-inch tablet from Vanquisher is one of the best tablets for contractors, offering the following specifications:
Windows 10 PRO OS
Intel Quad-core processor, 4GB RAM, 64GB ROM, and expandable memory via micro SD
Connectivity for 3G & 4G LTE, AT&T, T-Mobile, Wi-Fi 802.11(a/b/g/n), 2.4G/5.8G dual bands, and Bluetooth 4.0
GPS and GLONASS support
Replaceable 10000mAh high-capacity lithium battery
Integrated RS232(TTL) COM port, RJ45 Ethernet port, HDMI, USB port, and POGO pin
2MP front / 5MP rear cameras
IP65 waterproof and dustproof rating
The tablet is ruggedized for the field, which makes it the best choice for contractors working onsite. It comes with a sturdy wrist strap and handles for easy portability as you work. The multiple communication channels as well as integrated ports/slots enhance networking and recharging capacities, making the Vanquisher tablet popular among contractors, engineers, field workers, and other construction experts.
The Gorilla Glass panel keeps the screen durable for long-term use. With these ergonomic and safety technologies, it is easy to use the Vanquisher tablet for rugged outdoor applications like field data collection, inventory control, logistics, field maintenance, vehicle tracking, and so on. If dropped on wood floors from a height of 1.2m, the rugged tablet will survive without a scratch. You will receive the required accessories like the wall charger, USB cable, OTG cable, and hand straps.
Major complaints:
Not sunlight readable – unlike advertised.
Does not include a stylus.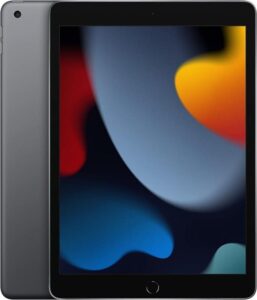 While the iPad is not a ruggedized tablet, you simply cannot go wrong with it once you add a durable case to keep it safe. This 9th-generation iPad has a 10.2-inch screen, so it is neither too limited nor too big to carry around a jobsite. The main specifications of this model are:
12MP ultra-wide front camera + 8MP back camera
iPadOS + essential pre-installed apps
Powerful A13 Bionic chip, 64GB internal storage
Fast Wi-Fi and 4G LTE connectivity
We chose the iPad among the best tablets for contractors because of its high-performance features that support on-the-go collaboration at work. For instance, you can easily use it for browsing the web, emailing, making calls, viewing plans, tracking changes, and documenting work thanks to the exceptional powerhouse processor. It allows smooth multitasking between different apps running simultaneously, and the speed is great for keeping pace with the busy construction site. The iPad has a 10-hour battery life for ideal runtime per charge. With Apple's True Tone color adjustment, it is easy to view the screen in any light.
Moreover, this iPad has an integrated Touch ID feature for fingerprint recognition to unlock the iPad, log in to your apps, make secure payments, and keep your device safe from intrusions. From the jobsite perspective, fingerprint scanning is much quicker than typing passcodes each time you want to use your iPad.
It is compatible with the Apple Pencil (1st generation) as well as the Smart Keyboard, so you can take notes, add signatures, markup screenshots, and even enjoy a more comfortable typing experience between your site and office environments. We also like the front camera with Center Stage functionality that follows you for automatic frame adjustments during video calls – the back camera is equally competitive for 1080p HD videos and image capturing for scans and documentation purposes. You will receive a USB-C to lightning cable and a 20W USB-C power adapter with the iPad.
Major complaints:
It does not come with the Apple Pencil and Smart Keyboard, so you do need to purchase them separately – which can be costly.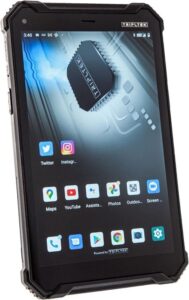 TRIPLTEK has some of the best tablets for contractors. This 8-inch model comes with the following specifications:
Android 10 OS
8GB RAM and 256GB internal storage
1200 nits ultra-high resolution display
IP68 rating
Wi-Fi, GPS, Bluetooth, 4G LTE cellular, and NFC connectivity
It has a rugged, military-grade construction and is the best companion for drones, so if you require drone surveillance frequently at work, you will love this all-drone-compatible device that is a true jobsite powerhouse. The higher RAM and storage capacities are a huge plus for seamless navigation between multiple apps, and for something as disk-hungry as drone applications, this is the perfect solution.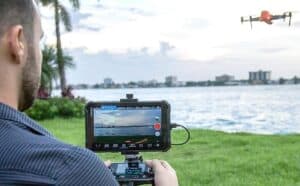 In addition, the TRIPLTEK ultra-bright display offers the best brightness and readability under sunlight, and you can easily use the screen with your gloves on. The tablet is resistant to dust, water, high temperatures, and accidental drops – which is as site-friendly as it gets! You can enjoy uninterrupted runtime per charge thanks to its fast-charging, long-lasting battery.
Major complaints:
Does not have a stylus.
Uncomfortable hand strap.
Can be too expensive for non-drone tasks like browsing, emailing, reviewing, etc.
Issues with Wi-Fi connectivity due to slower OS version.
On Hand, On The Go
In the world of construction, it is important to step back and get a good view of the project before zooming in on the details. As a contractor, you need a good, durable tablet that you can carry around easily to remain connected to your jobsite. Ask yourself the following questions before buying a tablet:
Does it offer Wi-Fi connectivity?
Can I make audio/video calls with it?
Does it include a stylus?
Does it have sufficient RAM and internal storage for my target apps?
Is the battery long-lasting?
How long is the learning curve for the given OS?
Is it compatible with all the main apps that I need?
The best tablet is the one that meets your key requirements at a reasonable price and ideally supports an operating system that you are already familiar with. You should be able to simply turn it on, and let the compass point to your jobsite!