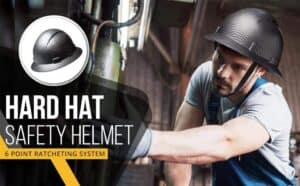 Image credit: Ridgerock
Construction jobsites can be very unpredictable and dangerous because there is always a heavy load involved from construction materials, tools, equipment, and structures. When you walk into such a battlefield, you have to gear up for safety, and the most important piece of armor you can put on is a hard hat. The risk of head injuries is high in the construction world due to falling objects, falling debris, unsafe scaffolding, shaky grounds, and so on. This makes people working onsite vulnerable to accidents, especially if there are no fall protection rules and safety practices being followed. Hard hats are part of the personal protective equipment (PPE) in construction and a key OSHA requirement, so anyone (employee or visitor) who sets foot on construction grounds must wear a hard hat. Here is how you can search for and buy the best hard hat for construction depending on your trade, specific job criteria, and required safety features.
Construction Hard Hat Considerations
Before we talk about the buying guide for the best construction hard hats, let us first look at the different types and purposes of hard hats in construction to understand their applications better and see who needs to wear which type for maximum head safety. The type, class, and color are key considerations for hard hats.
Construction companies should provide OSHA-approved hard hats for their employees, which means that they must meet the applicable ANSI standards for correct type, class, etc. in order to protect people from potential dangers. Here is what you need to know.
Type
Construction hard hats are made of different materials like ABS, fiberglass, carbon fiber, and phenolic resin. In general, there are two main types of construction hard hats with different head safety coverage. You can pick one based on the level of risk or hazards you are exposed to at work.
Type 1 hard hats secure the top of your head against impacts from falling debris, tools, etc.
Type 2 hard hats protect both the top and the sides of your head from similar impacts.
Type 1 is great for precautions against objects that might fall directly on your head, while Type 2 has a wider coverage which is useful if there is a risk of getting hit on the side of your head by running into obstacles, falling, and so on.
Class
Construction hard hats are categorized into 3 main classes of basic and electrical safety, depending on the level of protection you need while working in potentially hazardous environments that can bring you into contact with low to high voltages. So, your hard hat should be equipped to withstand such electrical exposures to keep you safe.
Class C – conductive. These hard hats offer good impact protection but zero safety from electrical dangers and are best used in environments where there is not much risk from electrical hazards, but at the same time, you require basic head protection while working. Class C hard hats can be vented for breathability because they are not meant to offer electrical resistance, so adding vents is acceptable here.
Class G – general. Ideal for low-voltage dielectric protection and general-purpose use, Class G hard hats are non-vented to provide safety against electrical shocks of up to 2,200V.
Class E – electrical. These hard hats are also non-vented, built for dielectric protection to secure against shocks up to 20,000V, and are a key requirement in high-voltage areas where the risk of shocks is greater.
Color
Construction sites may assign different hard hat colors to different trades. This creates uniformity and a standard approach for defining construction roles, which also facilitates safety and site management as it becomes easy to track workers and ensure that they are not in the wrong area. Also, with color codes, it becomes easy for visitors and employees to tell – for example – that the red hard hat areas are off-limits, so this increases safety aspects. The common hard hat color codes in construction are:
White – for supervisors, managers, surveyors, architects, and engineers.
Gray – for site visitors.
Yellow – for all tradespeople in general.
Red – for firefighters and fire marshals.
Green – for inspectors and new employees.
Brown – for welders.
Blue – for carpenters, technicians, and electricians.
Orange – for vehicle operators.
In most cases, you will receive your hard hat from your construction company itself. If you are visiting for an interview, however, it will help to look into the interviewing firm's dress codes and find out which hard hat color is assigned to your department of interest – and then take the right hard hat with you to the place for a great first impression.
Ergonomics
The best hard hat for construction workers should be equipped with all the right features for the job. This includes ergonomics. It could be a visual clue indicating where or how you can use the hard hat, for example:
A reverse donning arrow tells you that the design is reversible and can be worn both forward and backward, which is great when you have to wear a face shield or other protective gear and need to adjust the hard hat accordingly for a secure fit.
LT refers to low temperatures, which means that you can wear the hard hat in -22°F environments.
HT refers to high temperatures and indicates hard hat safety for up to 140°F.
HV – or high visibility – indicates that the hard hat conforms to high-visibility standards, so it must be neon green, orange, or yellow as required.
Good ergonomics are also physical features such as:
A front brim for extra eye shade.
A full brim for complete coverage against rain and sun to keep your neck and ears covered as well. It also allows easier navigation in confined spaces (in comparison, a front brim will bump into objects and slow you down).
Suspension systems. These ensure a safe distance between the head and the inner shell and give a floating look to the hard hat, usually installed as 4-point or 6-point foams for better load distribution and wearability.
Ratcheting dial adjustment for a secure fit to accommodate safety goggles and similar gear.
Accessory slots to connect headlamps, face shields, neck shades, earmuffs, welding masks, and other hardware for on-the-go convenience.
Vents for better airflow in areas where electrical safety is not a concern – and they are only found in Class C hard hats as Class G and E should not be vented to ensure electrical safety.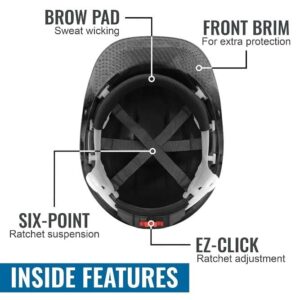 The interior of a Bullhead Safety construction hard hat
Best Hard Hats For Construction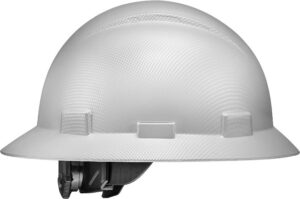 ACERPAL's full-brim construction hard hat is a Type 1 hard hat that is fully OSHA-compliant and meets the ANSI Z89.1 standard. Made of carbon fiber, it is available in a light gray color and is approved for LT and HT ratings. Sizes 6.5 to 8 are supported. The lightweight HDPE shell has a pre-installed, 6-point ratchet suspension system with soft brow and padding to relieve pressure, making the hard hat comfortable to wear for prolonged hours.
You will find the manufacturing date stamped on the hard hat, which makes it easy to tell the age and usability of the hard hat and whether or not it should be replaced. The design also includes accessory slots to help you connect different safety gear like face shields. Both male and female construction workers, roadwork staff, manufacturing teams, and equipment operators can wear ACERPAL hard hats.
Major flaws:
Can be too large for a comfortable fit.
Headband tends to slide off frequently.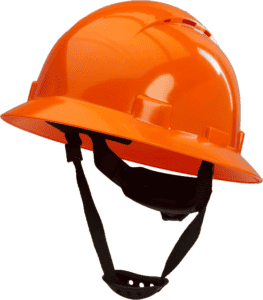 This shiny orange construction hard hat by Ridgerock is OSHA-approved and meets the ANSI Z89.1 standard for site safety. It is made of carbon fiber and features a two-way adjustable, 6-point ratcheting suspension system of size 6.5 – 8. The durable HDPE shell includes a flex pivot, 6 cooling vents, a head pad, a washable sweatband, and a removable chin strap, so the hard hat really checks off some key ergonomics for comfort and wearability. Its gripped brim underside is compatible with gloves to help you remove the hard hat easily when needed. The manufacturing date is also stamped on the shell. It is a Type 1, Class C hard hat with a full brim that provides maximum coverage to include neck and ears as well and can be used in confined spaces. The overall design is fully compatible with other PPE like safety goggles via integrated accessory slots. Both men and women can wear these Ridgerock construction hard hats.
Major flaws:
Prone to scratches.
Accessory slots tend to be faulty.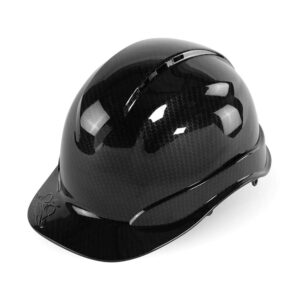 Bullhead Safety's reversible hard hat for construction meets the ANSI Z89.1-2014 standard and is a Type 1, Class C hard hat featuring vents and a 6-point ratchet suspension system that has a size of 6.5 – 8. Its durable ABS material ensures maximum protection from impacts. The hard hat includes a ridged front brim for a quick grip, a moisture-wicking brow pad, and an EZ-click ratchet adjustment. Its shiny black graphite color is great for construction environments. The hard hat's reversible design makes it easy to wear it either way depending on the task at hand. It is also resistant to weather and chemicals and includes accessory slots to integrate earmuffs and other PPE. The size and design of the hard hat are suitable for both men and women, ideally worn by miners, truckers, demolition workers, oil and gas teams, etc.
Major flaws:
Faulty webbing and foam pads.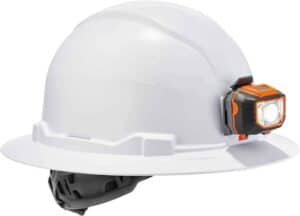 This is one of the best hard hats for construction from Ergodyne, suitable for sizes 6.5 – 8. It is a Type 1, Class E hard hat, so it is specially designed and tested for high-voltage safety and can be worn by electricians. Available in white, the hard includes a detachable headlamp that can be mounted securely to the front or the back. The lamp also has a small magnet to help you easily mount it to any metal surface for quick lighting. The shell includes a head pad and sweatband – both removable – with moisture-wicking materials for more breathability. The full-brim, open-frame design features a 4-point suspension with adjustable height for a secure fit, which allows the hard hat to be balanced well and still be roomy enough for airflow. You can adjust the pivot knob with one hand easily as you work. You can also mount other accessories like ear protection gear and chin straps using the given slots. Ergodyne hard hat meets the ANSI Z89.1-2014 standard and is ideal for utility experts, road operators, and other jobsite tasks.
Major flaws:
Can be too heavy for prolonged usage.
"Sticks and stones may break my bones." But not my head
Safety is the top priority in construction, and it starts with good head protection for people on the site. It is important to buy the right type, color, and class of hard hats to ensure compatibility with your specific job, which in turn maximizes safety based on where you work. In most cases, you will need to wear a hard hat all day long at work, so good ergonomics and comfort are absolutely essential for easy wearability.
Hard hats should be visibly inspected before being worn, and they generally need a replacement every 5 years depending on the current condition. By following applicable OSHA guidelines and considering what your job requires, you can put on the right "thinking cap", gear up for the day's work, and stay safe from the constant enemy of construction – gravity.