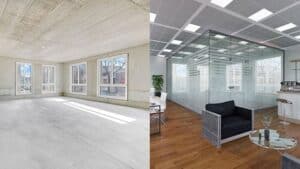 A commercial renovation allows businesses to optimize their available space instead of looking for new premises. This creates a good opportunity to revamp the existing workplace and add the necessary changes. Companies that decide on a renovation project will collaborate with commercial construction contractors. These experts know how to work with the existing infrastructure of a commercial building – which is just what you need for a remodeling plan. Since there is no new building framework, a good contractor will make sure that the structural authenticity is maintained. Commercial renovation takes place in various phases to distribute the demolition, utility changes, HVAC additions, etc. throughout the building. This isolates the construction areas from the occupied areas, allowing businesses to run smoothly and seamlessly.
Planning a commercial remodel is more budget-friendly than investing in a new build. You do not need to worry about purchasing a new property or paying for hefty excavation and demolition charges. By adding upon the existing structure, your business encounters a shorter downtime compared to the demands of a new build. It is a great way to improve the architectural integrity of your workplace. Every school, office, restaurant, hospital, shopping mall, movie theatre, etc. requires upgrades over time. A renovated commercial property increases in value and delivers a productive workspace for its employees. This ensures the stability of your business, and the transformation creates ideal workplace aesthetics for a welcoming environment.
Pre-renovation stages
Before beginning your commercial renovation project, you need to consider various prerequisites. These are often tackled by your contractor, and you should always work with reliable commercial construction companies for integrity. The following stages are some general areas that need attention before any renovations can start.
Stakeholder input
Your commercial renovation is going to affect all the stakeholders in your business. Like a domino effect, any unforeseen delays and project extensions will directly impact people who work with you. It is important to sit down with your stakeholders and discuss alternatives, renovation coverage, business backups, and job rotations where necessary. By clarifying the mode of operation during the remodel, you can set the best corporate detour around the construction. It also helps everyone reach the same page before the project begins – so any losses or delays can be mutually resolved.
Site survey
You can have a third-party step in and survey your commercial building to rank its current status. This includes evaluating the existing framework to reveal potential red flags. Most contractors offer walk-in consultations as part of your collaboration. By having a professional party analyze your infrastructure, you get to plan the necessary improvements. This also guides your budget and timeline estimates. It helps you decide on structural upgrades like electrical and mechanical frameworks so that your building comes up to a good standard – ready for renovation.
Project timelines
Organizing realistic and achievable timelines is crucial for your business. Planning the remodel at strategic points helps your workflow continue uninterrupted, as your major operations will be completed before the construction. This stage coincides with stakeholder input because you want a project timeline that works for everyone on board. Your contractor will guide you with various project breakdowns, giving you an adequate insight into the duration. You can then decide a feasible time to start the renovation, and leave some room throughout the project to accommodate unexpected delays.
Local zone permits
Working with a credible construction company takes away the burden of zone permits from your checklist. Your contractor will help you with the necessary paperwork. This includes taking the required licenses, conforming to the local codes, and ensuring that your building is suitable for your renovation plans. As a business owner, you need to stay updated on the latest local codes for construction. This gives you a corporate head start into your actual remodeling stage, since you are well-aware of the dos-and-don'ts. Compliance with the regulatory framework enables you to maximize your workplace efficiency. It reflects your integrity and transparency as a reliable business, and you get to align your renovation objectives within the updated laws.
Key stages of a commercial renovation project
Depending on your project scope and timeline, your contractor will break down the construction into some key stages. These fragmented outcomes are designed to help the renovation progress smoothly for your business. You get to plan and distribute your project milestones with your construction team. These collaborations help you highlight critical issues, potential red flags, and determine the feasibility of your remodel.
Most businesses plan on interior design aspects, and the consultation period is a good time to work with your contractor and designer teams. Once you have your expectations mapped out, you can negotiate on project bids and receive estimates from different contractors. It is important to hire professional and verified contractors – you want to be sure that your commercial building is in good hands. An experienced contractor will know how and when to reallocate your employees, operations, resources, etc. to enable phased renovations. This helps to incorporate the remodeling plans while still keeping the workforce mobilized and effective.
In general, the key phases of any commercial renovation include:
planning
interior design
project bids
contractor consultation and hiring
materials required
infrastructural repairs
rebuilding aspects
demolition and construction
debris removal
final touches and finishes
Benefits of a commercial renovation
If you do not have the resources for a new build investment, then choosing a commercial renovation easily walks the extra mile. Here are some exciting benefits that make up all the commercial incentive you need:
Optimized space
Businesses with improved use of space enjoy long-term returns of a productive environment. Commercial remodeling can free up a lot of space in your office, hospital, classroom, retail store, etc. It adds potential to your existing area and improves the scope for storage and organization. This could take the form of custom cabinets and redesigned cubicles or workstations. Simplicity and minimalism are often all you need for efficient premises. A well-thought-out commercial renovation helps you reimagine the scope of your business.
Cosmetic upgrades
A welcoming upside of any commercial remodel is the cosmetic enhancement it brings to your building – both interior and exterior. It gives your workplace a modern facelift with a professional, neat, and refreshing makeover. Cosmetic upgrades simply remove the old and outdated with something new and inviting. This includes new flooring, carpeting, paintwork, wallpaper, lighting fixtures, artwork, furniture, décor, etc.
Rebranding scopes
If you are aiming to rebrand your business, then it is time to match your environment with the new vision. A commercial renovation helps transform your old workplace into a compatible, reimagined, and impactful corporate habitat. This synchronizes with your new brand vibes and creates a more cohesive workforce to establish your idea. It is also a great chance to improve the structural safety of your business by updating the crumbling framework. A new business should definitely feel warm, safe, and welcoming for both its employees and clients.
Examples of commercial renovation projects
Green businesses and sustainable practices
This type of commercial renovation focuses on introducing energy-efficient frameworks, appliances, machinery, etc. It helps you achieve sustainability in your work practices. As a business owner, you can save a lot on utilities by moving to environment-friendly solutions such as HVAC upgrades and double-pane windows. After assessing your commercial property, your contractor will guide you through the available options for going green.
Restaurant remodeling
Commercial kitchens need to be evaluated for safety and productivity. This sheds light on critical aspects like HVAC failures, inadequate fire precautions, emergency exits, food storage, etc. Proper ventilation is imperative in a fast-paced commercial environment – as the inherent risk of fire should not be taken lightly. Refrigeration units must be maintained and checked for slower performances. Food hygiene depends on your commercial kitchen's climate, so it is important to have your frameworks updated regularly. A thorough commercial remodel in a restaurant may include changes to the dining area, fixture replacements, new Energy Star appliances, and HVAC renovations.
Special needs support
Your commercial building must have the necessary accommodations to support employees and clients who have special needs. This includes various accessibility solutions like ramps, specialized and dedicated workstations, and assistive equipment. Such solutions help special needs individuals work more independently and comfortably. Commercial renovations take care of the required additions to the workplace. They can be custom upgrades to workstations so that the employees use assistive technologies that cater to their needs.
Retail layouts
Most retail stores pursue commercial renovations solely for cosmetic upgrades. Improved dressing rooms, modern décor, and organized storage are some examples. Design ideas for dynamic window displays are also important to consider. Various theme-friendly changes allow for seasonal inspirations and holiday spirit to create display aesthetics that attract customers.
It is an art to organize an effective window display that tells a story – and makes your customers want to step in! Creative focal points in the display work wonders. Apart from cosmetic effects, the store should allow for easy navigation between the aisles. It should not be cluttered and difficult for customers to move around – and this is handled by a good structural renovation. Spatial freedom also helps design and plan retail parking lots for easy navigation and a reserved area for accessible parking spaces.
The final takeaway
Regardless of your project scale, good and frequent collaboration with your contractor is an essential part of a commercial renovation. You should have a crystal-clear understanding of the contract before hiring the contractor. It is a smart bonus to check the contractor's portfolio and see if their experiences match your commercial scope. Most businesses these days are forced to change the look and feel of their workspace in response to the COVID limitations. On the bright side, a good commercial remodel will help you establish socially distanced workstations, disinfection tunnels for entrances, and proper ventilation frameworks. Investing in an effective commercial renovation is a smart idea to create a COVID-proof building during these times – so both your business and employees stay up and about!